Targeted cardio training for at home
Ergometers are popular fitness equipment for your own four walls. Training with an ergometer is uncomplicated, comfortable and easy on the joints thanks to the simple movement sequence. Ergometers are space-saving and the training works in principle like cycling. They are ideal for losing weight or if you want to improve your endurance. An ergometer is also ideal for getting back into training after a sports injury. Discover the perfect ergometer for your home gym.
Why you should buy an ergometer
Benefit from the countless advantages of regular sessions on the fitness bike, also known as a bicycle ergometer. Experience uncomplicated Cardio training and increase your fitness step by step. On the one hand easy on the joints, on the other challenging at the same time, an ergometer is your perfect companion for a more active everyday life.
Simple & risk-free: We take over the shipping costs for you. If you don't like the fitness bike, you can return it to us free of charge within 14 days and your money will be refunded.
What is a bicycle ergometer?
An ergometer - also known as a trim bike or bicycle ergometer - is one of the most popular devices for fitness training at home. An ergometer is the perfect introduction to endurance training, especially for beginners. It is also ideal for getting fit and increasing the training effect due to the activation of large muscle groups. Advanced athletes can increase their strength with variable resistance levels or promote regeneration during relaxed rides. The best thing about it: apart from adjusting the seating position and possibly the pedals on the fitness bike, no further preparations need to be made. You get on the saddle of the bike ergometer and off you go.
What is the difference between an exercise bike and an ergometer?
Whether for warming up or for achieving desired fitness results, with the ergometer you train extremely goal-oriented. This unique selling point is related to an important setting option that clearly distinguishes the bicycle ergometer from simple Hometrainer : the wattage function.
Wattage resistance: The wattage stands for the value of the power to be produced. The resistance of the ergometer can be adjusted very precisely, independent of the speed. Setting options such as time, distance, calorie consumption and pulse are part of the basic equipment. The wattage function allows you to check your current performance and progress is made visible. Individually adapted training programmes are also possible. This makes your training much more effective. Exercise bikes, on the other hand, do not offer these advantages, as the resistance is controlled manually and adjusted according to speed with the help of specific braking systems.
Ease of use: The ergometer, like the exercise bike, is very easy to use. The intuitive movement sequence is similar to that of a typical bicycle. Therefore, no further explanation is needed. Training beginners will get along wonderfully with both an ergometer and an exercise bike.
What ergometer models are there?
How do you prefer to train? Sitting, lying down, sporty or comfortable? You are spoilt for choice when it comes to ergometer training. The following models are available:
Classic ergometers: Would you like to have the feeling that you are riding your favourite route on a normal bicycle? Then the classic fitness bike offers you the most authentic cycling feeling with its upright seating position. The seat is on a free-standing saddle and you grip the immovable handlebars.
Recumbent ergometer
Another name for recumbent ergometer is recumbent bike. The special feature of these models is the extraordinarily gentle sitting position. In addition, the pedals are not located under the seat compared to a conventional bike, but are placed much further forward. In addition to the saddle with a large backrest, there are handles to hold on to. Recumbent bikes are often used in the rehabilitation sector. After injuries, the joint-friendly seating position on this machine is the perfect way to get back into training. But healthy people also benefit from the back-relieving posture.
Indoor bikes
If you have bigger, sporting ambitions, an indoor or speed bike is a good choice. Here, racing bike training is imitated within your own four walls. There is a wide range of bikes with different technical equipment. The upper resistance limit is usually much higher. In addition, a heavy flywheel is built into the fitness bike. The more inclined body posture is designed to put as much force as possible into the pedals during training.
Ergometer alternatives to bicycle models
Would you like to improve your endurance, but any form of cycling is not for you? Then keep fit with alternative endurance machines such as the treadmill , cross trainer or rowing machine . The cardio units are usually a bit more demanding, as many muscle groups are used at the same time. As a rule, the space required for these fitness machines is somewhat more extensive. A great feature of the bicycle ergometer is the soft motion sequence.
For whom is fitness training with an ergometer suitable?
Both the bicycle ergometer and the exercise bike or trim bike are suitable for anyone who enjoys typical cycling. Whether it's improving basic endurance and fitness, weight reduction or individual performance goals. With an ergometer you can realise your desired endurance programme. A bike ergometer is also perfect for a warm-up and cool-down. Just sit on your fitness bike for 10 minutes and you are perfectly prepared for any kind of exertion. Always end your successful workout with a well-deserved but active cool-down on the ergometer.
From beginner to professional
Training on the bike ergometer is one of the gentlest forms of endurance sport. The body weight is shifted 70 - 80 % to the saddle. This puts much less strain on the joints when cycling than when jogging, for example. Ergometers are therefore often used in therapy. It is therefore perfect for returning to sport after an injury or for beginners. The ergonomic posture also makes it a pleasant way for older people to keep moving regularly. We would particularly like to recommend the recumbent ergometer Cardio Strider , a special type of ergometer. With plenty of resistance, athletes can practise training programmes such as hill intervals or use relaxed rides as active regeneration. If you want to lose weight, a home fitness bike is indispensable. Always available, you will achieve an improved fat metabolism and high calorie consumption in the shortest possible time. Due to the use of large muscle groups and the seated position, your weight loss training on the bike ergometer is both relieving and effective. An ergometer is therefore definitely suitable for losing weight.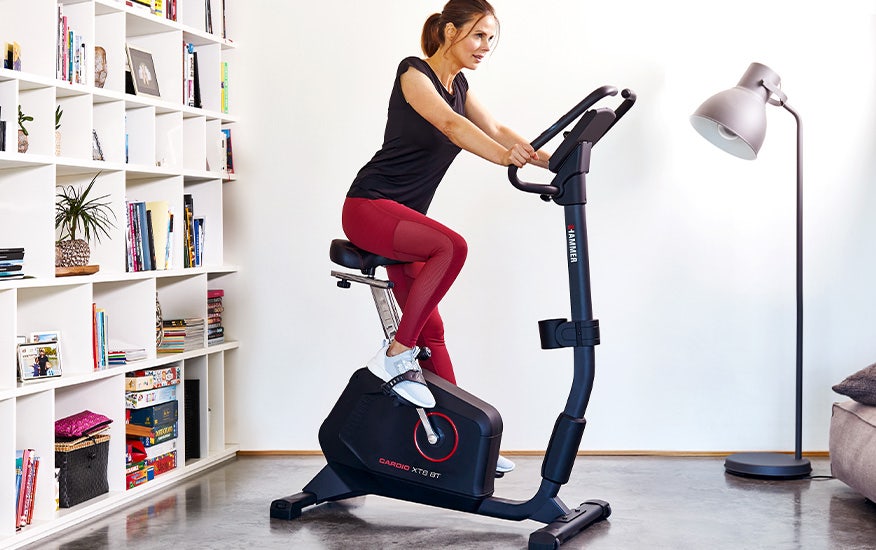 What are the advantages of training with an ergometer?
The advantages of an ergometer are extremely versatile. First and foremost, it is easy to access: regardless of age, fitness level or training goal, the home bike is easy to use for everyone. Simply sit on the saddle of the exercise bike, pedal and you can start a successful cardiovascular workout right away. The joint-friendly motion sequence in combination with the high training comfort leaves nothing to be desired. After your successful workout, you can easily transport the ergometer thanks to the transport wheels and store it in a space-saving way.
These muscle groups are trained with the bicycle ergometer
The strain on the lower body when pedalling hard on the ergometer noticeably strengthens your legs. The thigh, buttock and calf muscles are particularly formed while cycling on the ergometer. At the same time, your knees benefit from the continuous movement and become more resilient for everyday movements due to the muscle build-up. In addition, your abdominal and back muscles are always working to stabilise you. This improves your core tension and reduces back pain. The round movement sequence also has a very positive effect on the health of your joints and bones. If you have knee problems, regular cycling is a balm for your body. The relieving posture on the bike ergometer is also a perfect balance to everyday life for your spine. So you see: with the ergometer you achieve a holistic training effect.
5 reasons why you should buy an ergometer
These reasons speak for the purchase of an ergometer and make it a valuable piece of fitness equipment for effective and comfortable cardio training at home.
Year-round training: An ergometer allows you to train effectively regardless of weather conditions or time of day. You can train at home whenever it suits you best, without being affected by external influences.
Gentle on joints: Compared to other cardio machines such as treadmills or road running, an ergometer puts less stress on your joints. The lower impact and controlled movement when pedalling on the ergometer is gentle on knees, hips and ankles.
Individual adjustment options: Ergometers offer various adjustment options such as resistance levels, training programmes and sitting position. This allows you to adapt the training to your individual needs and fitness goals. Some ergometers even have preset programmes to give you variety and challenge.
Improve cardiovascular fitness: Regular exercise on an ergometer helps improve endurance and cardiovascular health. Continuous pedalling strengthens the heart and lungs, increases blood flow and optimises oxygen intake.
Monitoring and progress tracking: Many ergometers are equipped with integrated training computers that show you important information such as heart rate, training time, distance covered and calories burned. This allows you to track your progress, motivate yourself and make your training sessions effective.
What is the optimal training pulse for an ergometer?
Basically, your heart rate depends on many factors. If available, it is always worth taking advantage of the pulse function of your ergometer. Parameters such as training condition, gender, age or disposition play a role. Pulse-controlled endurance training is characterised by a significantly more effective achievement of goals. Heart rate is usually expressed as a percentage of your maximum possible heart rate (HRmax). The latter refers to the potentially highest number of beats per minute. The ergometer's training computer or fitness accessories such as watches or apps usually calculate this maximum heart rate automatically. Depending on your intention when exercising, you can deduce different frequency ranges with different effects and loads:
Recovery
After a hard day at work, do you feel like just taking it easy? Or are your legs still aching from the previous day's training and you long for active regeneration? Then help your body recover faster with a session on the bike ergometer at 50-60% of your HRmax.
Fat metabolism
If you want to fight fat deposits, aim for a percentage range of 60-70% of your HRmax. Here your body learns to consciously use fat reserves as an energy source during training. This is the ideal zone for beginners and people who want to lose weight.
Moderate fitness training
If you want to increase your performance and burn even more calories, training on the trim bike at 70 - 80 % of your HRmax is a good idea. Due to the higher intensity, training on the ergometer is more strenuous and requires a certain basic fitness level.
Intensive endurance training
Anything over 80% of HRmax is suitable for ambitious hobby athletes. Here your endurance is sustainably increased and the workouts on the bike ergometer are very demanding. Professional athletes train specifically for competitions in the range of over 90 % of the HRmax.
Find your perfect training tool
If you decide to buy a bicycle ergometer or exercise bike, always look for excellent quality. Only then will you be satisfied in the long run. There are some criteria that you should take a closer look at when buying an ergometer:
Dimensions
The compact size of the bike ergometer makes it the perfect endurance fitness machine for your own four walls. Especially in the cold winter months, it's a great way to stay warm during the cycling season. The compact dimensions of the HAMMER ergometer allow sweat-inducing training programmes even in the smallest living rooms.
Movement sequence
Your ergometer should run smoothly and dynamically. A smooth motion sequence guarantees maximum training pleasure and is easy on your joints. The flywheel mass, an ergonomic sitting position, suitable pedals and the right resistance are decisive for your perfect training feeling.
Resistance
Bike ergometers differ greatly in terms of their adjustable resistance. Ideally, you should adjust the resistance to a watt-controlled level. The more finely you can adjust the difficulty level, the more versatile your ergometer will be. Train specifically according to preset values and measure your success. At HAMMER, you are guaranteed to have a watt-accurate setting option.
Assembly and shipping
In order to be able to start your workout on the exercise bike at home immediately, you should pay attention to reliable delivery and uncomplicated assembly when buying. If you order your ergometer from HAMMER, we will pay the shipping costs for you and give you a third year warranty for every bike ergometer from 399 €. With the help of the included instructions and the many pre-assemblies, assembly is child's play.
Care and maintenance
In order to enjoy your ergometer for a lifetime, you should regularly check the screws and tighten them if necessary. The brake unit, belts and bearings also benefit from routine care. The best thing to do after a successful workout is to wipe the sweat residue off the pedals and the device to protect the material.
What should you look for when buying an ergometer?
There are some criteria you should look for when buying an ergometer. High-quality products can be recognised by a large flywheel mass, speed independence and a high maximum weight load. However, it is especially important that your new home exercise machine can be adjusted to fit your body dimensions.
Ergonomics and safety
An ergonomic sitting position is extremely important. The height of the saddle can always be changed. Depending on the model, it is also possible to move the seat and pedals horizontally. The footstrap of the pedals should be stable and easily adjustable. The pedal spacing should not be too large. The more comfortable the saddle, the more comfortable long sessions on the ergometer will be. Gel fillings are considered particularly comfortable here. A low or even barrier-free entrance, as with the medical ergometer, makes it easier for you to get on. Multifunctional handlebars are useful for including the upper body in the workout. This gives you the opportunity to change your hand position again and again. Ideally, your arms are slightly bent and your upper body is upright on classic ergometers. Of course, all components must be perfectly manufactured to ensure maximum stability and safety during training.
Brake system
Basically, a distinction is made between 2 braking systems for exercise bikes. With the magnetic system, a permanent magnet brakes the flywheel. If the wattage is increased, the magnet brakes correspondingly more strongly. The induction system, on the other hand, is current-driven. Here, a corresponding braking effect is achieved with the help of an electric coil. This makes the change in difficulty level much smoother and more precise.
Speed independence
The term speed independence is only used in connection with an ergometer, not with an exercise bike. Here, the intensity of pedalling does not matter, the same power is always produced. This also means that when you pedal more slowly, the resistance is automatically increased. If you move your legs quickly, the resistance is automatically reduced. This means that the power (wattage) always remains the same. The strain on the cardiovascular system and the muscles is thus continuous.
Flywheel mass and ball bearing
The flywheel mass is decisive for the quality of movement and a pleasant rotation. With a large flywheel, the training feeling is usually particularly fluid. HAMMER ergometers only have a flywheel mass of at least 8 kg. High-quality ball bearings are just as important for harmonious running. When buying an ergometer, pay particular attention to these two factors to ensure long-term training pleasure.
The own weight and the weight load
The ergometer's own weight is decisive for sufficient stability even during intensive workouts. In addition, the maximum weight load determines the maximum body weight that is permissible for the device.
Training programmes and functions
When buying an ergometer, make sure that the training computer is easy to operate and that the values are clearly displayed. Above all, an easily controllable wattage function is a basic feature of the ergometer. Pre-programmed fitness profiles and additional functions provide an extra dose of motivation during training. When buying an ergometer, it is also important that your model offers some basic functions. You should be able to control the following parameters easily and always have them in mind during the session:
Time
Distance
Calories
Pulse
Watts
Speed
Ready-made profiles such as interval units, hill runs or special fat-burn training are often offered. With the heart programmes, you can set your personal upper pulse limit, which you do not want to exceed. Your pulse is measured either via an integrated ear clip, hand pulse sensors on the bike ergometer or with the help of a chest strap sensor. The chest strap is the most accurate method of measurement and is therefore recommended. To see your performance improvement right in front of you, the fitness score function is often offered to check your current performance levels. For even more entertainment, you can compete virtually against other athletes with the help of innovative fitness apps. Immerse yourself in foreign worlds with live track experience and automatic resistance adjustment. Drink holders guarantee sufficient fluid supply during the sports unit.
Practical tip: It makes sense to place a floor protection mat under your ergometer. The floor protection mat protects your floor and also serves as noise insulation.
Cycle ergometer training for muscle building?
Although ergometer training is not suitable as a classic weight training unit to specifically build up muscles, it can still be used to support muscle building. For example, if you set a higher resistance level when cycling on the ergometer, your leg muscles will be more strongly stressed and trained. You can also intensify your training with interval sessions, where you do short periods of very high resistance and high cadence. This increases muscle endurance and strength. However, it is important to note that cycling ergometer training alone is not sufficient to achieve significant muscle growth. A combination of ergometer training and targeted strength exercises is recommended for effective muscle building.
Ergometer buying guide
Test the ergometer yourself
Convince yourself of the quality of our HAMMER ergometers. You are always welcome to visit our HAMMER stores throughout Germany and Switzerland. Test all products, whether cross trainers, exercise bikes, ergometers, rowing machines or many other fitness equipment and get detailed and competent advice. Our team of experts will take the time you need in a pleasant atmosphere.
HAMMER expert advice
Our service team consists of state-certified fitness trainers and experienced product consultants. We at HAMMER live fitness and know what we are talking about. Fitness, training and nutrition - we know our stuff and are happy to take time for you. Of course, even after the purchase of your ergometer or exercise bike. We look forward to your call.
HAMMER expert phone: 0720 303 979 979 (Mo - Sa from 9 am - 7 pm). We will also be happy to call you back!
Motivating course programmes with your ergometer
With HAMMER Workouts , you'll always have new and motivating courses with your ergometer. Achieve your health goals with our competent trainers from HAMMER Workouts.
The perfect workout for everyone who wants to train effectively and stress-free at home. All in one place and without an additional subscription.
FAQ
Can I train with the ergometer when I am pregnant?

If you are pregnant, you should always consult your doctor about the type of exercise that is best for you. Because of the low physical demands, light workouts on the ergometer are generally also suitable for pregnant women who have already exercised regularly before pregnancy.

Is ergometer training suitable for seniors?

Seniors benefit greatly from training sessions on the ergometer because of the simple sequence of movements and the individual increase in load. Models with back support are particularly suitable for active seniors.

Can I lose weight by exercising on an ergometer?

On an ergometer you can perfectly train in the area of fat burning. At the same time, you achieve a particularly high calorie consumption by using large muscle groups. The ergometer is therefore the ideal piece of exercise equipment for losing weight.

Do I need to have sports experience to train with the ergometer?

Training on the ergometer does not require any previous sporting experience. The guided movement sequence combined with the fine load control makes it easy for even beginners to start a more active lifestyle.

Is ergometer training suitable for joint diseases such as osteoarthritis?

Knee osteoarthritis patients quickly notice that the circular motion sequence is beneficial for the knee joints through regular training on the ergometer. Of course, the extent and intensity of the training should always be discussed with the doctor in advance.

What is the difference between an ergometer, a crosstrainer and a treadmill?

The ergometer is the least demanding of the endurance machines. On the cross-trainer and treadmill, you move your arms as well as your legs, and your arms are also moved. The standing position also requires more tension in the body. This means that exercising on an ergometer is less strenuous than other types of exercise. the other endurance machines in terms of the degree of exertion.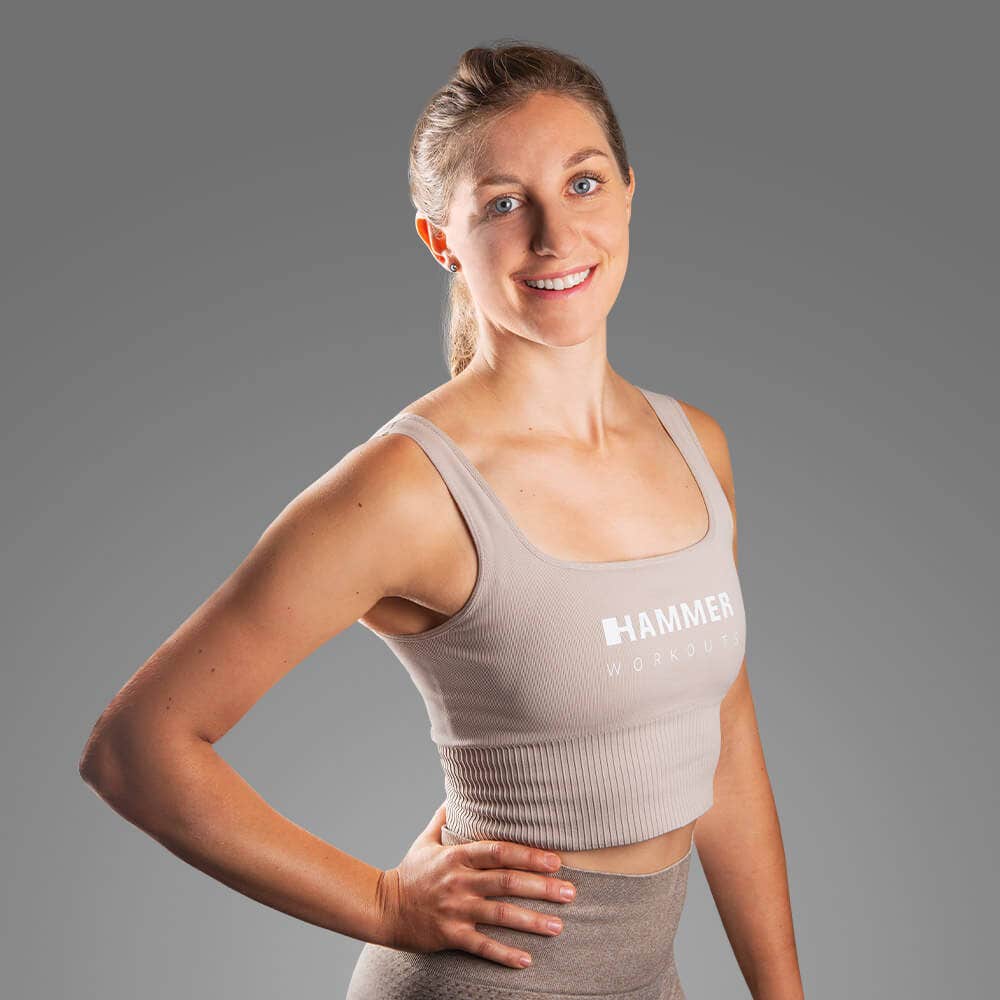 Valentina Bahl
Sports Therapist, Personal Trainer, B. Sc. Nutrition Management and Dietetics, M. Sc. Clinical Sports Therapy and Sports Physiology