INSPIRE by HAMMER Cardio Strider 3.1
The unique stepping motion reduces strain on knees, hips and back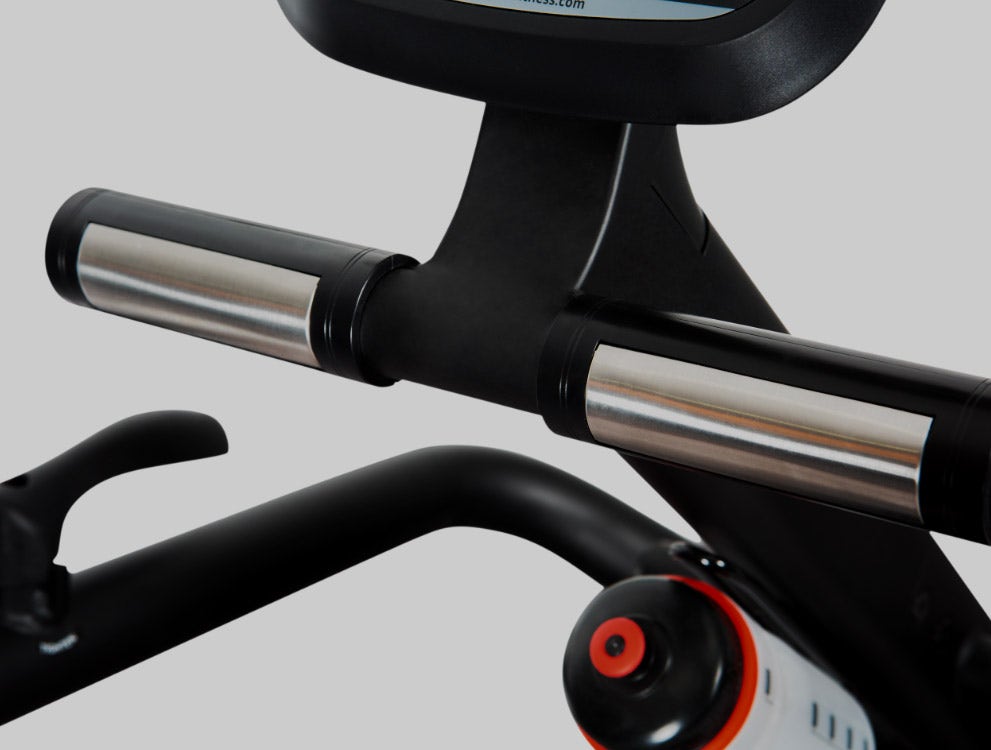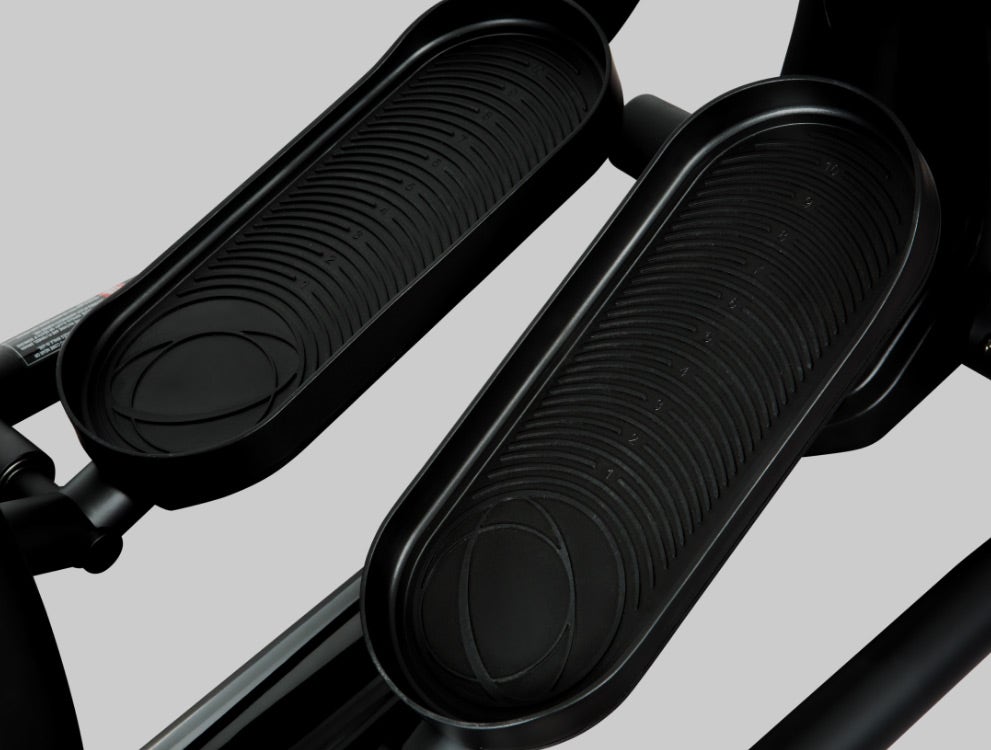 Gentle whole body training with the Cardio Strider 3.1 from INSPIRE by HAMMER
Experience the unmistakable training feeling of an elliptical trainer and recumbent ergometer in one with the Cardio Strider 3.1 recumbent ergometer from INSPIRE by HAMMER. With its innovative drive technology, which distinguishes the Cardio Strider, this fitness machine is an all-rounder for all age groups and enables an ergonomically perfect and thus very healthy and gentle movement sequence. The variety of possible uses ranges from high-intensity training sessions in private use to commercial use in health-oriented facilities.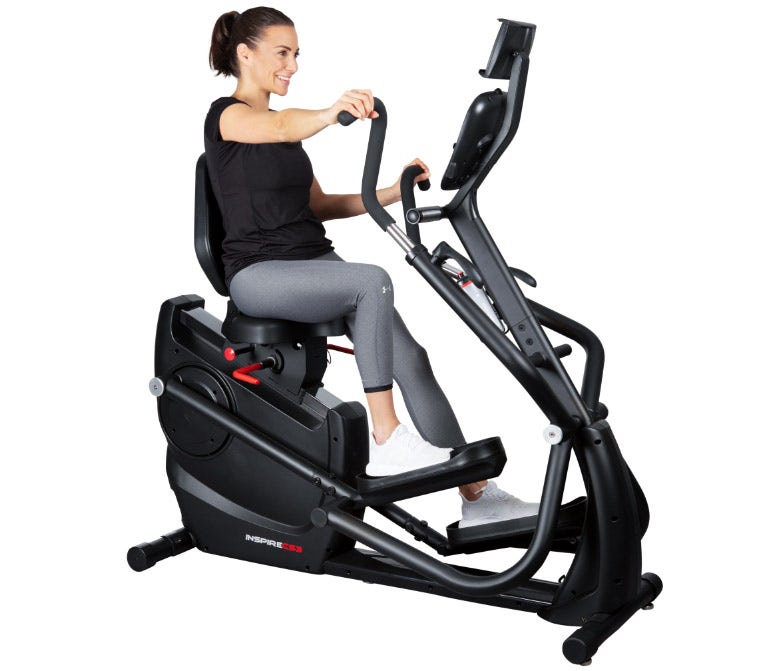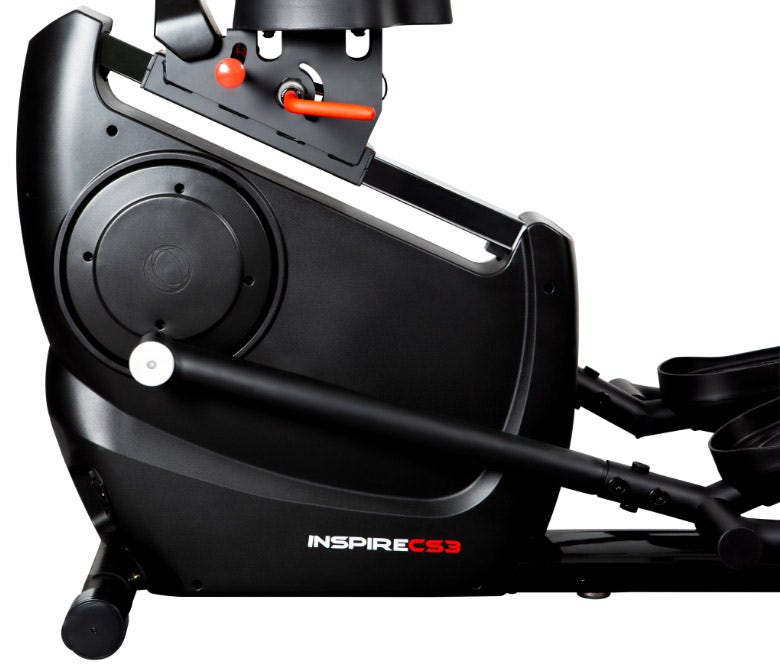 TWO-Way drive: The special talent of the Cardio Strider
The unique drive technology of the recumbent ergometer with elliptical movements allows you to change direction easily and intuitively when pedalling. This way you can strengthen the different leg muscles by pedalling forwards or backwards. At the same time, changes of movement promote intermuscular coordination and actively train movement patterns. The change of direction can also be initiated with the arms through pressure or traction.
Keep an eye on your improvements at all times
with a large blue illuminated and crisp LCD display, a user-friendly training computer is at your side. Training statistics such as time, speed, watts, distance, calories burned and heart rate are always at your fingertips.
The 10 preset programmes of the Cardio Strider 3.1, consisting of 6 automatic resistance programmes (gentle hill, plateau, hill climb and interval), 2 focus programmes (upper body, lower body) and 2 heart rate programmes (fat burn 65% HR max. and cardio 80% HR max.), provide the necessary variety and motivation.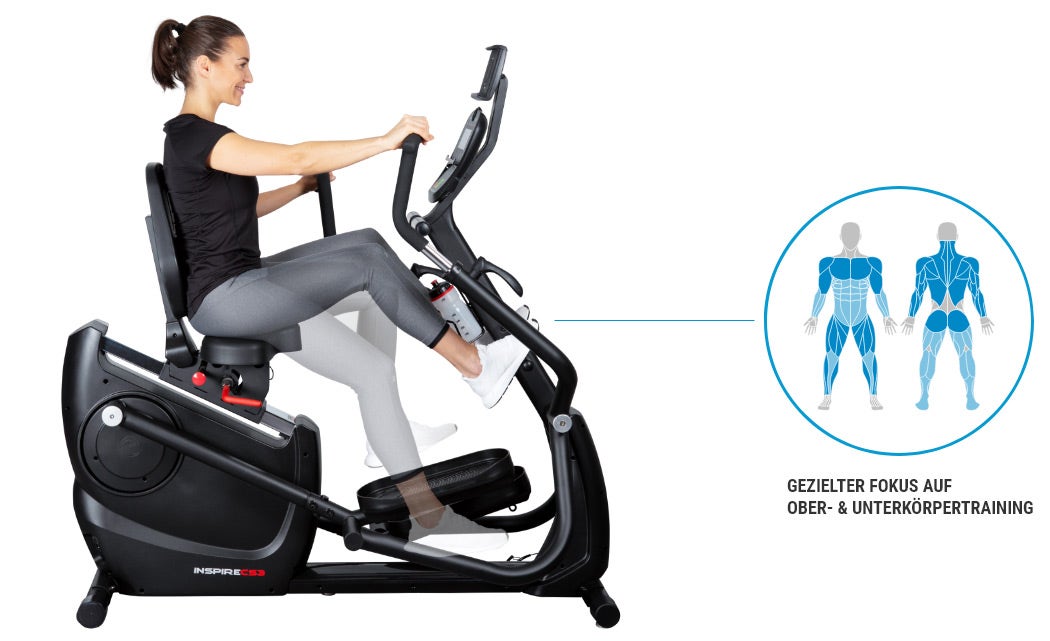 Highest intensity meets best possible relief
the Cardio Strider 3.1 excels in all disciplines. Upper and lower body workouts can be performed separately by placing your feet on the footrest to train the upper body in isolation or giving your arms a break while your leg muscles do all the work.
Your Cardio Strider 3.1 can do both: low-impact and high-intensity training.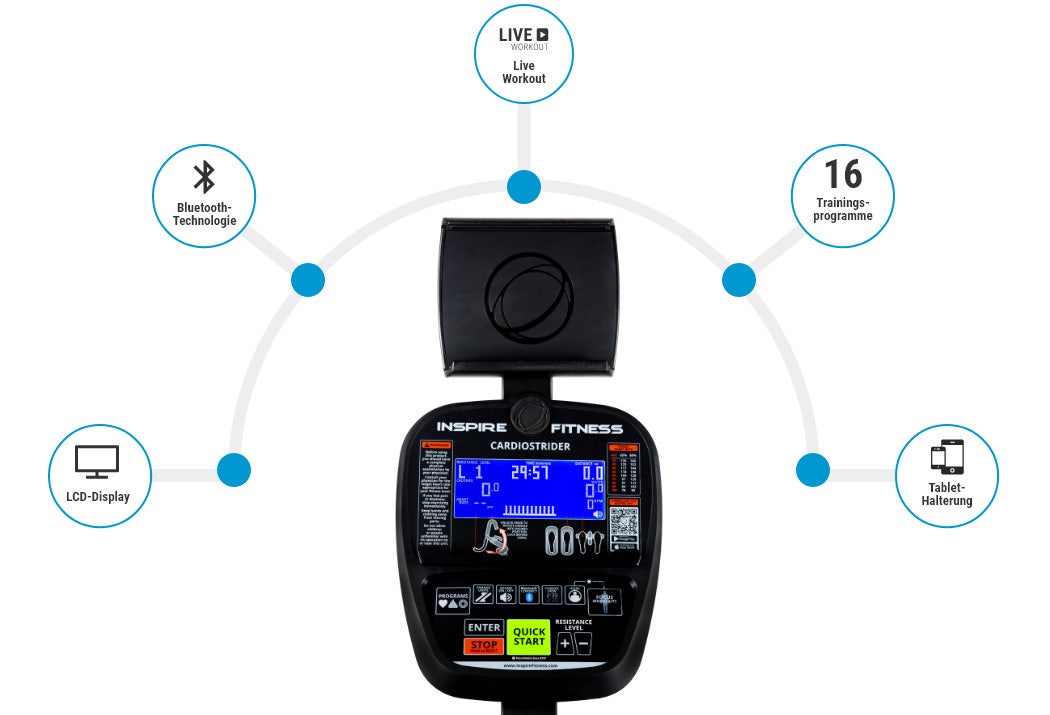 App support: your personal trainer
with the Bluetooth interface and the INSPIRE app connection, the Cardio Strider 3.1 gives you even more motivation to achieve your goals with fun and joy. Stream live workouts on your smartphone, tablet or computer. No matter when and where you want!
With the help of the app connection and an INSPIRE trainer, you can get the best workout in your own four walls.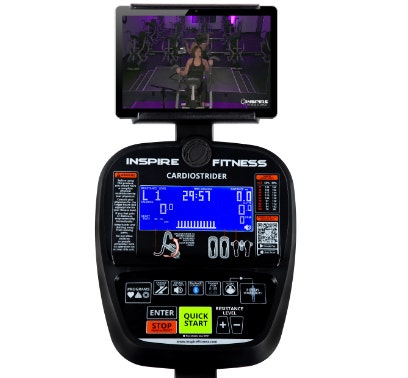 Extra motivation with your own music and videos
Wouldn't it be great to have someone motivating and entertaining you while you work out? With your favourite music and shows, you can provide a lasting motivational boost and use your tablet as a training aid to achieve your goals with joy and ease. The stable tablet holder makes it easy to use during training.
2 heart rate monitoring options
With the static handlebars of the Cardio Strider 3.1, you can check your heart rate at any time thanks to the integrated pulse sensors. An optional chest strap as a heart rate monitor helps you to record your heart rate optimally. The pulse receiver is already integrated.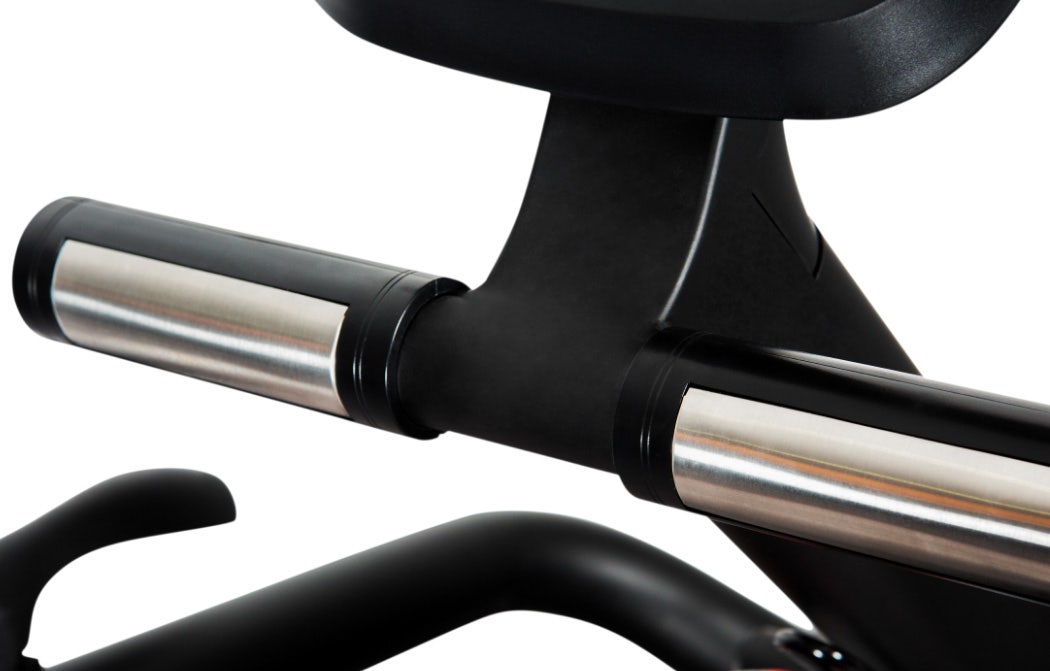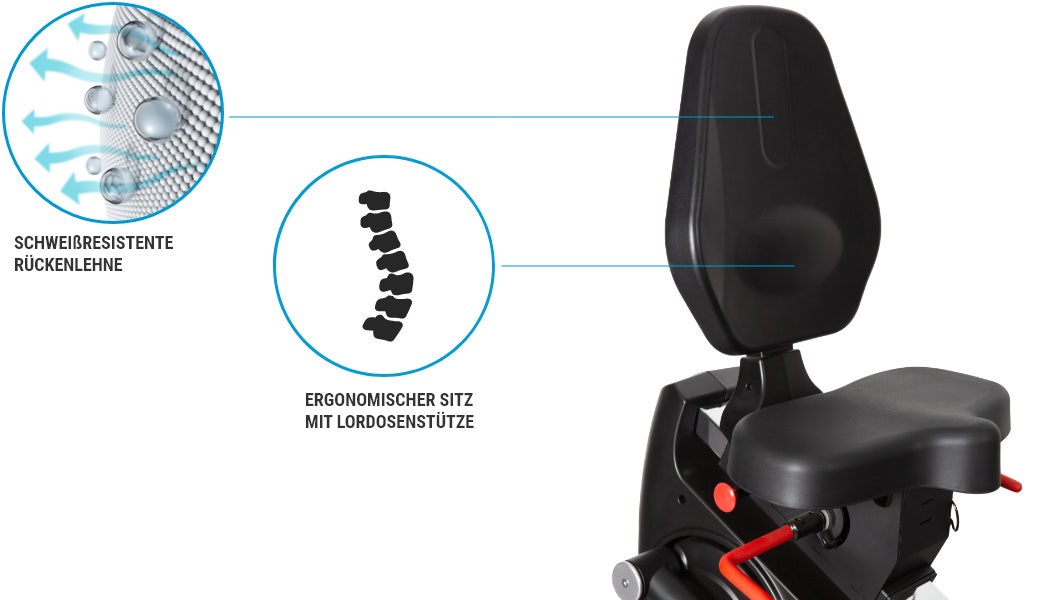 Feel-good ergonomics at the highest level
The Cardio Strider 3.1 has a low entry design and thus offers you the highest level of safety and comfort even before your workout.
The comfortably padded and ergonomic seat with integrated lumbar support and the maximum flexibility due to the infinitely variable seat height adjustment in a simple sliding design are also ideally suited for tall people.
Additional comfort for the spine and hip joints can be achieved with the help of the triple adjustment option of the back cushion, so that you can adopt the perfect posture during training.
Comfort features, for your health.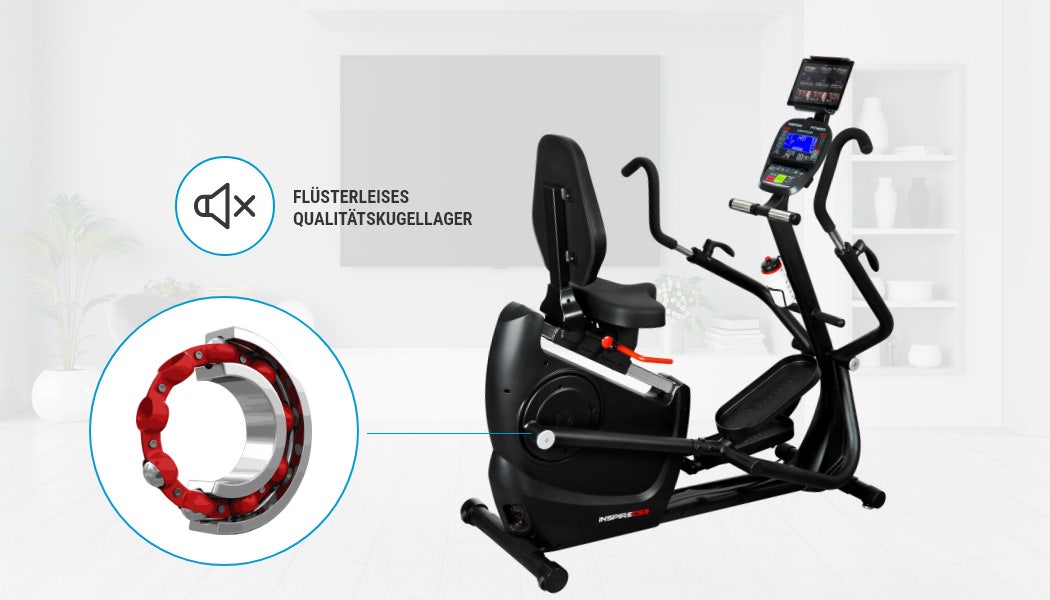 Best joint protection redefined
The 20-level frictionless electromagnetic resistance system with an ultra-light entry level of 10 watts, paired with a silent grooved belt drive system, is easy on your foot and knee joints and provides the variability you need to work out quietly even late at night in a rented flat. The extremely smooth running is guaranteed by the precision ball bearing, which is used on all axles of the Cardio Strider 3.1.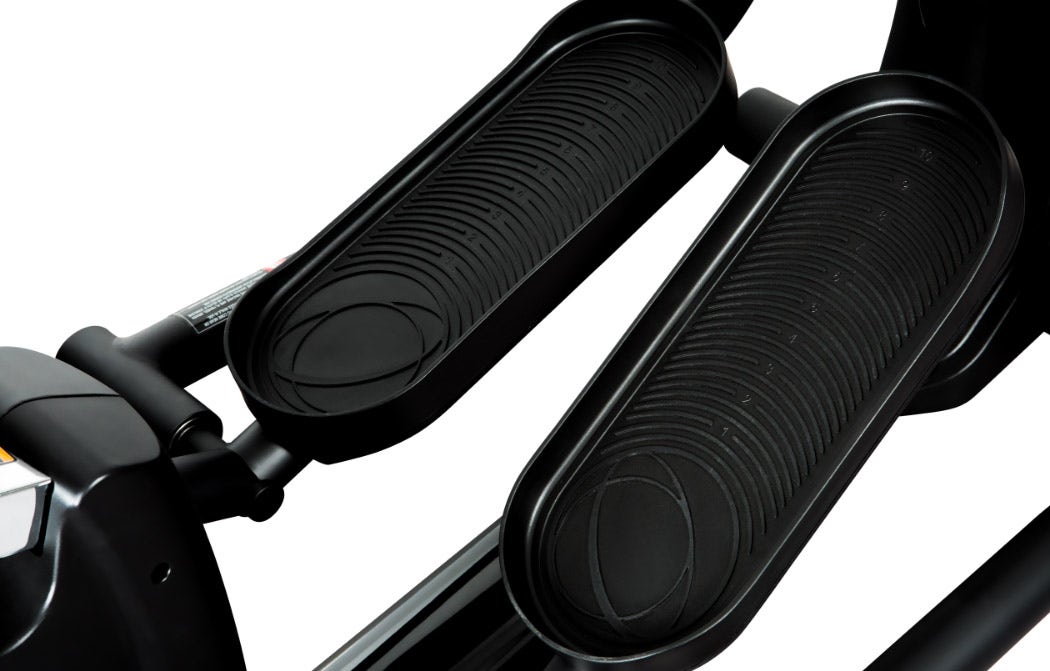 Better running feeling. Ergonomic design
With the super narrow step plate distance and a step plate scale, you place your feet hip-width apart and thus train in an optimal joint position. With the help of the scale on the step plates, you have control over the position of your feet at all times and thus improve your coordination. Furthermore, you can actively change the training intensity of your leg muscles by changing the positioning of your foot.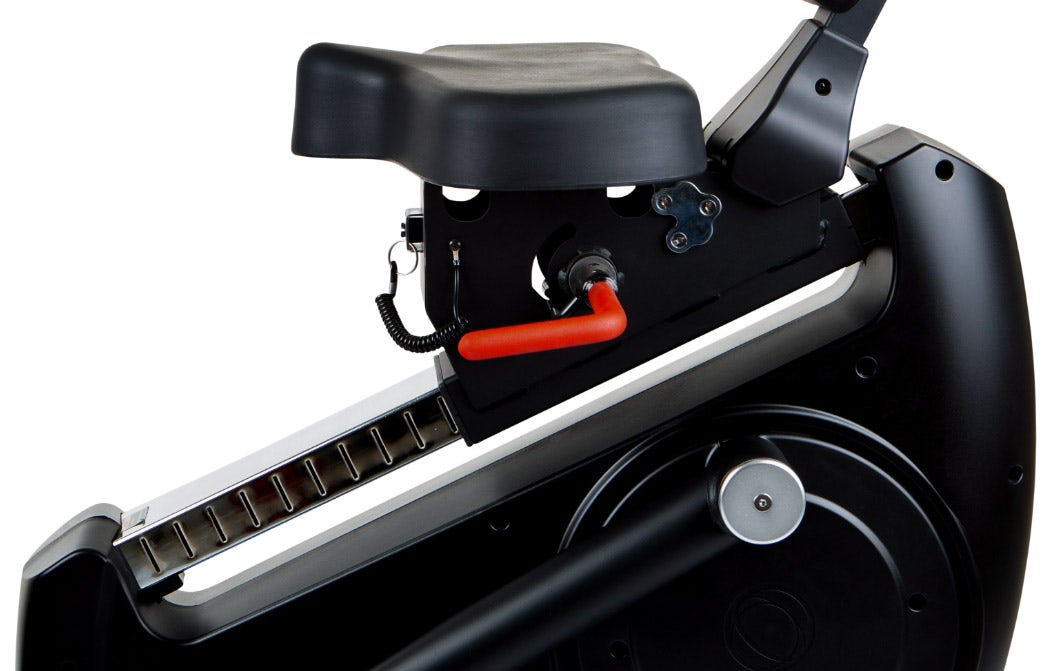 Ready to give everything: the unique training variety
The revolutionary Quick-Lock system helps you turn the handles, which, like the comfortable seat, are infinitely adjustable. A scale on the handlebars helps you to always set the correct length of the handles. In this way, you can switch from chest and triceps exercises to back and biceps exercises in no time at all to achieve maximum training effects.
General
Manufacturer
INSPIRE by HAMMER
Computer
Display
Hi Tech Blue Backlight LCD-Display
Multimedia
App, Bluetooth, Tablet support
Integrated pulse receiver for chest belts
Bluetooth
Display
Load profiles
Calories, Distance, Heart rate, Resistance Level, RPM, Time, Watt
Programs and profiles
Heart rate controlled programmes
2
Adjustable pulse limit
Upper pulse limit
Drive/brake system
Drive system
Grooved belt
Load control
RPM dependent
Braking system
Permanent Magnetic
Resistance adjustment
Computer controlled
Dimensions and weight
Build up size (L x W x H)
153 x 89 x 138 cm
Other features
Transportation rollers
Yes
Saddle height adjustment
Stepless
Saddle adjustment
Vertical
Handlebar adjustment
Rotatable, Vertical
DIN Norm
DIN EN ISO 20957 -1/5
Shipping
Delivery time
4-8 working days
Delivery Information
Delivery to curbside (Please leave your phone number when ordering, so we can arrange a suitable delivery date for you)
Private use
on the main frame
10 years
Semi-professional use
on the main frame
5 years
* Semi-professional use: For use in hotels, sports clubs, etc. - not in fitness studios
Clients ask, our fitness experts answer
Do you need more information about the product? Ask your question here. Our fitness experts will answer quickly and easily.