Varied whole-body training for your fitness
Effective cardio training like jogging without stressing the joints. With an elliptical trainer you complete intensive training units that challenge and shape the entire body. The whole-body workout with the elliptical trainer is very easy on the joints thanks to the flat, long motion sequence. Burn calories through cardio training, because the movement on the elliptical trainer trains the large muscle groups and makes the fat melt away. Start your cardio training at home with an elliptical trainer now.
Buy elliptical trainer
The elliptical trainer is the ideal exercise bike if you want to exercise regularly at home and increase your fitness. You can improve your endurance, burn fat, become more efficient and fitter. Exercising on an elliptical trainer is a good balance to a predominantly sedentary lifestyle. With a regular training session on your new elliptical trainer you will cover many areas and muscles of your body and you will soon feel fitter, stronger and more vital all over. Having your own exercise machine at home will save you a lot of time and you can reach your fitness goals very quickly!
Shipping is free for you - as a manufacturer, we take care of the shipping costs for you.
Order easily and risk-free: If you don't like your elliptical trainer, you can return it to us within 14 days and get a full refund of the purchase price.
Buy elliptical trainer for home
Elliptical trainers have become one of the most popular endurance machines in fitness studios. At the same time, however, their importance is also increasing in home use, because the effective, joint-gentle training feeling of the elliptical trainer can finally also be experienced at home. In contrast to the classic crosstrainer, the movement of an elliptical trainer is flat and long, which is very similar to jogging/running. With the crosstrainer, the focus is on an up-and-down movement, similar to classic stepping or stair climbing. The modern elliptical trainers from HAMMER offer a sophisticated training technology that works many and very large muscle groups simultaneously, which maximises your calorie consumption and thus the training success. But how exactly does an elliptical trainer work? And what distinguishes it from a cross trainer? We have summarised the most important information about elliptical trainers for you so that you can find the right model for your home and use cardio training even more intensively. So you know what to look out for when you want to buy an elliptical trainer for your home.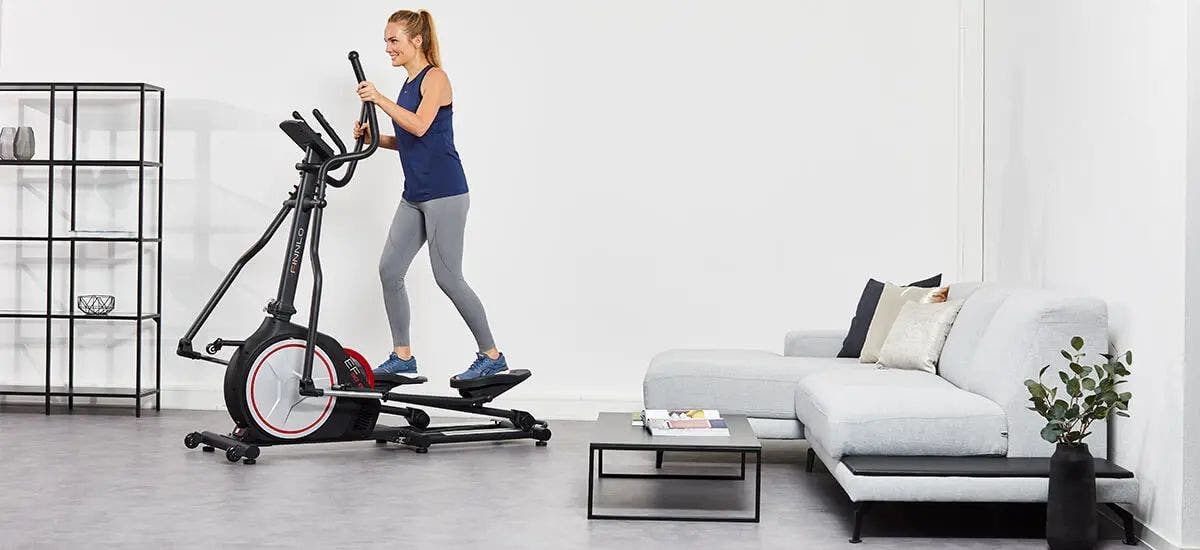 What are the differences between elliptical trainers and cross trainers?
The two terms "elliptical trainer" and "cross trainer" are still very often used as synonyms - yet the two fitness machines are fundamentally different from each other and also have some distinguishing features with regard to their mode of operation:
Position of the flywheel
The most noticeable difference between the two cardio machines is the positioning of the flywheel. On the elliptical trainer, the flywheel is at the front, i.e. the elliptical trainer is a so-called "front-driven cardio machine". In contrast, the flywheel on the crosstrainer is located at the rear.
Movement sequence
Elliptical trainers work with a flatter, expansive running movement - this is very similar to cross-country skiing with the large and low swing circles. The endurance training is therefore particularly easy on the joints and protects the spine from strong impact forces. On the other hand, the movement sequence on a cross trainer is characterised by a stronger up and down movement. However, the crosstrainer's elliptical motion is very gentle on the joints. Thus, the crosstrainer workout is closer to jogging and stepping and is usually perceived as somewhat more strenuous.
Intermediate joint
Furthermore, in contrast to cross trainers, elliptical trainers are equipped with an additional joint in the pedal system. This additional joint is intended to reduce the forces that occur and contribute to a smooth movement.
Cardio training: How effective is training on the elliptical trainer?
The elliptical trainer belongs to the category of cardio equipment and is therefore mainly used for endurance training, fat burning and body shaping. By moving the arms in opposite directions, the large muscle groups of the torso (abdomen, chest, back), but also the shoulder girdle and the arm muscles are integrated into the training. In contrast to the bicycle ergometer or the treadmill, this leads to a higher calorie consumption, as a larger muscle mass has to be supplied with energy and oxygen. This results in a more intensive effect on fat and weight reduction, as long as you do not overexert yourself during the workout and keep your metabolism in the aerobic range (see also endurance training ). The elliptical trainer is therefore ideal for shedding excess pounds and bringing your body into slim, shapely proportions.
As a result of the strong muscular strain, you strengthen your entire body. Your tissue will be tightened and especially your legs, thighs and buttocks will be shaped in an ideal way.
But it's not just your appearance that will improve - your health and well-being can also be enhanced by the gentle workout on a HAMMER elliptical trainer. Your entire cardiovascular system becomes more efficient and works more economically. In addition, you will lower any bad blood values and ensure a brighter mood in everyday life through the release of numerous happiness hormones.
Elliptical trainer training - how do I train correctly?
Thanks to the modern computers, our HAMMER elliptical trainers offer you varied training programmes with which you can achieve your individual training goals. Use interval training for fast fat burning or heart rate programmes to strengthen your cardiovascular system. The pulse is measured via the hand sensors on the handles or via an optional chest strap.
What types of elliptical trainers are there and what are their advantages and disadvantages?
At HAMMER you will find different types of elliptical trainers. Depending on your fitness goal, we recommend different elliptical trainers. These three elliptical trainers represent a selection and recommendation from the entire HAMMER range. We will also be happy to advise you personally in one of our stores or on the HAMMER expert telephone.
Foldable elliptical trainer:
Entry-level model:
Professional elliptical trainer:
Foldable elliptical trainer: space miracle with CleverFold folding technology
With the CleverFold EF90 BT , HAMMER has created a true space miracle. After training, it can be folded with a space saving of up to 60 % and is therefore the ideal elliptical trainer for the home. Thanks to the 360-degree rotating transport roller system, the elliptical trainer can be stowed away very easily. The ergonomically mounted hand pulse sensors allow you to measure and control your pulse comfortably and easily during your workout.
The 18 kg flywheel mass and the highly professional ball bearing technology create a smooth running feeling. The particularly small pedal spacing also allows for a workout that is easy on the joints. Thanks to innovative technology, the CleverFold EF90 BT is also a very quiet elliptical trainer compared to conventional fitness equipment.
Our elliptical trainer recommendation for beginners
As our entry-level model, the HAMMER Speed-Motion BT elliptical trainer offers very good training comfort. The elliptical front drive system ensures a realistic running motion and offers the highest training comfort. This makes the Speed-Motion BT elliptical trainer the ideal solution for all age groups to integrate more exercise into their daily routine. Especially after sports injuries, an easy training start is possible from 10 Watt resistance. You can increase your power in 5 watt steps up to 350 watts.
You can also quickly measure your recovery pulse and body fat percentage with the Speed-Motion BT. The different training programmes add variety to your training and allow you to design your workout in a targeted way. 12 kg flywheel mass, a stride length of 43 cm, a quality ball bearing and an electronic magnetic brake system ensure a fluid and smooth motion.
The FINNLO MAXIMUM Spirit E-Glide professional elliptical trainer scores with an extremely small step plate distance of only 10 cm and a maximum step length of 51 cm. Furthermore, precision ball bearings, 18 kg flywheel mass and a maintenance-free drive system ensure a smooth running and training feeling at studio level. This elliptical trainer combines the classic movement of the cross trainer with the professional drive of an indoor cycle. In addition, a double-transmission system is built in, which doubles the rotation of the discs and allows very high numbers of revolutions to be achieved even with low resistance. Power workout guaranteed!
With the Spirit E-Glide you burn up to 25% more calories than with conventional elliptical trainers. Different training programmes target more muscle groups and allow for a more coordinated workout. The Spirit E-Glide has a "reverse gear" so that you can work your muscles alternately. The FINNLO MAXIMUM elliptical trainer is considered the HAMMER premium elliptical trainer and is also the perfect choice for use in hotels.
The FINNLO MAXIMUM Spirit E-Glide professional elliptical trainer
Comfortable workout due to HAMMER premium quality
From the pedals to the training computer: HAMMER uses the highest quality materials and the latest technologies in its elliptical trainer models. The different brake systems (magnetic and induction brake system) offer a very precise intensity adjustment. With this braking system, you can train at low as well as high power and slowly increase your fitness through the finely graduated load dosage. This allows beginners as well as advanced exercisers to organise their endurance training with the elliptical trainer in an effective and targeted way.
The innovative technology of the HAMMER elliptical trainer makes the difference: precision ball bearings and many construction details guarantee a smooth training experience with high movement quality. The selected stride length enables a movement that is smooth and gentle on your joints. The specially shaped treads put your feet and thus your whole body in an ergonomically correct training position.
What to look for when testing and buying an elliptical trainer
Your decision has been made: you want to train your endurance and fitness effectively with an elliptical trainer and lose a few pounds at the same time. So that you can soon train on a training device that is perfectly suited to you, you should pay attention to the following when buying an elliptical trainer:
Motion run
Braking system
Flywheel mass
Training computer
Pulse measurement
The movement of an elliptical trainer
You already know the difference between an elliptical trainer and a cross trainer. On an elliptical trainer you train your endurance with a flatter running motion in a more elongated elliptical shape. The flywheel is usually at the front and the entire movement is very similar to natural running. However, there are also elliptical trainers that have the flywheel positioned at the back. Tip: If you notice when testing the device that a natural rolling motion is possible in your ankle, you are training with an elliptical trainer.
Braking system: Magnetic or induction braking system
On an elliptical trainer equipped with an electronic magnetic braking system, the distance between the flywheel and the magnet in the flywheel is adjusted electronically. The induction brake system, or eddy current brake, is a braking system that, as the name suggests, uses eddy currents caused by magnetic fields to brake.
Flywheel mass
The flywheel mass is located in the flywheel, which is usually at the front of the elliptical trainer. It is essential to ensure a smooth motion on both the elliptical trainer and the cross trainer. Without the flywheel, you would feel the reversal points of the movement when exercising on the elliptical trainer or crosstrainer and a smooth running motion would not be possible.
Training computer
With a training computer you can fully concentrate on your training and have the most important measuring points exactly in view. You always have an overview of your current speed, the time, the distance covered, the number of calories burned, your pulse and the active training programme. With different training programmes you can diversify your training and stay motivated. Some elliptical trainers also have shortcut buttons so you can easily set your favourite training programme. In addition, some elliptical trainers allow you to set an upper or lower heart rate limit for the heart rate programme, and your elliptical trainer is computer-controlled to regulate resistance and maintain your desired values.
Heart rate measurement
Most elliptical trainers allow you to monitor your heart rate using (separate) hand grips. Pulse-oriented endurance training helps you to better achieve your training goals. Pulse measurement can often also be carried out via a chest strap that transmits the data wirelessly to the training computer. You should always keep an eye on your pulse when training with the elliptical trainer so that you train correctly and effectively and come closer to your fitness goals.
FAQ
Which muscles are trained on the elliptical trainer?

By moving the arms in opposite directions, both the large muscle groups of the torso (abdomen, chest, back), but also the shoulder girdle and the arm muscles are integrated into the training.

What should I look for when buying and testing an elliptical trainer?

Important criteria when buying an elliptical trainer are the motion run, the braking system, the flywheel mass, the training computer and the pulse measurement.

What is the effect of the flywheel mass on the crosstrainer or elliptical trainer?

The flywheel mass is located in the flywheel, which is usually at the front of the elliptical trainer. It is essential It is essential to ensure a smooth motion on both the elliptical trainer and the crosstrainer. Without the flywheel or Without the flywheel, you would feel the reversal points of the movement when exercising on the elliptical trainer or crosstrainer and a smooth running movement would not be possible.

What types of elliptical trainers are there?

Depending on your fitness goal, we recommend different elliptical trainers: Foldable elliptical trainer, Speed-Motion BT as an entry-level model or the Spirit E-Glide as a professional elliptical trainer.

What is the difference between flywheel and flywheel mass system?

The flywheel is the pure flywheel mass (i.e. the pure weight of the flywheel). The flywheel mass system is the total weight of the moving parts connected to the flywheel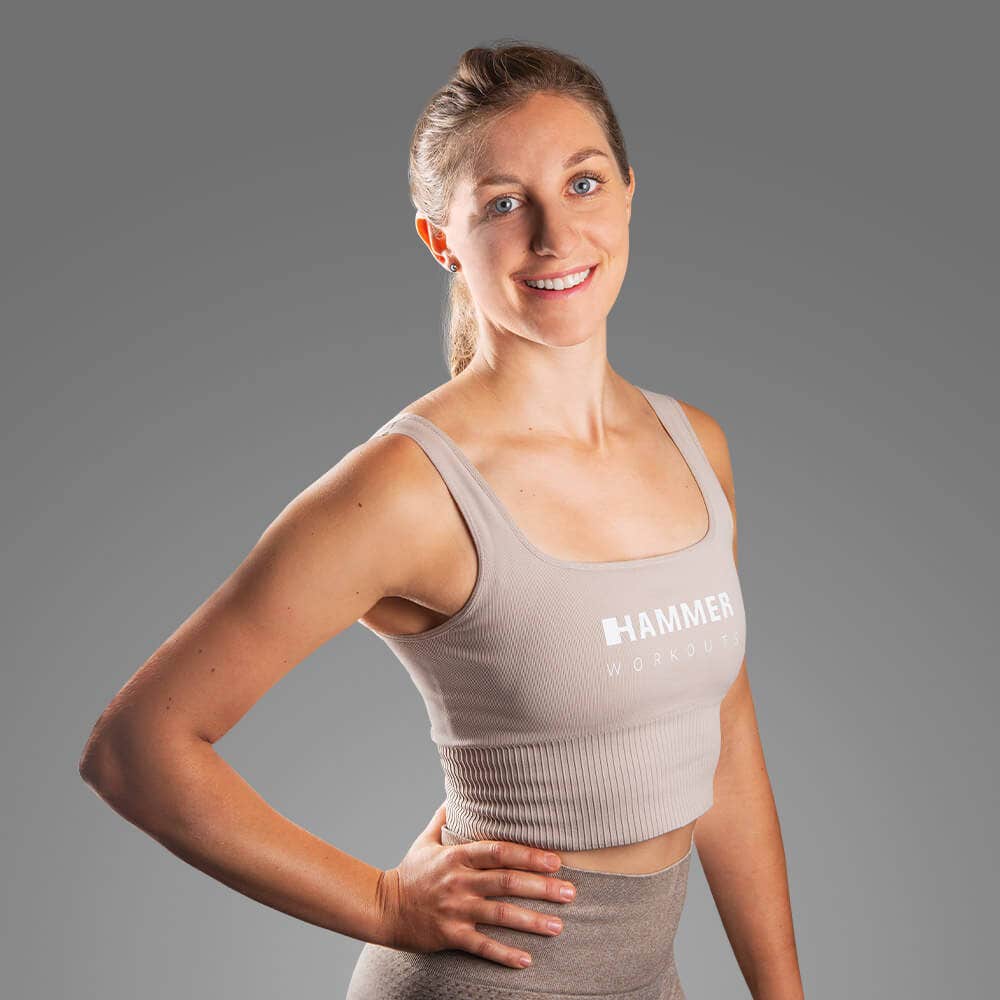 Valentina Bahl
Sports Therapist, Personal Trainer, B. Sc. Nutrition Management and Dietetics, M. Sc. Clinical Sports Therapy and Sports Physiology