Intensive indoor bike training in the living room
Training in the fast lane with indoor cycling or with the speed bike at home. Indoor bike training is a healthy and effective cardio training with a high fun factor. With the indoor speedbike you train for cycling at home, continuously increase your fitness level and burn calories. The intensity can be determined according to your training goals. Increase your performance and improve your endurance. Experience indoor cycling with the Speedbike in your own four walls.
Buy Indoor Bike
A normal fitness bike is too slow for you and you want more action? Then a speed bike or indoor cycling bike is a great solution for you! With an indoor speed bike you can bring speed and a racing bike feeling into your home. You can train in any weather and continuously increase your fitness level. Our speedbikes can be used by athletes for preparation as well as by hobby athletes. If you order your speedbike here in our online shop, we take care of the shipping costs and offer you free delivery.
What is indoor cycling?
Indoor bikes were developed by professional cyclists in the 1970s so that they could continue to train for cycling from home in winter or in bad weather. The speed bikes available today are consistent further developments from that time and skillfully get home athletes and professionals alike up to speed. Indoor cycling stands for healthy and effective endurance training.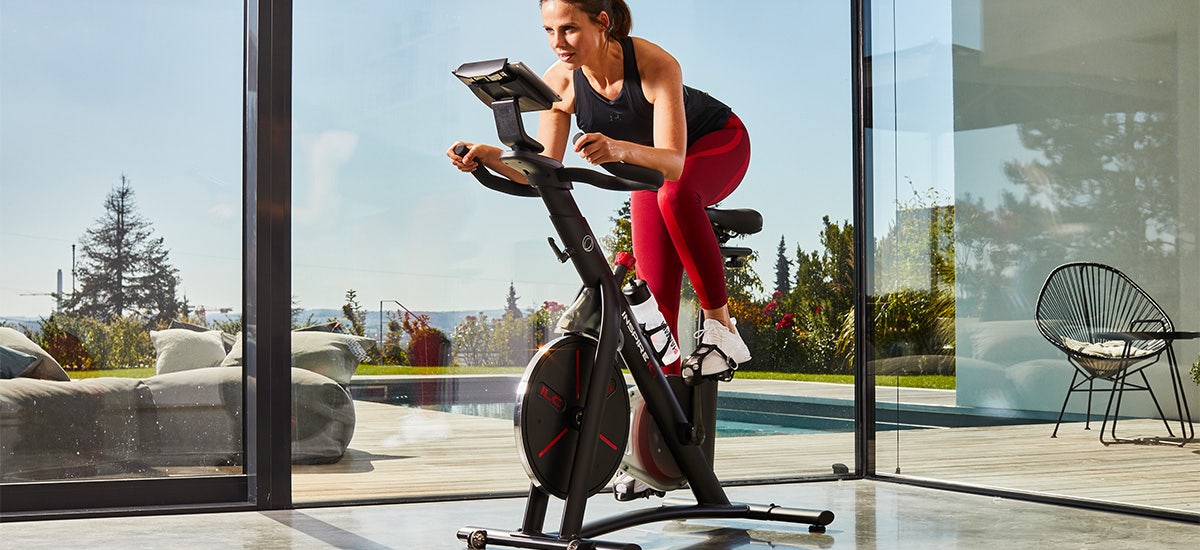 Why is indoor cycling training so healthy?
If you pedal hard on a regular basis, you will achieve success in terms of fitness after a short time. Indoor cycling is the perfect sport for anyone who wants to improve their endurance and strengthen their leg muscles.
This is what cardio training with the indoor bike does for your health:
It improves your strength endurance
It is easy on your joints
It shapes your legs
It trains your cardiovascular system
It promotes fat burning
What can I train with indoor cycling?
The best training effects are achieved through moderate endurance training of about 45 minutes. At this duration, most energy is drawn from fat metabolism, which effectively reduces fat deposits on the body and improves your endurance.
For a short and intense fitness workout, you ride constantly at high resistance or repeatedly set extreme intensity peaks during the workout. The rotating knob allows you to vary the load easily and quickly.
What are the features of indoor bikes?
Indoor cycles come directly from cycling and simulate cycling on the road like no other exercise bike. A large and heavy flywheel ensures a smooth and precise ride. The pedals that run along with the bike ensure that you don't tire out prematurely during the workout, but instead expose yourself to a continuous training stimulus and thus steadily increase your fitness and endurance.
The most important features are:
High flywheel mass
Pedals that travel with the bike
Ergonomic construction specially designed for cycling
Flexible adjustment and change options for saddle, handlebars and pedals
Realistic simulation of cycling on the road
What should I look for when buying an indoor cycle?
When buying indoor bikes, you will always come across the following terms:
Resistance and braking system
Drive
Flywheel mass
Saddle, handlebars and pedals
Training computer and pulse measurement
Safety
The resistance and braking system
On most speedbikes, the resistance and the brake are regulated as standard via a built-in felt shoe brake. The tried-and-tested brake system can be finely adjusted very easily via an adjustment knob. The resistance is then generated via two robust felt jaws that press on the flywheel from above or from the side. The race bikes with a magnetic brake system are even more professional. The resistance can be adjusted much more precisely and finely and the indoor bike runs much more quietly.
The drive
There are simpler entry-level models with chain drive and higher-quality models with belt drive. The belt drive has the clear advantage that you can exercise almost silently. The belts do not require any maintenance and, unlike chain drives, do not need to be lubricated. All HAMMER and FINNLO speed bikes are equipped with a high-quality belt drive.
The flywheel mass
The flywheel mass of cycle trainers is one of their most important features. Indoor cycles simulate cycling particularly well because large flywheel masses are installed, which ensures a very smooth and joint-friendly rotation, even at high pedalling frequencies. When buying a bike, make sure that the flywheel has a flywheel mass of at least 18 kg. HAMMER bikes, such as the FINNLO Speedbike CRS 2 and FINNLO Speedbike CRT, are equipped with a flywheel mass of 25 kg and have a particularly smooth rotation.
Saddle, handlebars and pedals
Completely flexible adjustment options for saddle and handlebars are important features for indoor bikes. In order to feel as comfortable on the bike for home as on your real bike or racing bike, indoor cycles must be just as adjustable as bikes suitable for road use. The built-in saddle and handlebars therefore usually already allow adjustment for all conceivable body sizes and leg lengths, so that an ergonomically perfect training position can be set for each individual user. There is therefore no Speedbike men's or women's version. Anyone who is unsure or is particularly short or tall should try out their future indoor cycle in advance in a shop. In addition to the handlebars and saddle supplied and the built-in pedals, proud indoor bike owners have the choice of using their own bike components. The connections for saddle and pedals on speed bikes and racer bikes are identical in construction to those on normal bikes, so clipless pedals or your own favourite saddle can be fitted at any time.
Special attention should be paid to the sheathing of the handlebars. It is important that it is covered with high-quality, sweat-proof foam so that the hands do not slip off even during longer training sessions. In addition, the handlebars should leave room for different grip positions and be stable so that you can train in a sporty "racing posture" as well as in an upright position without worry.
The saddle should be made of very high-quality material and be designed for long rides. By the way, FINNLO by HAMMER only uses premium brand saddles of the Selle Royal brand, which are known for offering the athlete a friction- and chafe-free seat even during longer rides.
The pedals should allow for a secure, stable stand. Since you often put your buttocks up and often train at your limits, optimal power transmission must be guaranteed, and of course you must not slip.
Training computer and pulse measurement
Classic indoor bikes usually concentrate on the essentials: The athlete should be given an almost meditative training opportunity, analogous to racing, and consolidate his or her endurance with more or less constant resistance per unit. All important data for the cyclist, such as time, distance and speed, can of course be read off. Race bikes with eddy current brakes often offer additional training programmes that can also be pulse-controlled. Pulse measurement can easily be done via a heart rate monitor or chest strap and is an important accessory for bike training, as you can sometimes reach your limit during high-frequency training, for example, and a glance at the heart rate monitor quickly reveals when it is time to slow down. A possible wireless connection between the heart rate monitor or chest strap and the training computer is also a nice extra.
Security
Due to the deliberately prevented freewheeling in indoor cycling, an emergency brake is an important safety factor. The emergency brake must be within direct reach and quick to apply. An emergency brake becomes an important helper when the centrifugal mass has to be brought to a stop quickly or you accidentally slip off the pedal.