Kinomap

HAMMER Cardio Motion BT
Effortless cardiovascular training – from beginner to professional level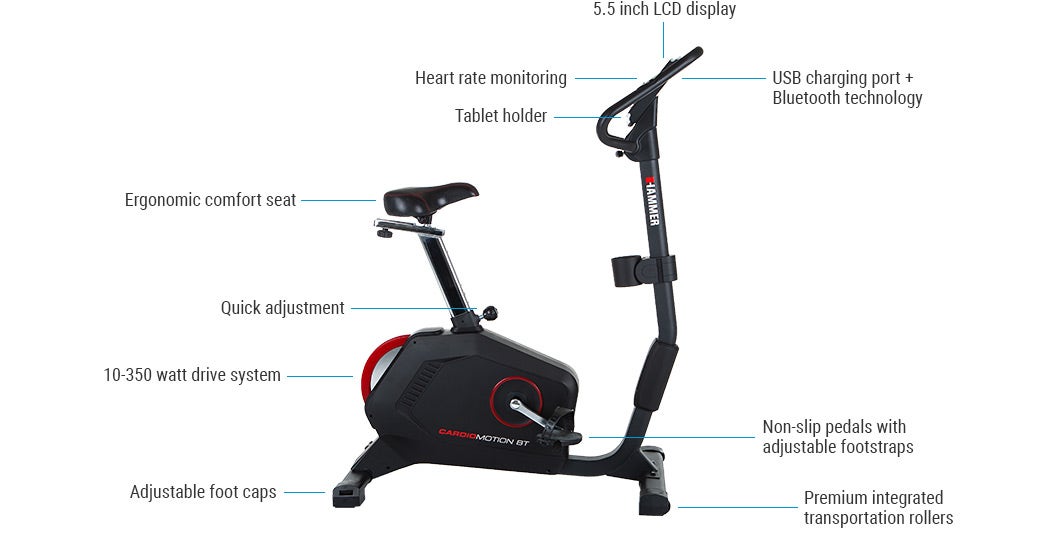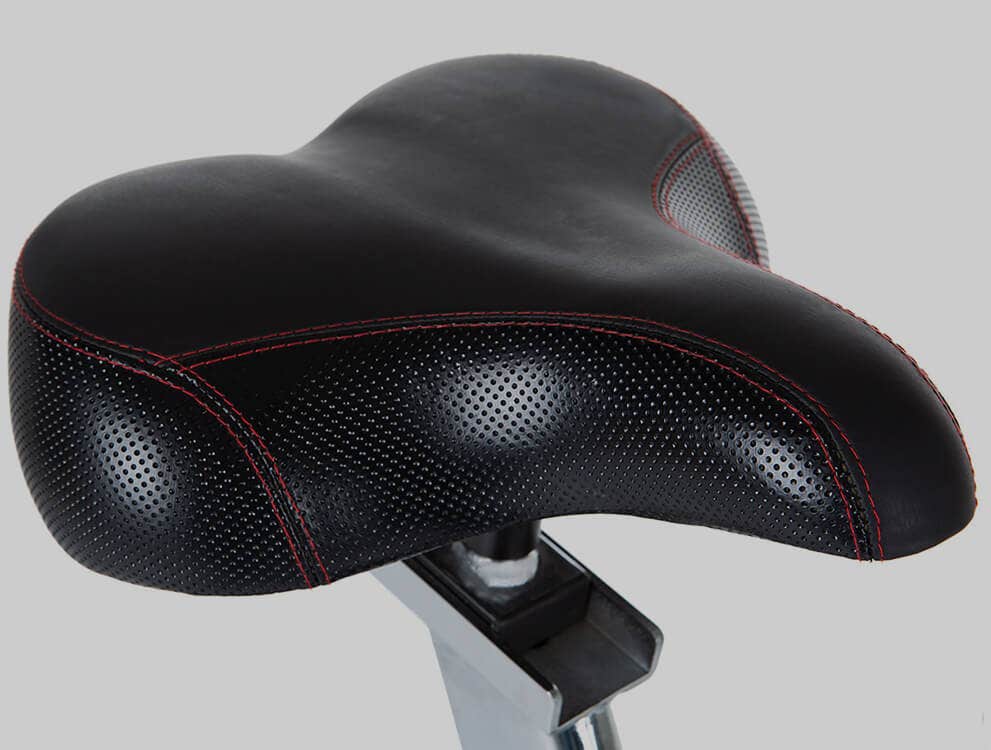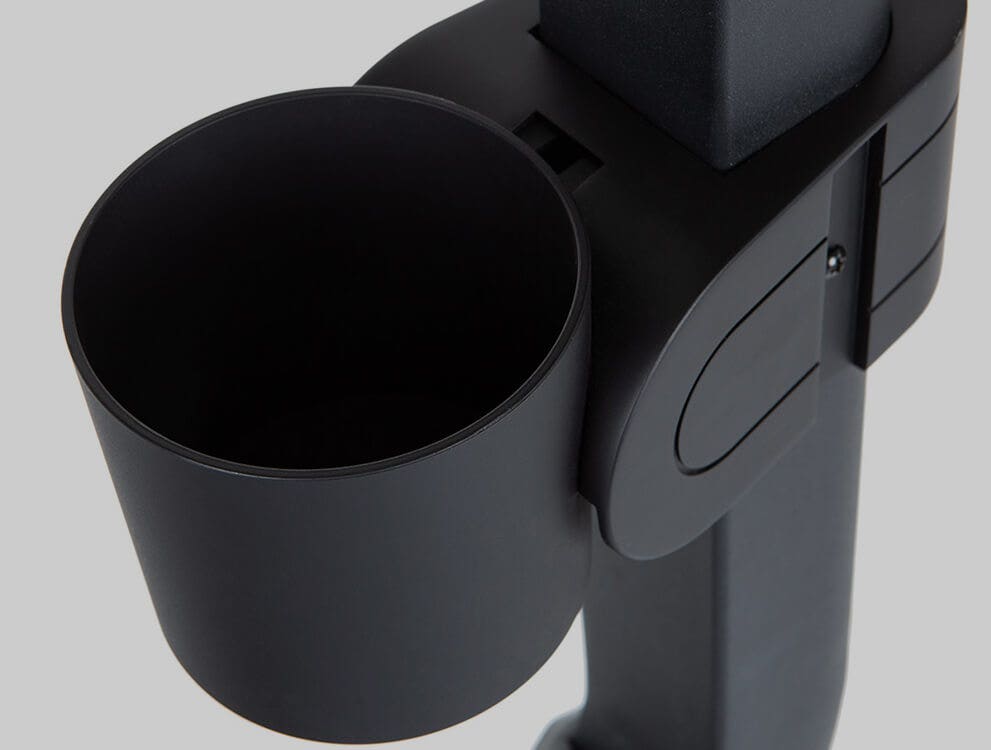 Your new cardio exercise machine – simple and straightforward
Clever details for a better training experience
Are you looking for a high-quality, ultra-sturdy and comfortable ergometer with a low step-through frame for easy mounting and automatic fitness programs? Are you also looking for superbly clear, self-explanatory and uncomplicated computer controls? If so, Cardio Motion BT is the perfect choice for you!
The moving parts of your Cardio Motion BT have been subjected to a durability test of over 100,000 revolutions so that we can ensure you enjoy the benefits of your ergometer for a long time to come. All components, such as ball bearings and electronics, are of premium quality and designed for intensive use.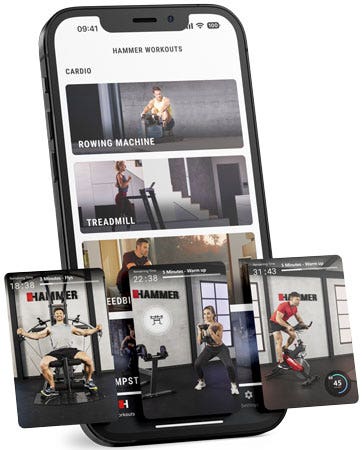 Discover your favorite workout
With HAMMER Workouts we constantly offer you new and motivating courses with your Cardio Motion. Work out together with our competent trainers and achieve your individual fitness goals in 10 to 50 minute workouts. All in one place and without an additional subscription




Your upgrade for the Cardio Motion BT
With the specially developed Upright-Fit accessory, you can actively improve your posture. You straighten your upper body and maintain a pleasantly straight and healthy posture while sitting on your Cardio Motion BT. In many of the activities we do every day, we tilt our upper body forward and our shoulders and neck move towards our chest. Whether driving a car or looking at a smartphone, this causes the muscles to shorten, tense and ache. The Upright-Fit saddle grip for an upright posture prevents the development of a bent position and the associated pain in the back and neck area. Order now and actively improve your posture!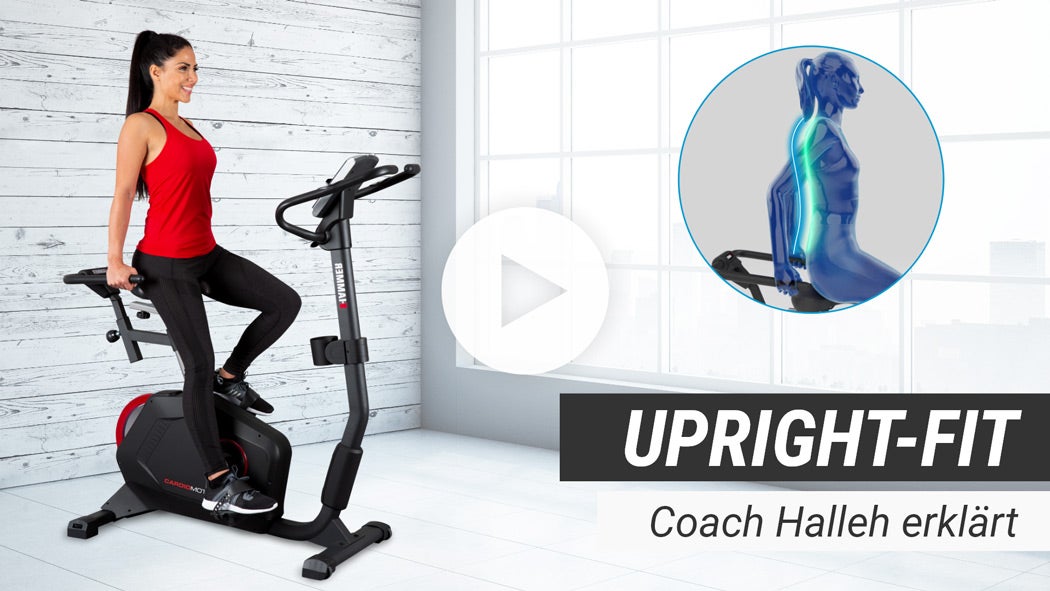 Experience your product in your own home now!
Whether as a 3D view on the PC or virtually in your own room via smartphone - immerse yourself in a whole new kind of product experience with HAMMER Augmented Reality.
Light cardio training starting at just 10 watt resistance!
Full range from 10 to 350 watt resistance
Your new Cardio Motion BT ergometer lets you train with minimal resistance, starting at just 10 watts! Ideal for older people and for light mobility work following sports injuries, or for gradually intensifying your training routine. Whether a low entry-level load of 10 watts or a sporting challenge with 350 watts - the Cardio Motion BT is suitable for every training goal and can be precisely adjusted in 5-watt increments.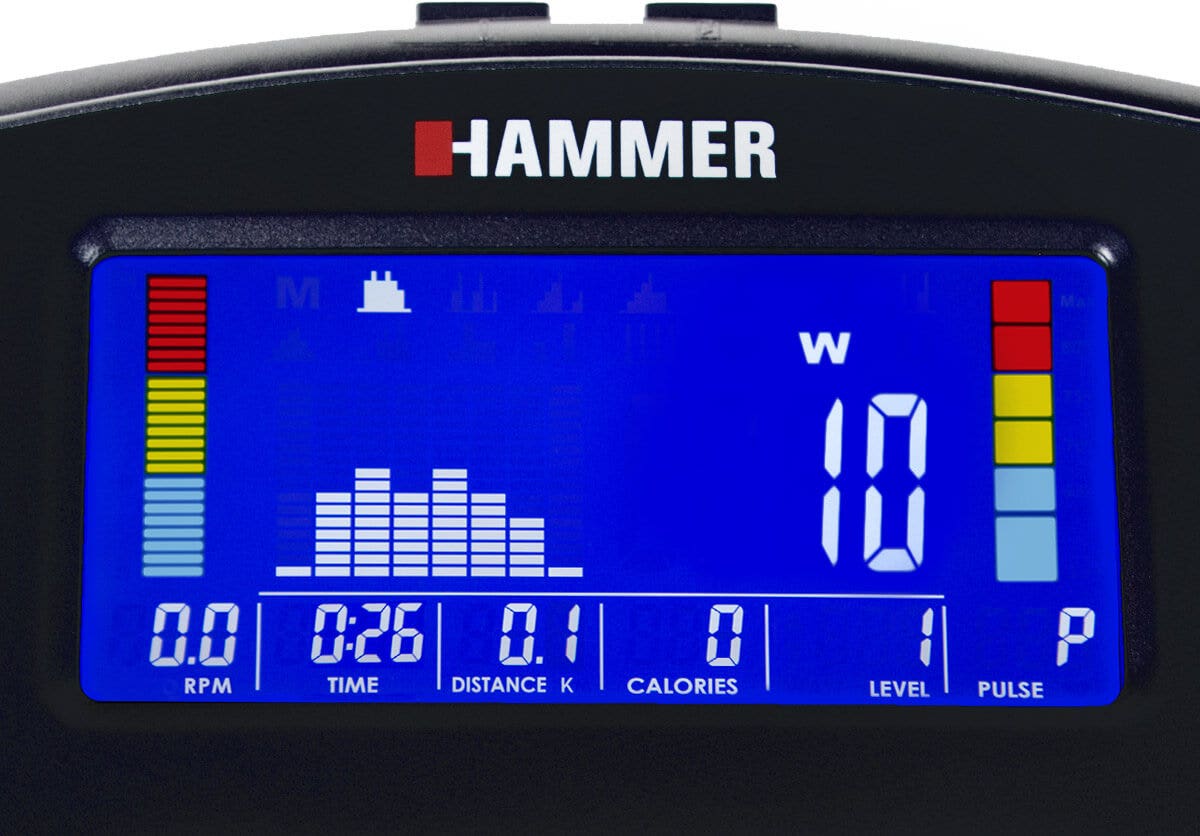 That's how fit you are!
Automatic fitness test included
Do your own personal fitness test. Measure your heart rate after training. The faster your heart rate drops back down, the fitter you are. This is displayed with a fitness rating of 1 to 6 on your Cardio Motion BT computer. Your aim should be to improve your rating with each workout.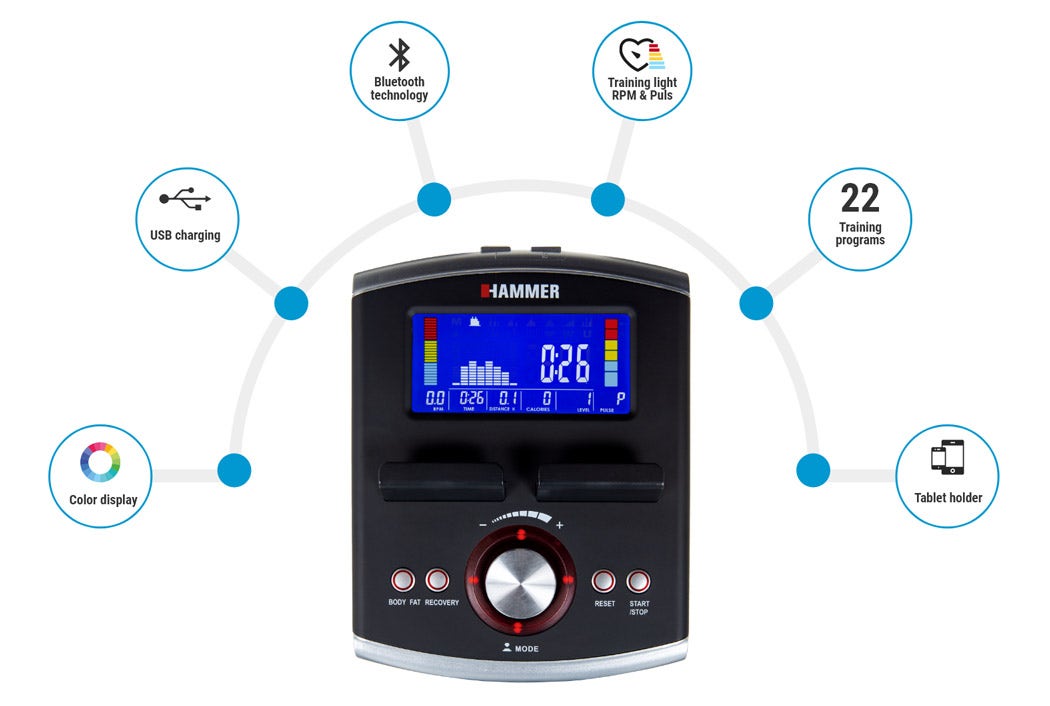 Clear, large computer display that is easy on the eyes
Very easy to use
The monitor of this premium ergometer has a clear layout and the menu is easy to navigate. There is no need to read complicated instructions. The menu navigation is practically self-explanatory and easy to understand for all age groups. Push, turn, train – it's as easy as that to enjoy a stress-free workout. The high-resolution blue background of the LCD screen is easy on the eyes; it shows all important workout data at a glance, with high definition.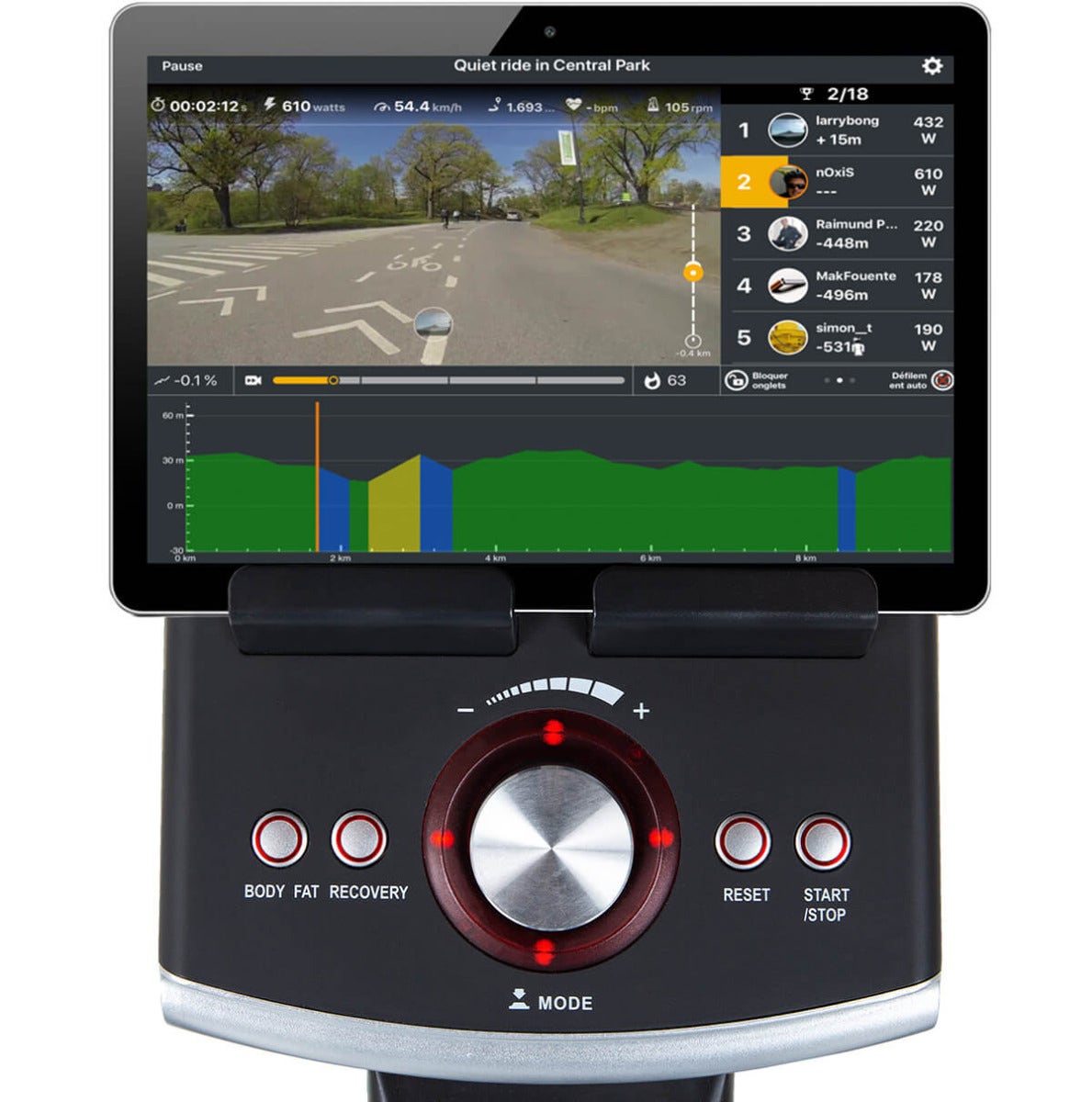 Workout results 2.0
With a 5.5 inch monitor or smartphone/tablet
The multimedia console of your new Cardio Motion BT ergometer gives you the choice: conventional display of your workout data via the integrated LCD screen (display of uphill/downhill profiles, speed, time, distance travelled, calories burned, heart rate, body fat, BMI and fitness test) – or via your smartphone or tablet. You conveniently control your workout via one of the fitness apps, and your smartphone or tablet is automatically charged through the integrated USB port while you train – always at full power!
Take a wide variety of routes in the "Live Experience", enjoy your favourite music or watch an exciting film. You get fit while time flies by. Workout data can be saved, and you can compare and document your achievements. Home fitness has never been so exciting, varied and motivating. The Kinomap app gives you a particularly realistic live experience of your route: resistance is automatically increased when riding uphill and decreased when going downhill. Optional: Kinomap live events for group fitness, races, competitions and prizes.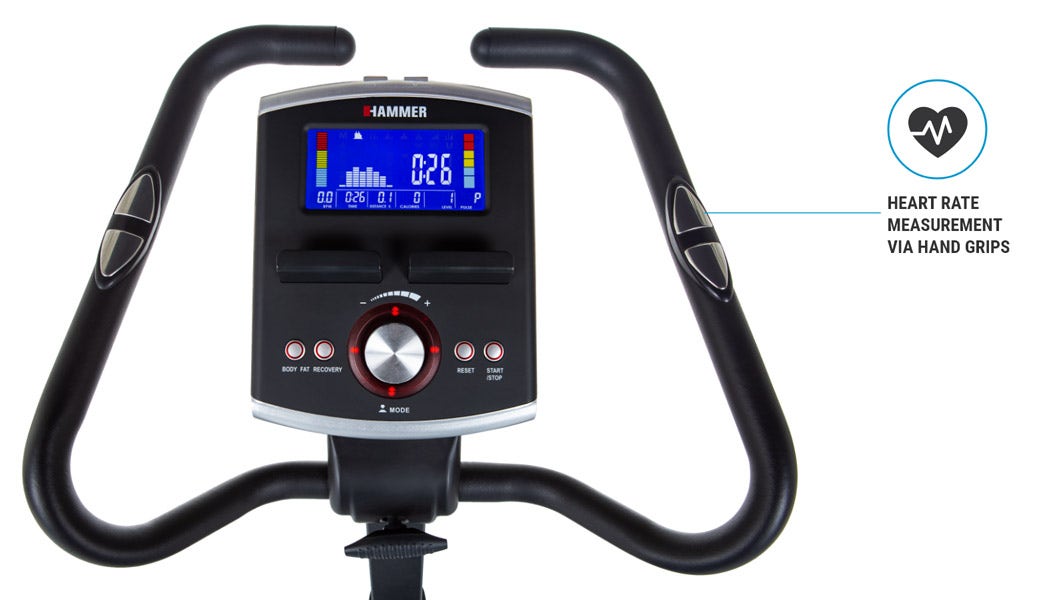 Effortless step-through and a comfortable sitting position
Careful ergonomic design
Step-through is pleasantly simple with your new Cardio Motion BT ergometer. In contrast to high-framed ergometers, the Cardio Motion BT allows you to just swing your leg through the generous gap between the handlebars and the unit. We guarantee you will have one of those "aha" moments when you sit on the wide yet sporty HAMMER comfort saddle. Here too, the Cardio Motion BT impresses with thick, durable 7 cm padding. The ergonomic shape of the saddle prevents unpleasant friction on the thighs, allowing pain-free workouts even during longer sessions.
Personal fitness goals? Your heart rate at a glance!
For healthy cardiovascular training
If you are pursuing a particular fitness goal, you should keep an eye on your heart rate. Do you want to start with a healthy cardiovascular training or burn off a large amount of calories? Your heart rate is what counts most! Your heart rate can be measured either via the hand grip or an optional chest strap, allowing you to keep an eye on your heart rate at all times and achieve your personal fitness goals faster. By entering a maximum heart rate, you can program the Cardio Motion BT to automatically reduce resistance once you surpass the set value. Cardio Motion BT is your ideal workout partner for safe and healthy cardiovascular training that doesn't exceed your limits.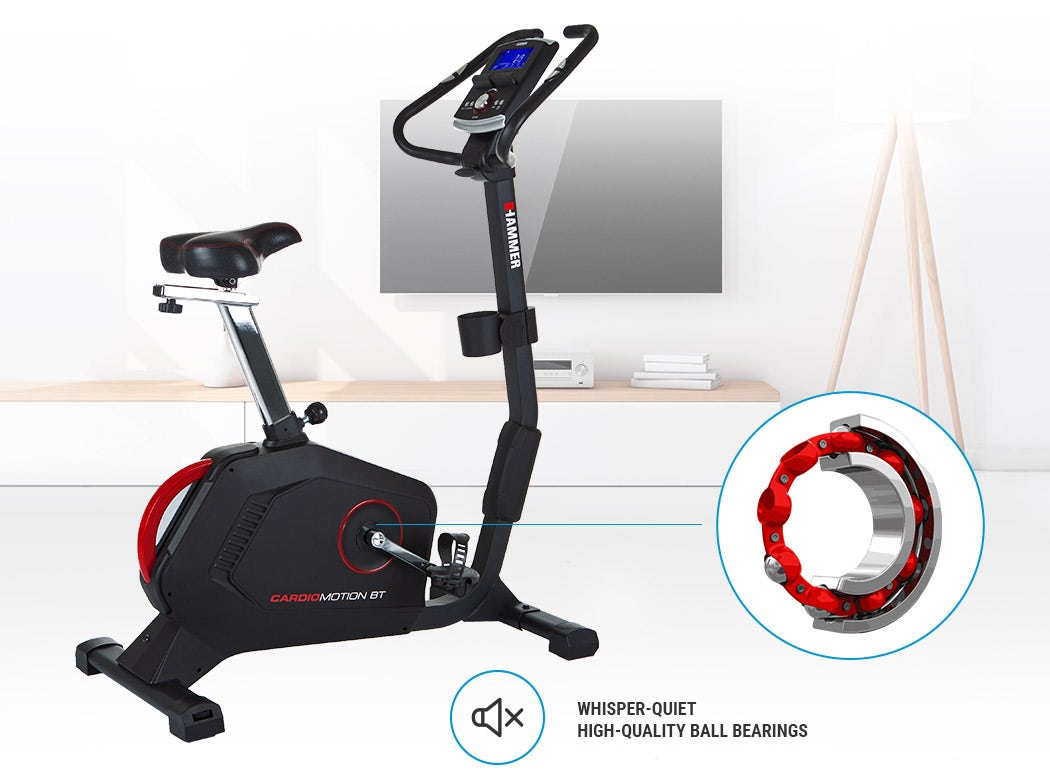 Whisper-quiet in your apartment
Relax and enjoy an undisturbed workout
The electronic magnetic braking system is particularly durable, very quiet and of proven quality. An 8 kg flywheel mass and a premium ball bearing system ensure that your Cardio Motion BT comfort ergometer runs smoothly and very quietly. No squeaking, grating or rattling like you will find with low-cost entry-level models. This means you can enjoy undisturbed training at any time, night or day – even in front of the TV – and just concentrate on your workout.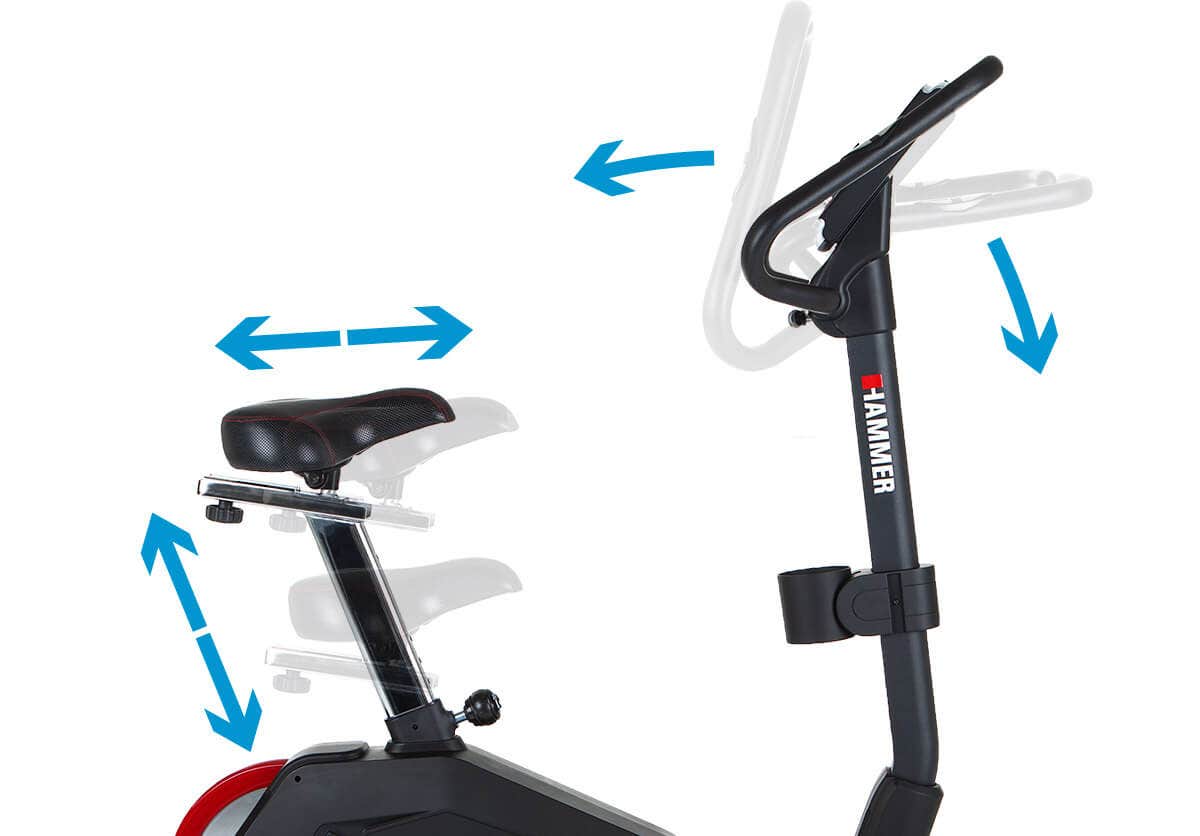 Just your size
Vario-handlebars and saddle adjustment
Your ergometer allows you to vary the angle of the handlebars according to your fitness goals. Choose between relaxed, performance-oriented, sporty or back-friendly position. The ergonomic saddle is easily adjustable to the perfect seat position via the quick adjustment lever, allowing for body heights between 1.55 m and 1.90 m. Saddle height, angle and the distance to the handlebars can be modified in seconds to suit different members of the family.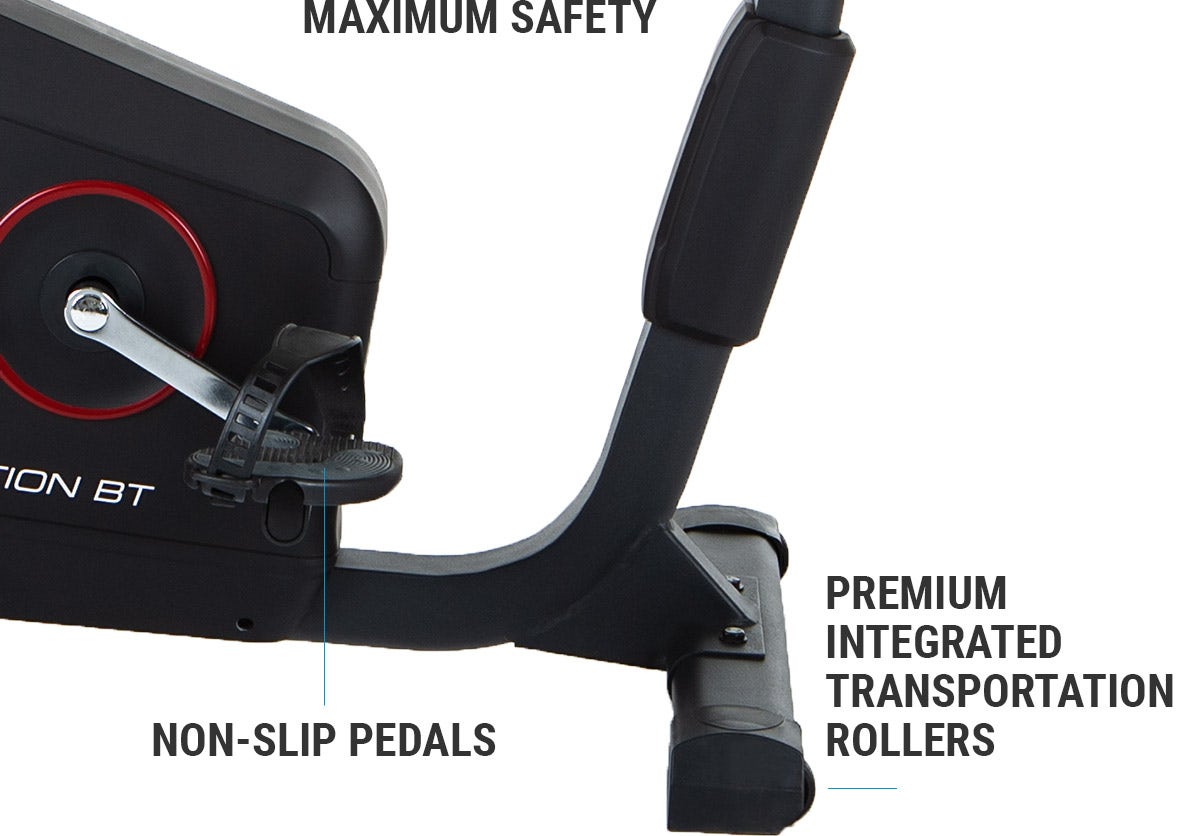 Further premium details
Sturdy and easy to transport
Non-slip pedals with adjustable footstraps for superior safety; integrated transportation rollers and adjustable footing caps for perfect levelling on uneven floors. The four-point support system and double welding give your Cardio Motion BT an extremely robust and secure footing.
WaterEffect 3D impresses in the test
"The Cardio Motion BT was used by all testers for 30 minutes per day over a test period of four weeks: We therefore had them complete ~ 4,800 minutes (~ 80 hours) of pure workouts in order to be able to judge the quality of the model by the same standards that average consumers use. The majority of our testers came to the same conclusion: The training ergonomics are great."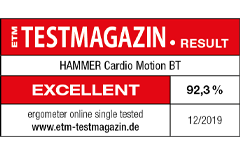 Computer
Watt controlled
Yes - adjustable in 5-watt steps
Multimedia
App, Bluetooth, Tablet support, USB
Integrated pulse receiver for chest belts
5 kHz
Display
Load profiles
Distance, Speed, Heart rate, Calories, RPM, Watt, Time
Programs and profiles
Heart rate controlled programmes
4
Adjustable pulse limit
Upper pulse limit
Drive/brake system
Drive system
Grooved belt
Load control
RPM independent
Braking system
Permanent Magnetic
Resistance adjustment
Computer controlled
Dimensions and weight
Build up size (L x W x H)
110 x 52 x 140 cm
Other features
Transportation rollers
Yes
Saddle adjustment
Horizontal, Vertical
Handlebar adjustment
Horizontal, Vertical
Performance
10 - 350 Watt
DIN Norm
DIN EN ISO 20957 -1/5
Shipping
Delivery time
3-6 working days
Scope of delivery
Cardio Motion BT
Delivery Information
Delivery to the apartment door
Private use
on the main frame
10 years
Clients ask, our fitness experts answer
Do you need more information about the product? Ask your question here. Our fitness experts will answer quickly and easily.
Our recommendation for you