Kinomap
Zwift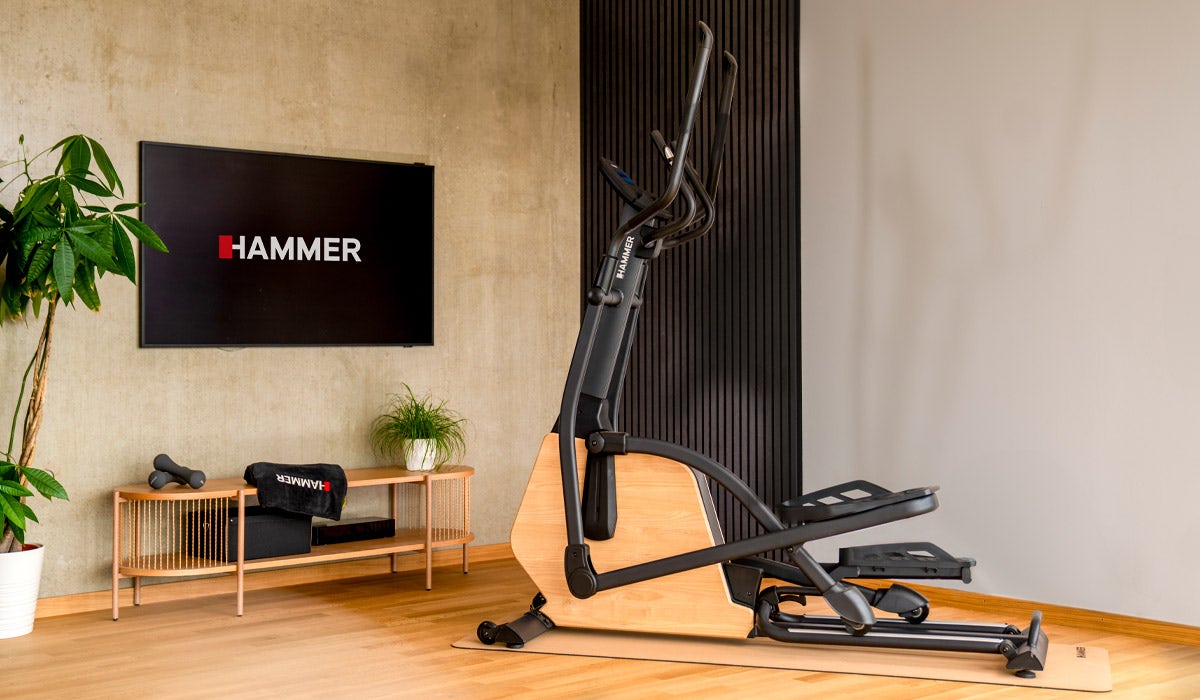 Classy wood design, connectivity & booty shaping all in one!
Transform your home into a place where fitness and style go hand in hand. The CrossPace 5.0 NorsK impresses with its stability and its stunning, natural wood design. The elliptical trainer is not only a highly functional piece of training equipment, but also a real eye-catcher that enriches your rooms with a warmth and elegance that only natural materials can offer. With its 3-level incline adjustment, you can customise and intensify the workout according to your wishes.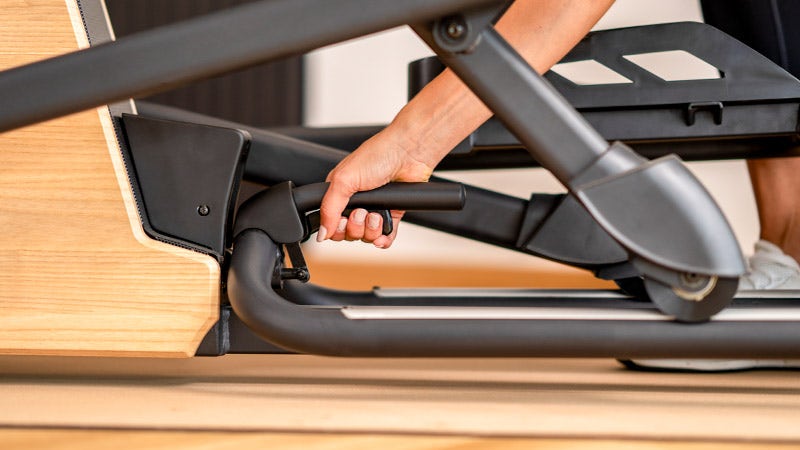 Choose your incline
Customise your workouts to your liking. Focus on your legs and buttocks.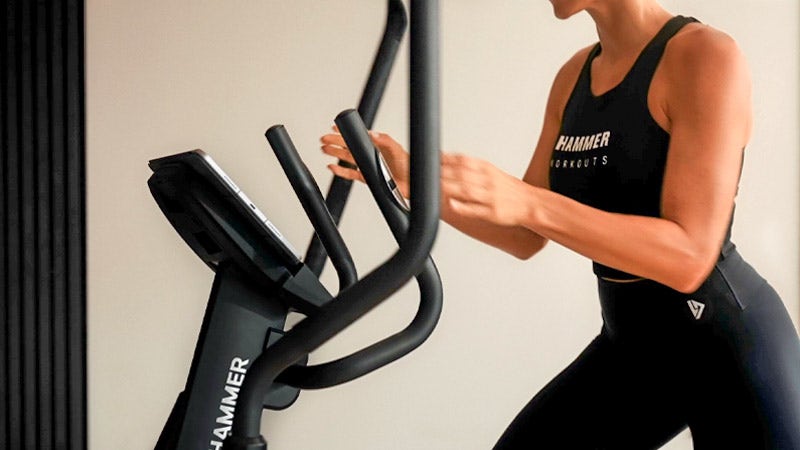 Product Highlights
Convince yourself of all the features of the CrossPace 5.0 NorsK!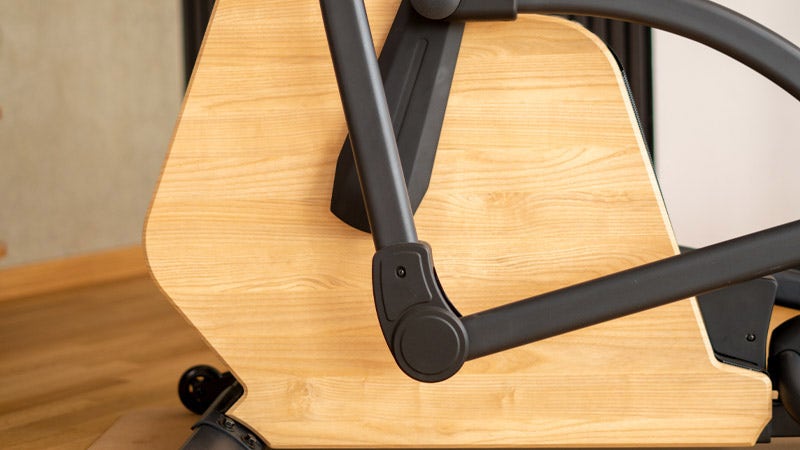 Natural harmony
Our NorsK elliptical trainer impresses not only with its inner values, but also with its noble wooden aesthetics!
Discover your favourite workout
With HAMMER Workouts we constantly offer you new and motivating courses with your elliptical trainer. Work out together with our competent trainers and achieve your individual fitness goals in 10 to 50-minute workouts. No matter if you use your smartphone, tablet or laptop, without an additional subscription.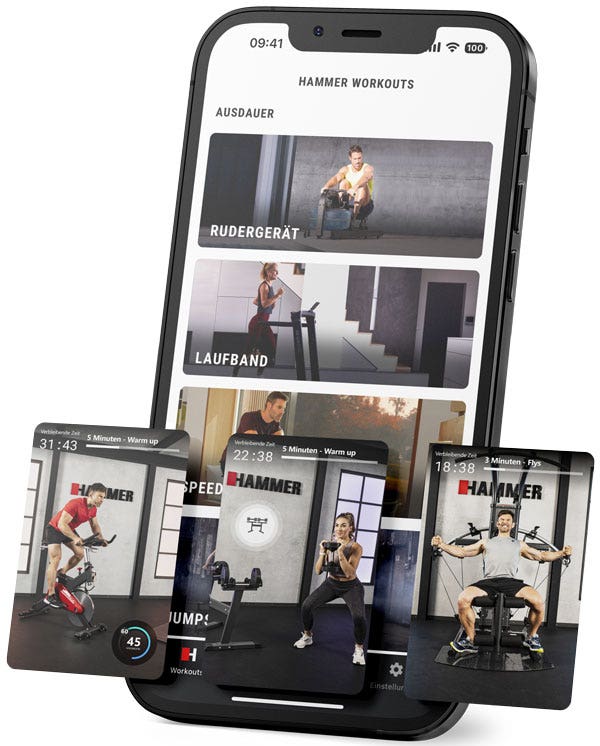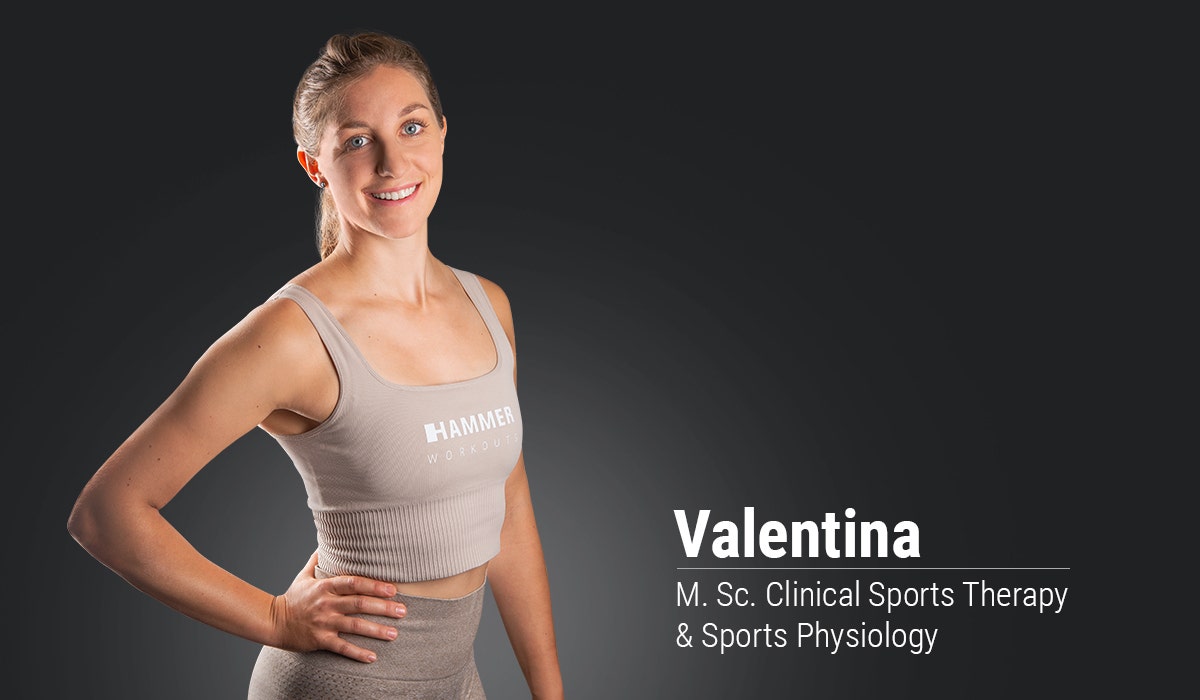 Expertise of our trainers
"Whether leg training or butt shaping, here I have the maximum training variation! The heart of the elliptical trainer is the 3-level incline adjustment, which allows for a versatile workout. The CrossPace 5.0 NorsK is a real eye-catcher and convinces me with its beautiful design."
NorsK - Fitness Nature Made.
The natural wood design blends harmoniously into any room and gives it a warm and inviting atmosphere. The CrossPace 5.0 NorsK is not only a piece of training equipment, but also a design element. Our natural wood design reduces the amount of plastic by 68% compared to a conventional elliptical trainer.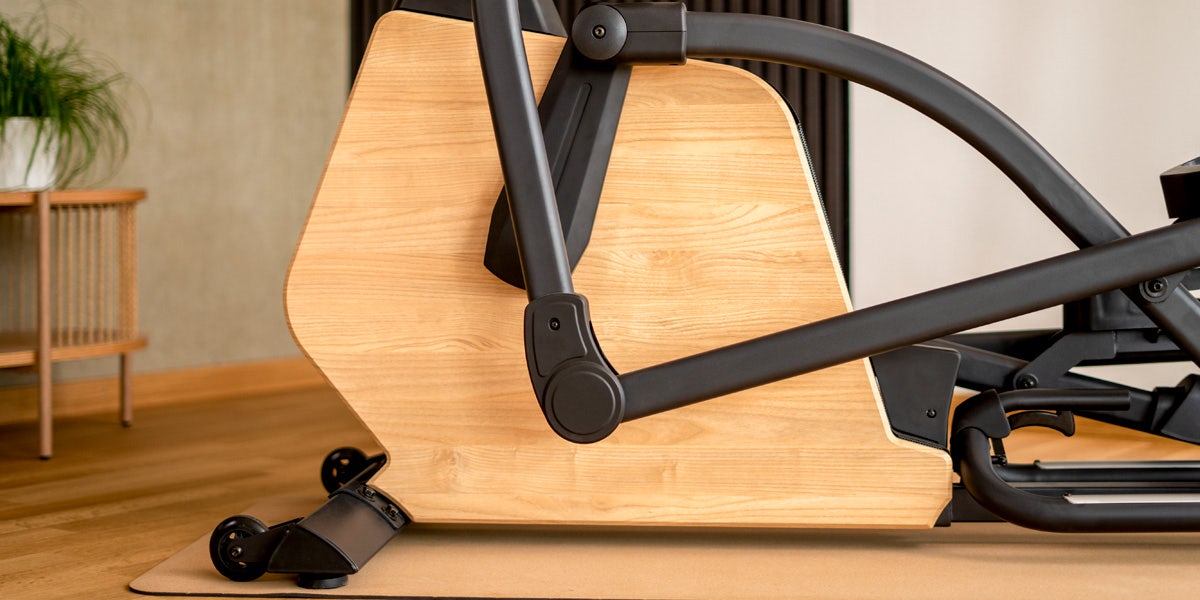 Long service life through the use of high-quality components
Reduction of plastic to a minimum
Reduction of polystyrene & plastic in packaging
Environmentally friendly floor protection mats made of natural rubber and cork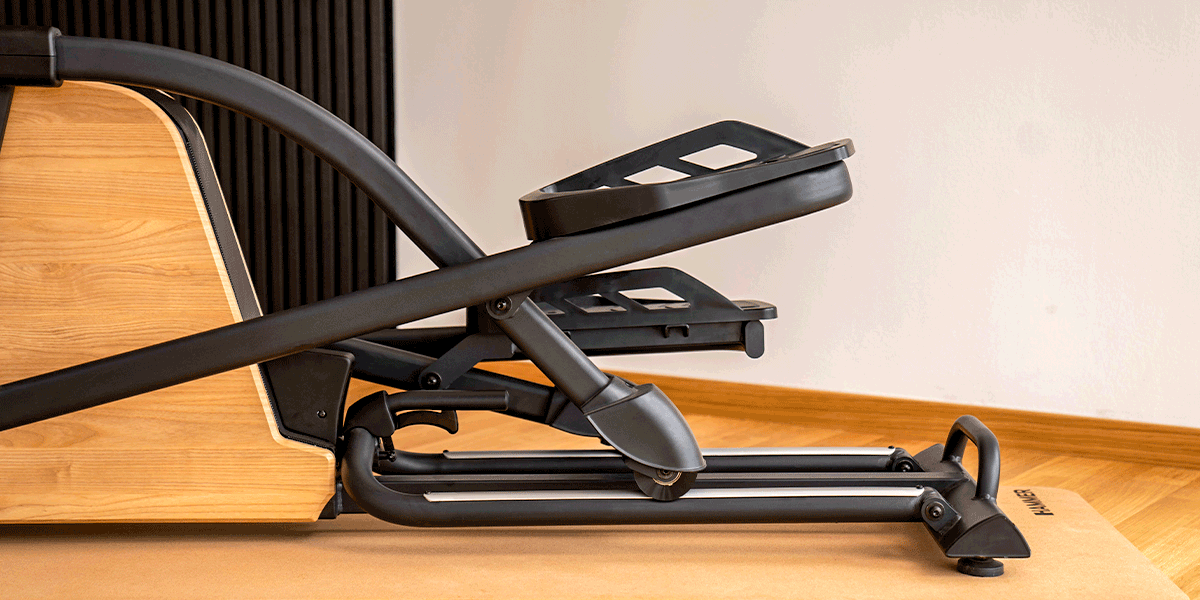 Booty shaping included
By adjusting the incline, you create different movement patterns and thus work different muscle groups. A higher incline focuses on the glutes and hamstrings, while a lower incline works the front hamstrings more.
Your personal trainer
The multifunctional Push & Turn computer with colourful LCD display gives you a clear and concise view of your training data. Integrated traffic lights for pulse and RPM allow you to check your intensity at a glance. Enjoy a total of 36 training and 5 heart rate programmes.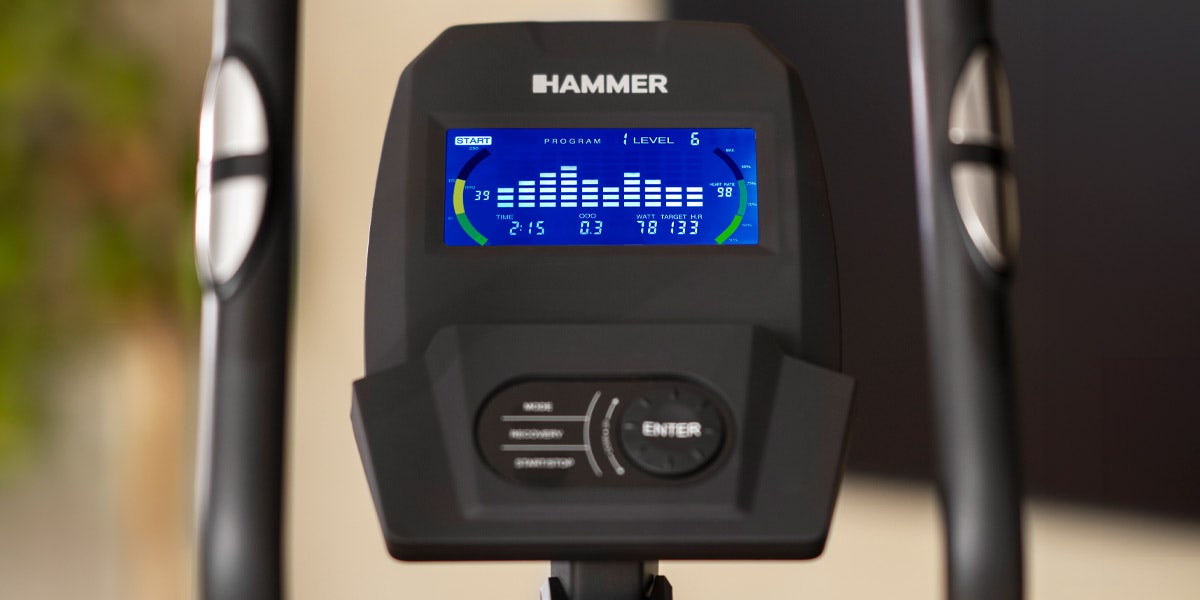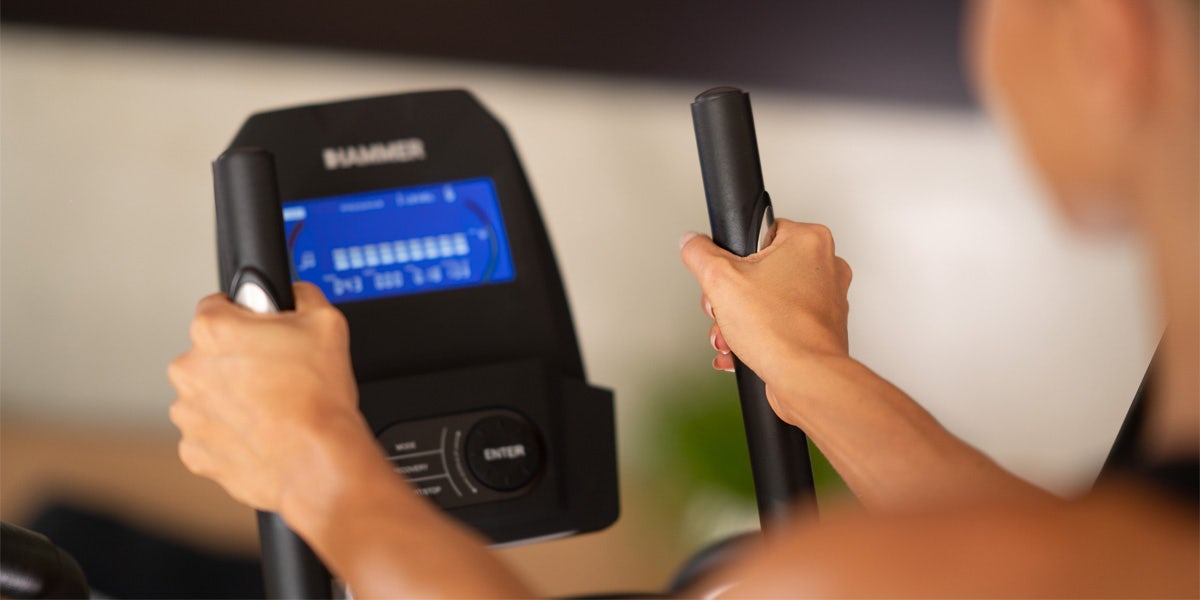 Heart rate control made easy
Experience an effective and safe workout with our elliptical trainer, equipped with pulse sensors on the handles. Monitor your heart rate and optimise your workout for maximum results.
Compatible with Zwift & Kinomap
The seamless integration of Zwift and Kinomap opens the door to a virtual world of exciting routes and varied workouts. Immerse yourself in real landscapes, challenge yourself in interactive challenges and compete with other fitness enthusiasts worldwide.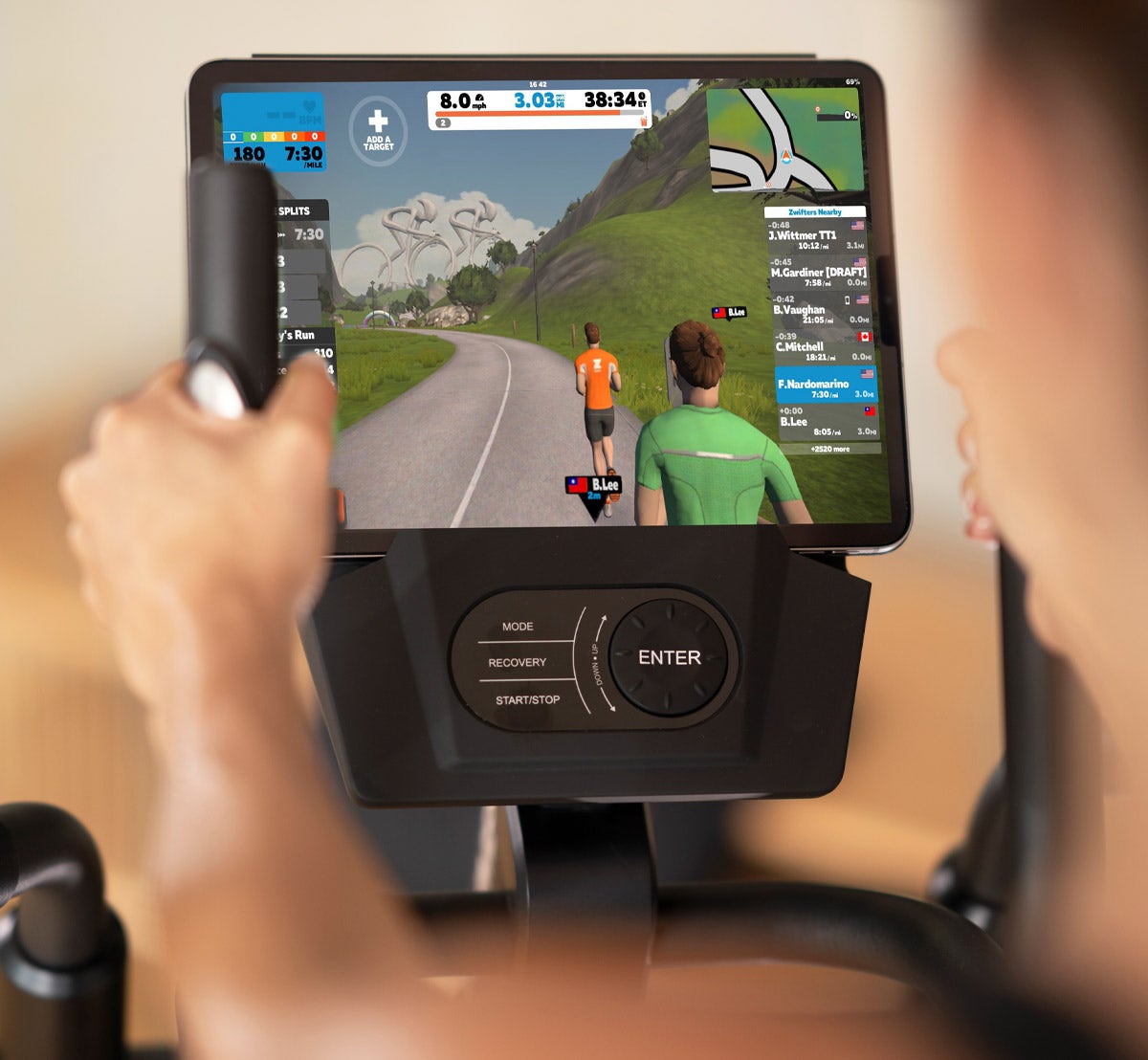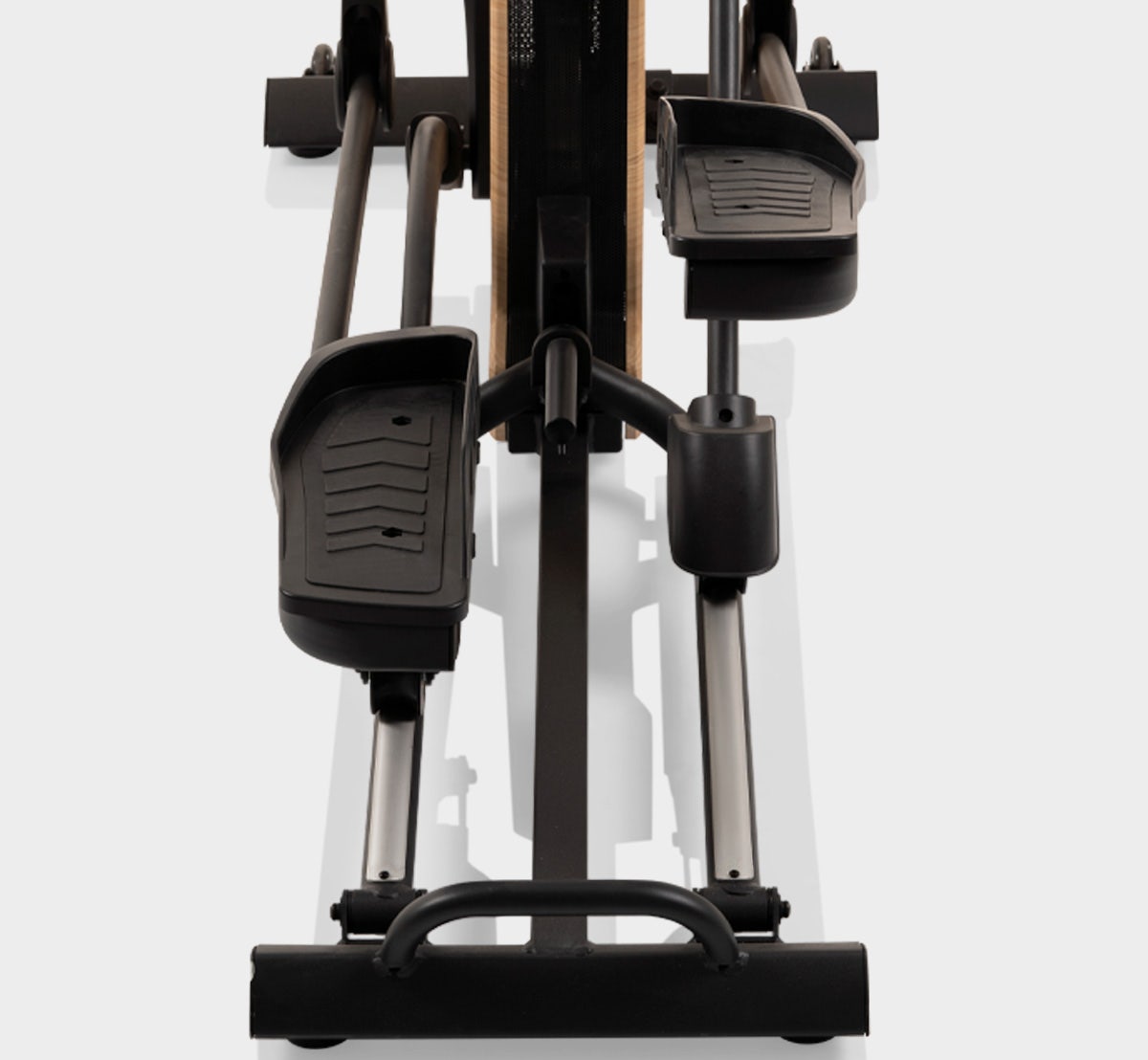 Workouts that are easy on the joints
The generous stride length of 50 cm and the ergonomic pedal spacing of 13 cm, create a smooth, round and joint-friendly running motion. Your comfort, our priority. Invest in your health and well-being.
Dynamic and so beautifully quiet
With the 20 kg flywheel mass and the whisper-quiet, wear-free magnetic brake system, we offer you the basis for a first-class training experience. Experience the real and intensive training feeling with optimal resistance from 25 - 350 watts and absolute silence.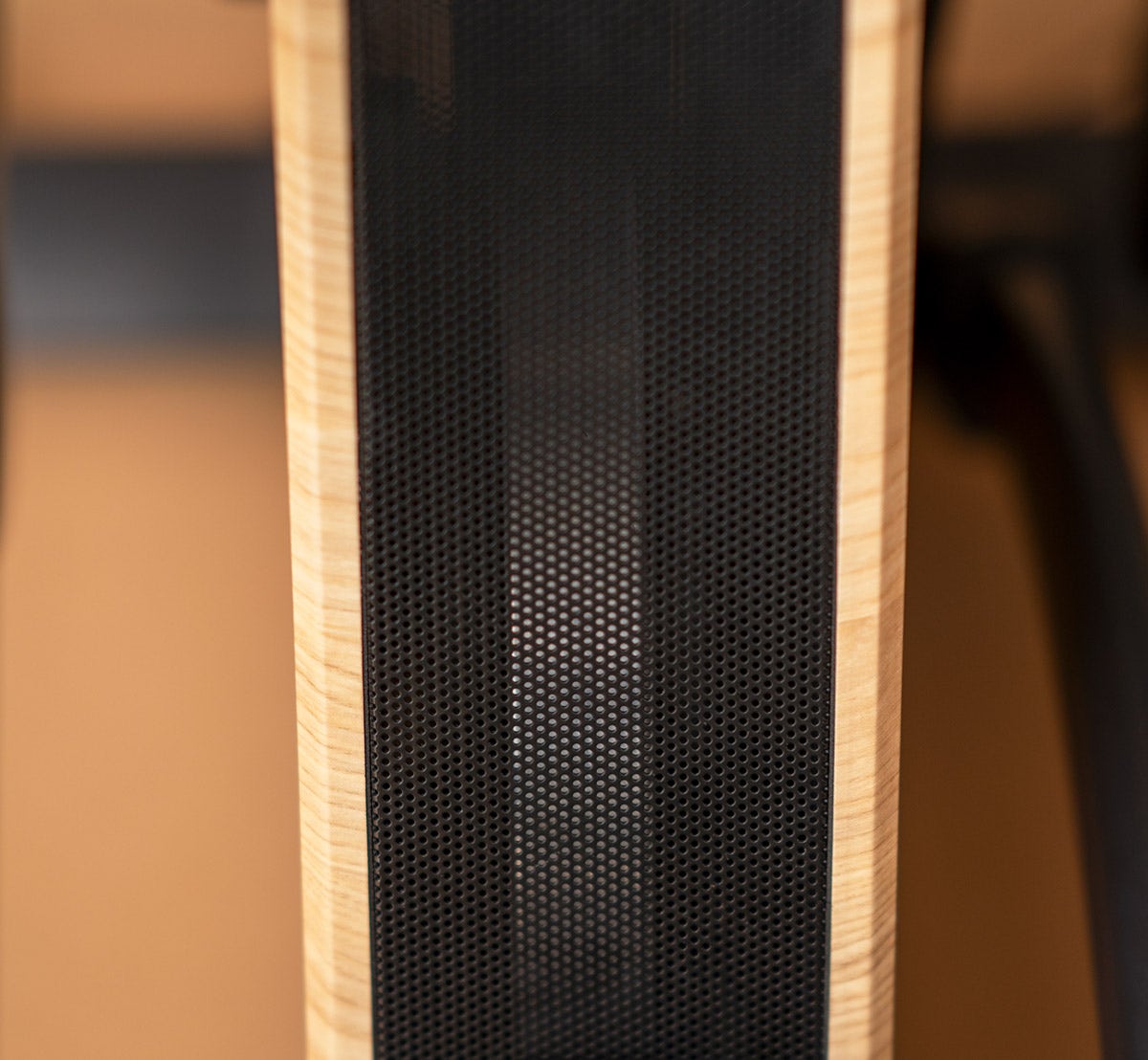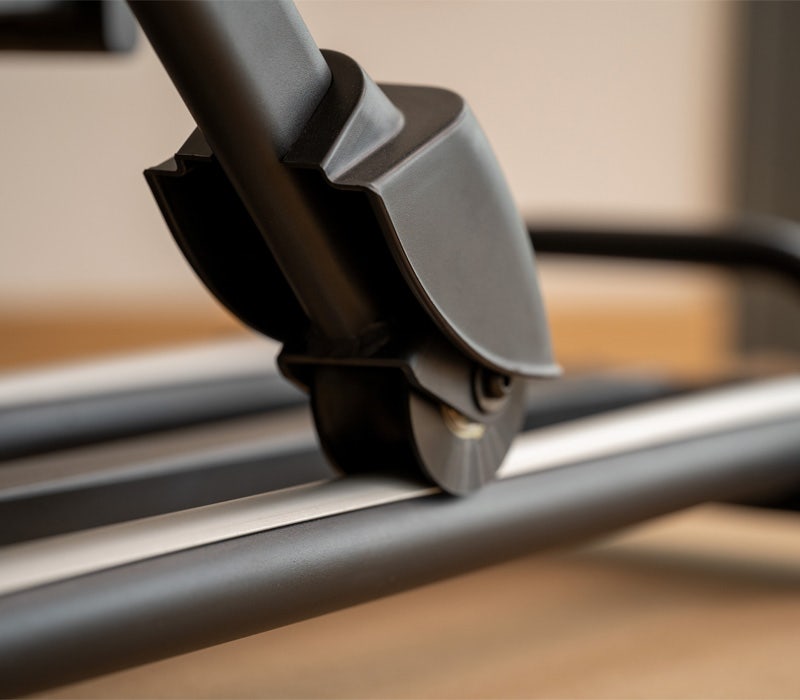 High-quality castors on aluminium rails
The precision-machined rollers ensure smooth and quiet movement, while the robust rails provide a stable and durable training platform. The combination of high-quality rollers and rails ensures outstanding performance and durability of our elliptical trainer.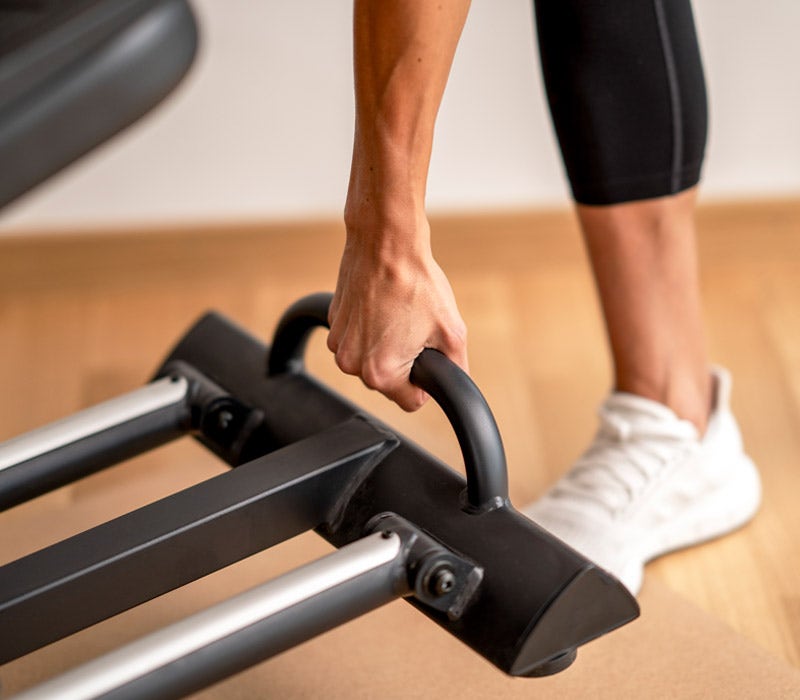 Make your life easier
The specially designed handle makes it easy to grip and ensures that you can move the elliptical safely and stably. No more tedious lifting or pushing - with a gentle tug on the handle, the elliptical glides effortlessly across the floor.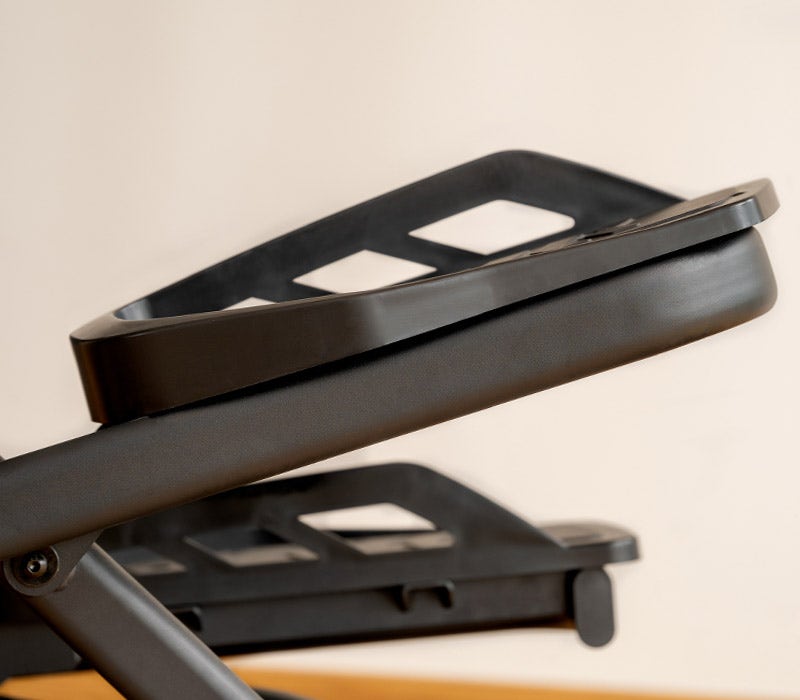 High-quality tread plates
With the NorsK elliptical's non-slip, high-quality tread plates, you'll experience a workout in a class of its own. Every step you take on these ergonomically designed tread plates is a step towards your fitness goals. The tread plates not only offer you optimal support during the workout, but also contribute to a gentle movement. Effortless mobility
Whether you're moving the CrossPace around the room or want to push it to the side after your workout, our high-quality transport wheels make it easy to move the elliptical. The soft castors are particularly "surface-friendly" and prevent any kind of scratches.
Revolutionise your training
Experience a versatile training experience thanks to a wide range of grip options. From wide grip positions to narrow grip positions, you have the freedom to adjust your hand positions and target different muscle groups. Whether you want to train your arms, shoulders or upper body, our grip variety allows you to create your workout with maximum variety.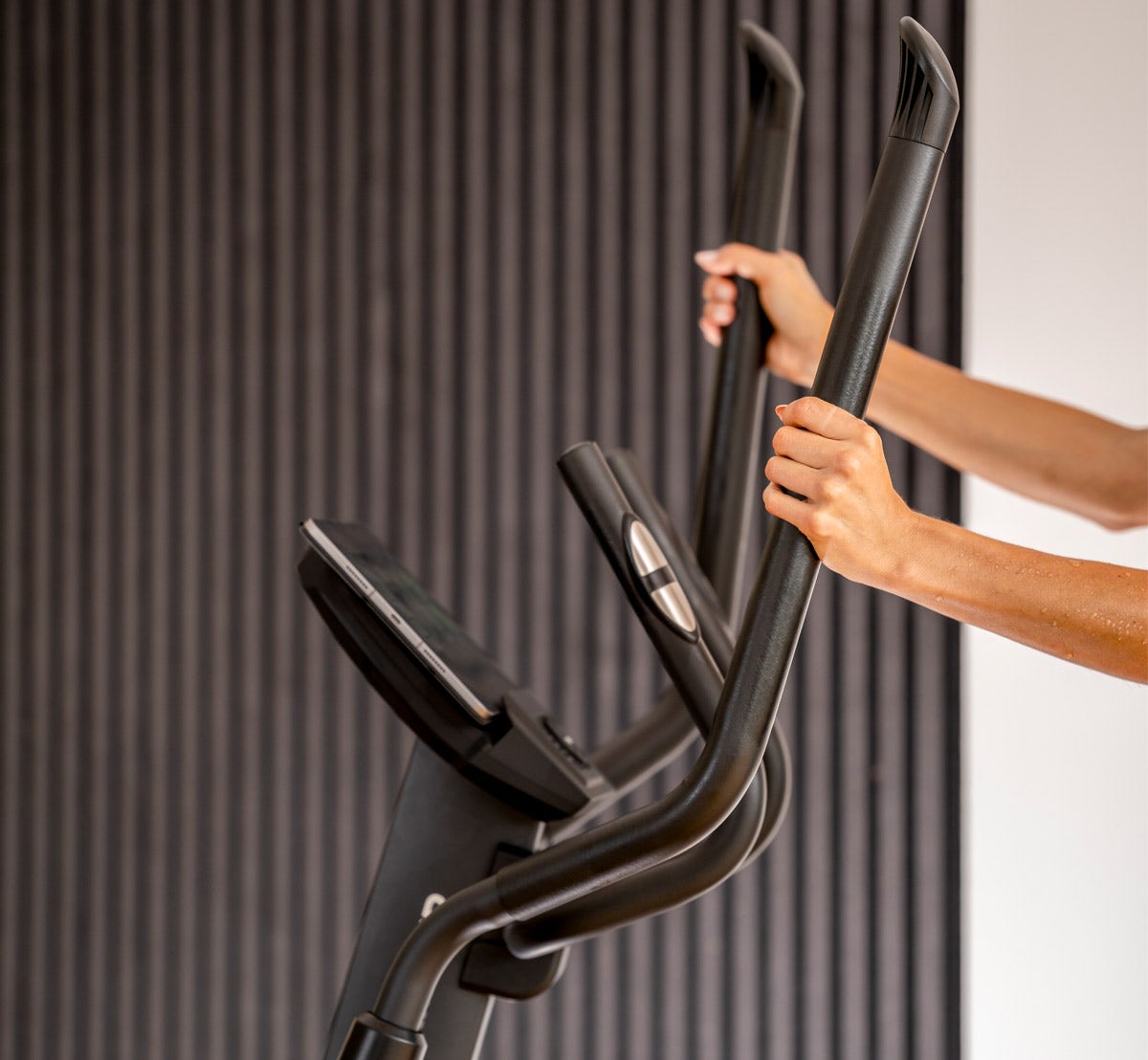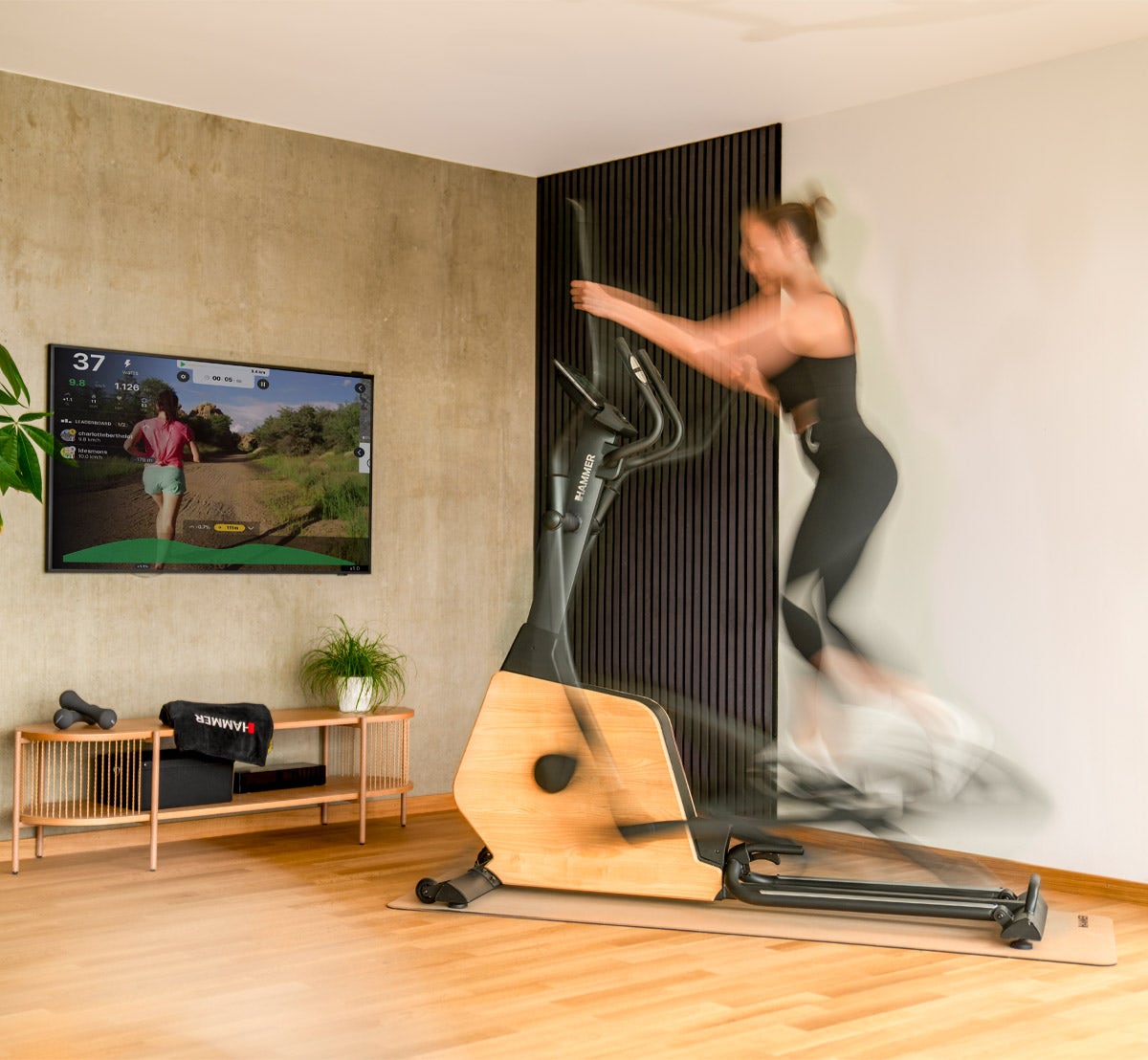 Efficient fat burn
The CrossPace 5.0 NorsK offers you an intense workout that targets your fat reserves. The flowing movements challenge your muscles and bring your cardiovascular system to full speed. Experience optimal fat burning and work on your dream body - from the comfort of your own home.
Trust in quality and innovation
At HAMMER, quality and innovation are at the heart of everything we do. Every product is carefully designed and subjected to strict quality controls to ensure the best possible performance and longevity. Through continuous research and development, we always stay at the cutting edge of technology.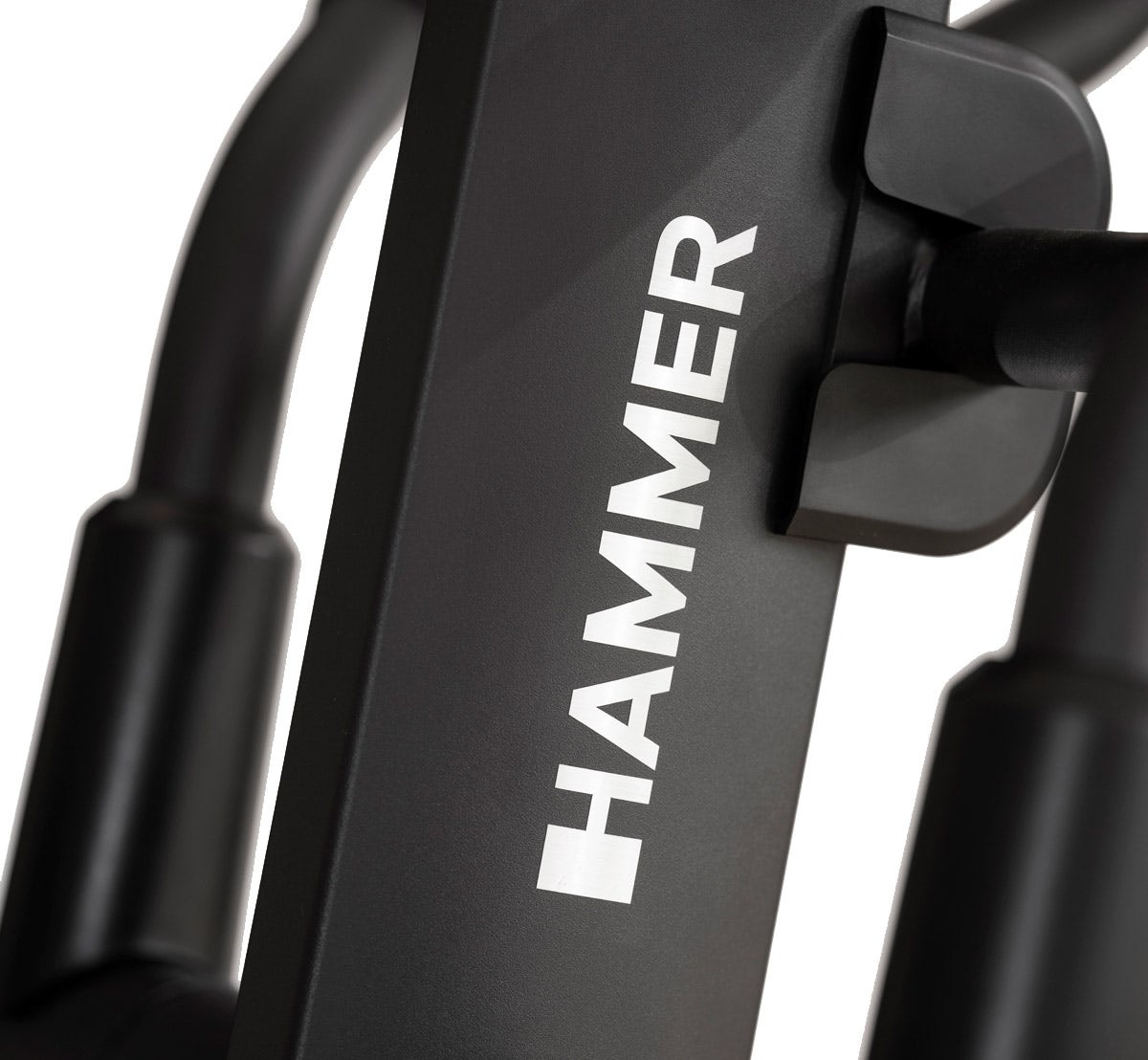 Computer
Display
LCD Blue Backlight
Multimedia
App, Aux, Bluetooth, Tablet support, USB
Operation
Push & Turn and Keys
Integrated pulse receiver for chest belts
5 kHz
Display
Load profiles
Load profiles, Distance, Speed, Heart rate, Calories, RPM, Watt, Time
Programs and profiles
Heart rate controlled programmes
5
Adjustable pulse limit
Upper pulse limit
Drive/brake system
Drive system
Grooved belt
Load control
RPM dependent
Braking system
Permanent Magnetic
Resistance adjustment
Computer controlled
Dimensions and weight
Build up size (L x W x H)
162 x 64 x 180 cm
Other features
Steigung
3-fach (2°, 6° & 12°), manuell verstellbar
Transportation rollers
Yes
DIN Norm
DIN EN ISO 20957-1/9
Shipping
Delivery time
4-8 working days
Scope of delivery
CrossPace 5.0 NorsK
Delivery Information
Delivery to curbside (Please leave your phone number when ordering, so we can arrange a suitable delivery date for you)
Private use
on the main frame
10 years
Clients ask, our fitness experts answer
Do you need more information about the product? Ask your question here. Our fitness experts will answer quickly and easily.
Our recommendation for you