Kinomap

FINNLO CleverFold EF90 BT
Ultra-compact elliptical trainer with professional features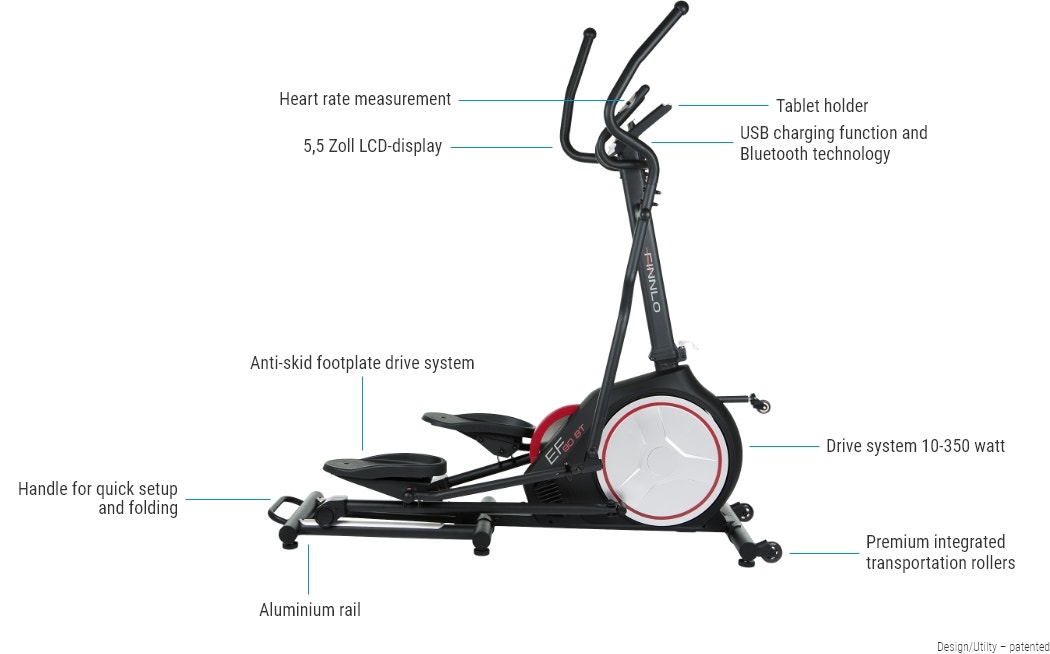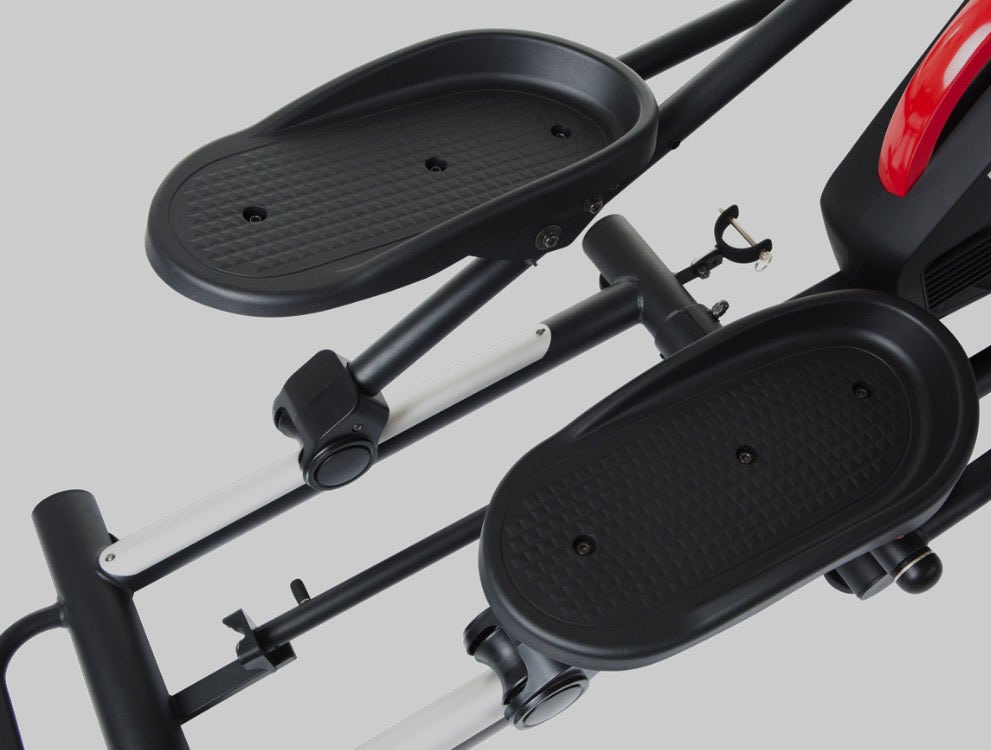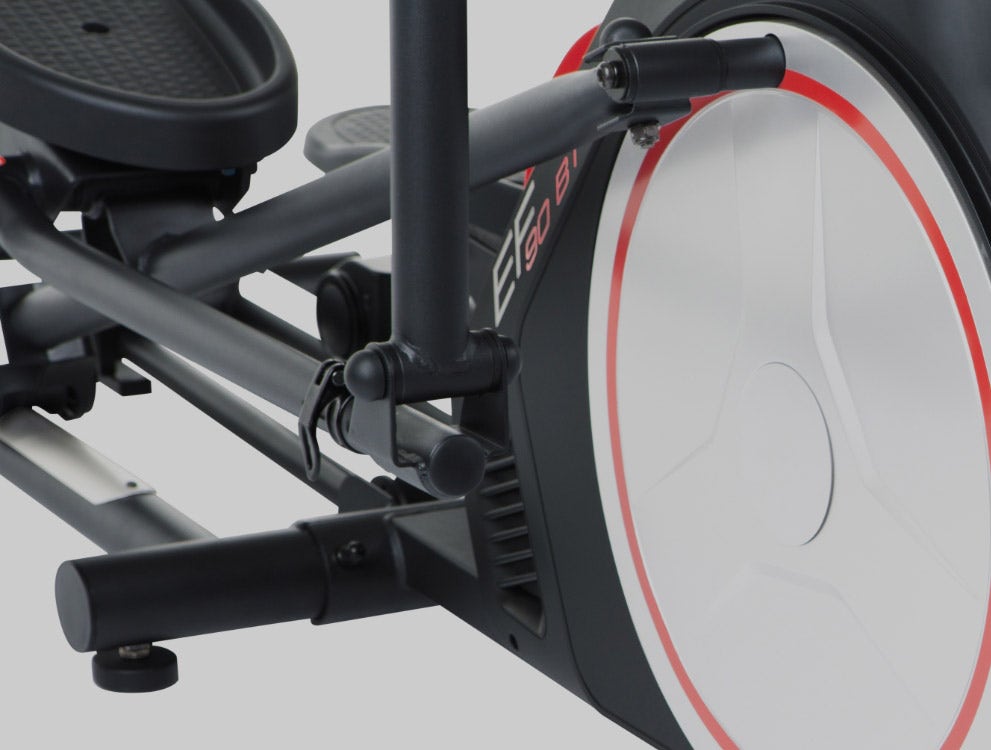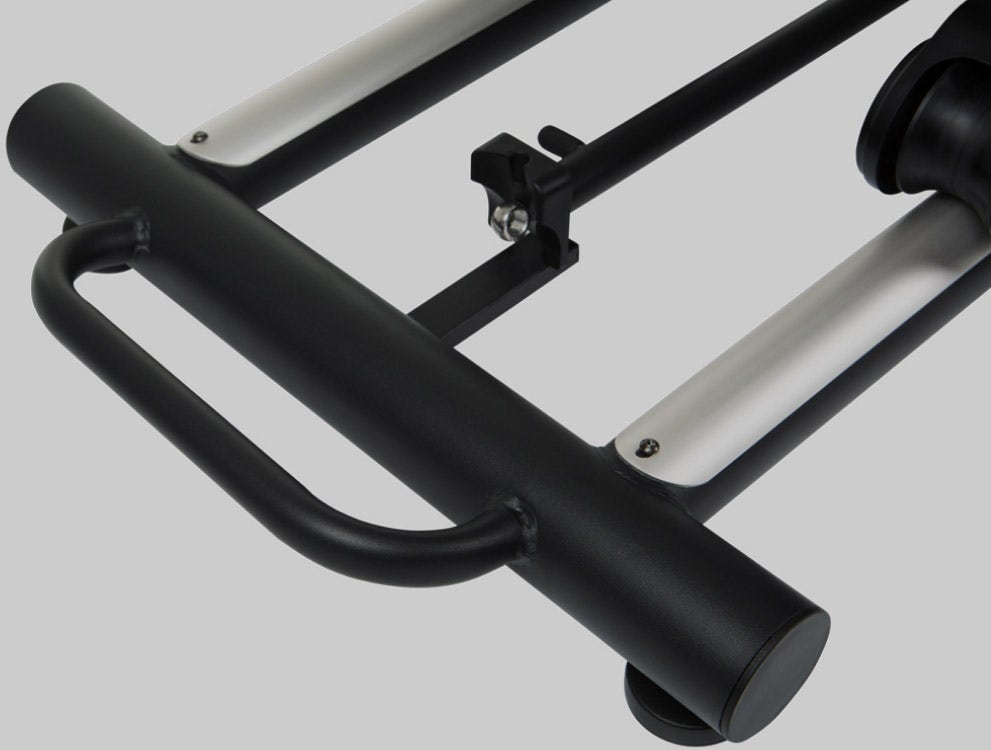 Train, fold, store
The new generation of elliptical trainers
Premium-quality with the corresponding space requirements – or a foldable model with drawbacks in terms of quality? Our CleverFold EF90 BT elliptical trainer no longer forces you into such a choice. The EF90 BT is a studio-quality elliptical trainer with clever technology that allows it to be folded to a slim 60% of its full size for storage. You get to train on a robust and extremely sturdy, premium-quality fitness machine with a state-of-the-art training computer, which can be folded in seconds after your training session and fits into any corner or next to your wardrobe. Various pre-installed workout programs and the option of using training apps via Bluetooth connection will keep you motivated with every workout! Your heart, your endurance, your figure – our EF90 BT will become your personal trainer.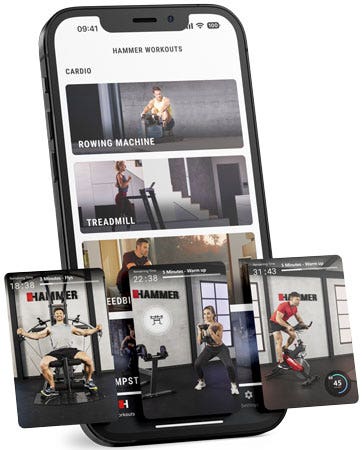 Discover your favorite workout
With HAMMER Workouts we constantly offer you new and motivating courses with your crosstrainer. Work out together with our competent trainers and achieve your individual fitness goals in 10 to 50 minute workouts. All in one place and without an additional subscription.


And when you're done training...
Simply fold it up and roll it away to save an amazing 60% of space!
Space is always at a premium in one's own four walls. The decision of whether or not to invest in an elliptical trainer as your perfect home training device often hinges on the space requirements of such a machine. FINNLO CleverFold is the perfect solution. The CleverFold EF90 BT elliptical trainer folds up in just three steps after you have completed your training session to become a sensational 60% smaller. The integrated transportation roller system can turn 360 degrees on the spot, which means the EF90 BT can be easily moved into a corner, behind the door or next to a wardrobe, just like a suitcase.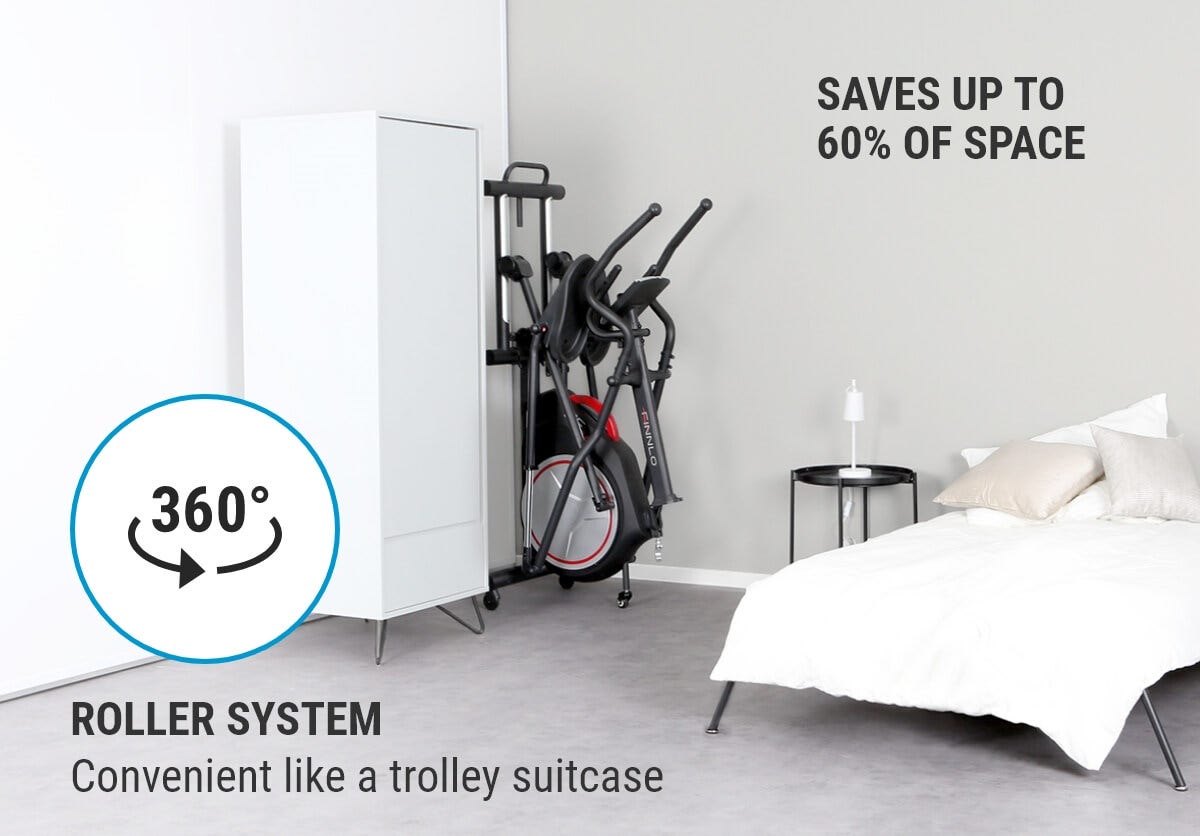 Increase your fitness level!
Computer with integrated fitness test: How fit are you really?
Measure your heart rate once you have completed your training session. The faster your heart rate drops back down, the fitter you are. The on-board computer of your EF90 BT elliptical trainer rewards you with a fitness grade between one and six. The aim is to improve this grade with every session.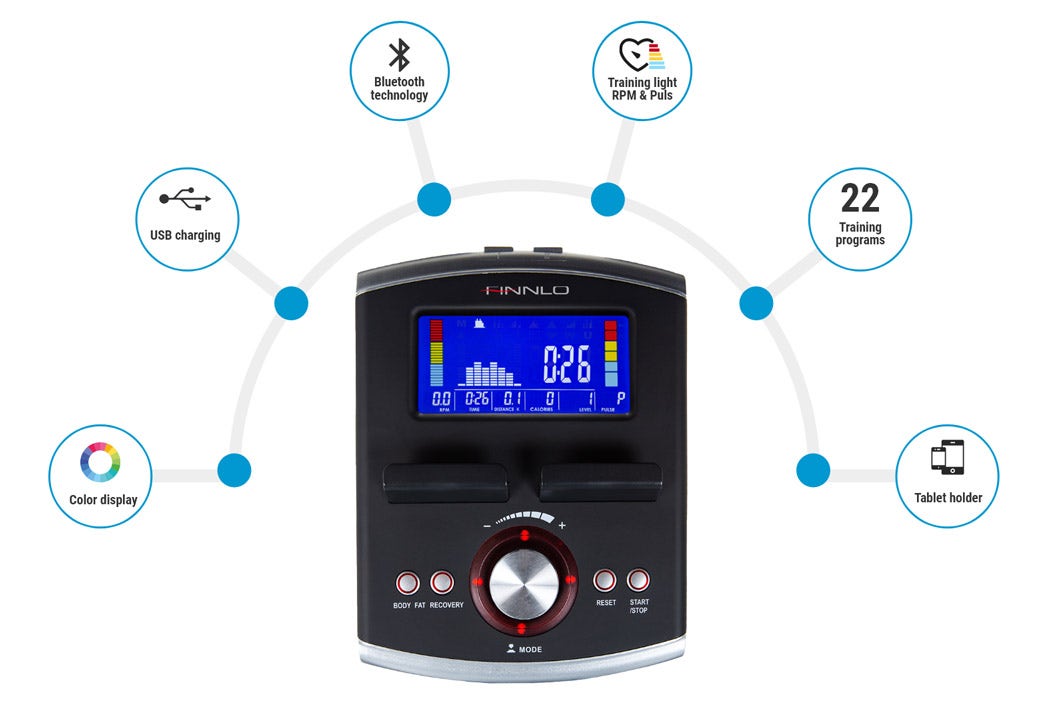 Large and intuitive LCD display
For easy computer operation
The large, high-resolution display of the EF90 BT elliptical trainer is clearly organised and designed to be intuitive. You can concentrate 100% on your training and don't have to work your way through complicated manuals. Perfectly simple menu navigation: "push, turn, train".
Conventional LCD screen or display via your smartphone or tablet
The multimedia console gives you a choice: Standard display of your workout data via the integrated LCD screen (display of: uphill/downhill profiles, speed, time, distance travelled, calories burned, heart rate, body fat, BMI and fitness test) – or via your smartphone or tablet. Whatever you choose – you can control your workout conveniently via one of the fitness apps.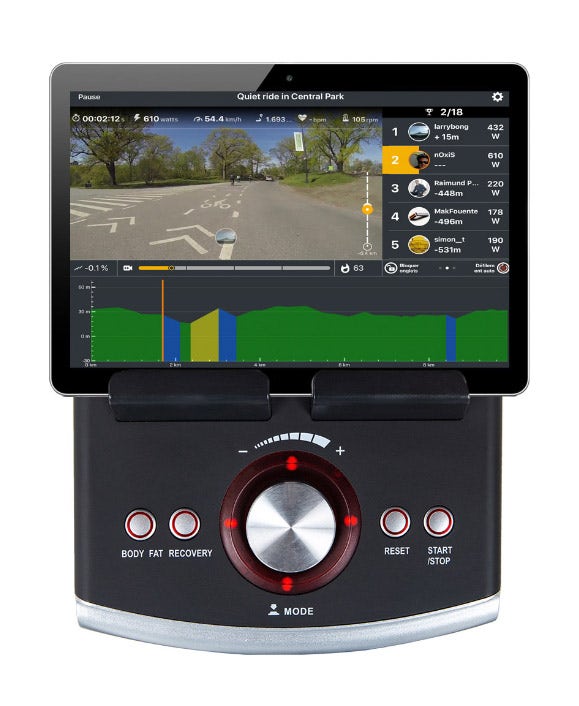 Need a pick-me-up?
Choose some multimedia entertainment via Bluetooth technology
Watch films on YouTube or play your favourites from your music library! Alternatively you can use compatible fitness apps to work out on breath-taking live routes and document or compare your training progress. The BitGym training app delivers the route of your choice via video to your smartphone. The faster you step, the quicker you move through the scenery, e.g. a forest or the seaside. Simply place your phone on the smartphone/tablet holder and enjoy state-of-the-art training motivation. Your training session will be finished before you know it! The integrated USB connection charges your smartphone or tablet while you train..
Your fitness programs – for any training level
Beginner or fitness pro: Choose your program and go! The on-board training computer does it all for you completely automatically. Choose between heart rate programs, fat burning or tailor-made fitness workouts. In all, there are 22 programs to choose from to keep your fitness training fun and interesting at all fitness levels. The four user profiles available mean that all family members can have their own specific uphill and downhill profile. The EF90 BT elliptical trainer offers a resistance display (in watts) and a special program to limit the heart rate.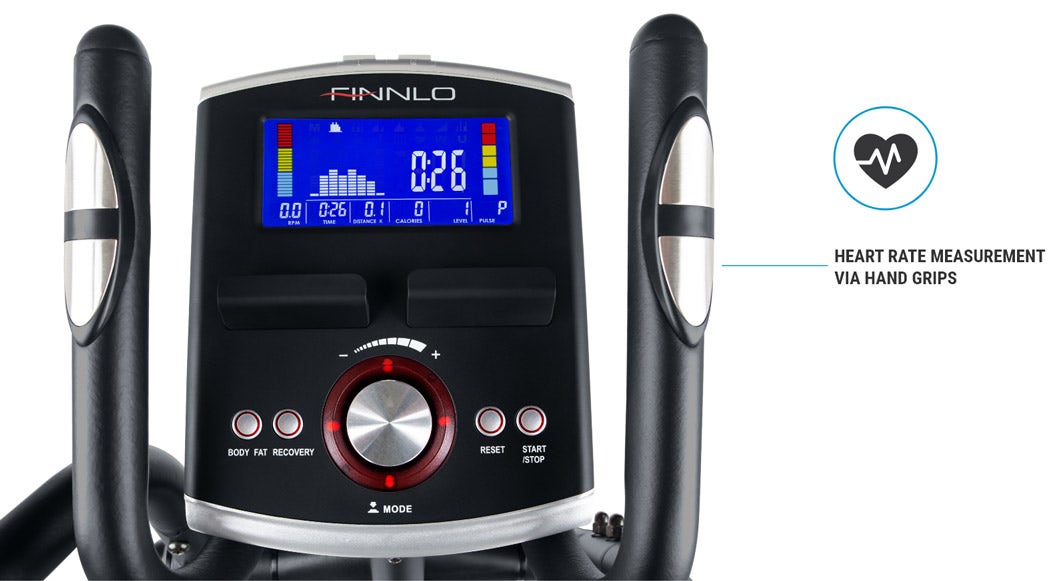 Heart rate monitoring for a healthy cardiovascular workout
For your controlled cardio workout
The ergonomically placed hand pulse sensors ensure convenient monitoring of your heart rate while you work out. Alternatively, you can use an optional chest strap to keep an eye on your heart rate. The pulse rate receiver is included in the delivery contents of the CleverFold EF90 BT. It doesn't matter if you want to shed a few pounds, improve your fitness level or need a means to ensure a healthy cardiovascular training: The right heart rate is a deciding factor in reaching your goals fast. Enter a maximum heart rate and the CleverFold EF90 BT elliptical trainer will automatically reduce resistance once you surpass the set limit value.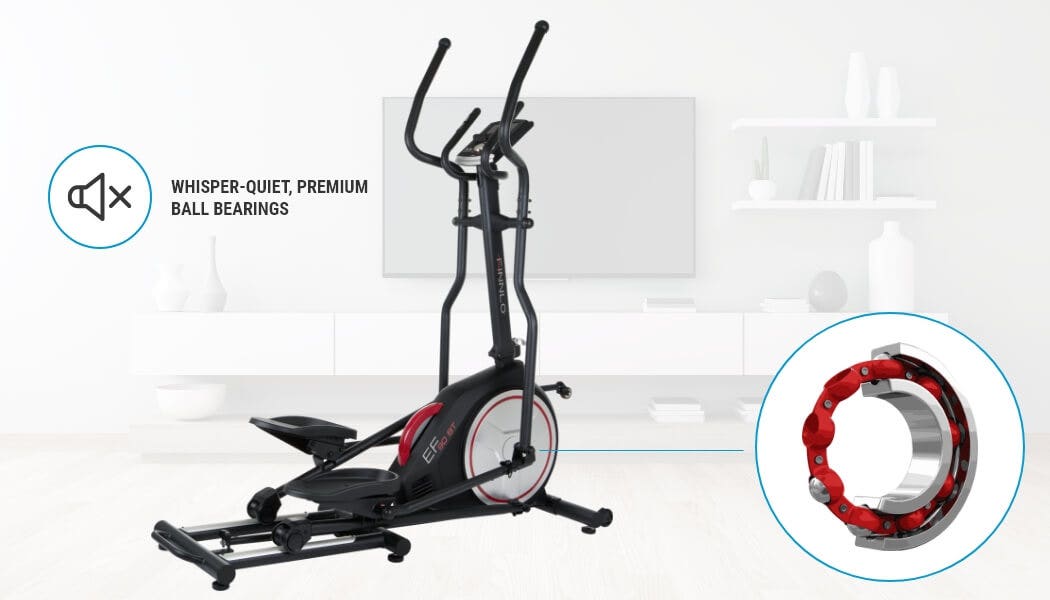 Whisper-quiet and perfectly dynamic rotation
Keep the neighbours happy
The technology included in your new FINNLO EF90 BT sets it apart from standard, traditional elliptical trainers. An 18 kg flywheel mass, combined with a highly professional ball bearing technology, creates a sensationally smooth and unique running motion – as if you were running on air. The high-performance V-belt ensures perfect power transfer without any slippage. The EF90 will keep driving you forward, until you are in your personal "zone". Excellent dynamics! Now you can fully concentrate on your workout without annoying your neighbours with repetitive scraping sounds or clatters and clangs that are so often part and parcel of simpler fitness machines. You can train at any time – night or day – or in front of the TV, without disturbing anyone.
Neck and joint-friendly workouts
The extra small pedal spacing and the perfect ellipsis of this machine ensure an extremely comfortable and joint-friendly elliptical workout. FINNLO Ergo-Neck denotes the optimal distance of the movable arms to combat common neck strain symptoms. Here too, our FINNLO CleverFold EF90 BT clearly stands out from traditional elliptical trainers on the market. The various grip options of the Vario grip bars let you chose the posture that is right for your body height and arm length.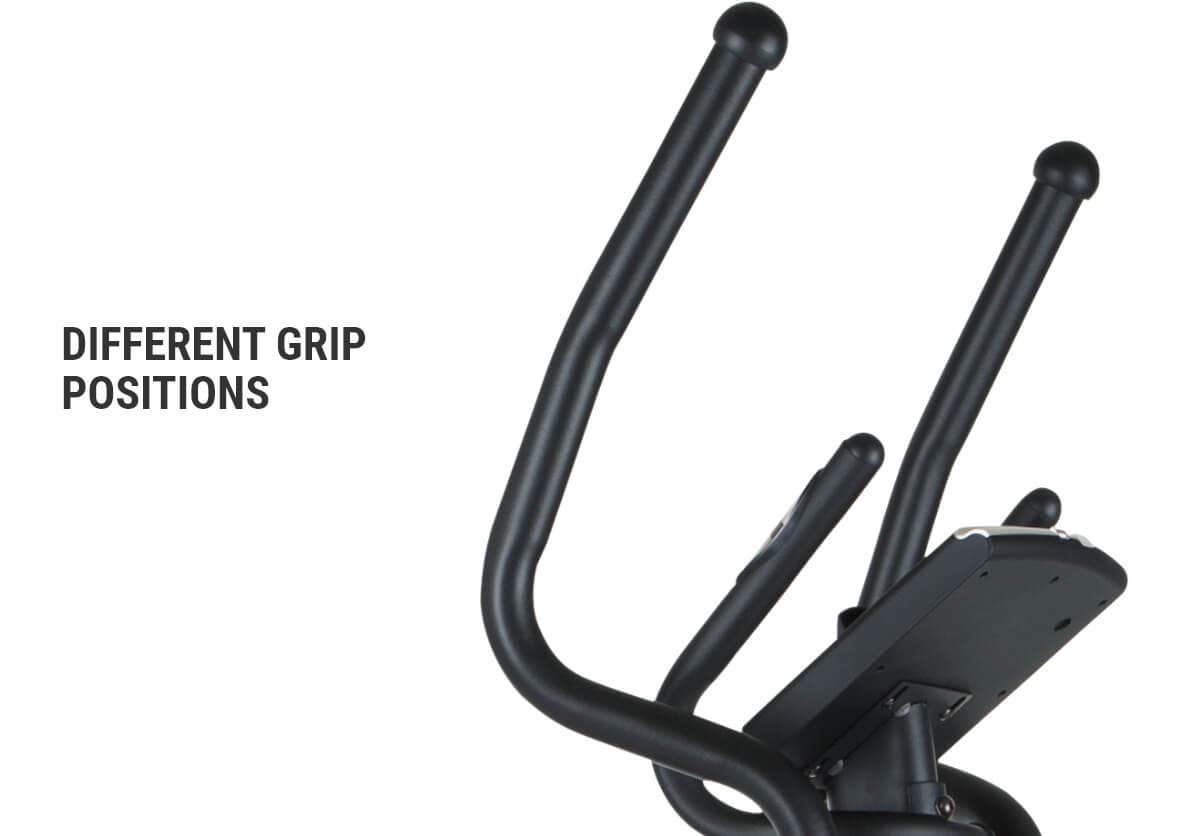 Suitable for any body height
Higher weight classes and lower ceiling heights
The ergonomics of the CleverFold EF90 BT are designed in such a way as to allow taller people up to a body height of 2 m and smaller people from 1.55 m in height to train fully upright and without strain on the back. Individual arm lengths mean different grip positions and the large pedals allow for a secure stance for feet of any size. You can also adapt the pedal length to your specific body height. The long, flat step technology simulates natural running dynamics. The low pedal height ensures that you can set up your EF90 elliptical trainer virtually anywhere – even in a low-ceiling basement.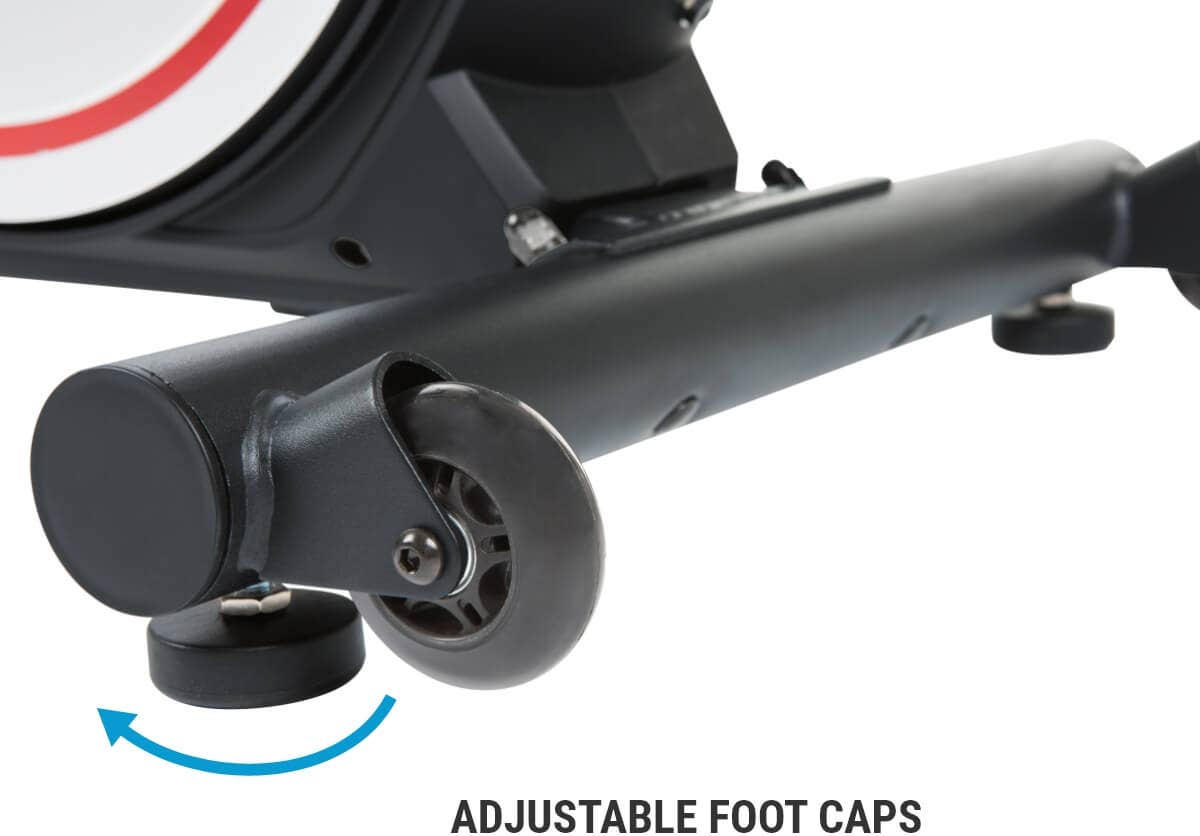 Studio quality for your home
Extremely robust and durable
The CleverFold EF90 BT elliptical trainer is extremely robust, despite its collapsible design, and the four-point floor contact system gives it a very secure stand, no matter how hard you train. The extremely robust "mammoth" steel frame construction with a clear focus on stability and durability is a typical design feature of all FINNLO elliptical trainers.
Computer
Multimedia
App, Bluetooth, Tablet support, USB
Integrated pulse receiver for chest belts
5 kHz
Display
Load profiles
Distance, Speed, Heart rate, Calories, RPM, Watt, Time
Programs and profiles
Heart rate controlled programmes
4
Adjustable pulse limit
Upper pulse limit
Drive/brake system
Drive system
Grooved belt
Load control
RPM independent
Braking system
Permanent Magnetic
Resistance adjustment
Computer controlled
Dimensions and weight
Build up size (L x W x H)
175 x 50 x 175 cm
Folding dimension (L x W x H)
74 x 50 x 156 cm
Other features
Transportation rollers
Yes
Performance
10 - 350 Watt
DIN Norm
DIN EN ISO 20957-1/9
Shipping
Delivery time
4-8 working days
Scope of delivery
CleverFold EF90 BT
Delivery Information
Delivery to curbside (Please leave your phone number when ordering, so we can arrange a suitable delivery date for you)
Private use
on the main frame
10 years
Clients ask, our fitness experts answer
Do you need more information about the product? Ask your question here. Our fitness experts will answer quickly and easily.
1 questions already answered
Question:
Wie kann man denn von User 1 auf User 2 wechseln OHNE einen Reset zu machen ? from Marcus
Answer:
Tab 1
Hallo , bitte hier einfach den PUSH and TURN Knopf seitlich drehen
Our recommendation for you