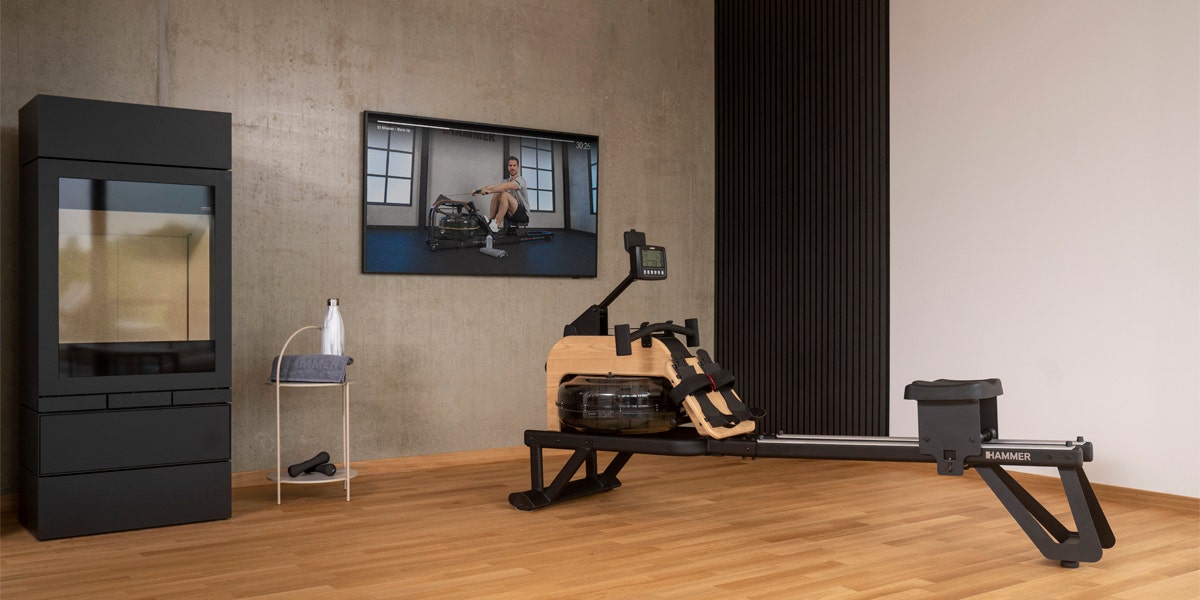 Natural rowing redefined - sustainable wooden design and versatile grip options
Immerse yourself in a training experience that not only challenges your muscles but also protects the environment. The high-quality workmanship and the noble wooden style make the RowFlow 5.0 NorsK an eye-catcher in every room. With the different grip variations, you can customise your workout and target different muscle groups. Whether wide or narrow grip - you have full control over your workout!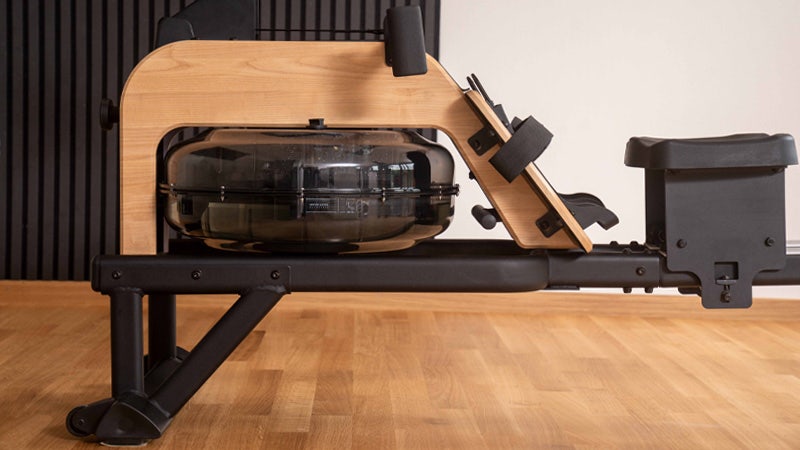 In harmony with nature
Experience the beauty of nature in every move - elegance and effectiveness combined in our water rowing machine.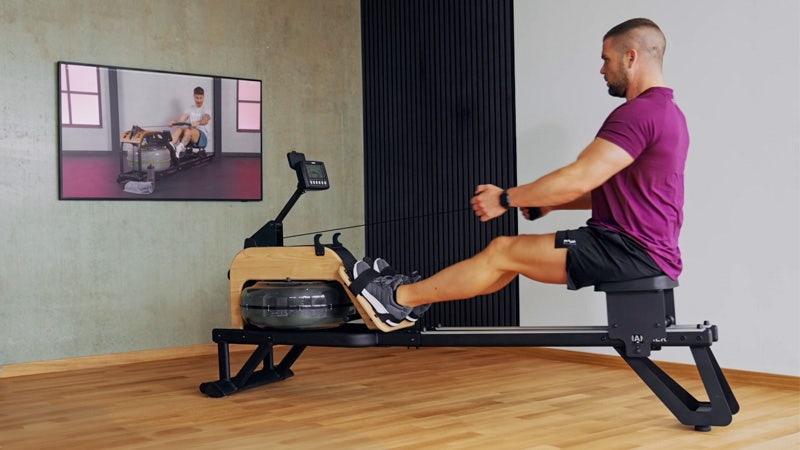 Product Highlights
Check out all the features of the CrossPace 7.0 NorsK!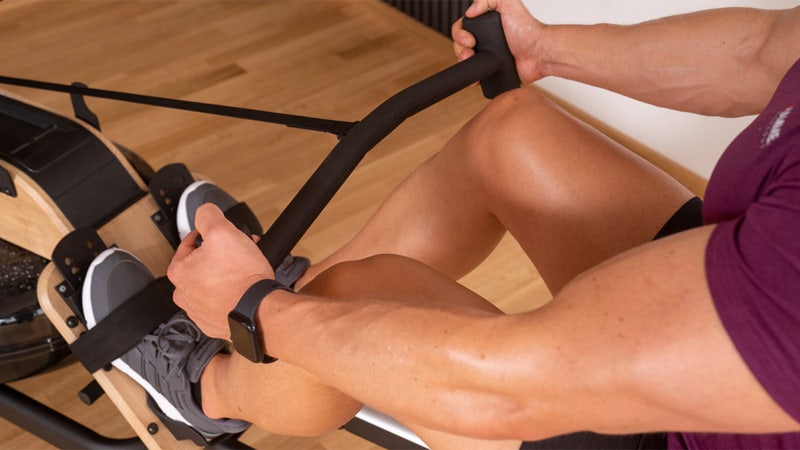 More variety!
Thanks to the ergonomically shaped rowing handle, you can vary your grip as much as you like. Whether wide or narrow rowing, you always have the choice!
Discover your favourite workout
With HAMMER Workouts, we constantly offer you new and motivating classes with your rowing machine. Work out with our expert trainers and achieve your individual fitness goals in 10 to 50-minute workouts. No matter if you use your smartphone, tablet or laptop, without an additional subscription.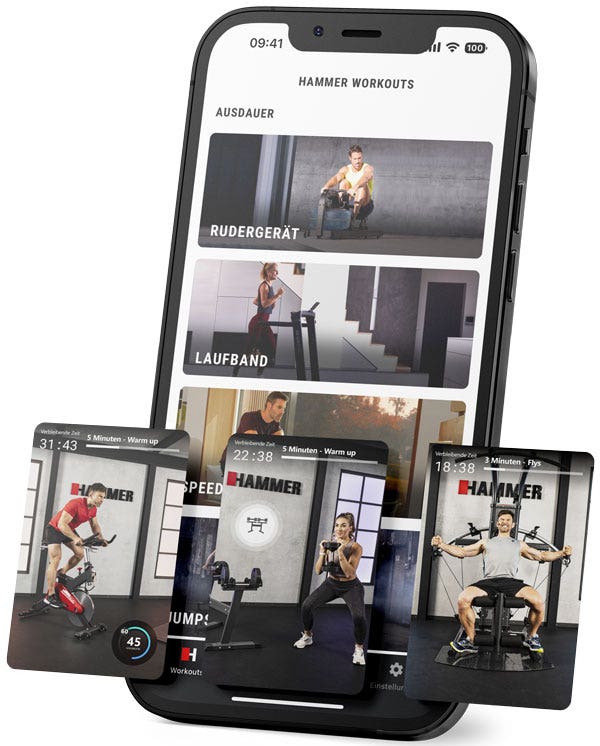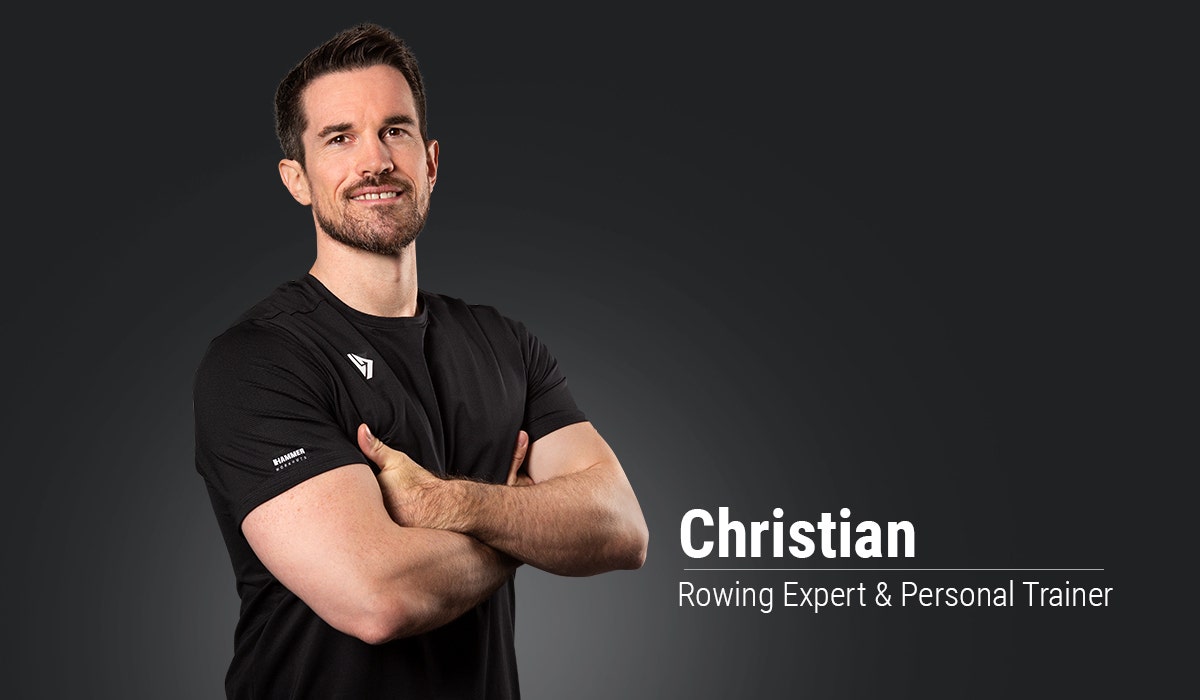 Expertise of our trainers
"I have a mega rowing trainer for you here that not only takes your workout to a new level with its special rowing handle, but also gives the environment a high five. Overall, this device promises not only an outstanding workout experience, but also a contribution to a more sustainable world. Your journey to fitness and environmental awareness starts here."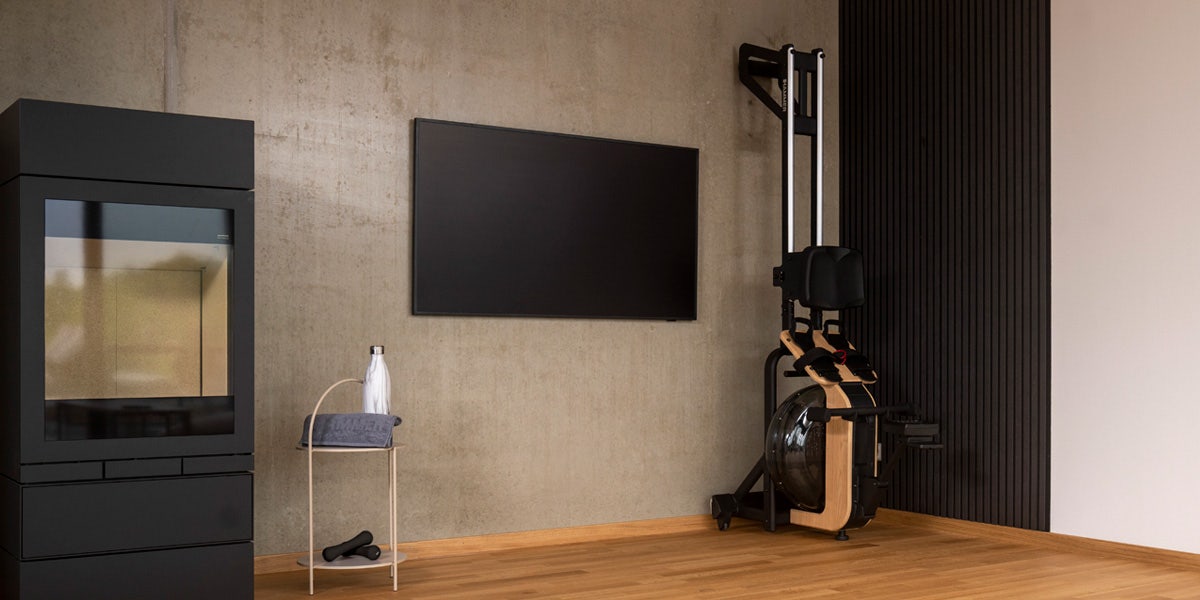 NorsK - Fitness Nature Made.
This aesthetic quality makes it a stylish eye-catcher in any room. At the same time, the wooden design creates a calming and natural atmosphere and does without a plastic casing. Immerse yourself in the world of water and enjoy the harmonious interplay of modern technology and the timeless beauty of wood.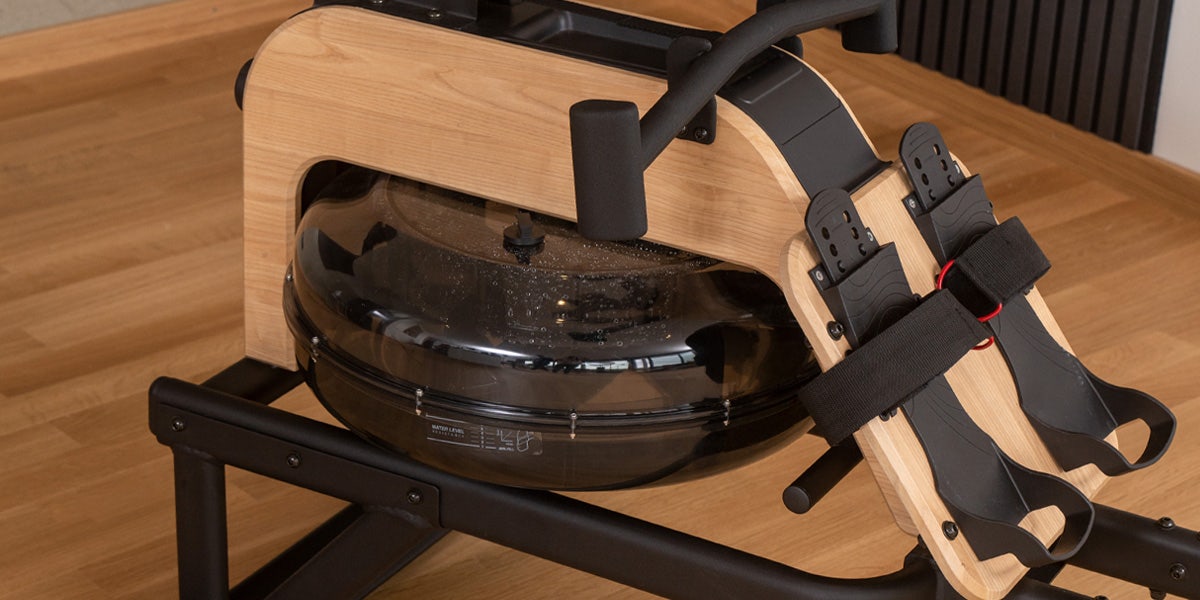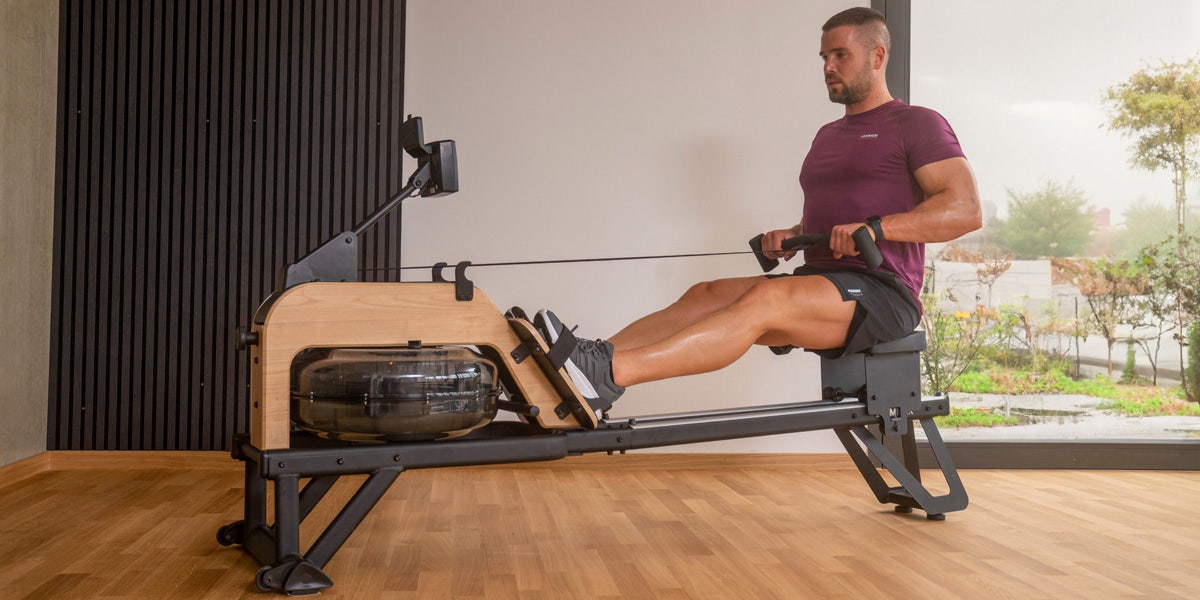 Versatile rowing handle
Our innovative rowing handle redefines your rowing experience. Why limit yourself to a single grip option when you can have full control over your workout? This grip offers more than just a firm hold - it gives you the freedom to customise your workout the way you want.
Wide rowing activates your back and shoulder muscles, while narrow rowing intensively challenges your trapezius and arms. The individual grip positions allow you to target different muscle groups. Whether you are aiming for muscle definition, strength building or general fitness.
Long life due to the use of high-quality components
Reduction of plastic to a minimum
Reduction of polystyrene & plastic in packaging
Environmentally friendly floor protection mats made of natural rubber and cork
Clear LCD display
The clear and modern LCD display provides you with all relevant training data at a glance and allows you to precisely track and optimise your training. With the various training and racing programmes, your training will never be boring.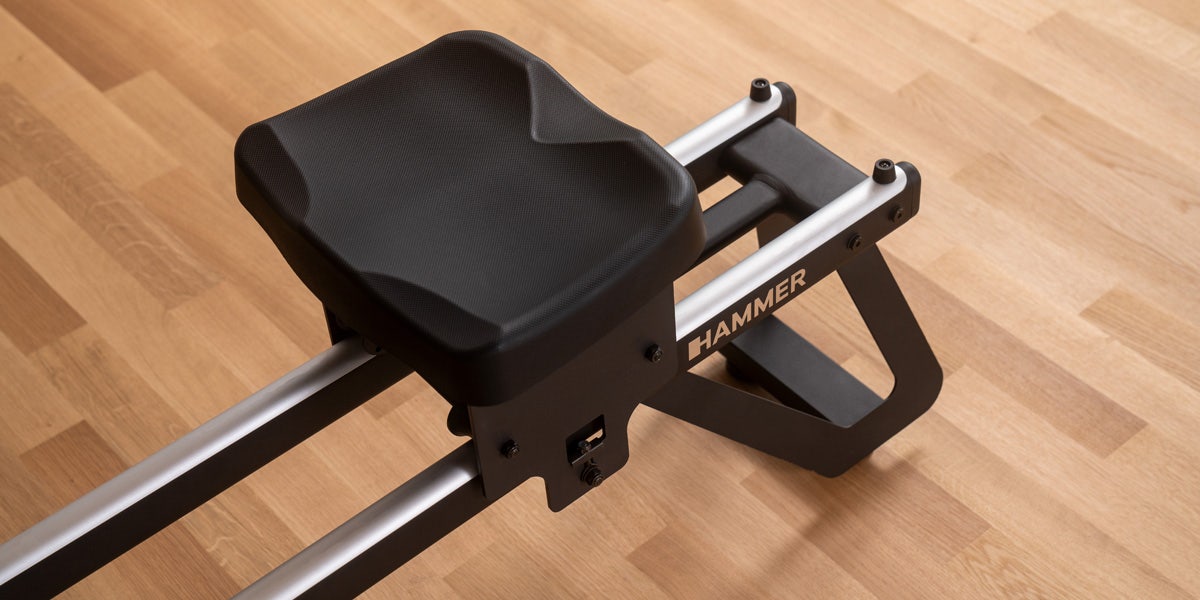 Ergonomics in perfection
The shape of the seat adapts perfectly to the natural contours of your body. No matter if you do short intensive intervals or a longer endurance session. The ball-bearing sports seat on premium aluminium rails ensures smooth and highly dynamic movement.
Our RowFlow 5.0 NorsK not only gets you there physically, but also visually. Use the fascinating Kinomap camera function to explore virtual worlds while you train in real time on your rowing machine.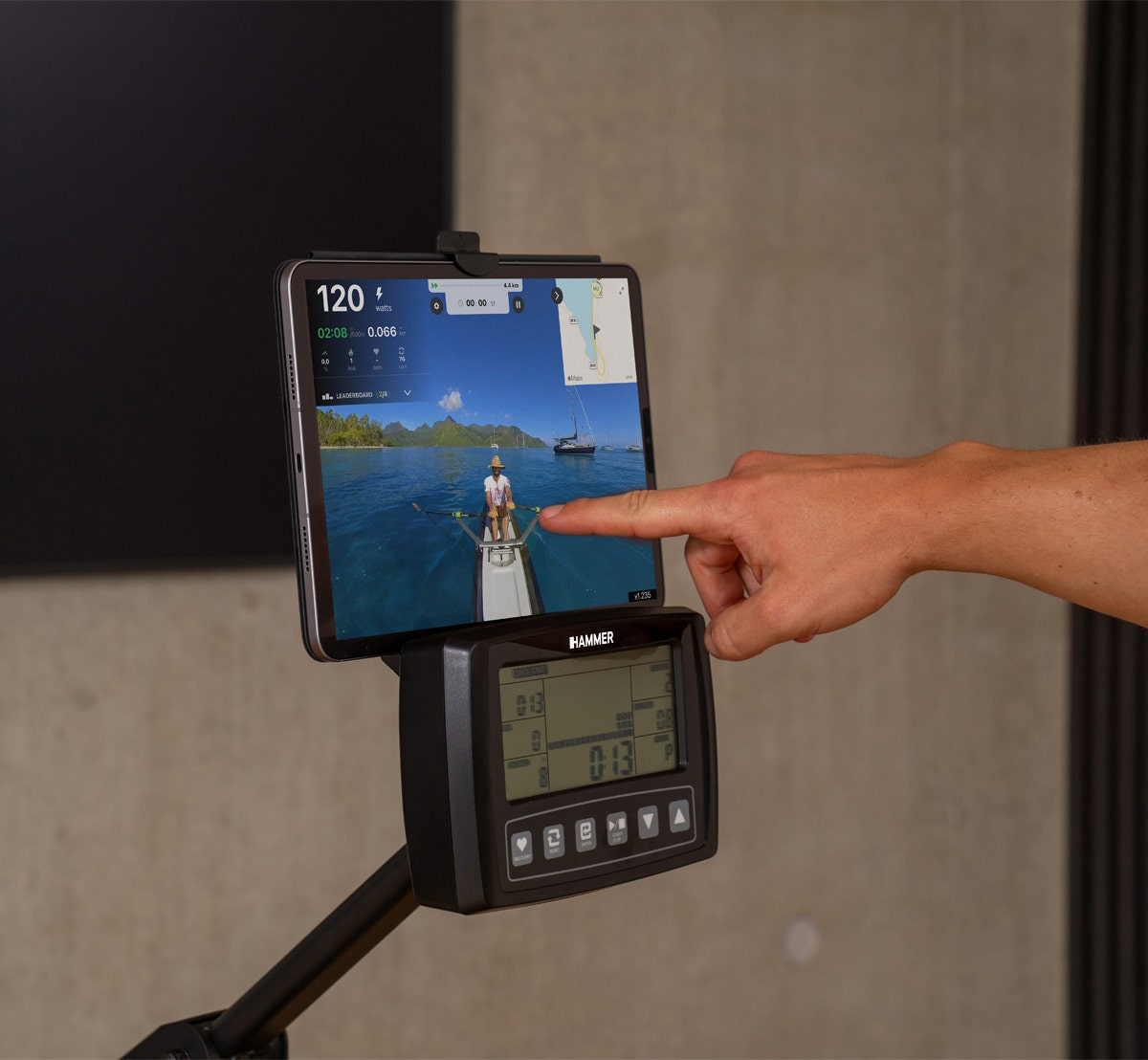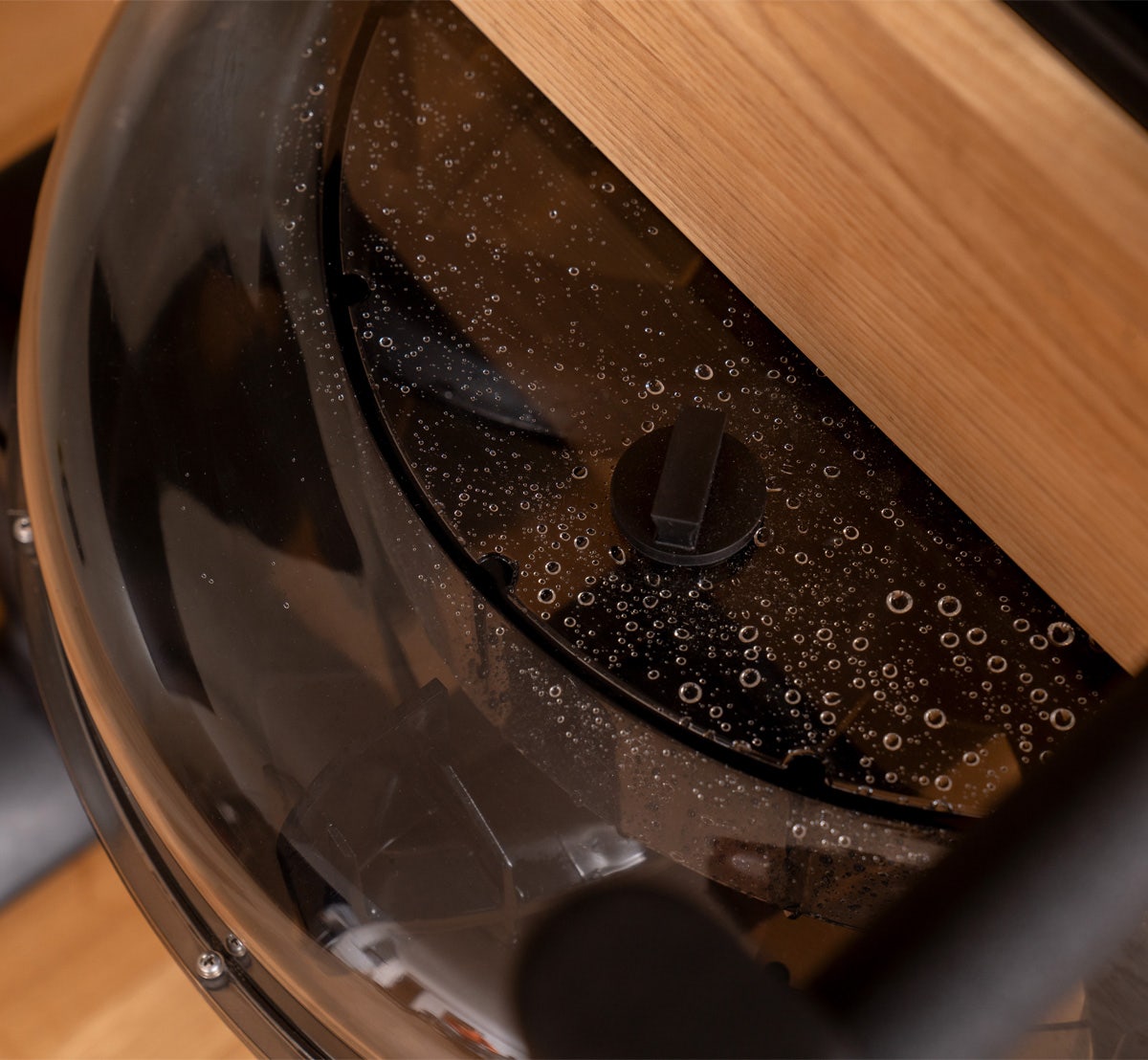 The gentle and flowing movements of the water not only train your endurance and strength, but also your balance and coordination, and are easy on your joints. You can regulate the intensity of your workout by adjusting the amount of water in the tank as well as the stroke force, so that you are always rowing in the optimal range. The high-quality water tank made of robust polycarbonate provides the soothing sound of the water.
By using the additionally available Cardio Weights, you achieve an even higher resistance and can easily store them directly on the RowFlow 5.0 after your workout. This way you can control the intensity of your workout according to your wishes and at the same time save space in your own four walls.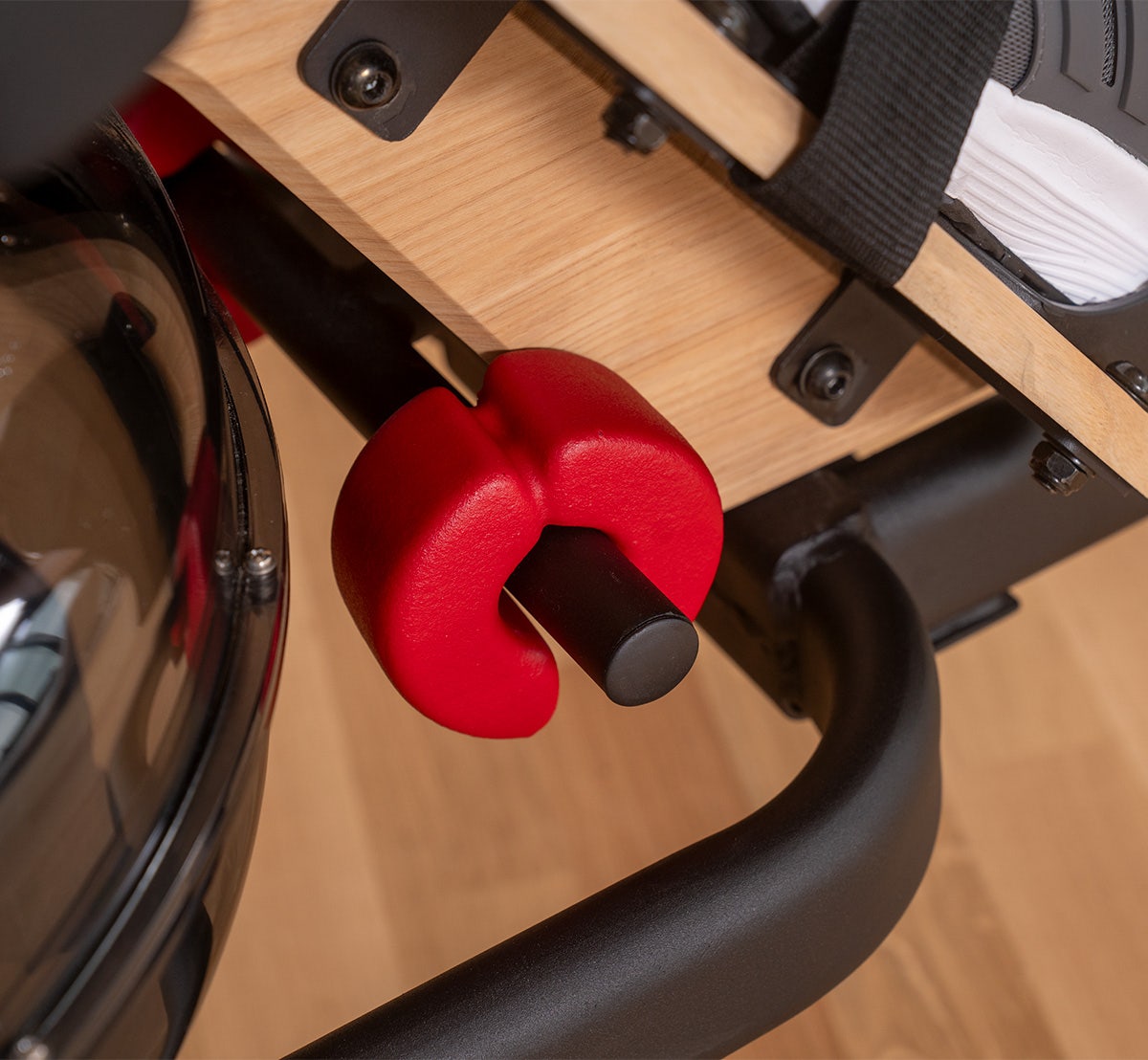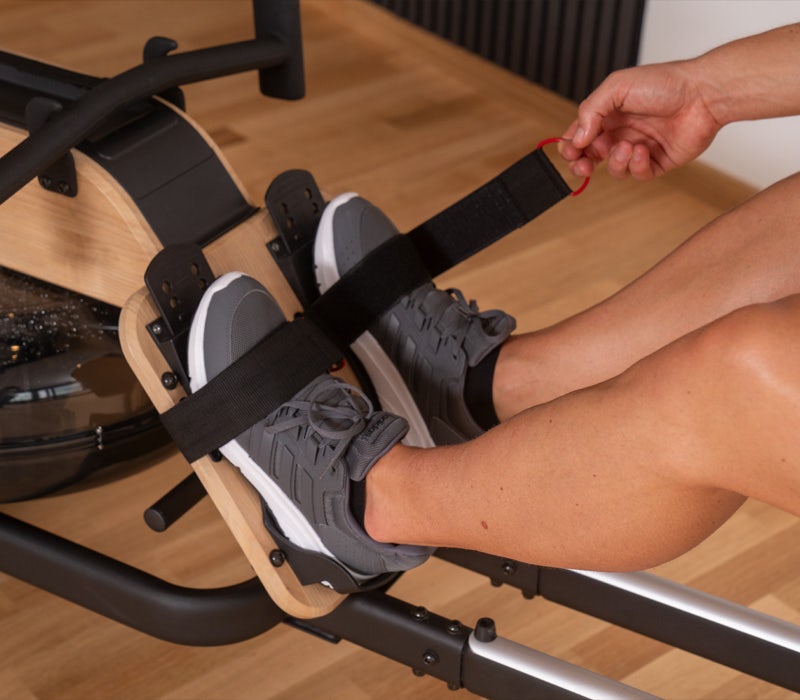 Protect your joints
Enjoy a workout that's easy on your joints, taking the strain off your hips while achieving an effective movement. The machine's tread plates are multi-adjustable and spaced 10 cm apart to provide the perfect training position for you. No matter if you are tall or short, you can adjust the tread plates individually to your measurements and preferences.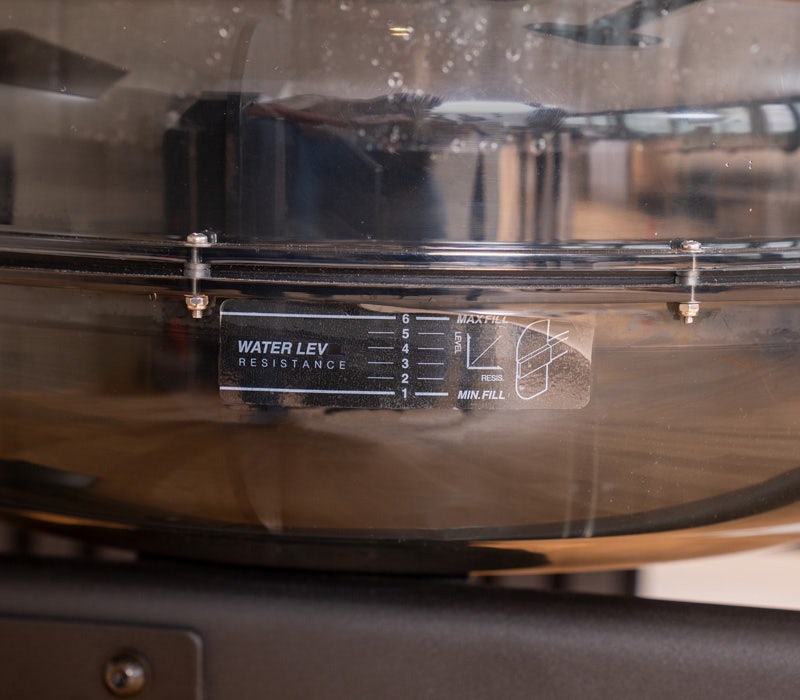 You determine the right intensity
Precise control of the water volume in 6 levels allows you to customise your workout and increase the challenge according to your needs. Adjust the intensity to your fitness goals and experience an effective and challenging workout on the water. The water rower gives you the opportunity to continuously improve and push your performance limits.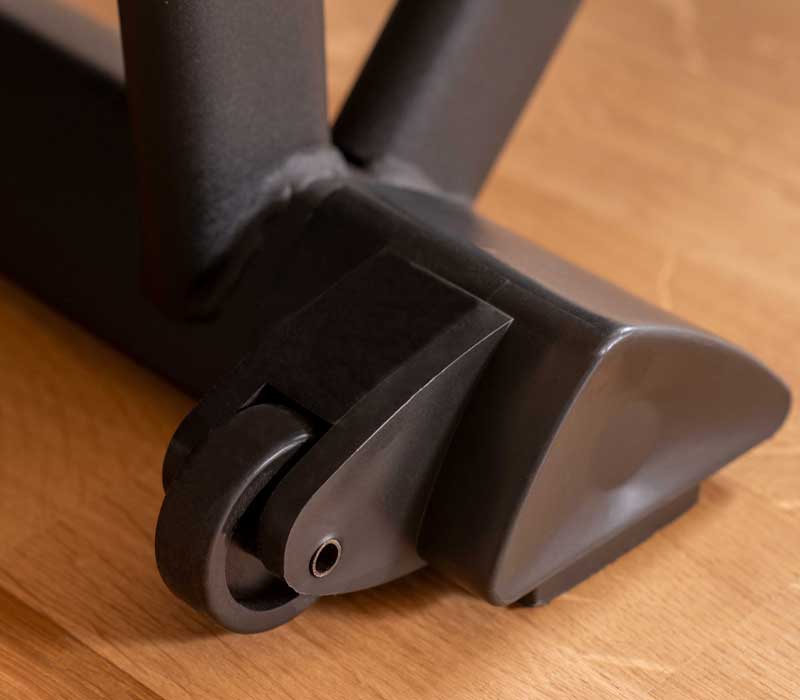 Enjoy flexibility
Thanks to the stand-up function and the clever positioning of the transport wheels, the WaterFlow 5.0 NorsK can be moved easily at any time. The rubberised wheels also prevent damage and scratches on sensitive surfaces.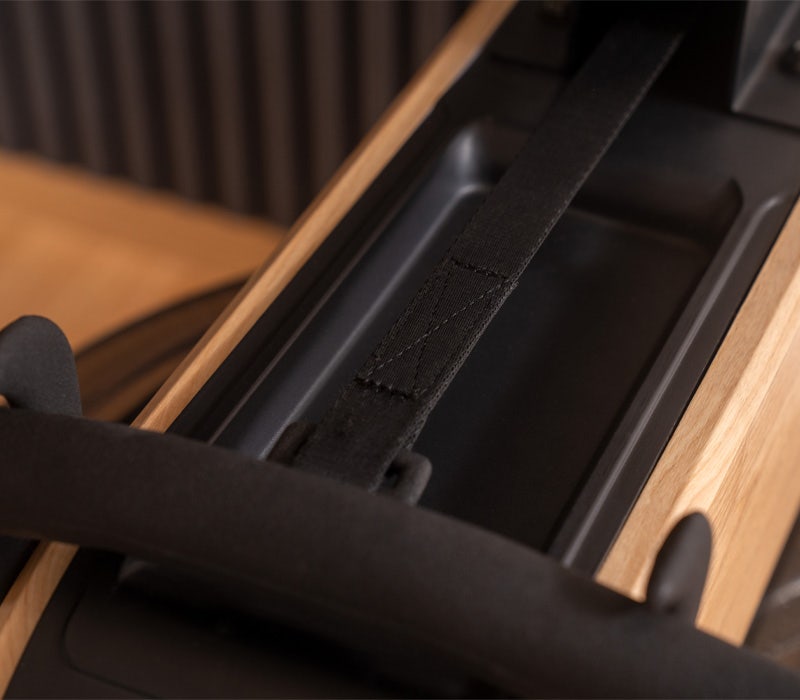 High-quality tension belt
The pull strap is specially designed to ensure a firm and direct flow of movement during your rowing workout. Durable and robust, it offers maximum stability and resistance so you can concentrate fully on your rowing movements.
We invite you to immerse yourself in the world of water rowing and discover the limitless possibilities of this exceptional piece of training equipment. Get ready to surpass your fitness goals and reach a new level of performance!
Our NorsK fitness equipment blends seamlessly into the living space with an exceptional design in a noble wooden look, motivating
to train in pleasant & familiar surroundings. This means they are always present and invite you to exercise regularly.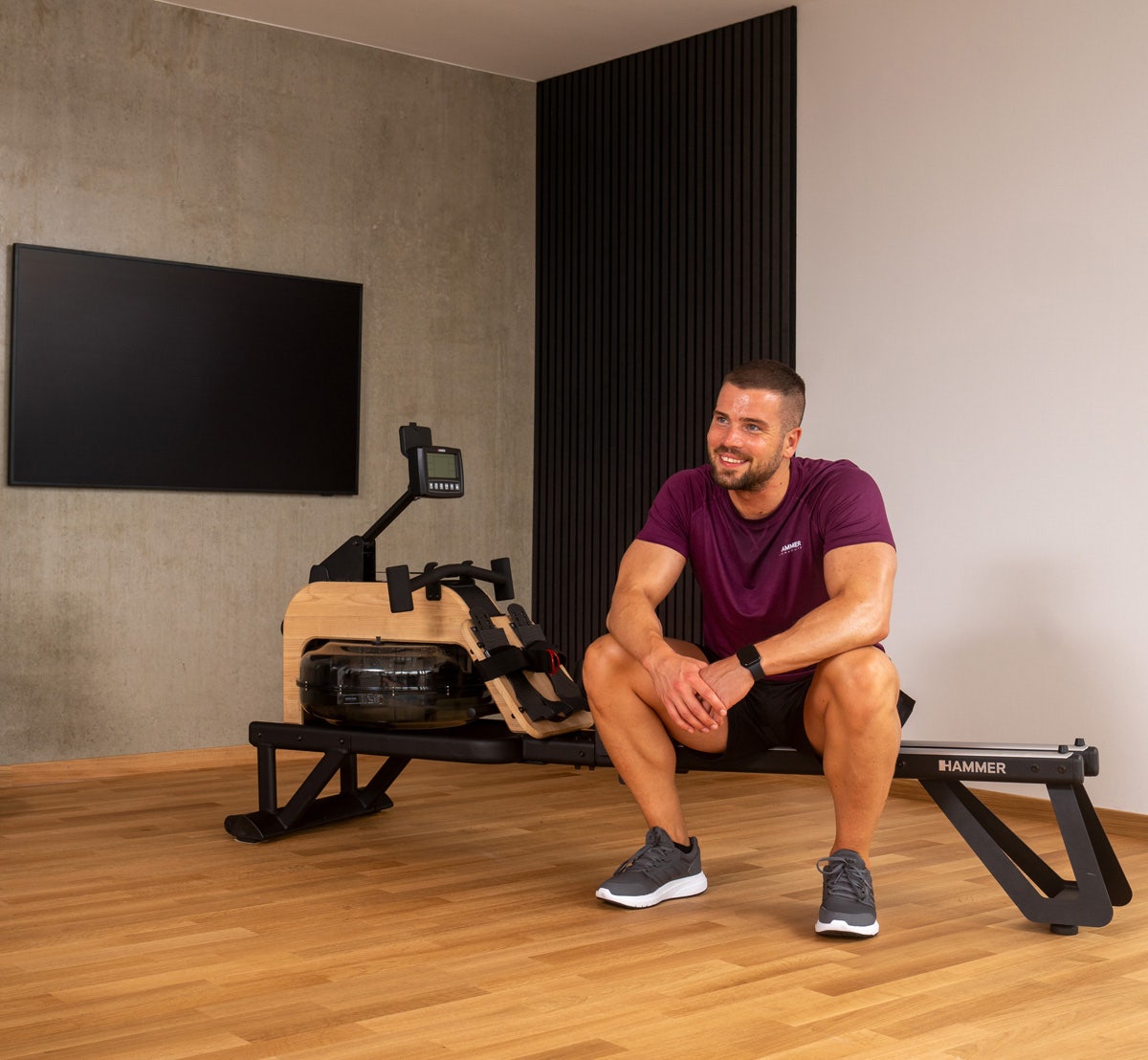 Computer
Multimedia
Tablet support
Integrated pulse receiver for chest belts
5 kHz
Display
Load profiles
Calories, Distance, Heart rate, RPM, Speed, Time
Programs and profiles
Heart rate controlled programmes
1
Adjustable pulse limit
Upper pulse limit
Drive/brake system
Load spectrum
6 levels on the water tank
Load control
RPM dependent
Braking system
Water resistance
Resistance adjustment
Water level dependent
Dimensions and weight
Build up size (L x W x H)
205 x 57 x 103 cm
Folding dimension (L x W x H)
95 x 57 x 205 cm
Other features
Transportation rollers
Yes
DIN Norm
DIN EN ISO 20957-1/7
Shipping
Delivery time
4-8 working days
Delivery Information
Delivery to curbside (Please leave your phone number when ordering, so we can arrange a suitable delivery date for you)
Private use
on the main frame
5 years
Clients ask, our fitness experts answer
Do you need more information about the product? Ask your question here. Our fitness experts will answer quickly and easily.
Our recommendation for you