For a distinguished free training with maximum quality
The free trainer FT2 from Finnlo Maximum combines conventional strength training with complex free cable pull systems to fulfill the highest demands on a superior workout at home, wellness facilities or sport clubs. You now can experience a huge variety of different exercises in just one piece of equipment: fast adjustments of various different 3D training settings allow you to stimulate all of the muscles in your body without breaks. Highest quality and elaborate exercise possibilities at home, at hotels or at sport and wellness facilities.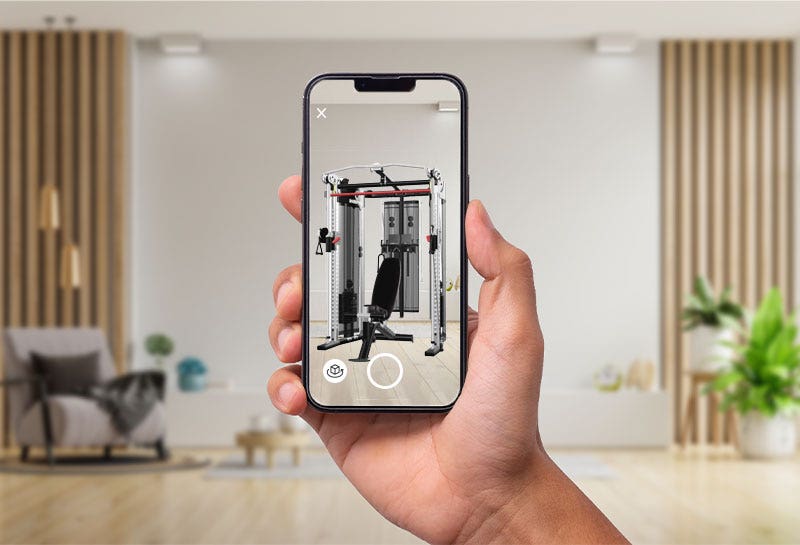 Experience your product in your own home now!
Whether as a 3D view on the PC or virtually in your own room via smartphone - immerse yourself in a whole new kind of product experience with HAMMER Augmented Reality.
"Functional training" is the key to high muscle stimulation and fast results. The dual independent weight stacks allow you to work each side of the body independently for a more balanced workout. "One-handed" adjustment settings allow a fast weight switchover during workouts. Perfect for super-sets.
Following training targets can be reached with the FINNLO MAXIMUM free trainer FT2:
Men: Broad, V-Shaped torso
Men: Strong, defined shoulders
Men: muscular upper body
General: Well-trained and defined legs
General: Six-pack and flat abs
Women: Strong back
Women: Toning of the Shoulders
Women: Toning/Definition of the Arms
Women: Tightening and toning of gluteus maximus and legs
The additional free accessories include the following great equipment: triceps rope, pair of D handles, straight bar, EZ curl bar, ankle cuff, two water bottles, multi-functional belt, swing handle, 2x 2.25 kg add-on weights and a handy exercise booklet.
Dual pulley system adjusts to 32 positions for unlimited functional training capability like bench press, knee bends, pull-ups… Precision steel ball bearing system provides a smooth, maintenance free action. Pull-up bar is adjustable in height to accommodate low ceiling heights. Optional leg extension/leg curl attachment conveniently hooks up to weight stacks for a smooth commercial feel. Innovative weight multiplier feature doubles maximum resistance to accommodate heavy lifters.
Produkt details:
Precision steel ball bearing system
Heavy-duty rectangular and round tubular steel frame
Electrostatic powder coated finish
Fiberglass reinforced nylon pulleys
Including FID bench with leg developer/curl
Dimensions: 140 x 178 x 212 cm (L x W x H)
Needed space: 220 x 250 x 212 cm
Max. body weight: 120 kg
Max resistance 136 kg (upgradable to 155 kg)
General
Manufacturer
INSPIRE by HAMMER
Dimensions and weight
Build up size (L x W x H)
132 x 170 x 212 cm
Additional weights inclusive
No
Upgradable with additional weights
10 x 4,5 kg
Shipping
Delivery time
4-8 working days
Delivery Information
Delivery to curbside (Please leave your phone number when ordering, so we can arrange a suitable delivery date for you)
Marke: HAMMER
Private use
on the main frame
5 years
Marke: FINNLO
Private use
on the main frame
10 years
Marke: FINNLO MAXIMUM
Private use
on the main frame
10 years
Semi-professional use
on the main frame
5 years
Marke: HAMMER BOXING
Private use
Marke: INSPIRE by HAMMER
Private use
auf den Hauptrahmen
10 years
Semi-professional use
on the main frame
5 years
Marke: SOLE
Private use
on the main frame
10 years
Marke: Augletics
Private use
on the main frame
10 years
*Semi-professional use: For use in hotels, sports clubs, etc. - not in fitness studios
Summary of all possible strength exercises with the FT2
You can find out how to do the exercises correctly and exactly which muscle groups are trained by clicking on the respective exercise.
Clients ask, our fitness experts answer
Do you need more information about the product? Ask your question here. Our fitness experts will answer quickly and easily.
Our recommendation for you