HAMMER Cobra XTR Plus
Change course now! Row away from the stress of everyday life and set your course towards your dream body.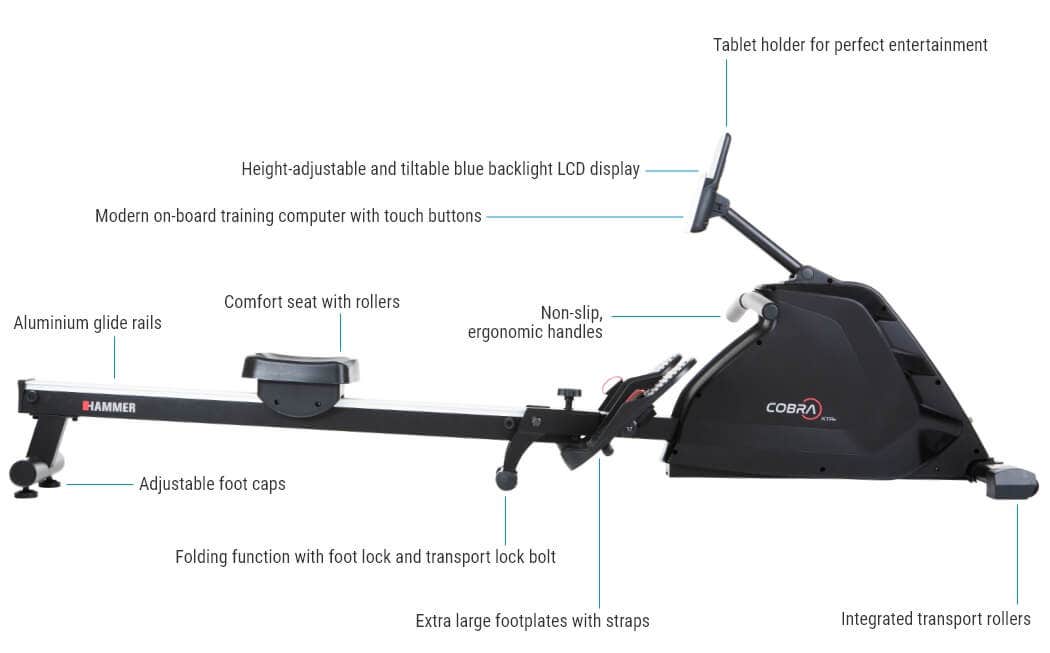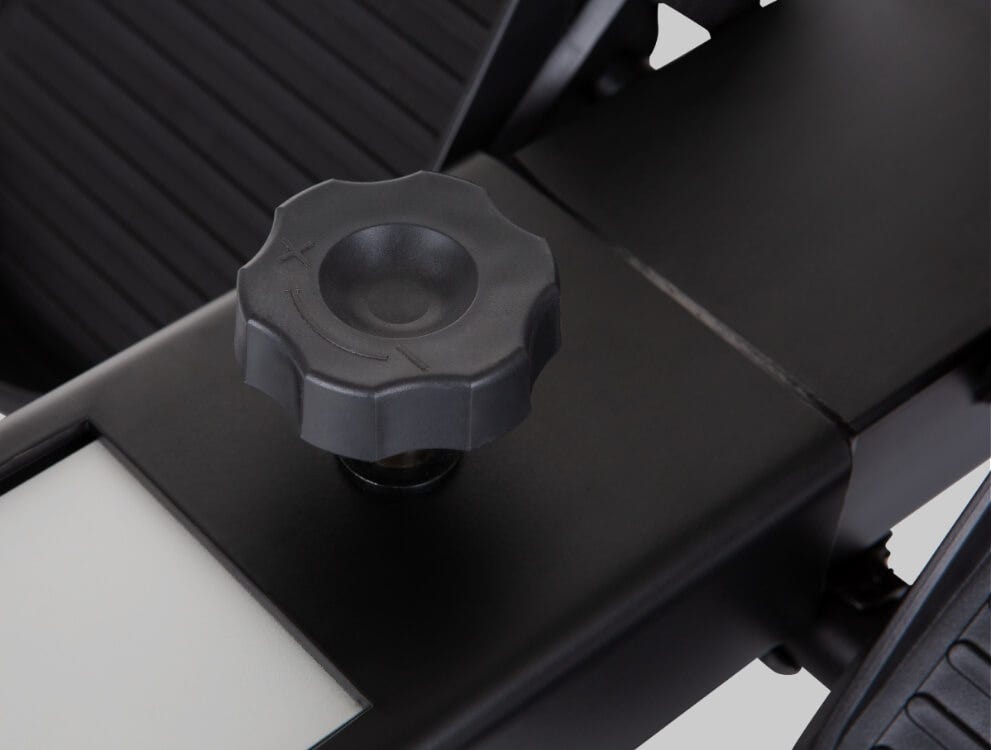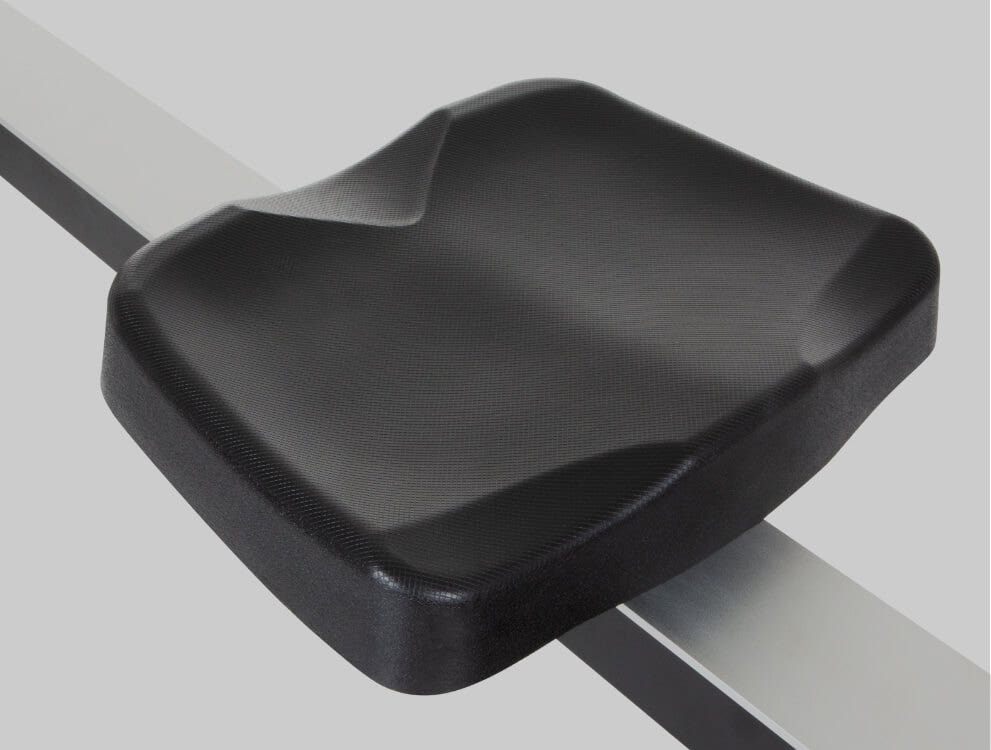 Full-body training
No other endurance sport can compete with rowing, and nothing else uses so many different muscle groups in your body. You can now bring this popular water sport into your own four walls with the COBRA XTR II Plus rowing machine and experience the feeling of intensive rowing at home. With this rowing machine, you can train numerous large muscles with a single rowing movement. This will improve your cardiovascular fitness and strengthen your back muscles incredibly effectively.
Create a multimedia rowing experience: your tablet or smartphone fits perfectly in the holder of this modern training computer. The padded ergonomic seat of your COBRA XTR II Plus glides quietly and smoothly over the premium aluminium rail. The seating position is athletic and back-friendly. Even long workouts are super comfortable, thanks to the ergonomically shaped seat cushion. Your body will get fitter with every training session and you will be amazed by how toned your muscles look. Row towards your dream body and turn heads with a great physique!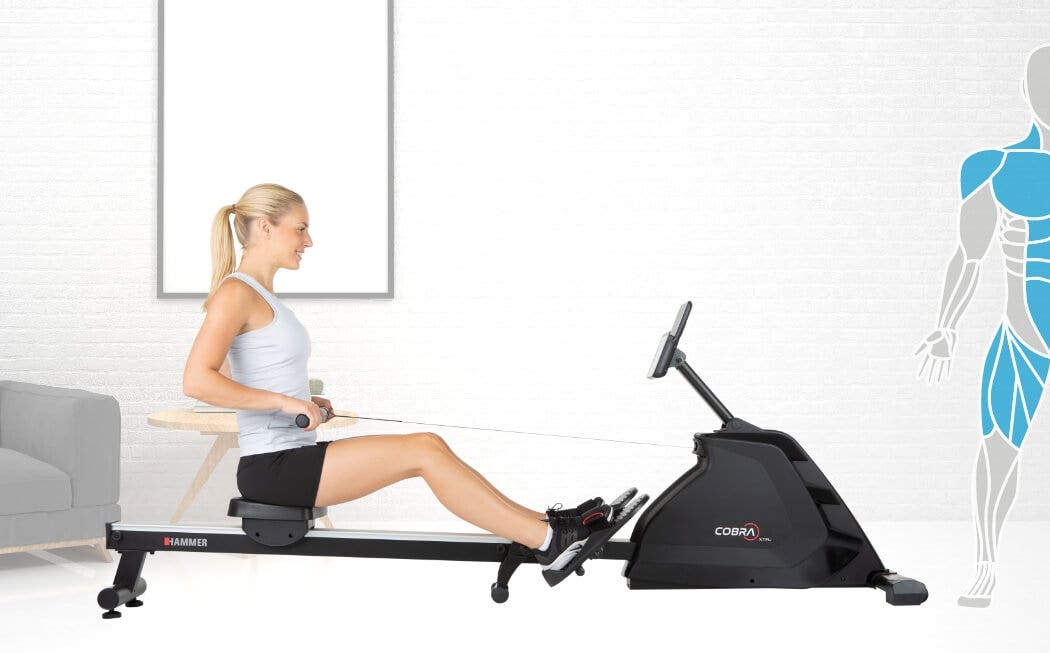 Train all your muscles at the same time
Who doesn't want to train their whole body at once with just one piece of equipment?
During rowing, your legs and upper body are trained simultaneously. You also effectively increase your fitness and endurance. Experience a low-impact strength and endurance workout: the perfect stress relief after a hard eight-hour working day. Each rowing stroke brings you closer to your dream body as you experience a relaxing rowing session with your COBRA XTR II Plus.
Check your fitness after every workout
Measure your pulse with the pulse recovery button on the training computer. The pulse recovery test compares your heart rate before and after training. The result is displayed as a fitness grade (1–6). An optional chest strap is required for this test. The perfect feature for increasing your fitness!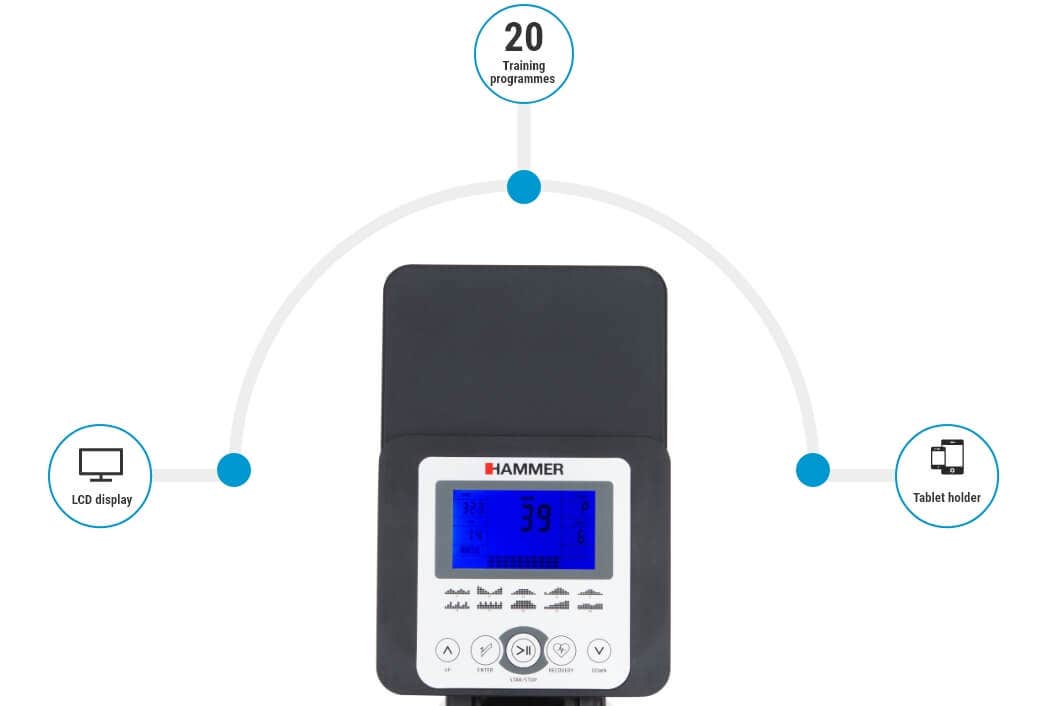 The training computer is advanced, but you will figure it out in no time
Your COBRA XTR II Plus rowing machine is equipped with a slim, user-friendly computer that helps you to constantly improve. You have so many options, and you can view a wide range of training data on an easy-to-read LCD display. The following information is displayed: Training time, all rowing strokes on the training unit, training distance, calorie consumption, difficulty level and pulse. Increase your motivation with the 10 training programs such as "Fat burn" and "Cardio", or the four heart programs and five individual user programs.
Time is of the essence, because your training time is precious. You can adjust the height of the computer. It can be tilted forward and backward. With the five soft-touch quick selection keys on the computer, you can select your training program and get started!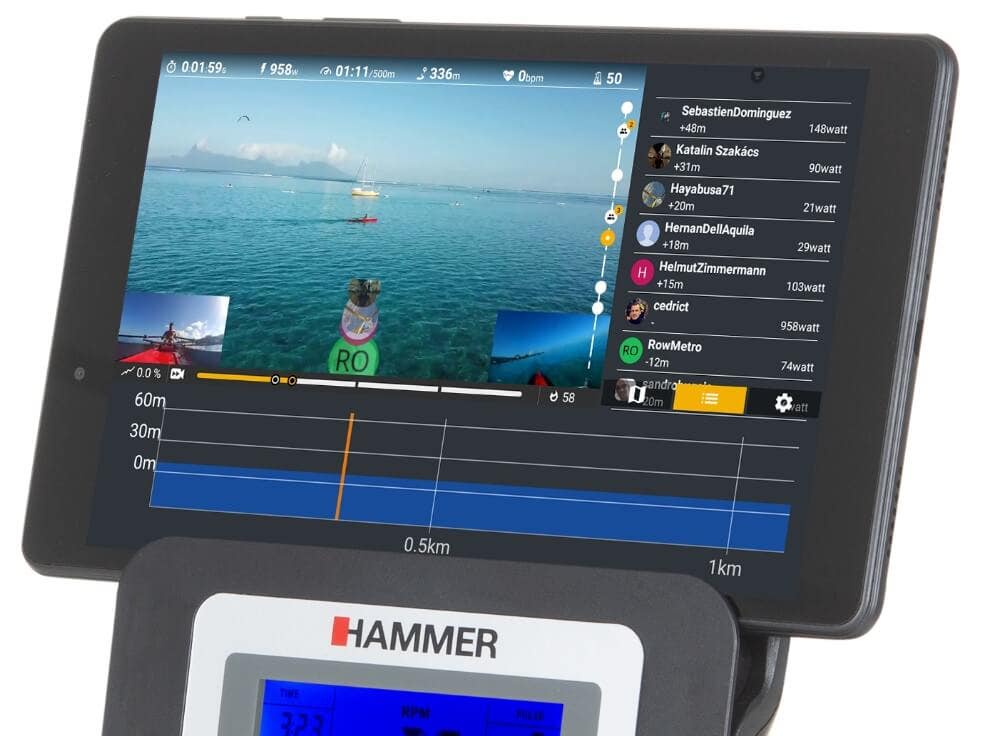 "Let me entertain you!"Interactive training variety with fitness apps
We all know the feeling of monotonous training with no variety in sight. But with fitness apps, you can row exciting regattas in a "live experience" and enjoy your favourite music or watch an exciting film. With the camera function of BitGym and Kinomap, you can experience raging rivers and deep lakes from all over the world. On top of this, you will also be provided with interactive information on your speed and location. You will be able to hear the real ambient sound of your rowing tour. Get into the virtual adventure and row yourself fit!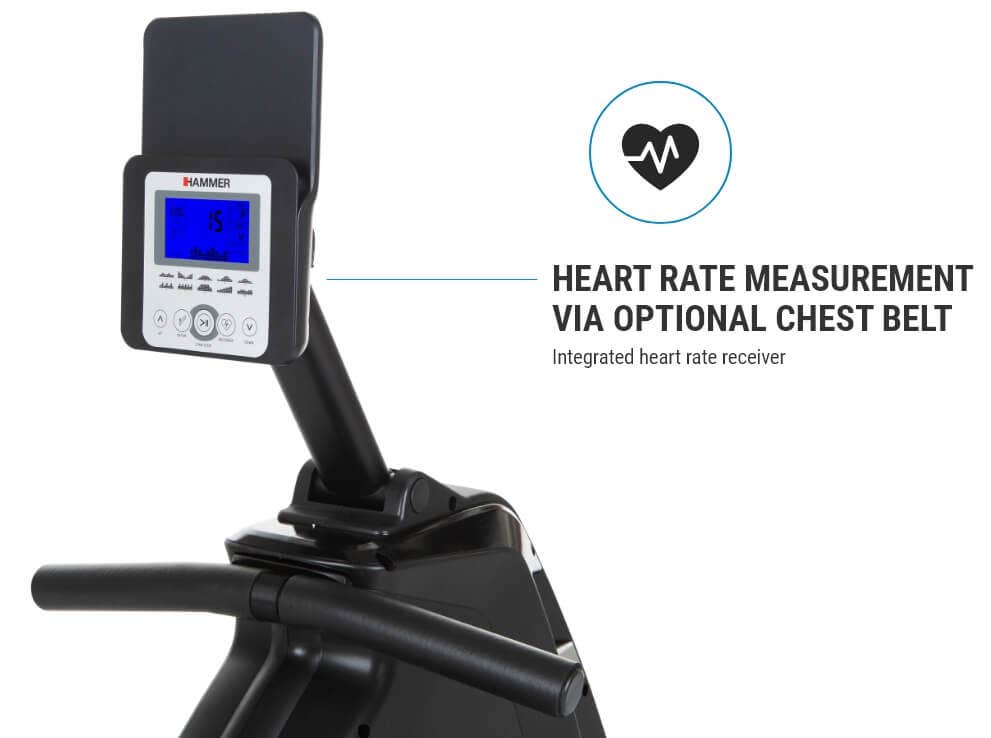 Rowing training with heart rate
It is important to keep an eye on your heart rate when you are rowing towards a specific fitness goal. Your heart rate is critical to meeting your training goal. The computer comes with an integrated heart rate receiver. Heart rate measurement using an optional chest strap allows you to keep an eye on your individual pulse rate at all times and achieve your personal fitness goals.
You can set your pulse limit yourself using the computer. If you exceed your target, a warning tone will sound. Row towards your dream body with confidence and an optimal heart rate!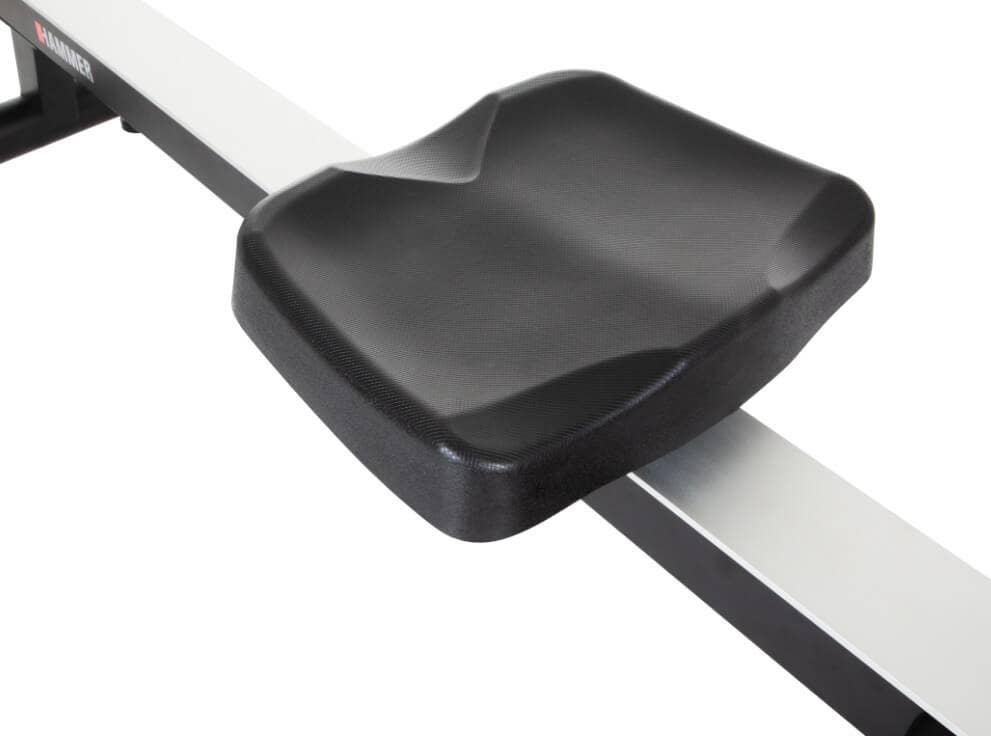 Smooth and low-impact movements
The sliding seat glides in the stable aluminium slide rail, so you can row smoothly and, above all, quietly. The proven HAMMER resistance system with premium magnetic brake technology produces gliding movements that are gentle on your joints. The pulling action is smooth, with no dead spots, all of which makes for a fun and realistic rowing workout!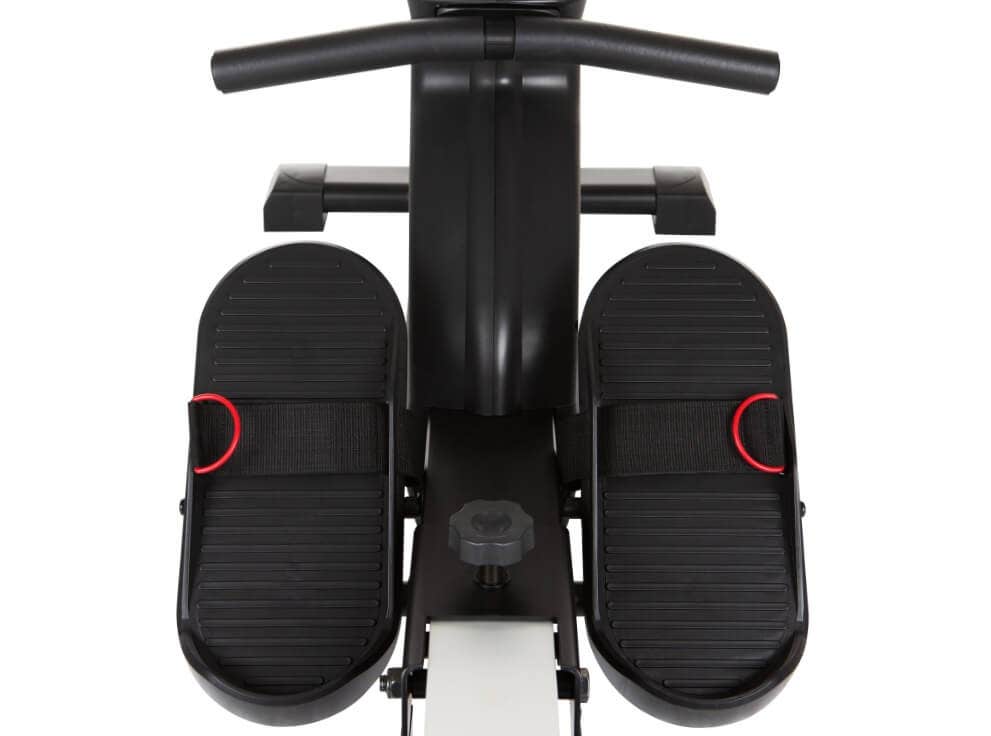 Sit comfortably, hold on tight and strap your feet in
The ergonomically shaped handle ensures good posture and a relaxed position for your hands and arms. The ball-bearing seat also enables a comfortable and dynamic rowing position by adapting to every body shape. The foam-cushioned comfort seat enables an enjoyable workout, even during longer rowing sessions, and takes pressure off the spine.
Each footplate has straps that keep your feet firmly in place with every rowing stroke. The extra large anti-slip footplates are placed at a hip-friendly distance of 16 cm to avoid overloading your hips, even during longer training sessions. Other family members can also use the Cobra XTR II Plus rowing machine and enjoy an individually tailored workout.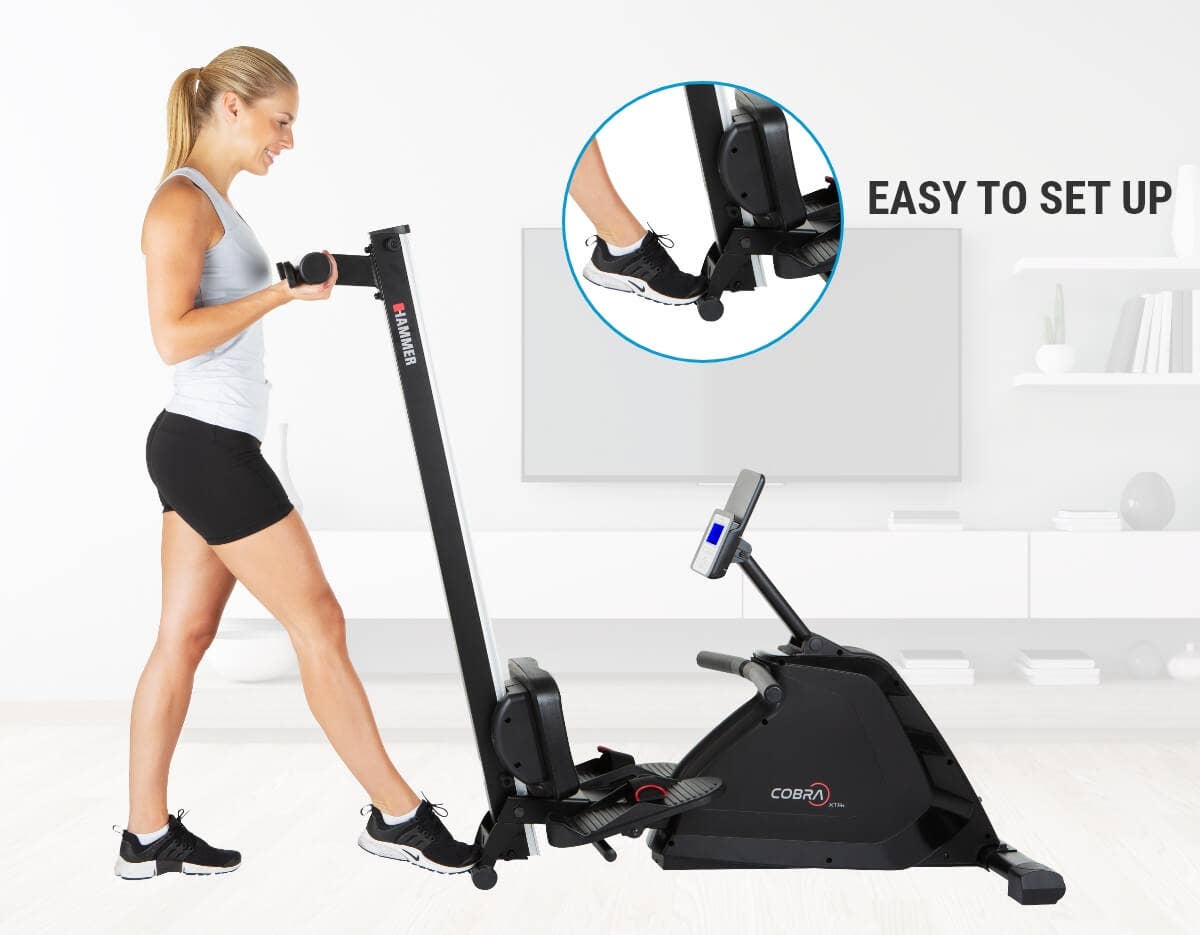 Other innovative features
Turn your home into a rowing club
With the HAMMER rowing machine Cobra XTR II Plus, you can fulfil your dream of rowing without getting wet. Focus on your training in peace and quiet! With quick assembly, you can turn your living room into a rowing club within seconds. After training, the guide rail can be easily folded up, thanks to the innovative tilting function, and stored in a space-saving manner with the practical footrest and transport lock. The integrated transportation rollers allow you to move your Cobra XTR II Plus rowing machine around the room.
With its small footprint of only 232 x 55 x 75 cm, your HAMMER Cobra XTR II Plus rowing machine is ideally suited for rowing training for people up to 2.0 m tall. Use the adjustable foot caps to compensate for uneven floors, so that your rowing machine maintains a professional position during training. Now it's your turn! Row yourself into shape, feel the change in your body and get yourself into your best shape ever!
Computer
Display
LCD Blue Backlight
Multimedia
Tablet support
Operation
Soft-touch quick keys
Integrated pulse receiver for chest belts
5 kHz
Display
Load profiles
Calories, Distance, Heart rate, Load profiles, Resistance Level, Time
Programs and profiles
Heart rate controlled programmes
4
Adjustable pulse limit
Upper pulse limit
Drive/brake system
Braking system
Permanent Magnetic
Resistance adjustment
Computer controlled
Dimensions and weight
Build up size (L x W x H)
232 x 55 x 75 cm
Folding dimension (L x W x H)
118 x 55 x 155 cm
Other features
Transportation rollers
Yes
DIN Norm
DIN EN ISO 20957-1/7
Shipping
Delivery time
3-6 working days
Delivery Information
Delivery to the apartment door
Private use
on the main frame
5 years
Clients ask, our fitness experts answer
Do you need more information about the product? Ask your question here. Our fitness experts will answer quickly and easily.
Our recommendation for you