Rowing is one of the most effective and healthy sports, because about 90% of all muscles are used. The rower Aquon Evolution simulates rowing on unmoving water and can be compared to natural rowing.
Rowing may lead to following positive effects:
90% of the whole body muscles are used and strenghtened
Optimization of endurance
Strengthening of cardiovascular system
Weight reduction
Toning and strengthening of back and leg muscles
Optimization of posture
So rowing provides the ideal training for the whole body!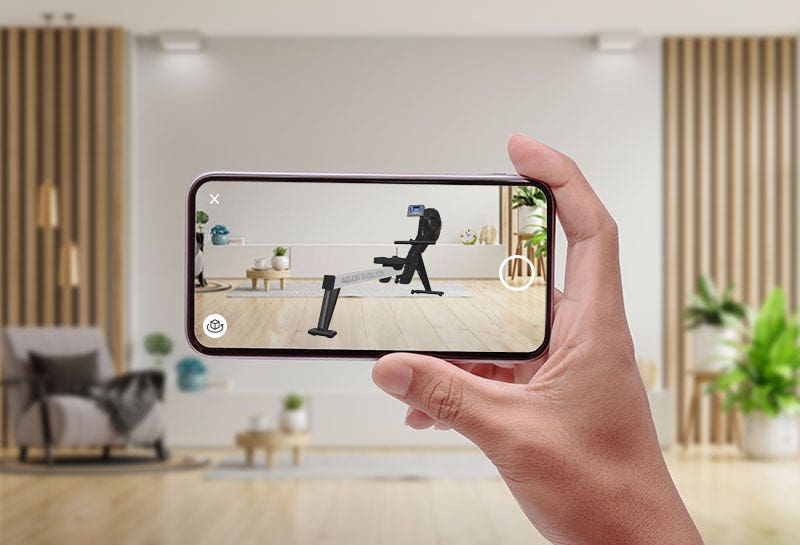 Experience your product in your own home now!
Whether as a 3D view on the PC or virtually in your own room via smartphone - immerse yourself in a whole new kind of product experience with HAMMER Augmented Reality.
Technical details and specifications of the rower ergometer Aquon Evolution:
Rowing in the Aquon Evolution feels like rowing on real water. A maximum resistance of 350 Watt guarantee an intense "power"-workout for all fitness levels.
A very quiet flow of movement, the ball bearing sport-seat on the 135 cm extra-long rail and the footplate distance of 9 cm make sure the rowing sensation is analog to water rowing. The seat height with about 50 cm is equal to professional rowing boats. The extra-long pull cord of 182cm allows body sizes up to 2m with a wide range of motion. The clear LCD-display with blue backligh technology is stepless tiltable to your needs for perfect visability from all rowing positions.
Computer specifications:
Heart Rate
Intensity
Time per 500 m
Calorie consumption
Resistance in Watt
Strokes per Minute
Training programs
Time in h., min., sec.
Distance in meter and kilometer
4 heart rate control programs make sure your cardiovascular workout is safe and always monitored. When overstepping heart rate limit settings a warning beep will be heard and the resistance will be reduced automatically. FINNLO Aquon Evolution by HAMMER stands for state-of-the-art endurance and health training!
More features: 8 Permanent displays for having all important info at hand, 12 automatic and diverse fitness programs, plus a challenging race-program against the computer ensure highest motivations.
Important Product info:
Ergometer class HA (according to DIN EN 957 – 1/7), developed and used by professional rowing athletes.
4 heart rate programs, 8 permanent displays, 12 fitness programs, 1 race program
Professional seat height of about 45 cm
Intensity adjustable from 10-350 Watt
Load control: RPM independent
Minimal footplate distance of 9 cm only
LCD-display with blue backlight
Computer controlled combined technique of magnet and air resistance
Extra long pull cord of 182 cm and a Aluminium rail of 135 cm allows comfortable rowing even for body sizes up to 2 meter
Premium-aluminium rail guaranteeing smooth rowing movements and maximum stability
Quality ball bearings for silent and jerkyless seat sliding
Foldable and easy transport via integrated rollers
Max. body weight: 130 kg
Power supply: 230 Volt
Folded size (L x W x H) cm: 148 x 50 x 196
Build up size (L x W x H) cm: 240 x 50 x 107
Computer
Display
Hi Tech Blue Backlight LCD-Display
Integrated pulse receiver for chest belts
5 kHz
Display
Load profiles
Calories, Distance, Heart rate, Time, Watt
Programs and profiles
Heart rate controlled programmes
4
Adjustable pulse limit
Upper pulse limit
Drive/brake system
Load control
RPM independent
Braking system
Magnetic and air system
Resistance adjustment
Computer controlled
Dimensions and weight
Build up size (L x W x H)
240 x 50 x 107 cm
Folding dimension (L x W x H)
148 x 50 x 196 cm
Other features
Transportation rollers
Yes
Performance
10 - 350 Watt
DIN Norm
DIN EN ISO 20957-1/7
Shipping
Delivery time
4-8 working days
Delivery Information
Delivery to curbside (Please leave your phone number when ordering, so we can arrange a suitable delivery date for you)
Private use
on the main frame
10 years
Clients ask, our fitness experts answer
Do you need more information about the product? Ask your question here. Our fitness experts will answer quickly and easily.
Our recommendation for you