The AUTARK 2200 multi gym from FINNLO offers all kinds of opportunities for ambitious athletes. Butterflies, lat pulls and rows are just as easy with this multi gym as extensive leg, bicep, and ab exercises. Tricep cable, lat bar, and straps with cables included. These have variable attachments to the cable towers on the AUTARK 2200 and allow comprehensive and two-arm cable training thanks to the roller system that swivels up to 160ᄚ. This provides functional stress for your body and stablises the spinal column. There are no corners cut with regards to comfort when it comes to the AUTARK 2200 multi gym. The ergonomic seat and the backrest can be adjusted vertically and provide perfect ergonomy for training. This weight training station is distinguished by its stable steel frame and ball-bearing rollers. The weight block for the AUTARK 2200 multi gym weighs 80 kg and is comprised of 16 5-kg discs. It can also be equipped with an additional 20 kg, optionally.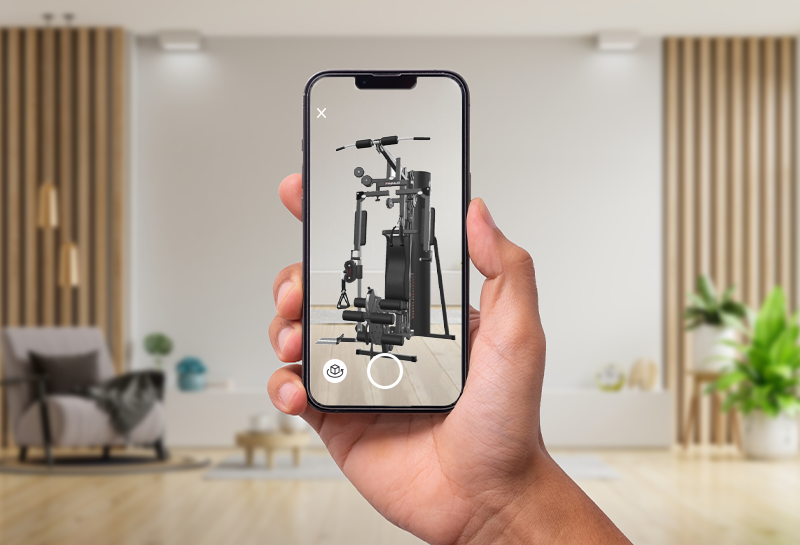 Experience your product in your own home now!
Whether as a 3D view on the PC or virtually in your own room via smartphone - immerse yourself in a whole new kind of product experience with HAMMER Augmented Reality.
Delivery notice: Please not that the Autark series has modular construction. The Autark 2200 consists of an Autark 1500 base and additional modules. Please note during delivery that one box will be labelled モAutark 1500ヤ.
Dimensions and weight
Build up size (L x W x H)
165 x 166 x 215 cm
Max. resistance
110 kg at 100 kg (80 kg + 20 kg additional weights)
Upgradable with additional weights
4 x 5 kg
Maximum of usable weight
100 kg
Shipping
Delivery time
4-8 working days
Delivery Information
Delivery to curbside (Please leave your phone number when ordering, so we can arrange a suitable delivery date for you)
Private use
on the main frame
10 years
Summary of all possible strength exercises with the Autark 2200
You can find out how to do the exercises correctly and exactly which muscle groups are trained by clicking on the respective exercise.
Clients ask, our fitness experts answer
Do you need more information about the product? Ask your question here. Our fitness experts will answer quickly and easily.