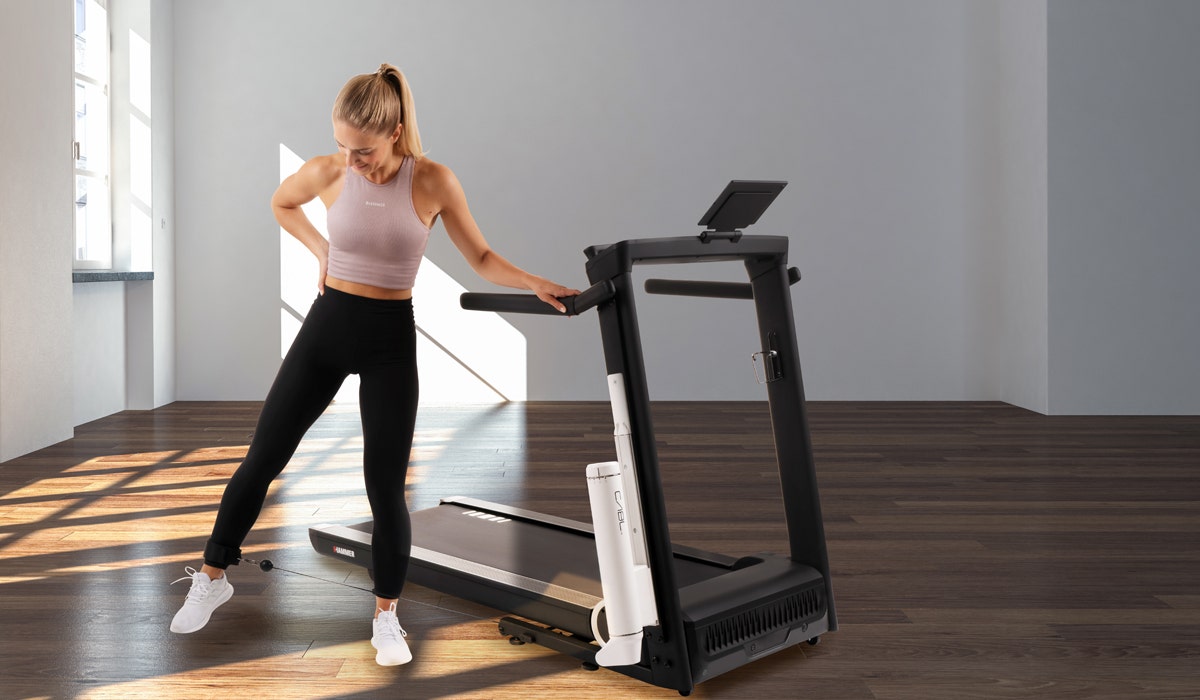 Die perfekte Kombination aus Muskel- und Ausdauertraining
Bestehend aus unseren beiden Topsellern, dem Q. VADIS 7.0 & CABL, erlebst du mit dem Cardio Strength das Beste aus zwei Welten! Mit dem modernen Kabelzug an deinem High-Tech-Laufband, trainierst du platz- und zeitsparend Kraft und Ausdauer.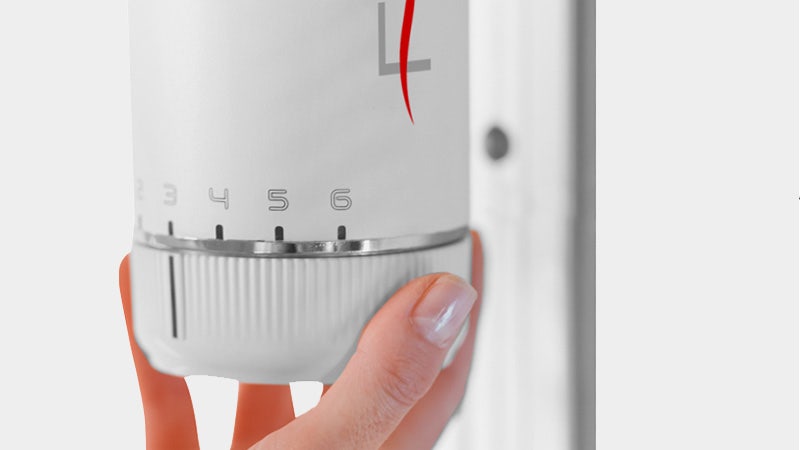 Einfache Widerstandsregulierung
Mit Hilfe der Drehfunktion kannst du mühelos die Intensität deines Trainings anpassen. Erreiche eine kontinuierliche Verbesserung und verwirkliche deine Ziele!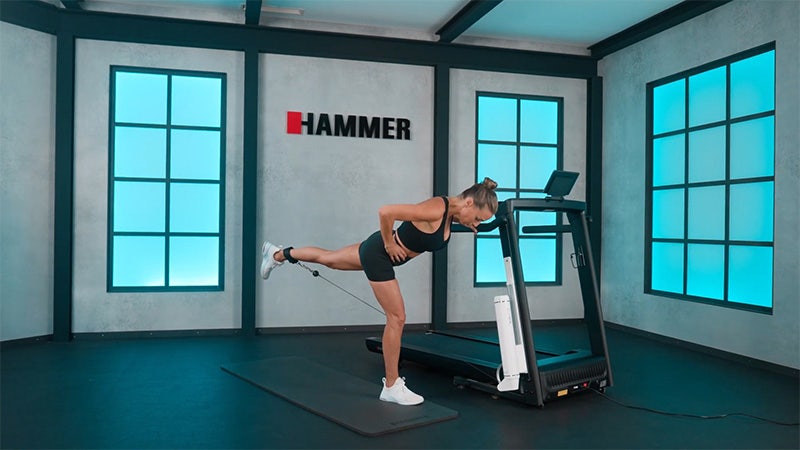 Produkt Highlights
Überzeuge dich von allen Features des Q. VADIS 7.0 CS!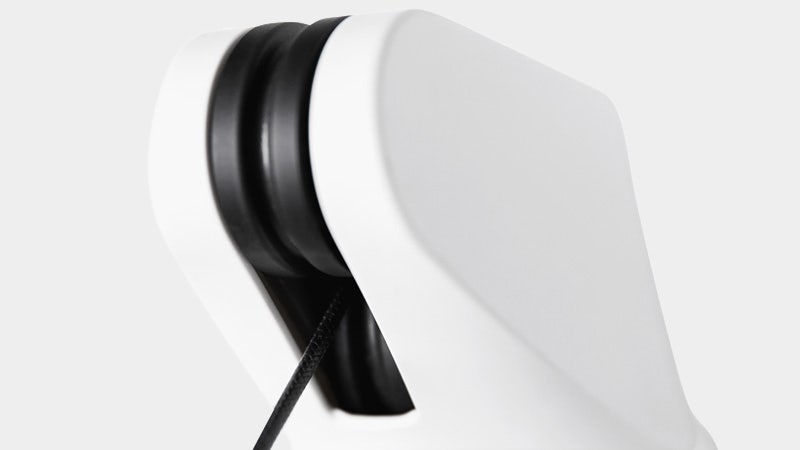 Flexibles Krafttrainig
Rotierbares Seilzugmodul, erlebe ein Krafttraining aus jedem erdenklichen Winkel und ermögliche dir ein umfassendes Ganzkörpertraining.
Entdecke dein Lieblings-Workout
Mit HAMMER Workouts bieten wir dir ständig neue und motivierende Kurse mit deinem Cardio Strength. Power dich gemeinsam mit unseren kompetenten Trainern aus und erreiche in 10 bis 50 minütigen Workouts deine ganz individuellen Fitnessziele. Egal ob Smartphone, Tablet oder Laptop, ohne zusätzlich benötigtes Abo.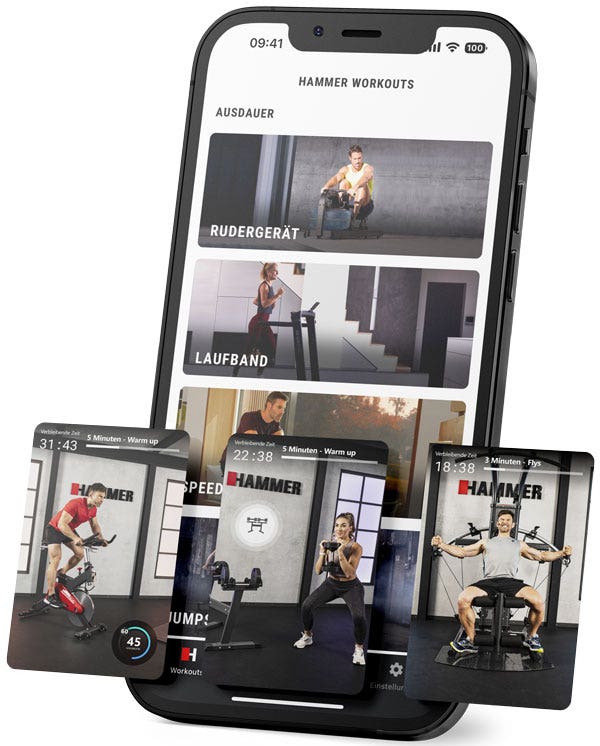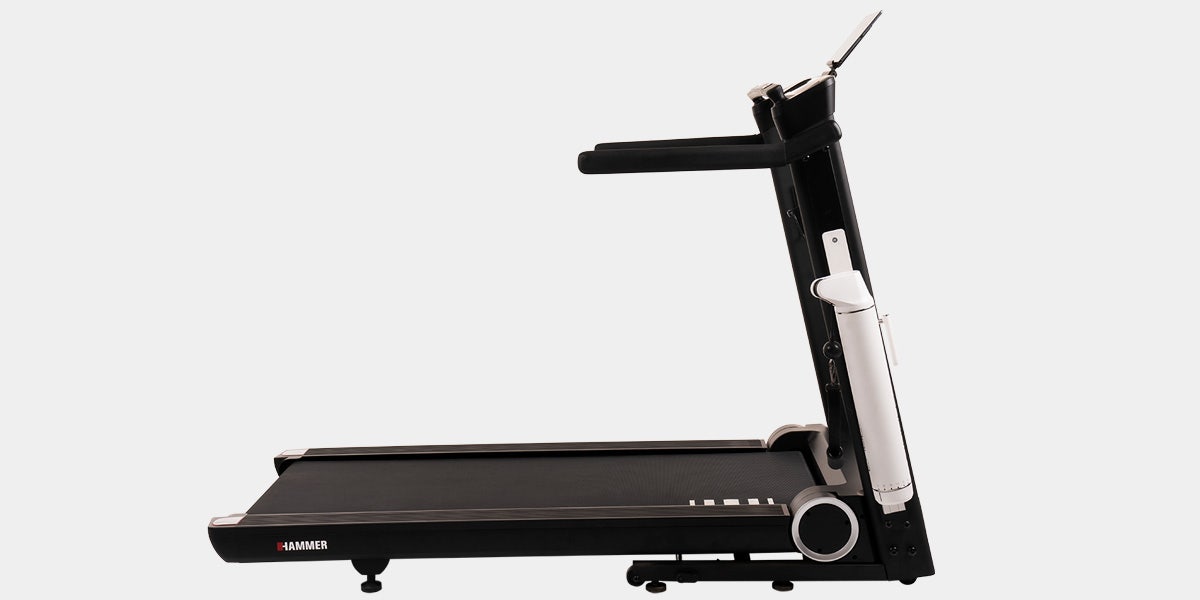 Mehr Zeit für dich!
Dein Ganzkörpertraining im kompakten Format! Das Q. VADIS 7.0 CS ermöglicht dir ein effektives Workout zu Hause. Durch die kompakte Bauweise sparst du nicht nur Platz, sondern auch Zeit und absolvierst gleichzeitig Übungen für deinen gesamten Körper. Die einfache Handhabung und die kompakten Maße ermöglichen einen direkten Trainingsstart und beanspruchen alle wichtigen Muskelgruppen.
Ganzkörpertraining im Schnelldurchlauf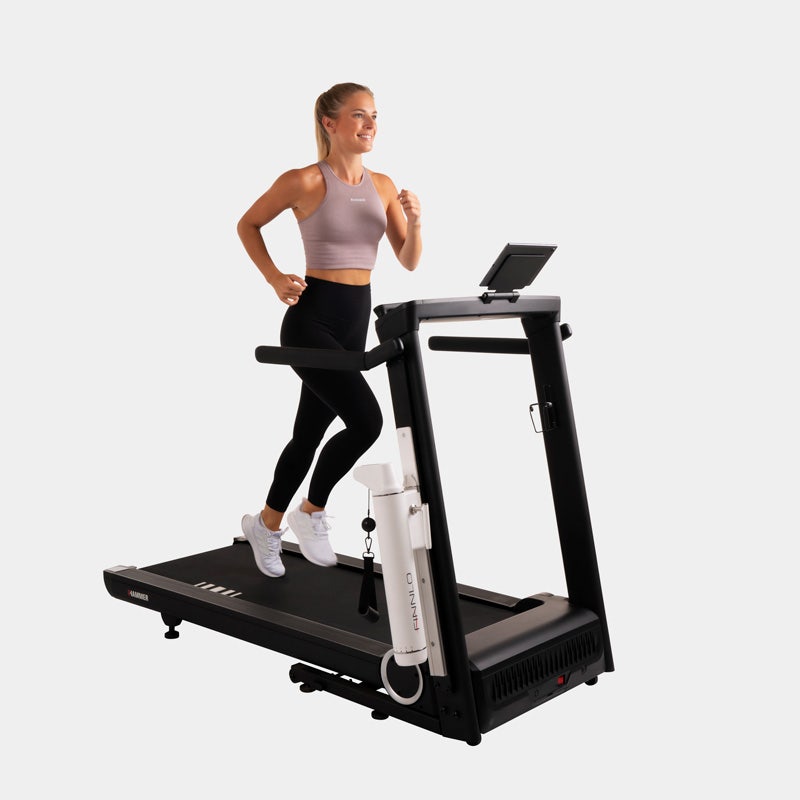 1. Klassisches Lauftraining
Stärkt dein Herz-Kreislauf-System.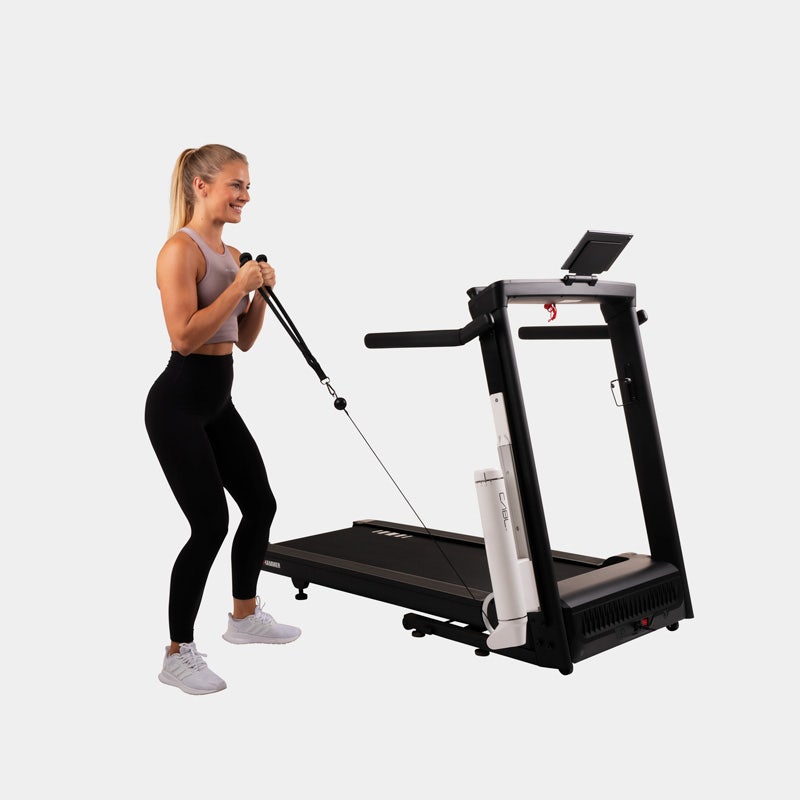 2. Bizeps Curls beidarmig
Trainiere deine Oberarmmuskulatur.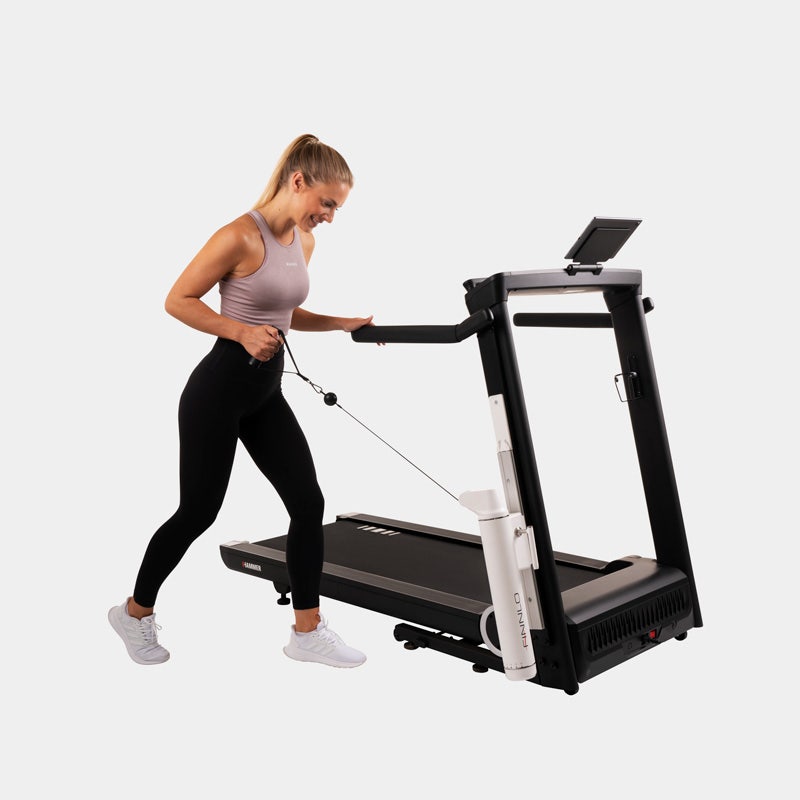 3. Rudern stehend
Perfekt durchführbar mit dem inkludierten Handgriff.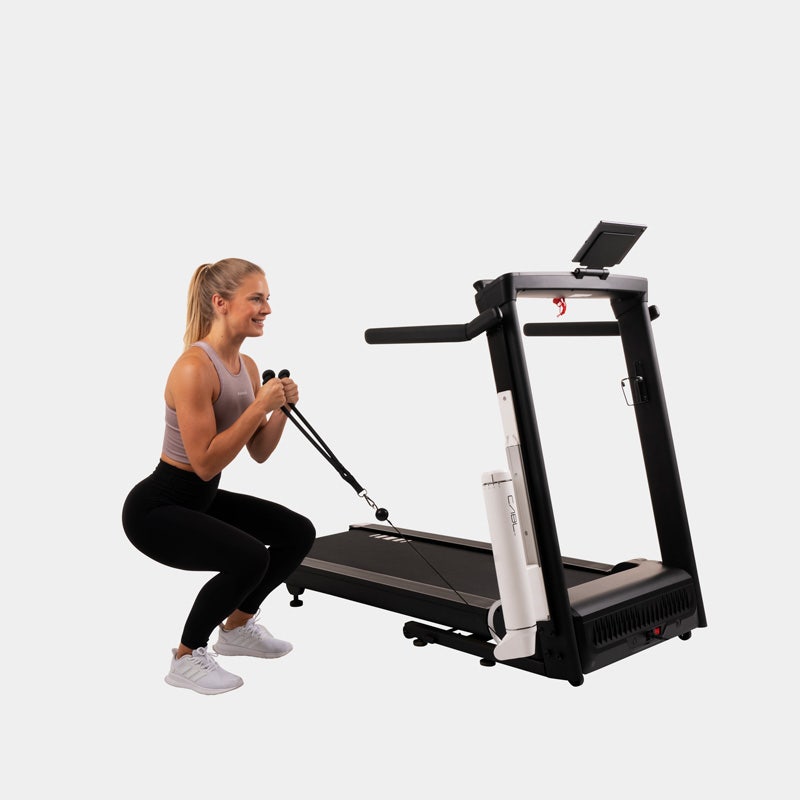 4. Squat
Optimal für deine gesamte Beinmuskulatur.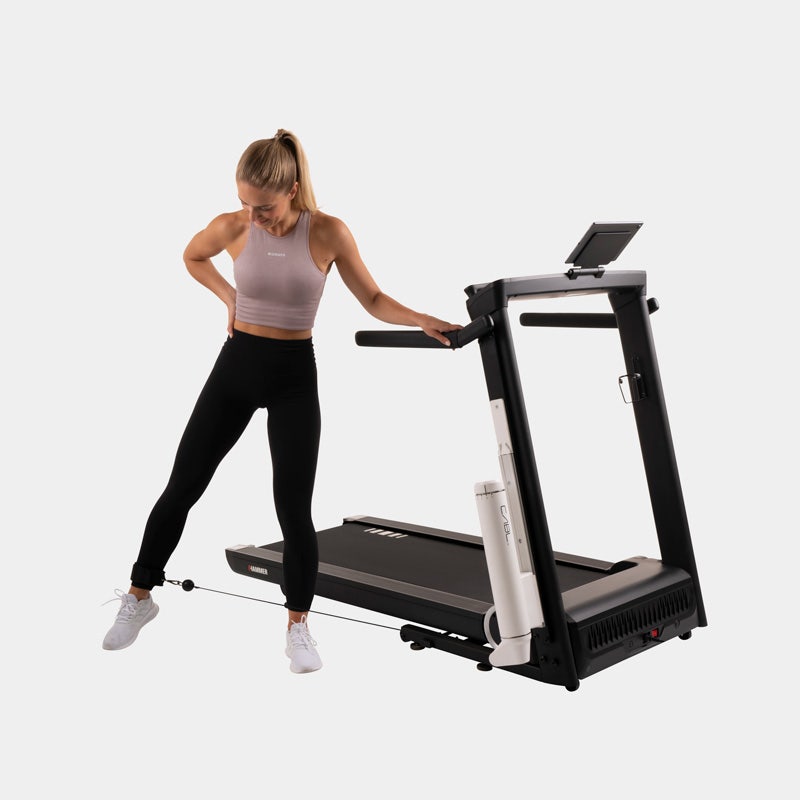 5. Abduktoren
Stärkt Gesäßmuskulatur und Abduktoren.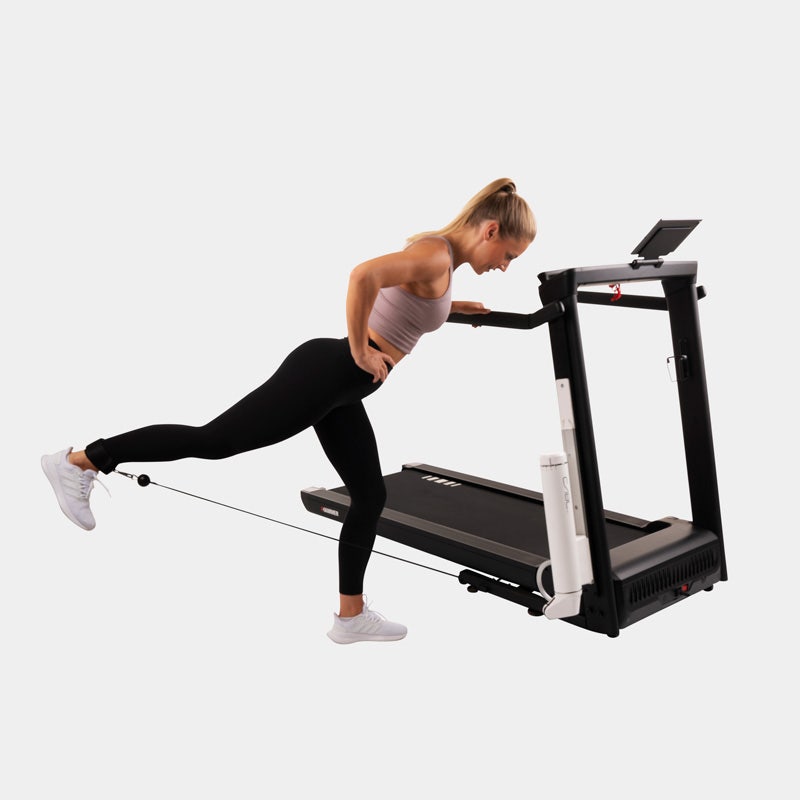 6. Kickbacks
Perfekt für die hintere Kette deiner Beinmuskulatur.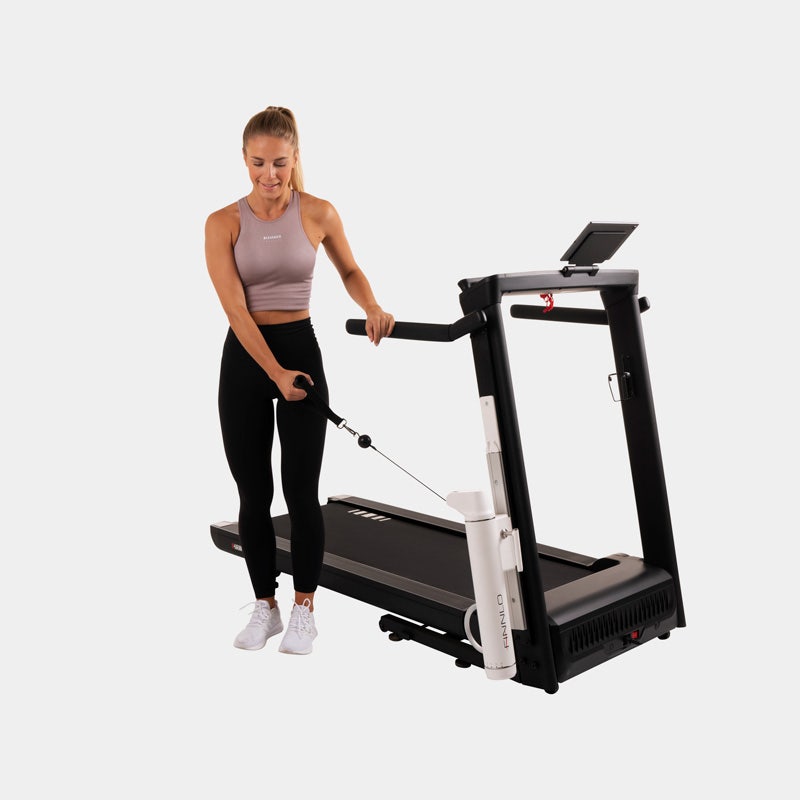 7. Starke Schultern
Trainiere deine Schultermuskulatur mit Hilfe des CABL.
Expertise unserer Trainer
"Die CS-Serie bietet dir die perfekte Möglichkeit, dein Lauftraining mit hocheffektiven Kraftübungen zu kombinieren. Ein weiterer Vorteil liegt in der Zeitersparnis und dem geringen Platzverbrauch in deinem zu Hause."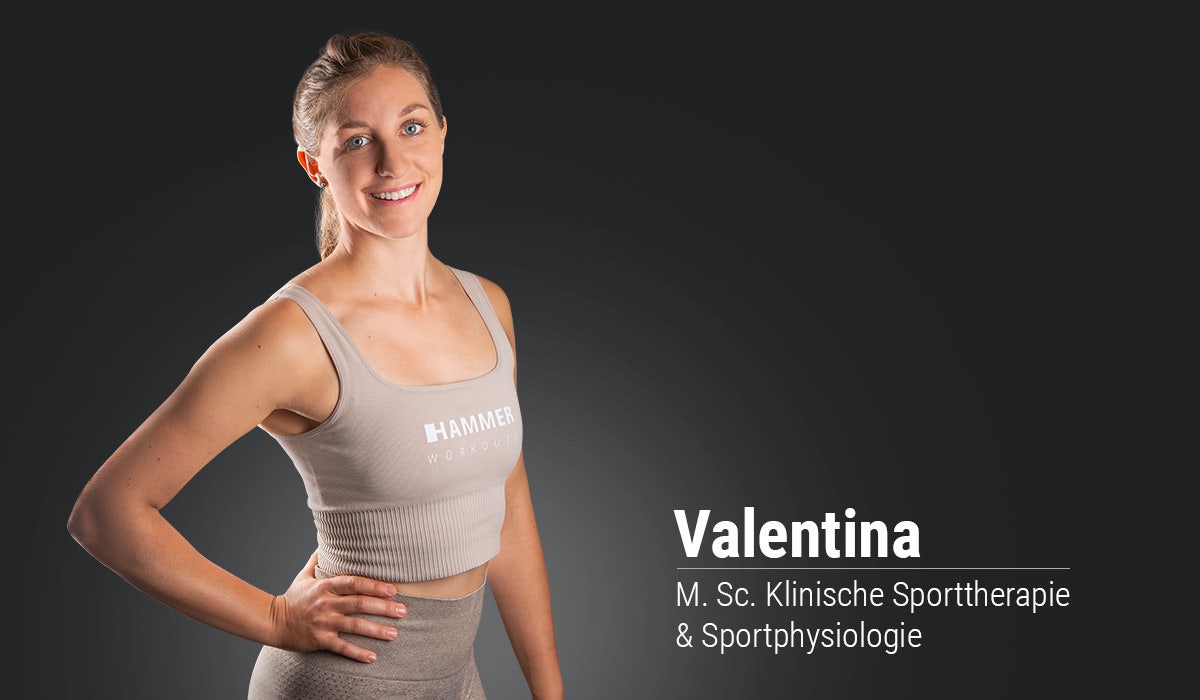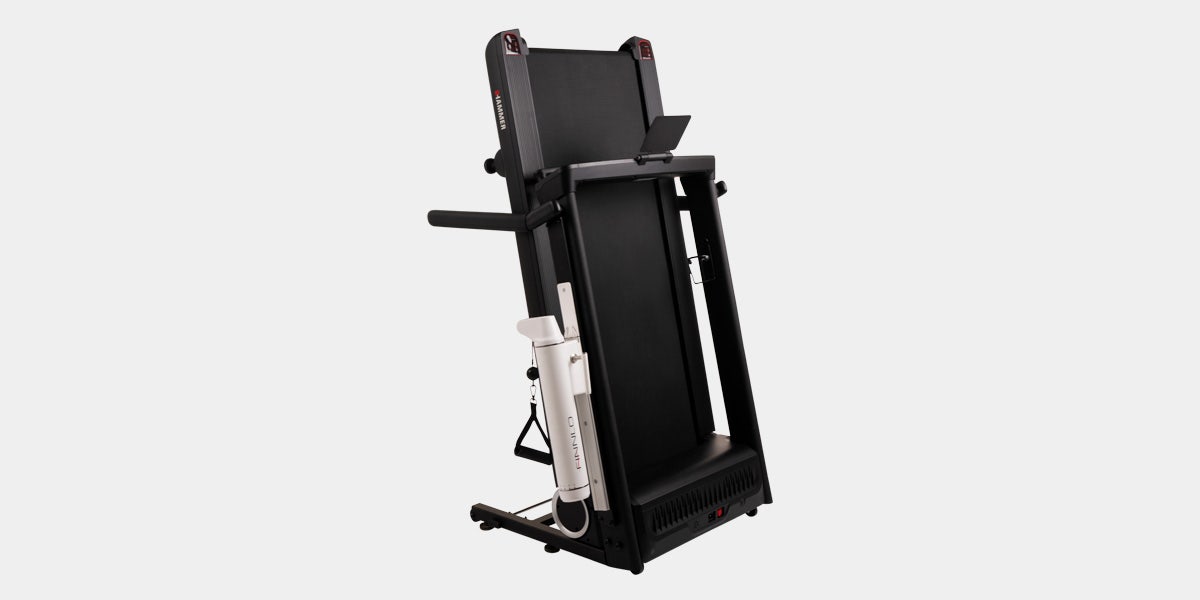 Platzgewinn
Kein Bohren, Umbauen oder Schleppen von Gewichten. Befestige den schmalen Kabelzugtrainer mit Hilfe weniger Schrauben sicher und stabil an deinem Q. VADIS Laufband. Der Platzbedarf erhöht sich durch das CABL also nicht. Deine Leistungsfähigkeit hingegen, verdoppelt sich!
Innovative Technik
Die Nytrocell-Zugtechnologie ist die neueste Innovation im Fitnessbereich. Durch die Verwendung von hochwertigen Materialien und modernsten Technologien, ermöglicht sie ein effektives und schonendes Ganzkörpertraining. Die spezielle Zugtechnologie sorgt für eine gleichmäßige und natürliche Bewegung, die deine Muskeln optimal beansprucht und Gelenke schont.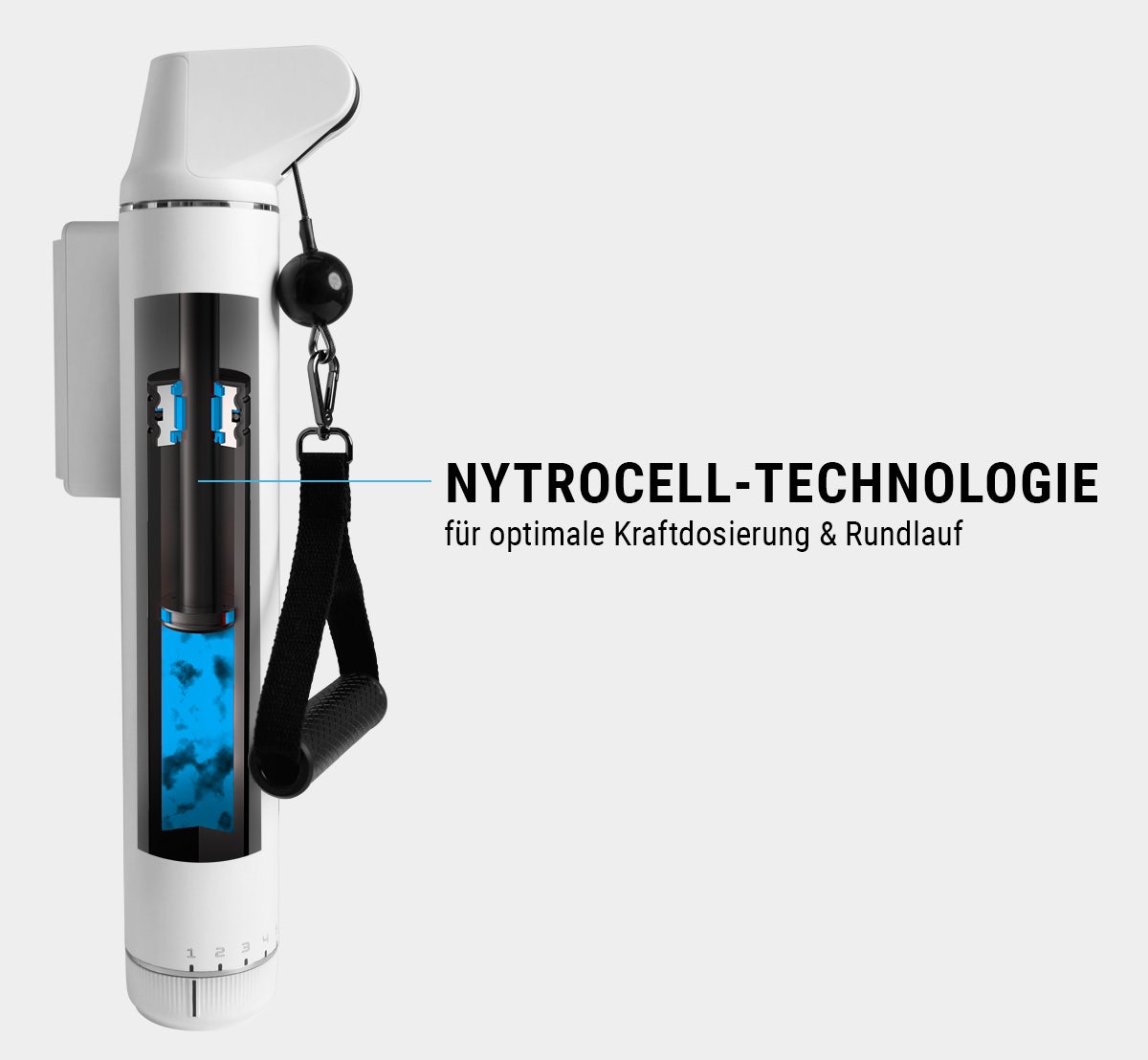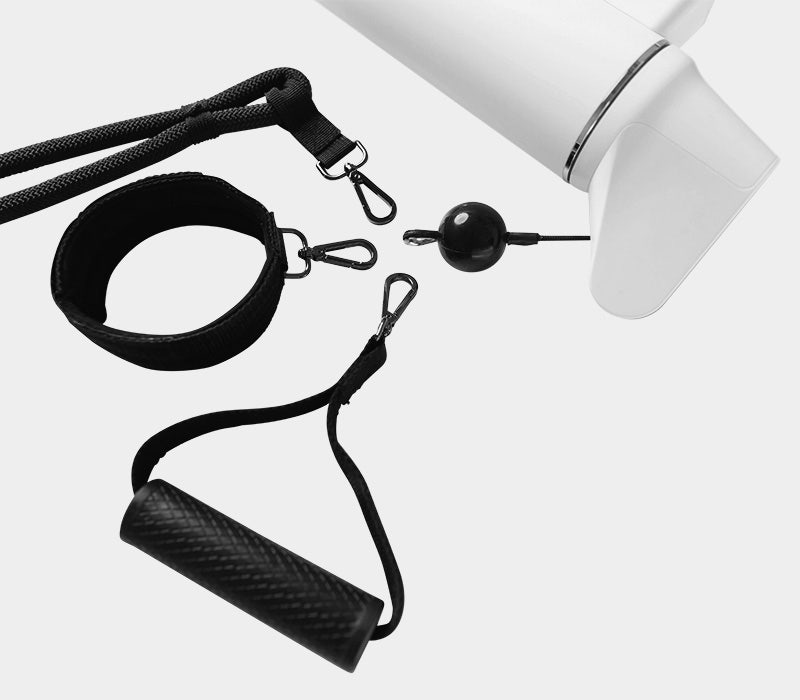 Immer das passende Equipment
Durch das vielfältige Zubehör, bestehend aus Trizepsseil, Fußschlaufe und Handgriff, erhältst du kostenlos die Must-Haves für dein Training. Mit dem Trizepsseil kannst du gezielt deine Arm- und Schultermuskulatur stärken. Die Fußschlaufe eignet sich hervorragend für Beinübungen, wie beispielsweise Kickbacks oder Kniebeugen. Mit dem Handgriff erweiterst du dein Training zusätzlich, um Übungen für deine Oberkörper-Muskulatur auszuführen. So hast du immer das passende Zubehör griffbereit und erreichst ein abwechslungsreiches und effektives Training.
Shipping
Scope of delivery
Dummy14
Marke: HAMMER
Private use
on the main frame
10 years
Marke: FINNLO
Private use
on the main frame
10 years
Marke: FINNLO MAXIMUM
Private use
on the main frame
10 years
Semi-professional use
on the main frame
5 years
Marke: HAMMER BOXING
Private use
Marke: INSPIRE by HAMMER
Private use
auf den Hauptrahmen
10 years
Semi-professional use
on the main frame
5 years
Marke: SOLE
Private use
on the main frame
10 years
Marke: Augletics
Private use
on the main frame
10 years
*Semi-professional use: For use in hotels, sports clubs, etc. - not in fitness studios
Clients ask, our fitness experts answer
Do you need more information about the product? Ask your question here. Our fitness experts will answer quickly and easily.