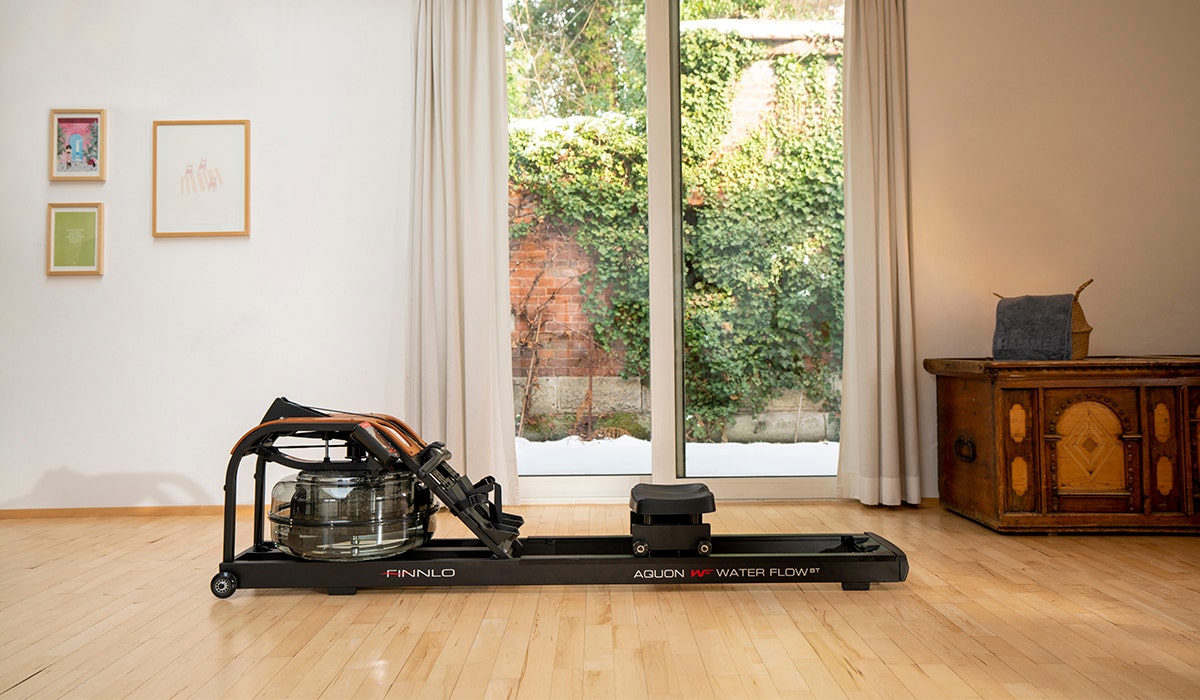 Stilvolles Wasserrudergerät mit Bluetooth und edler Holzoptik
Entdecke das ultimative Wasserrudergerät und gleite wie auf dem Wasser! Der Aquon Waterflow BT vereint höchste Qualität, elegantes Design und modernste Technologie. Das robuste Holzelement und der stabile Rahmen sorgen für eine hohe Belastbarkeit und eine lange Lebensdauer.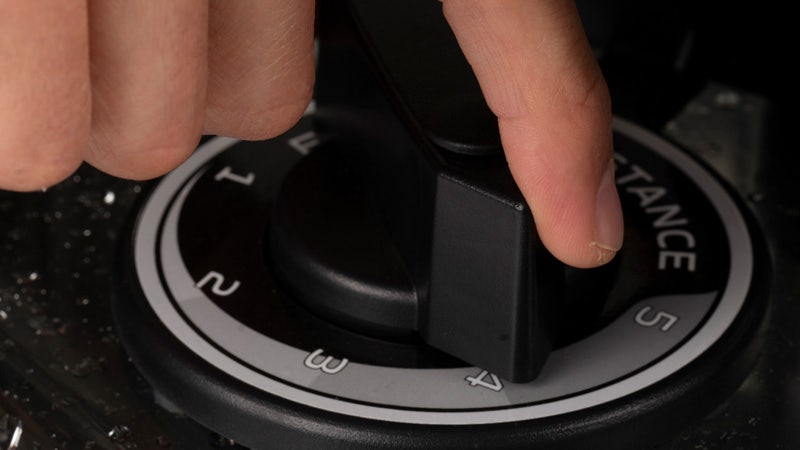 Dein perfekter Widerstand!
Die gewünschte Intensität lässt sich ganz einfach über die 5-fache Widerstandregulierung einstellen. Durch die Ruderfrequenz kannst du dein Workout zusätzlich individualisieren.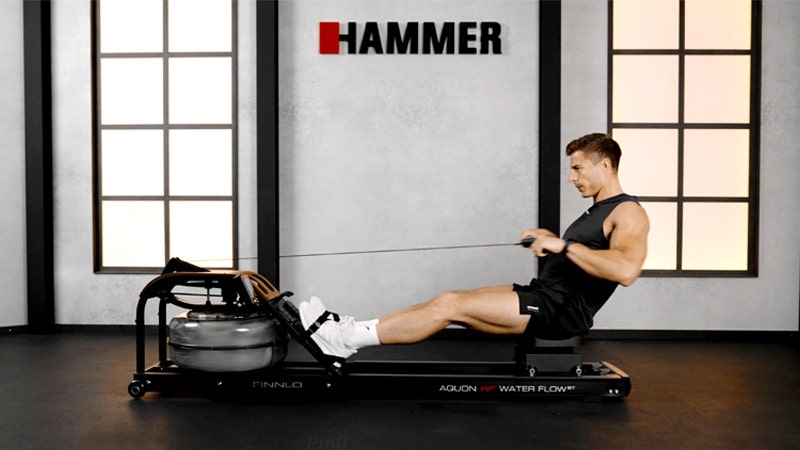 Professionelles Rudern zu Hause!
Überzeuge dich von allen Features des Aquon Waterflow BT!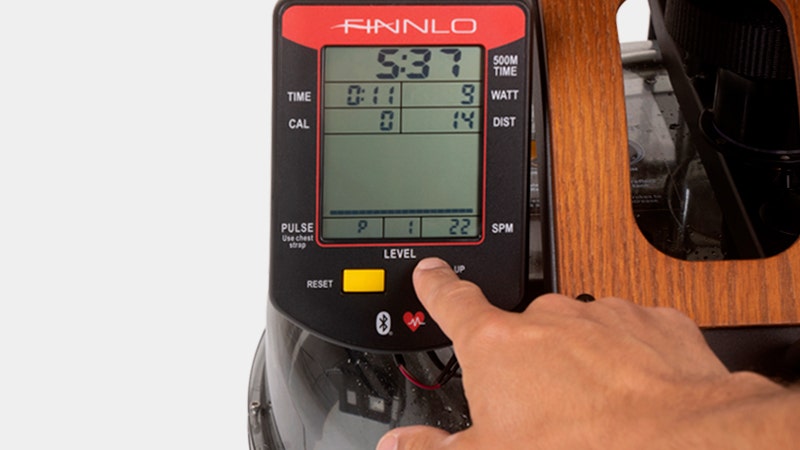 Digital perfekt integriert
Durch die Bluetooth-Funktion kannst du dein Rudergerät problemlos mit Kinomap verbinden und ermöglichst dir ein noch abwechslungsreicheres Training.
Entdecke dein Lieblings-Workout
Mit HAMMER Workouts bieten wir dir ständig neue und motivierende Kurse mit deinem Aquon Waterflow BT. Power dich gemeinsam mit unseren kompetenten Trainern aus und erreiche in 10 bis 50-minütigen Workouts deine ganz individuellen Fitnessziele. Egal ob Smartphone, Tablet oder Laptop, ohne zusätzlich benötigtes Abo.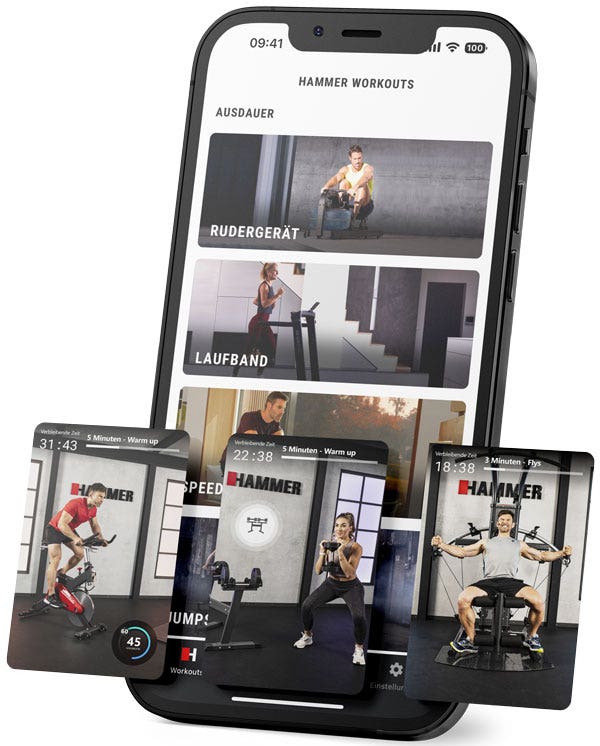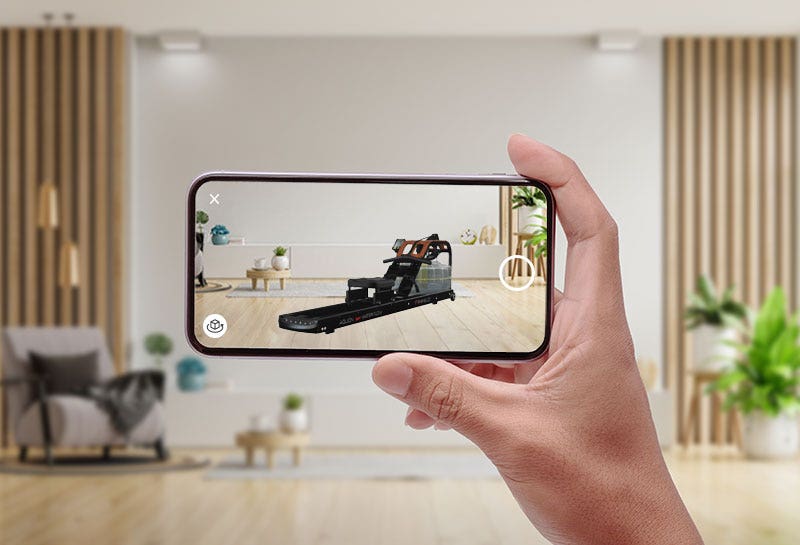 Erlebe dein Produkt jetzt bei dir zu Hause!
Ob als 3D Ansicht am PC oder per Smartphone virtuell in deinem eigenen Raum - Tauche mit HAMMER Augmented Reality in eine ganz neue Art des Produkterlebnisses ein.
Expertise unserer Trainer
"Der Aquon Waterflow BT überzeugt auf ganzer Linie. Der Widerstand des Geräts kann einfach angepasst werden, um dein Trainingserlebnis zu personalisieren. Mit dem natürlichen Widerstand des Wassers erlebst du ein realistisches Rudergefühl und schonst dabei deine Gelenke."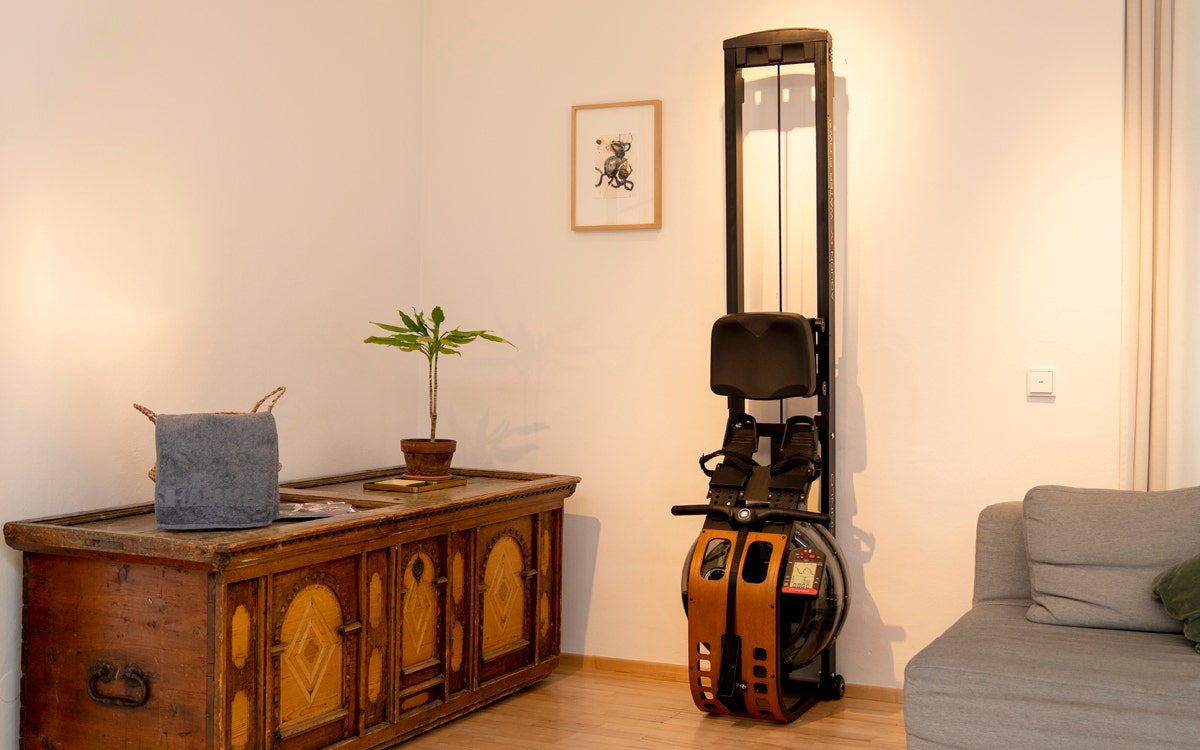 Werde eins mit dem Wasser
Mit dem ergonomischen Sportsitz und der 111 cm langen Aluminium-Schiene, gleitest du mit jedem Ruderzug angenehm durch deine Workouts. Der Trittplattenabstand von 11 cm und die Sitzhöhe von 35 cm, bieten ein ergonomisches Trainingserlebnis mit optimaler Kraftübertragung.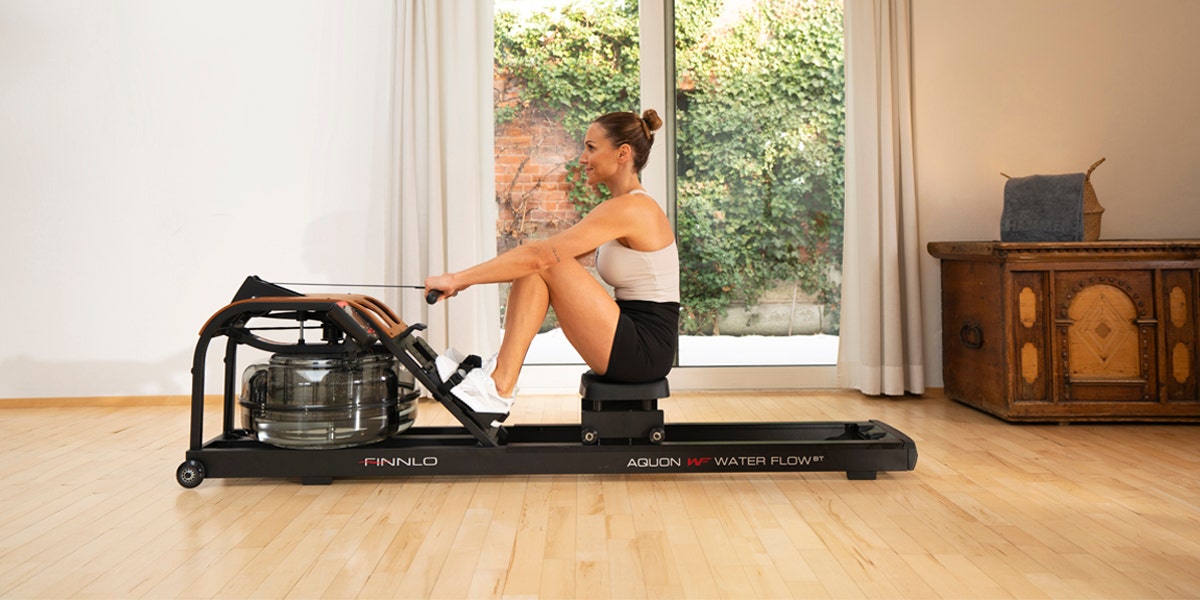 Alles im Blick
Mit dem multifunktionalen Trainingscomputer kannst du dein Training optimal steuern. Das LCD-Display zeigt dir in Echtzeit: 500 m - Zeit, Kalorienverbrauch, Schlagzahl, Watt, dein aktuelles Trainingsprogramm, Trainingsdauer, zurückgelegte Strecke und deine Herzfrequenz.
Volle Kraft voraus
Wähle eine der 5 Widerstandsstufen aus und intensiviere dein Training nach deinen Wünschen. Somit erreicht jeder, vom Einsteiger bis zum Ruder-Profi, seine Fitnessziele und Trainingserfolge. Der natürliche Widerstand des Wassers macht das Ruder-Feeling komplett und ermöglicht ein Trainingsgefühl wie auf den schönsten Gewässern.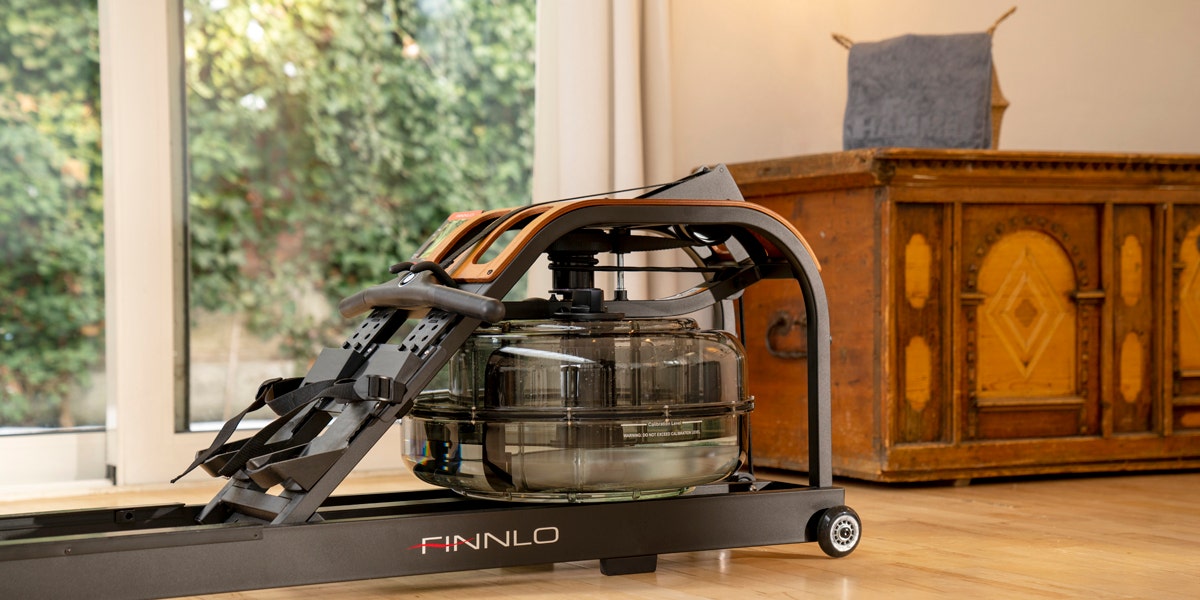 Aufbau unkompliziert. Funktioniert einwandfrei. Training macht echt viel spaß.
Citus2
Wir haben den Waterflow seit 4 Wochen und sind sehr zufrieden. Von der Beratung im Store positiv überrascht und den Kauf nicht bereut. Zwar nicht ganz günstig aber man erhält Qualität.
Gast 21
Sehr gute Qualität, problemlose Montage. Alles bestens. Bin sehr zufrieden.
Crk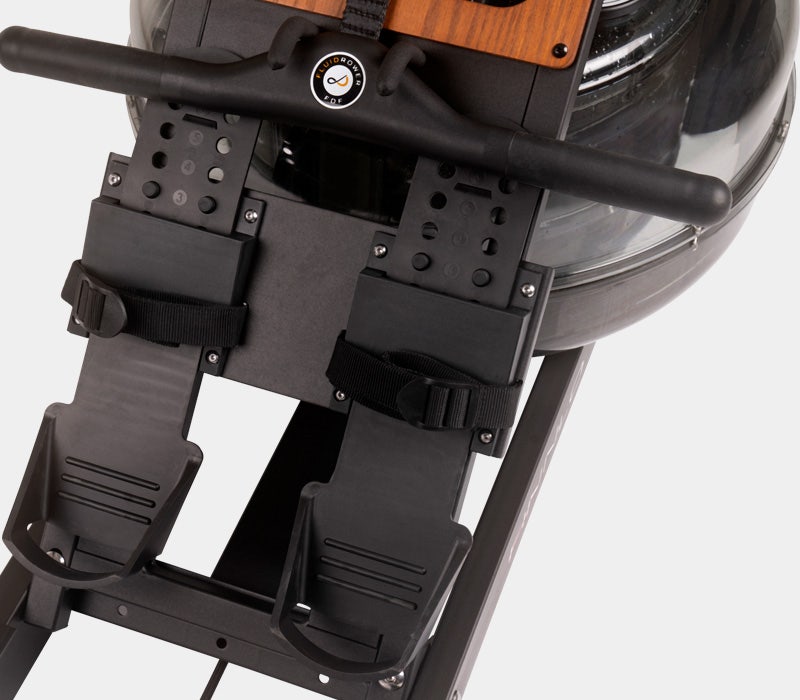 Ergonomisches Design
Mit dem ergonomisch designten Rudergriff trainierst du stets besonders gelenkschonend und effektiv. Durch den extra langen Zugseil können auch Personen mit bis zu 2 Metern Körpergröße das Rudergerät nutzen. Die Trittplatten überzeugen durch Qualität und ermöglichen eine einfache und schnelle Justierung.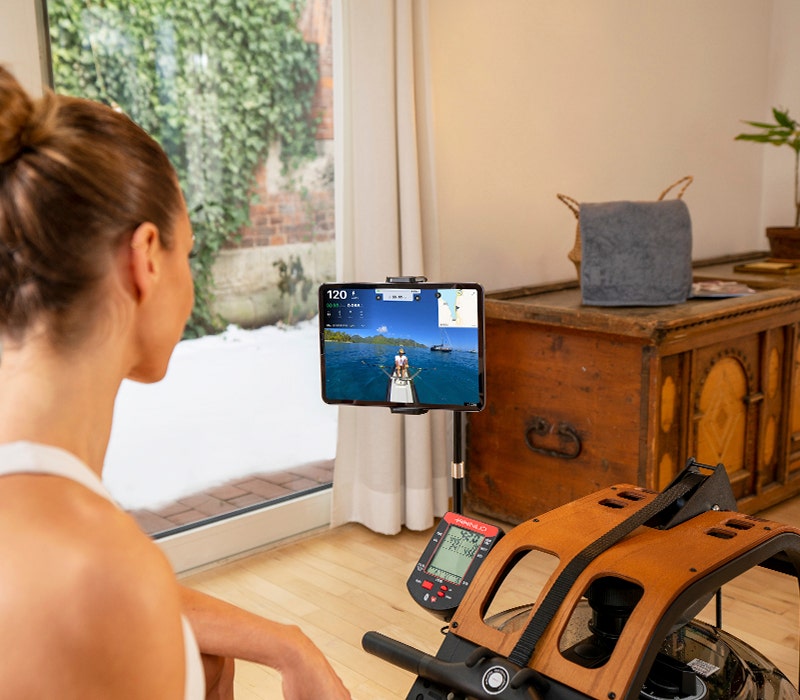 Dein perfekter Trainingsbegleiter
Kinomap liefert deine perfekte Unterhaltung während dem Training. Durch die optionale Tablet-Halterung lässt sich dein Smartphone oder Tablet ganz einfach positionieren und in dein Workout integrieren. Erlebe neue und spannende Rudererlebnisse, ganz bequem von zu Hause!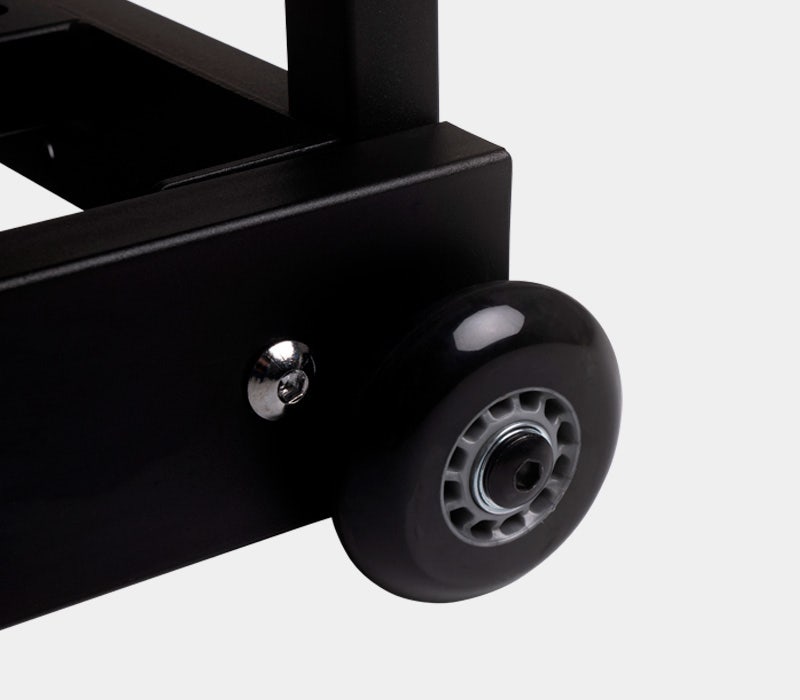 Immer mobil
Durch die Aufstellfunktion und der cleveren Positionierung der Transportrollen, ist zu jeder Zeit ein problemloses Verschieben des Aquon Waterflow BT möglich. Durch die gummierten Rollen vermeidest du zusätzlich Beschädigungen und Kratzer bei empfindlichem Untergrund.
Gelenkschonendes Ganzkörpertraining
Ein Wasserrudergerät eignet sich perfekt für Ganzkörpertraining bei dem gleichzeitig Muskeln aufgebaut werden und Fett verbrannt wird. Dank der einstellbaren Widerstandsstufen kann das Training individuell angepasst werden, um deine gewünschte Intensität zu erreichen. Ein Wasserrudergerät ist außerdem eine hervorragende Wahl, wenn du nach einer leisen, gelenkschonenden und platzsparenden Trainingsmethode suchst.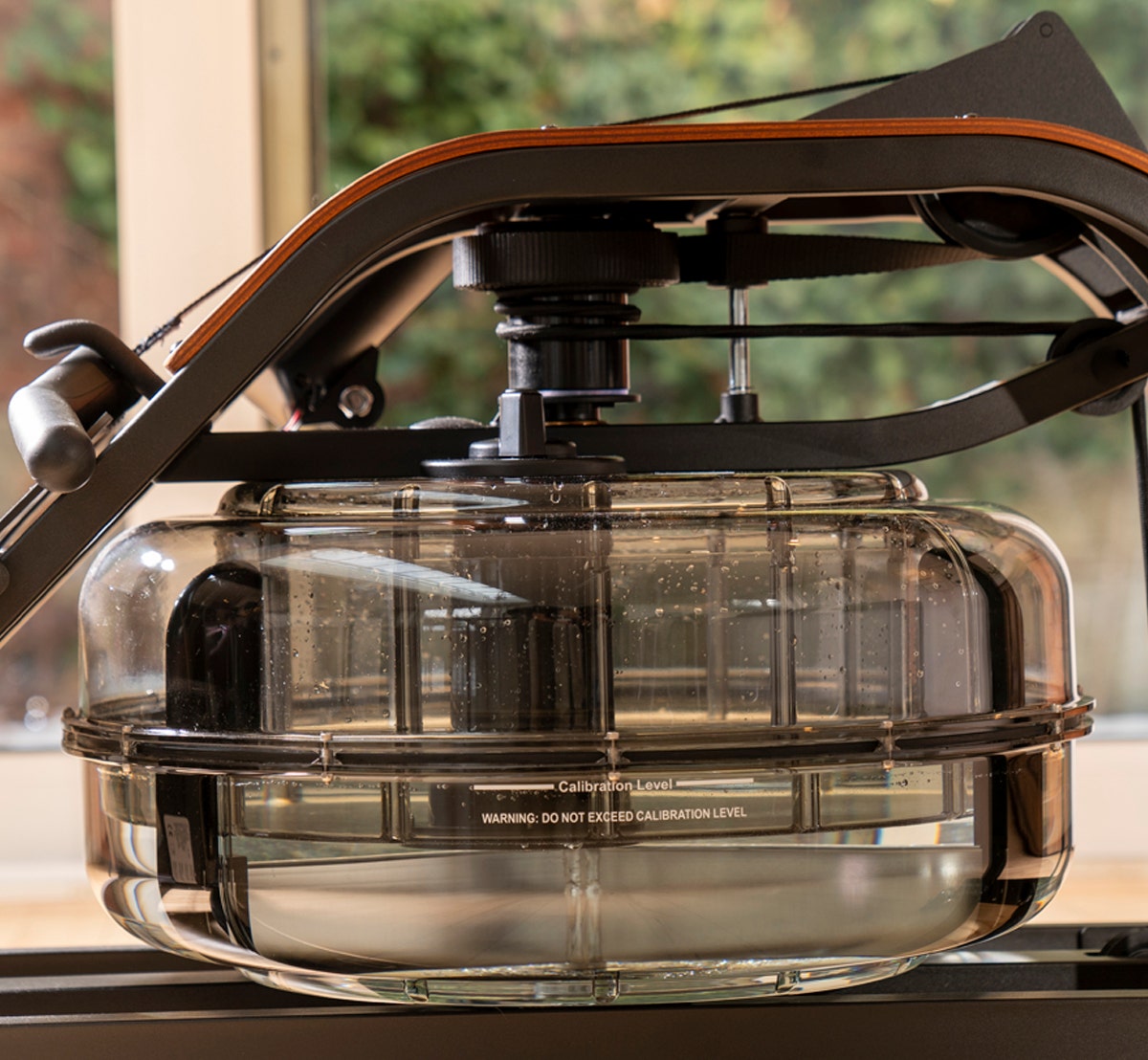 Marke: HAMMER
Private use
on the main frame
5 years
Marke: FINNLO
Private use
on the main frame
10 years
Marke: FINNLO MAXIMUM
Private use
on the main frame
10 years
Semi-professional use
on the main frame
5 years
Marke: HAMMER BOXING
Private use
Marke: INSPIRE by HAMMER
Private use
auf den Hauptrahmen
10 years
Semi-professional use
on the main frame
5 years
Marke: SOLE
Private use
on the main frame
10 years
Marke: Augletics
Private use
on the main frame
10 years
*Semi-professional use: For use in hotels, sports clubs, etc. - not in fitness studios
Clients ask, our fitness experts answer
Do you need more information about the product? Ask your question here. Our fitness experts will answer quickly and easily.