HAMMER Cross Jump
Springend leicht Kalorien verbrennen. Fitness-Trampolin mit Jumping Points und klappbaren Fußstützen.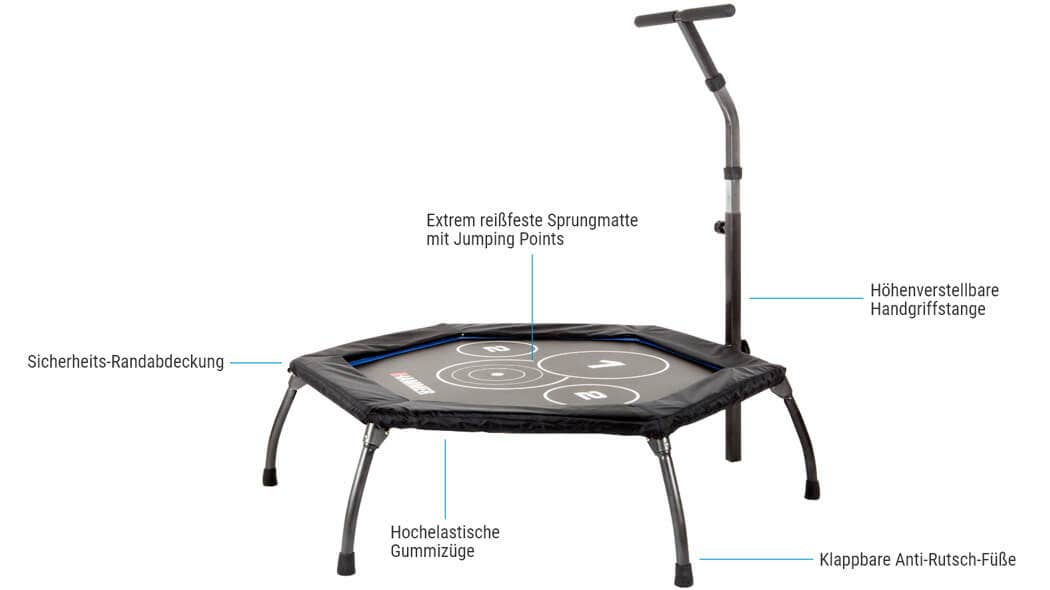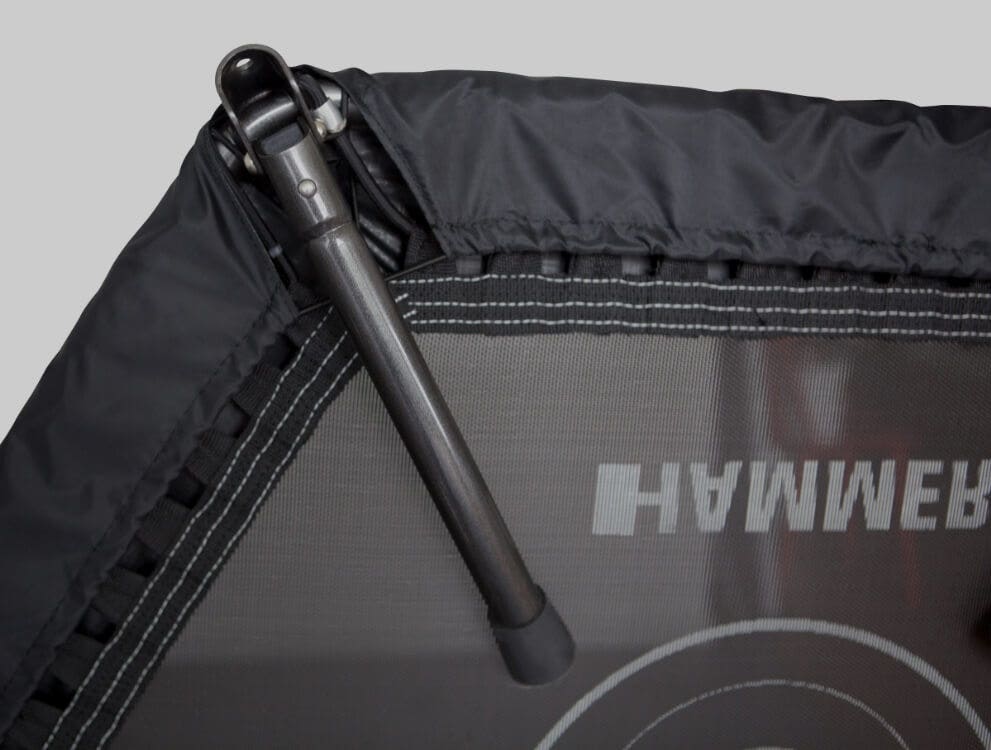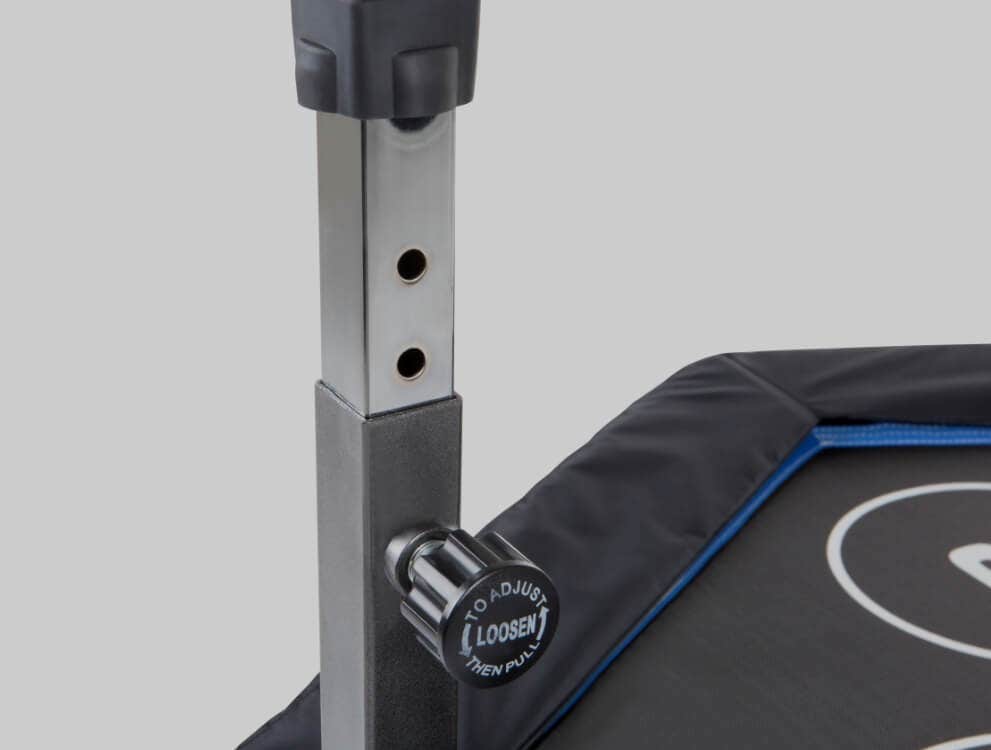 Abnehmen leicht gemacht – extrem hoher Kalorienverbrauch mit Spaßfaktor
Ein Fitness-Trampolin fordert dich besonders heraus und ist damit das perfekte Fitnessgerät, um schnell abzunehmen. Ein gut geformter Po, schlanke Beine oder kräftige Bauchmuskeln lassen sich spielend und ganz zielgerichtet mit dem Training auf dem Hammer Cross Jump Trampolin erreichen. Beim Trampolinspringen werden vorrangig Beine, Po und Körpermitte trainiert. Um den Oberkörper und die Arme ebenso zu fordern, können beim Springen kleine Hanteln verwendet werden oder bei den Auf- und Abwärtsbewegungen die Übung mit gestreckten Armen ausgeführt werden. Der Fokus auf eine besonders kräftige Abstoßkraft sorgt für ein ultimatives Po-Training. Nahezu ganz nebenbei werden bis zu 1.000 Kalorien pro Stunde verbrannt.
Beim Kauf des Cross Jump ist ein Zugang zu Trainingsvideos inklusive. Ein informativer Flyer liegt dem Produkt bei und enthält u. a. ein persönliches Passwort für den Zugang der online Workouts.
Ein effektives Ausdauertraining, welches extrem viel Spaß macht und gleichzeitig die Belastung auf die Gelenke reduziert.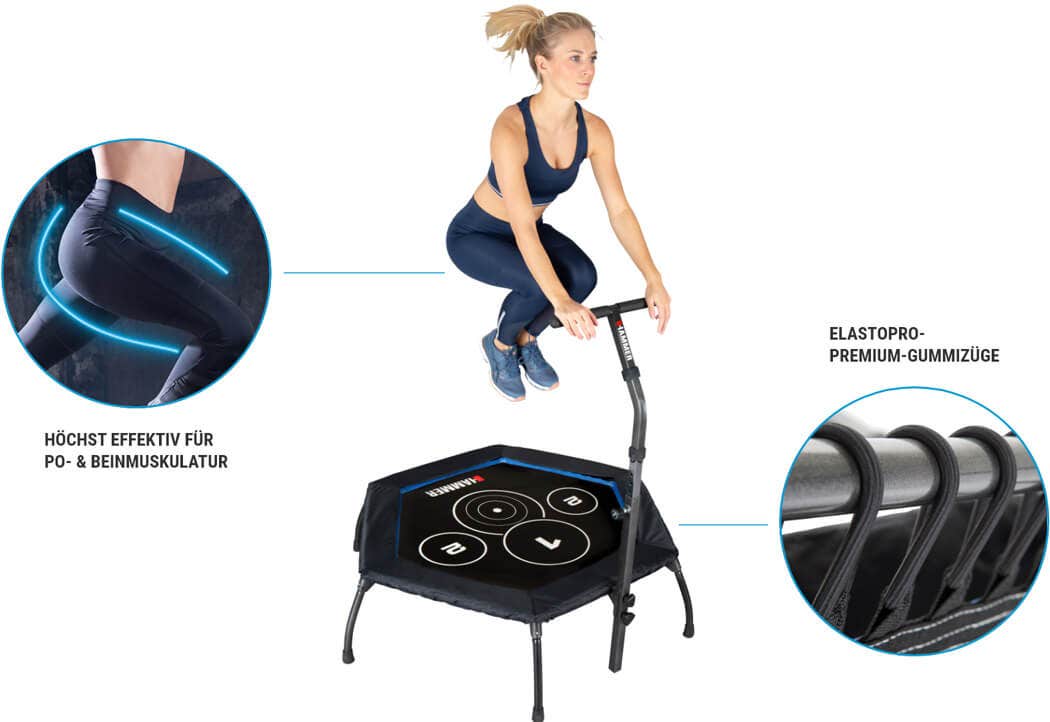 ElastoPro Premium-Gummizüge- ein anderes Level von Qualität
ElastoPro Premium-Gummizüge sorgen für eine besonders starke und gleichmäßige Dehnung und ermöglichen extrem hohe Trainingsintensitäten. So kannst du dir sicher sein, dass du mit deinem HAMMER Cross Jump sehr lange Freude haben wirst, denn sowohl die Technik der Gummiseile als auch des Sprungtuchs durchliefen einen erfolgreichen Qualitäts- Dauertest von über 200.000 Sprungwiederholungen. Die Kreuznaht der Einzelschlaufen hält auch höheren Körpergewichtsklassen stand. Echte HAMMER-Qualität für höchste Ansprüche und Sicherheit!
Perfektes Sprungverhalten
Das perfekte und besonders elastische Sprungverhalten des Cross Jump liegt sowohl am Premium-Aufbau der Gummiseilzüge, welche ein extrem intensives und langes Sprungtraining erlauben, als auch an der Profi-Sprungmatte aus widerstandsfähigem Industriewebstoff. Diese Kombination ermöglicht das für HAMMER Trampoline typische und besonders federnde Rebound-Gefühl.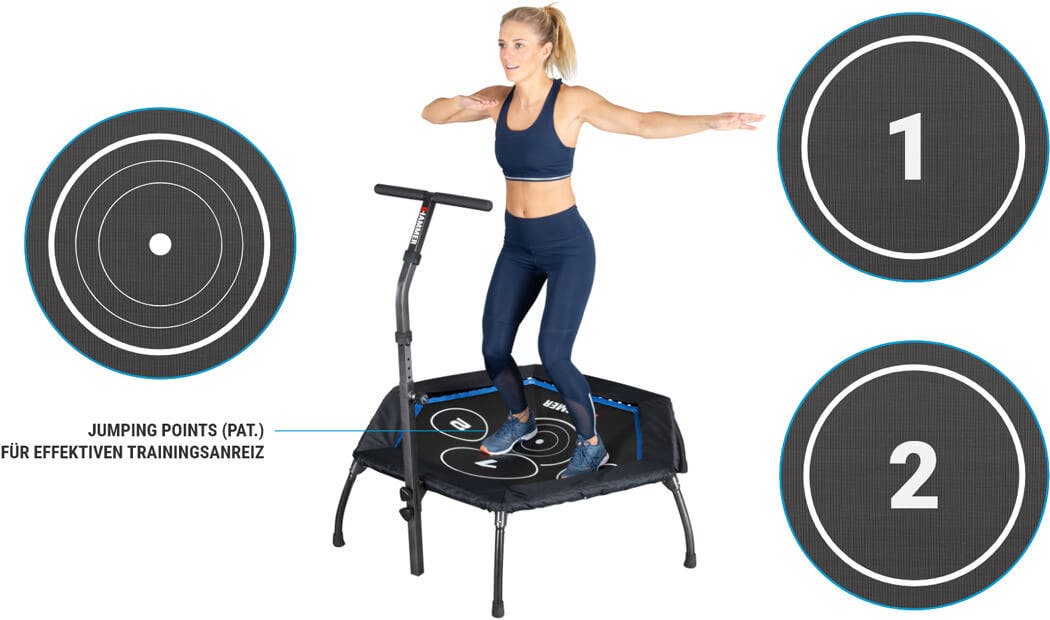 Innovative Jumping Points
Die innovativen Jumping Points (Pat.) der HAMMER Cross Jump-Trampoline schaffen den perfekten Trainingsanreiz und sorgen dafür, dass das Jumping-Workout besonders effektiv wird. Die kreisförmigen Markierungen ermöglichen im Gegensatz zu herkömmlichen Trampolinen eine perfekte Übungsabfolge und Trainings-Choreografie. Die perfekt aufeinander abgestimmten Schrittkombinationen auf den Jumping Points ermöglichen einen besonders hohen Kalorienverbrauch und damit einen schnellen Trainingserfolg.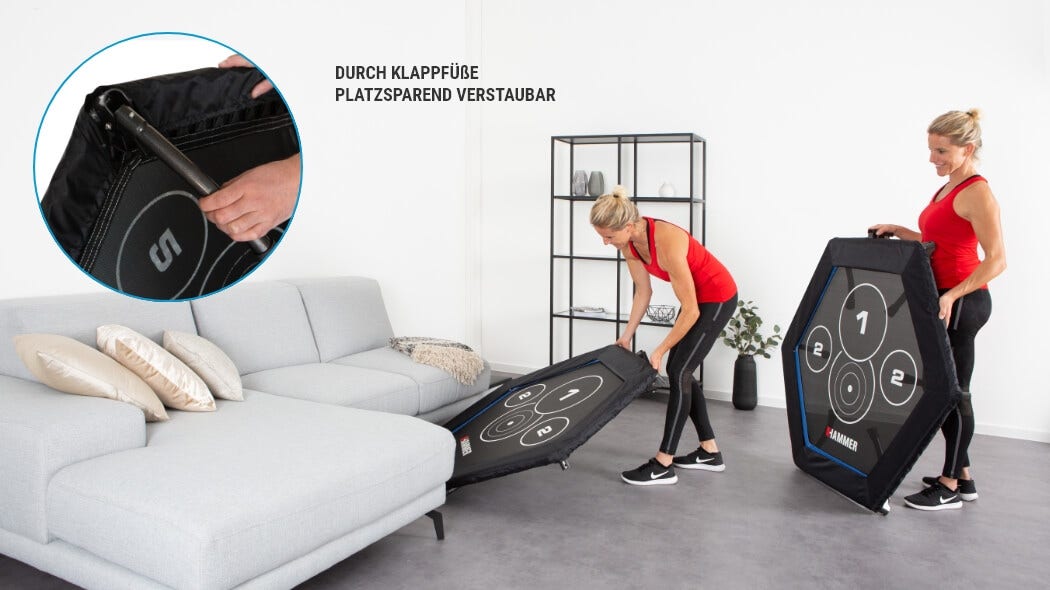 Klappmechanismus mit Druckknopf für schnelles Verstauen und besonders sichere Arretierung
Die 6 Fußstützen des HAMMER Cross Jump lassen sich bequem und in Sekundenschnelle über einen Druckknopf einklappen. Der Haltegriff kann abgenommen werden und das Trampolin unter dem Bett, hinter dem Schrank oder in einer Ecke verstaut werden. Ebenso schnell ist dein Cross Jump wiederaufgebaut und einsatzbereit. Im Gegensatz zu den oft angebotenen Klappvarianten mit Stecklösung bzw. Gummizuglösung ist der Klappmechanismus des Cross Jump Trampolins besonders schnell zu bedienen und, was besonders wichtig ist, sicher zu arretieren.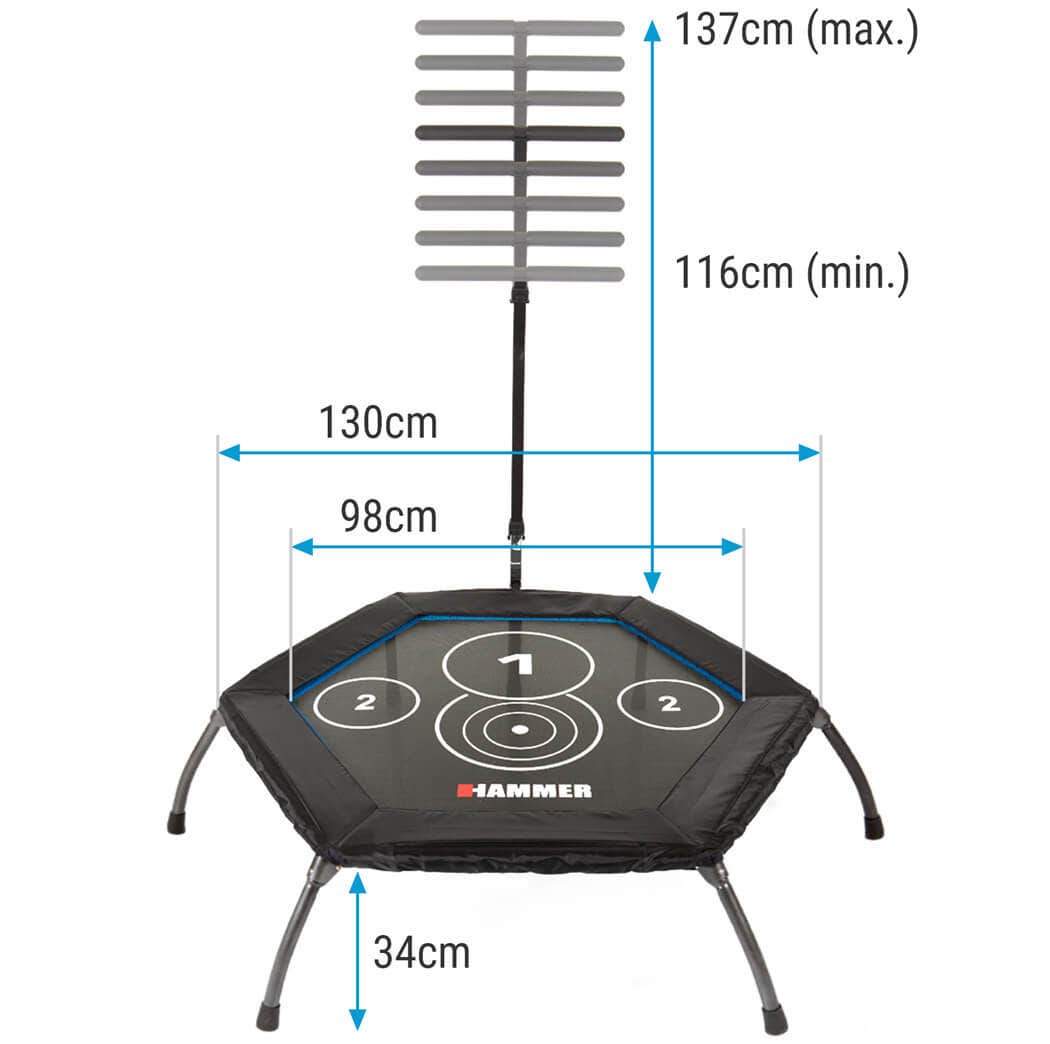 Verstellbarer Haltegriff für mehr Sicherheit
Für maximale Sicherheit bei High Intensity-Training sorgt die verstellbare T-Griffstange mit gepolstertem Haltegriff. Besonders für Anfänger und die ältere Generation ist ein sicheres und stabiles Trainingsgefühl von großer Bedeutung. Schnellere oder anspruchsvollere Übungsabfolgen sind damit kein Problem. Fortgeschrittene mit mehr Erfahrung beziehen die T-Stange als Stütze oder zum Abstoßen bei ihren Bewegungsabläufen mit ein.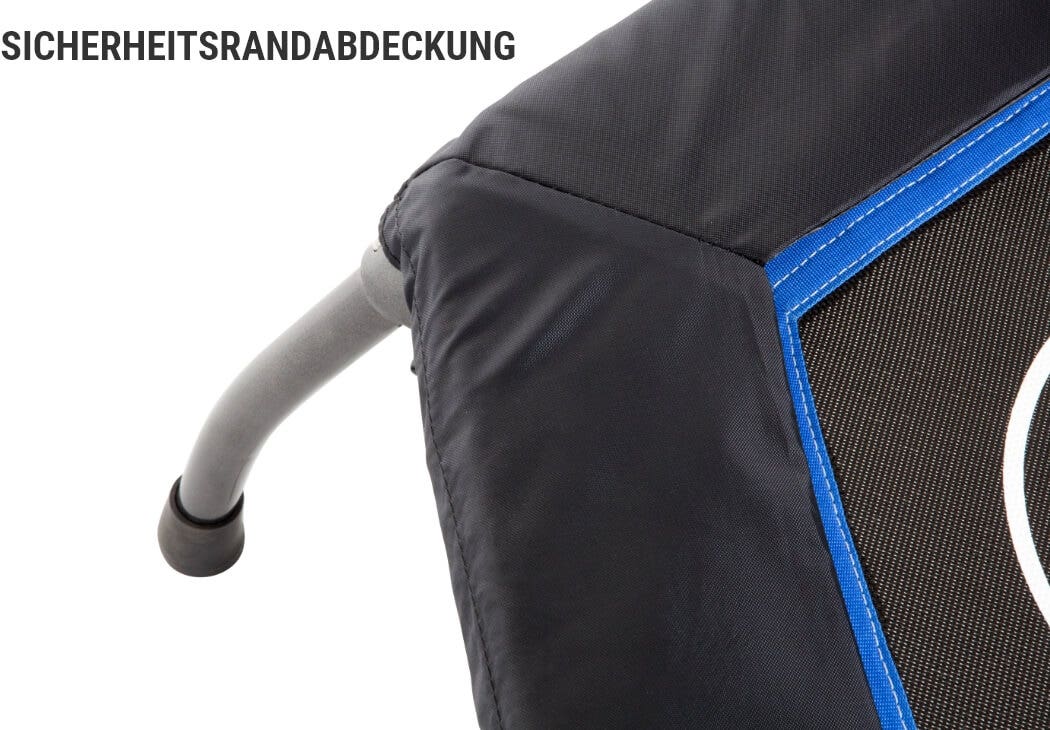 Sicherheit bei intensiven Jumps
Eine Sicherheitsabdeckung für den Rand verhindert ein Danebentreten und lässt sich je nach Wunsch schnell montieren oder demontieren.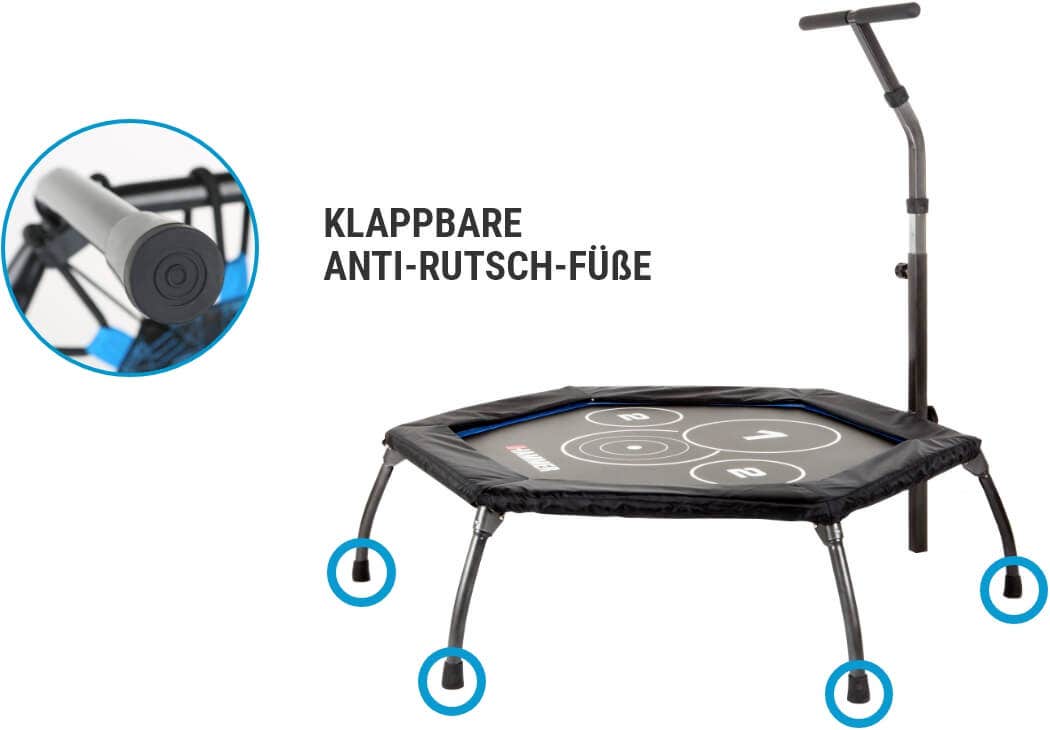 Extra stabil und robust durch das 6-Punkt Auflagesystem
Die Konstruktion und technischen Bauteile deines Cross Jumps sind so gewählt, dass du stabil und besonders sicher trainieren kannst. Die Rahmengeometrie ist extra stabil und auf hohe Benutzung ausgelegt. Ein 6-Punkt-Auflagesystem und die Industrie-Doppelschweißung sorgen für bombenfeste Standsicherheit auch bei höheren Gewichtsklassen bis 130 kg. Die rutschfesten Gummifüße sorgen für stabilen Stand auch bei hohen Trainingsintensitäten.
Noch intensiveres Training
Du möchtest noch mehr aus deinem Training herausholen? Dann ist unser JumpStep das perfekte Upgrade für dich! Mit seinem flexiblen Step-Board und der verstellbaren Handgriffstange kannst du dein Training noch effektiver gestalten und gezielt verschiedene Muskelgruppen ansprechen. Erlebe ein neues Level an Intensität und Herausforderung und hol das Maximum aus deinem Workout heraus!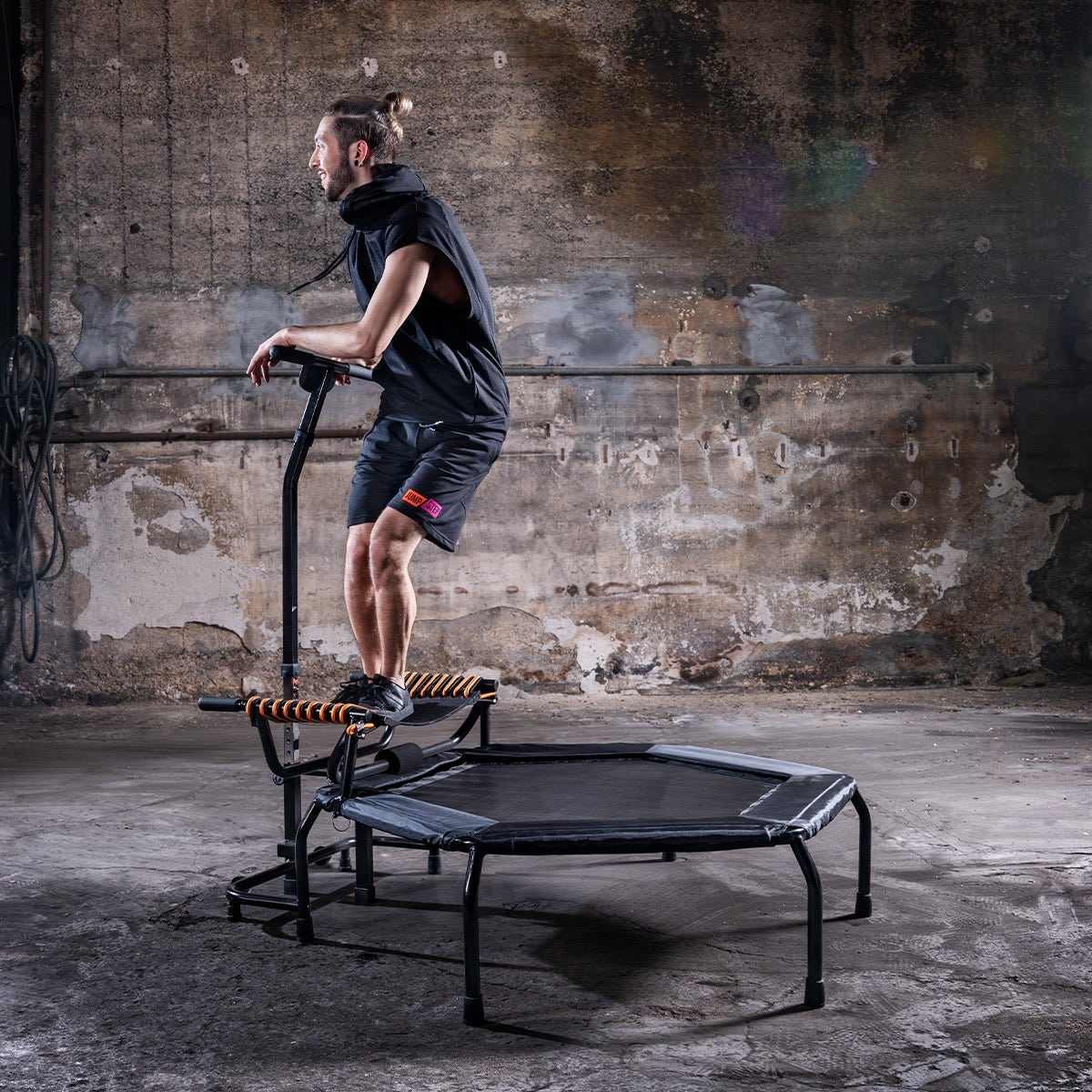 Marke: HAMMER
Private use
on the main frame
5 years
Marke: FINNLO
Private use
on the main frame
10 years
Marke: FINNLO MAXIMUM
Private use
on the main frame
10 years
Semi-professional use
on the main frame
5 years
Marke: HAMMER BOXING
Private use
Marke: INSPIRE by HAMMER
Private use
auf den Hauptrahmen
10 years
Semi-professional use
on the main frame
5 years
Marke: SOLE
Private use
on the main frame
10 years
Marke: Augletics
Private use
on the main frame
10 years
*Semi-professional use: For use in hotels, sports clubs, etc. - not in fitness studios
Clients ask, our fitness experts answer
Do you need more information about the product? Ask your question here. Our fitness experts will answer quickly and easily.