Kinomap
Zwift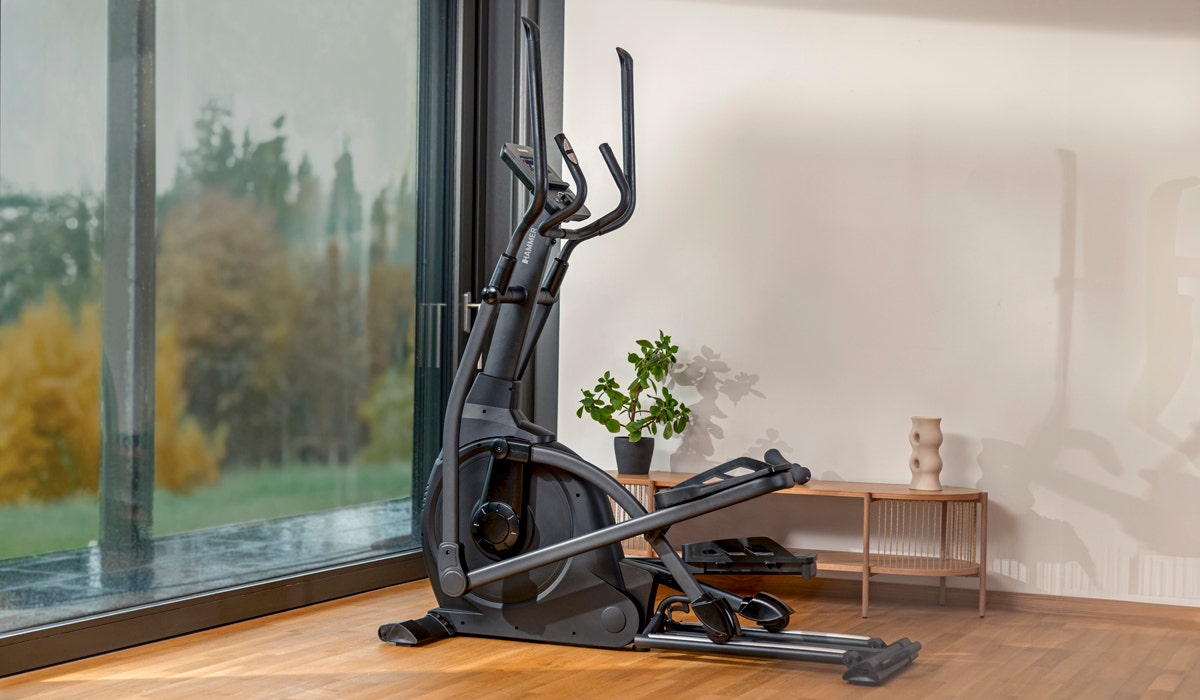 Your fitness journey starts here: Experience the innovation of the SpeedMotion II
Discover a new dimension of training with our "SpeedMotion II" elliptical trainer. The perfect combination of innovation and freedom of movement for an effective and enjoyable workout. The additional 3-step incline adjustment allows you a versatile workout that targets different muscle groups for maximum workout variation.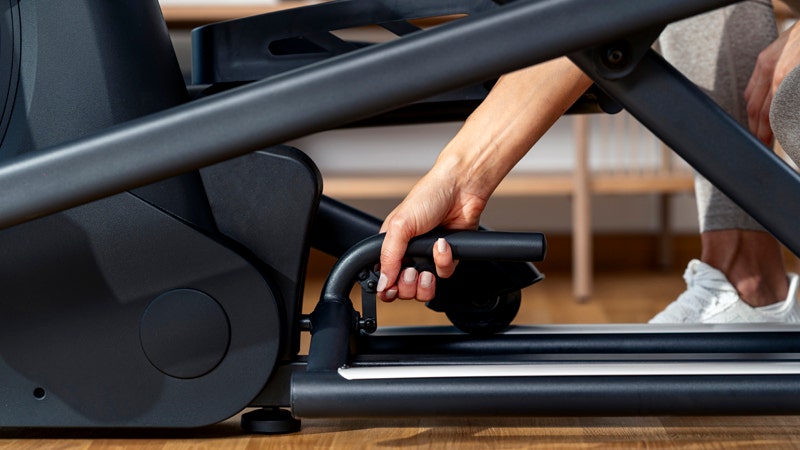 Incline adjustment
Customise your workouts to suit your needs. Focus on your legs and buttocks.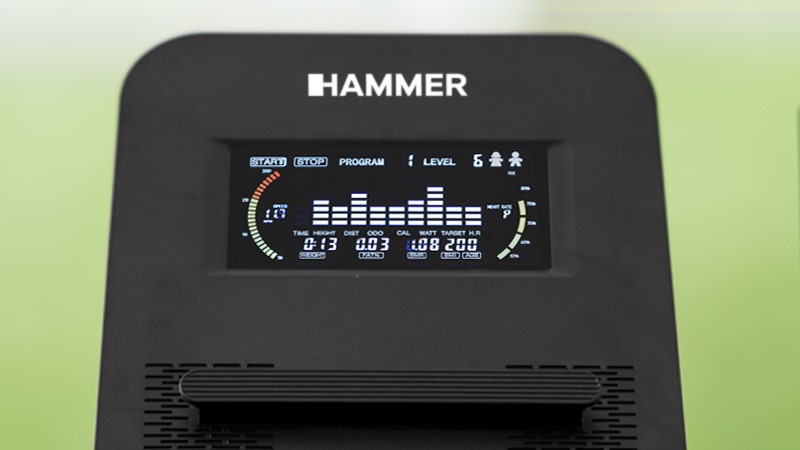 Black-Backlight LCD
The SpeedMotion II's display is not only a window to your training, but also a source of motivation.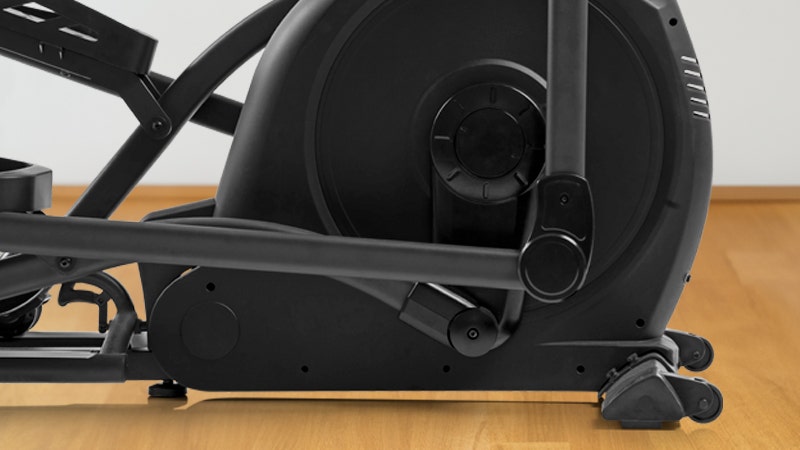 Dynamic and round movement
Ideal 18 kg flywheel mass. No wobble, no uncertainty and absolute silence - just full concentration on your fitness goals.
Discover your favourite workout
With HAMMER Workouts we constantly offer you new and motivating courses with your elliptical trainer. Work out together with our competent trainers and achieve your individual fitness goals in 10 to 50-minute workouts. No matter if you use your smartphone, tablet or laptop, without an additional subscription.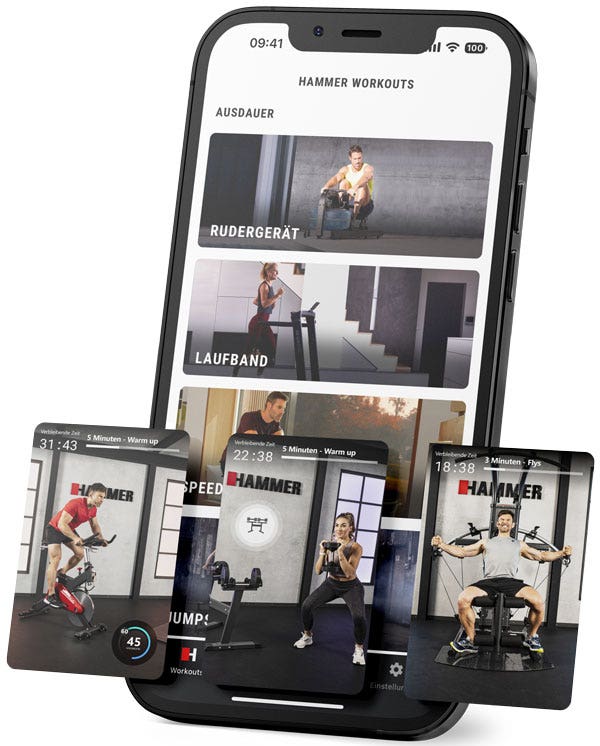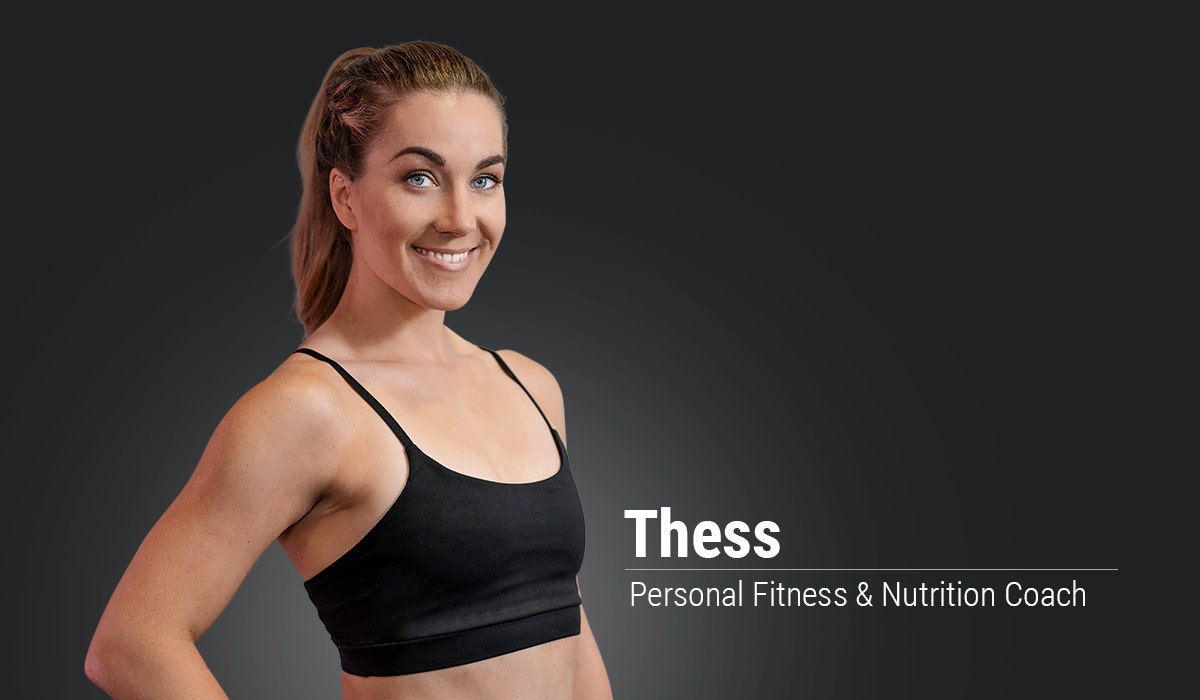 Expertise of our trainers
"As a big fan of elliptical trainers, the SpeedMotion II offers me everything I need. In combination with the targeted leg and butt training, it is ideal for me as a mum and I achieve a full body workout within a very short time. Do pop along to my elliptical trainer classes and I'll see you at HAMMER Workouts."
Even more intense butt workout
By adjusting the incline, you create different movement patterns and thus work different muscle groups. With an increased incline, the workout focuses on the glutes and hamstrings, while a lower incline works the front hamstrings more.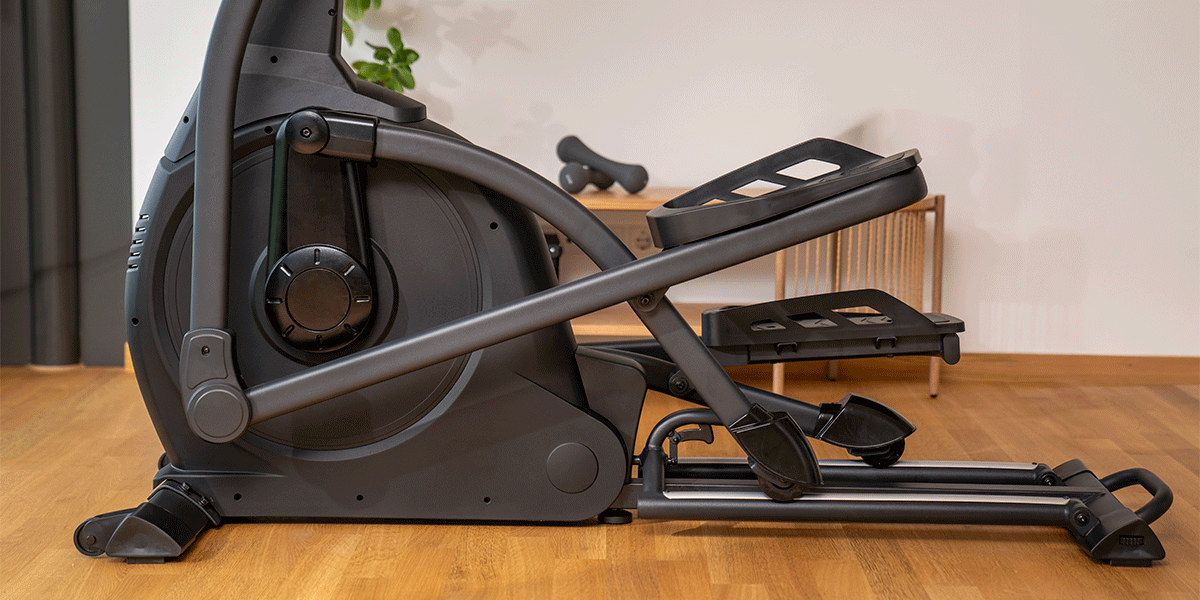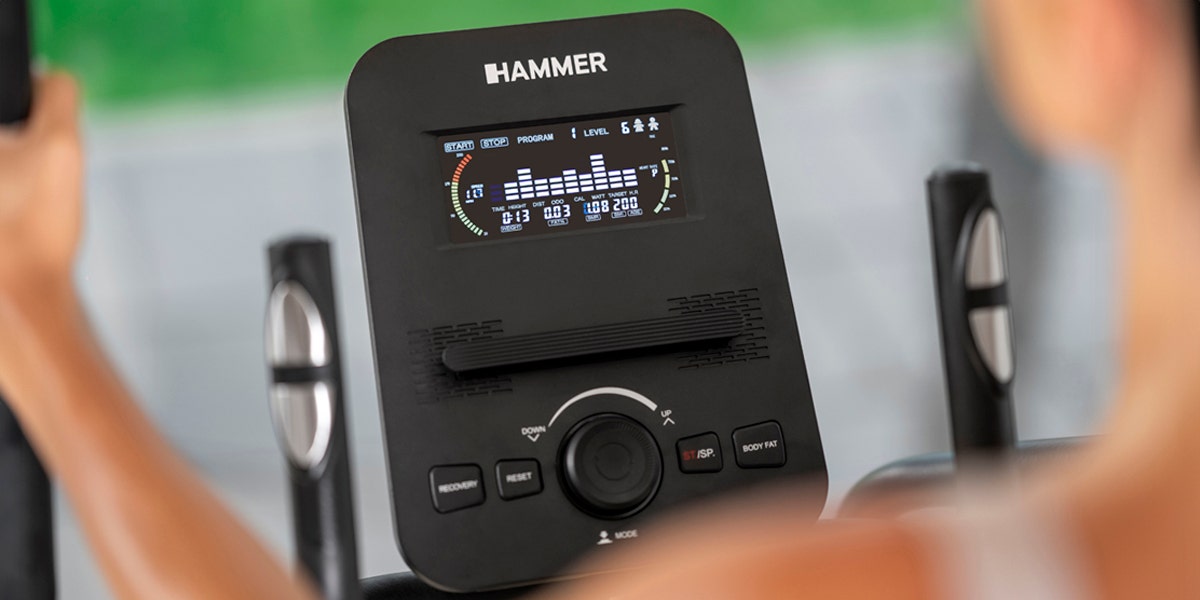 Superior visibility
The Black-Backlight LCD computer not only provides you with a visual highlight, but also convinces with intuitive operation and a wealth of information. With the push & turn button you have everything under control, use the numerous training programmes to reach your goals. Keep an eye on your heart rate and maximise your results.
Elegant design
Experience pure elegance and efficiency with our minimalist elliptical trainer in stylish black. The sleek design blends seamlessly into any environment, while you can look forward to a holistic training experience. Work out quietly, effectively and in supreme comfort.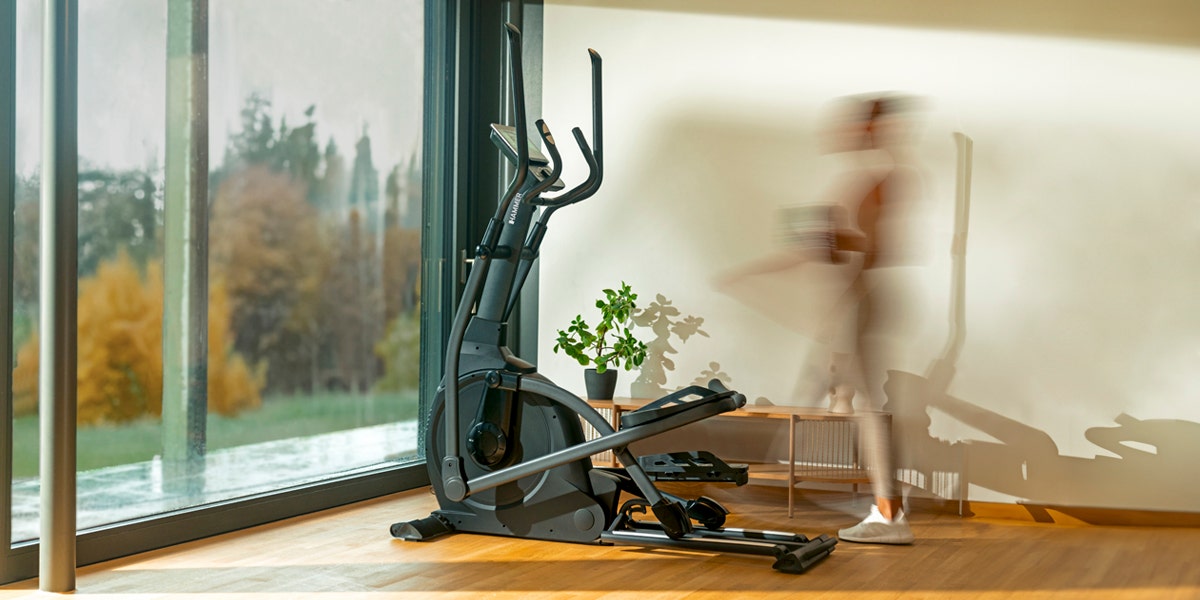 Easy pulse control
The hand pulse sensors allow you to monitor your heart rate during your workout and adjust your intensity accordingly. Keep an eye on your heart health and train effectively in your desired heart rate zone.
Compatible with Zwift & Kinomap
Take your training to the next level with our SpeedMotion II, compatible with the popular apps Kinomap and Zwift. Immerse yourself in virtual training worlds, experience interactive tracks and train in community with other fitness enthusiasts. With the seamless integration of Kinomap and Zwift, you can personalise your training, track your performance and get motivated by realistic environments. Connect to your smartphone or tablet and discover a new dimension of training!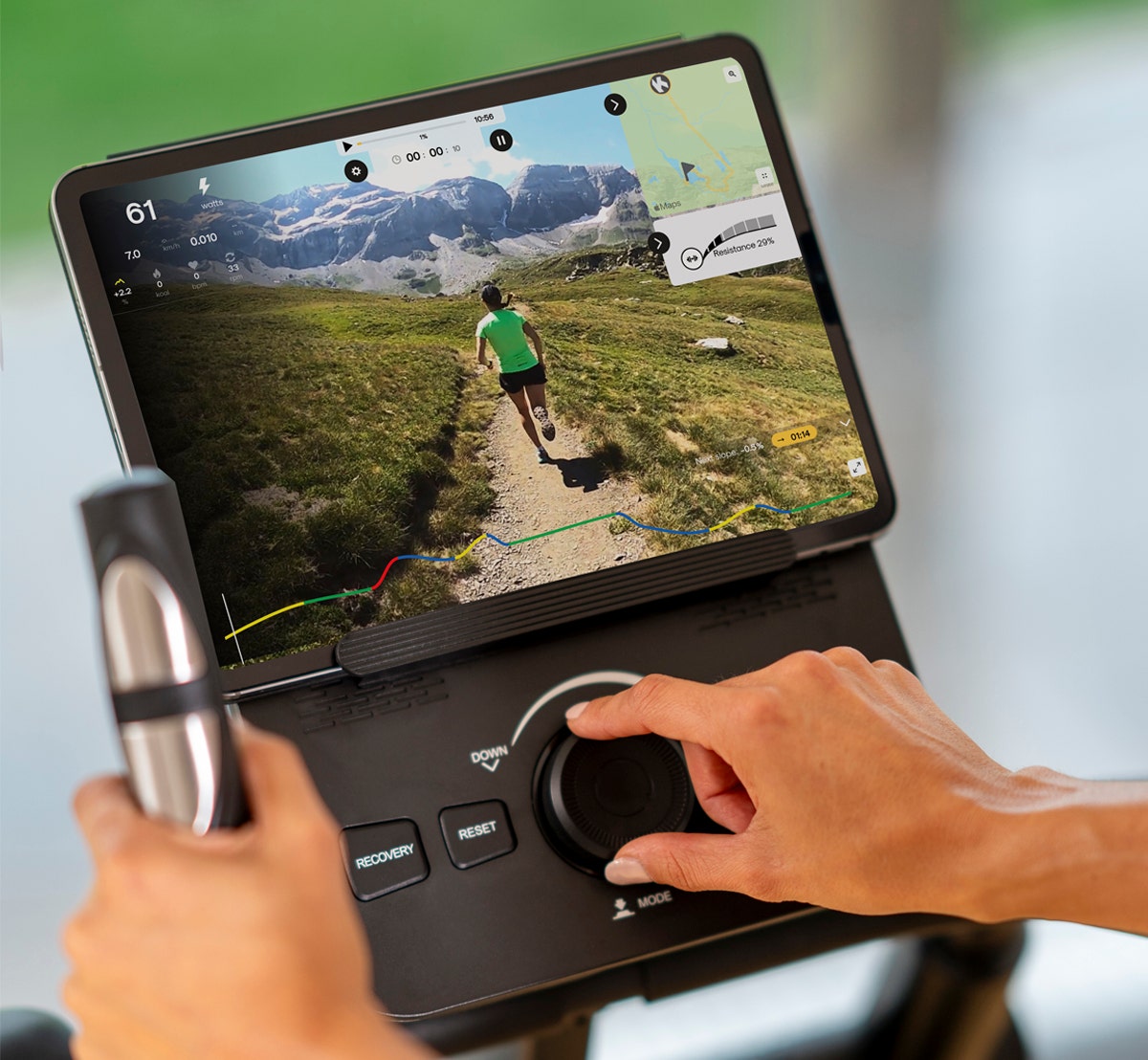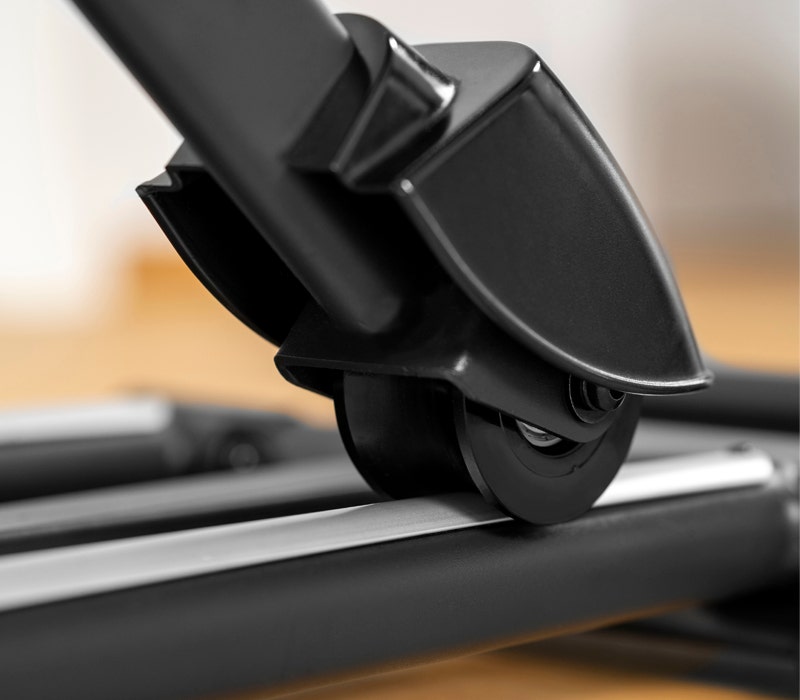 High-quality wheels on aluminium tracks
Precision-machined casters provide smooth and quiet movement, while the sturdy rails provide a stable and durable training platform. Enjoy a virtually silent workout experience and focus fully on your fitness goals. The combination of high quality rollers and rails ensures outstanding performance and durability of our elliptical trainer.
No wobbling, just a stable workout experience! The useful fine adjustment wheels on the left and right side of the rear foot provide a solid base. Enjoy a smooth and stable workout on your elliptical trainer.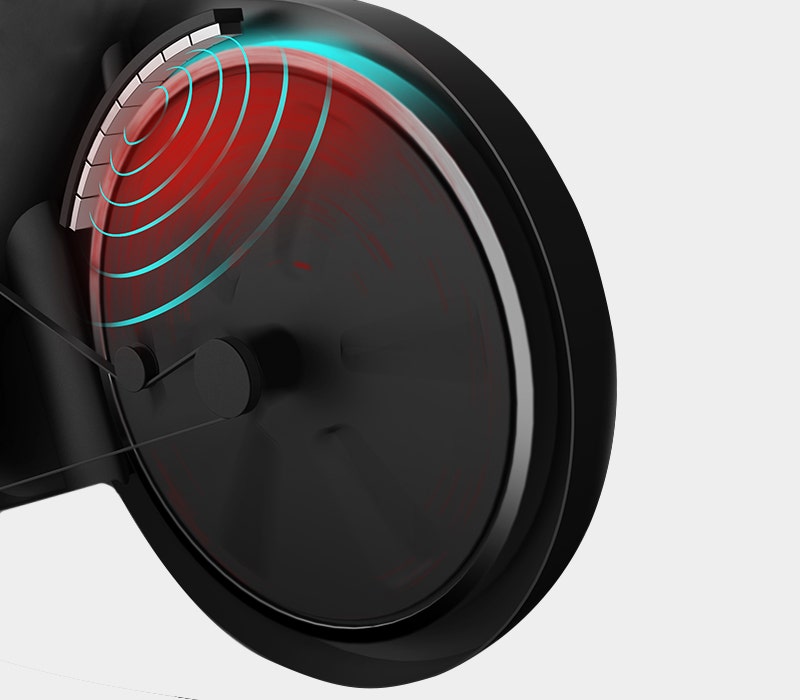 Wear-free and silent magnetic braking system
Our SpeedMotion II is equipped with a state-of-the-art magnetic braking system that ensures smooth and efficient resistance. The wear-free system means you no longer have to worry about replacing parts. Enjoy your workout in peace thanks to the silent magnetic braking system.
Ergonomically designed for you
Experience a workout full of comfort and freedom of movement with our elliptical trainer, which has a generous stride length of 50 cm and an ergonomic pedal spacing of 14 cm. Enjoy a natural and fluid movement that delivers optimal results.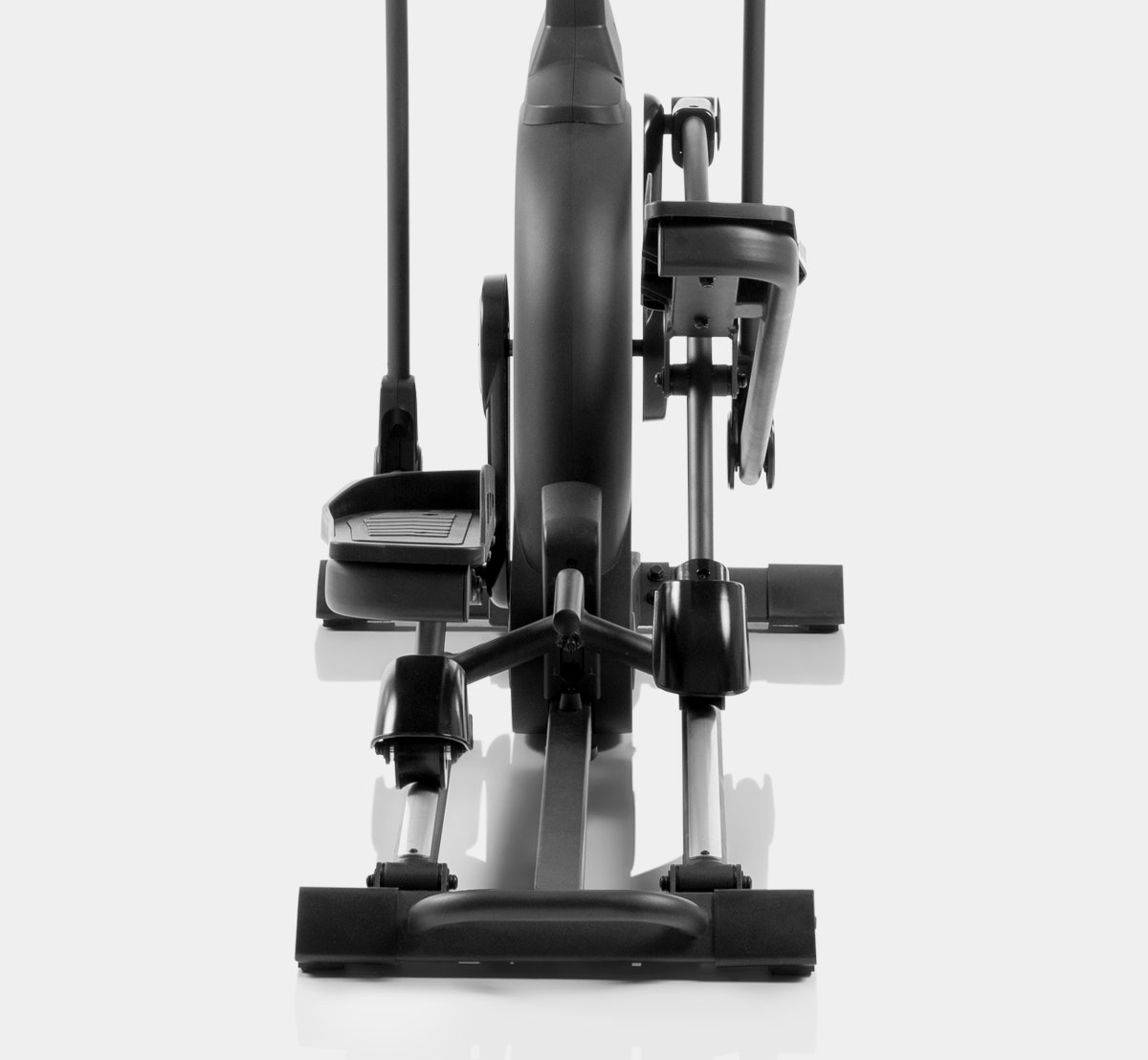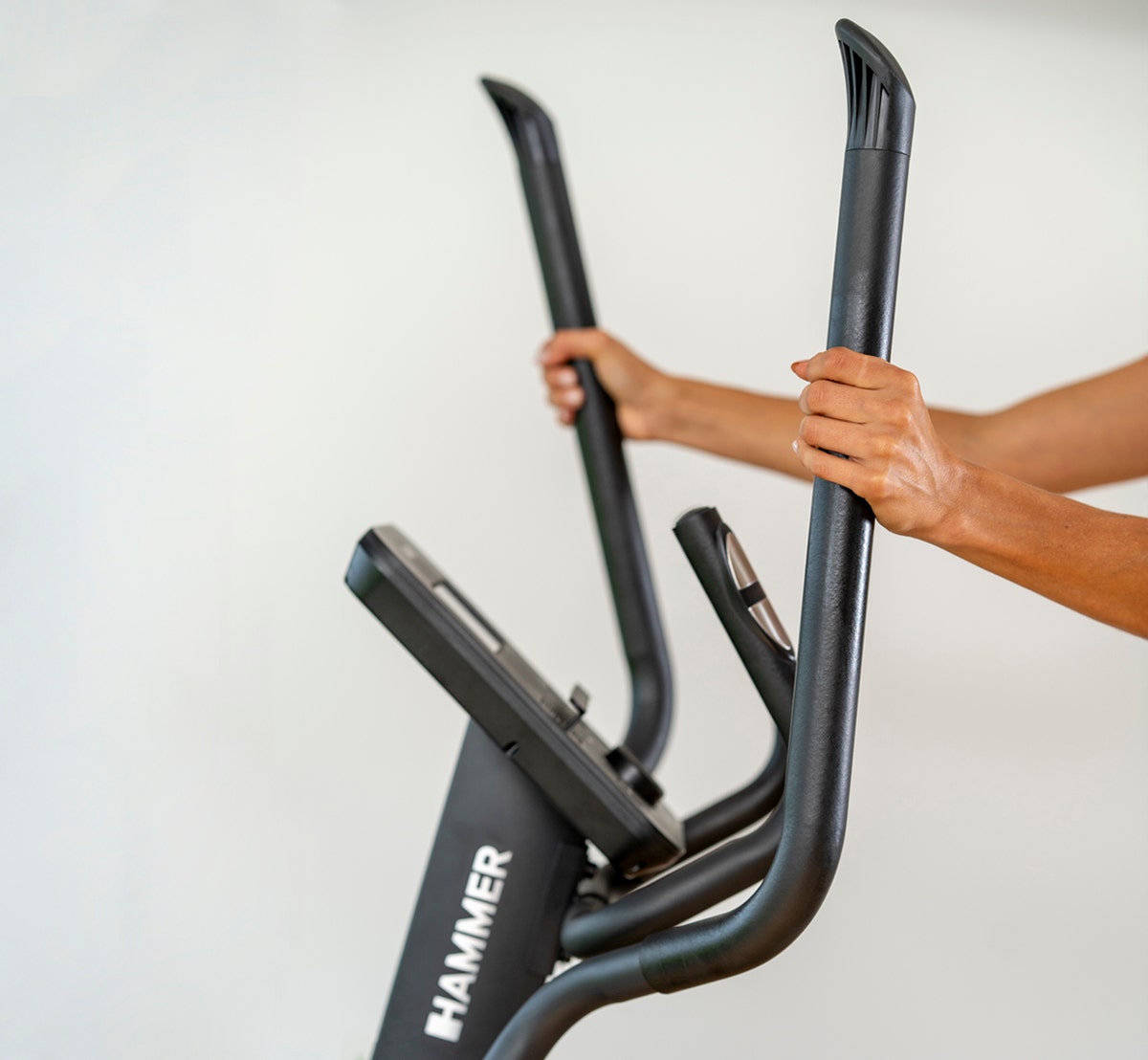 Revolutionise your workout
Experience a versatile training experience thanks to a wide range of grip options. From wide grips to narrow handles, you have the freedom to adjust your hand positions and target different muscle groups. Whether you want to train your arms, shoulders or upper body, our variety of grips allows you to customise your workout.
Get your fat burning into high gear with our new SpeedMotion II. The combination of dynamic movement, individual intensity control and natural ergonomics makes your workout an effective way to burn excess calories. Say goodbye to pesky love handles and hello to a fitter, healthier you.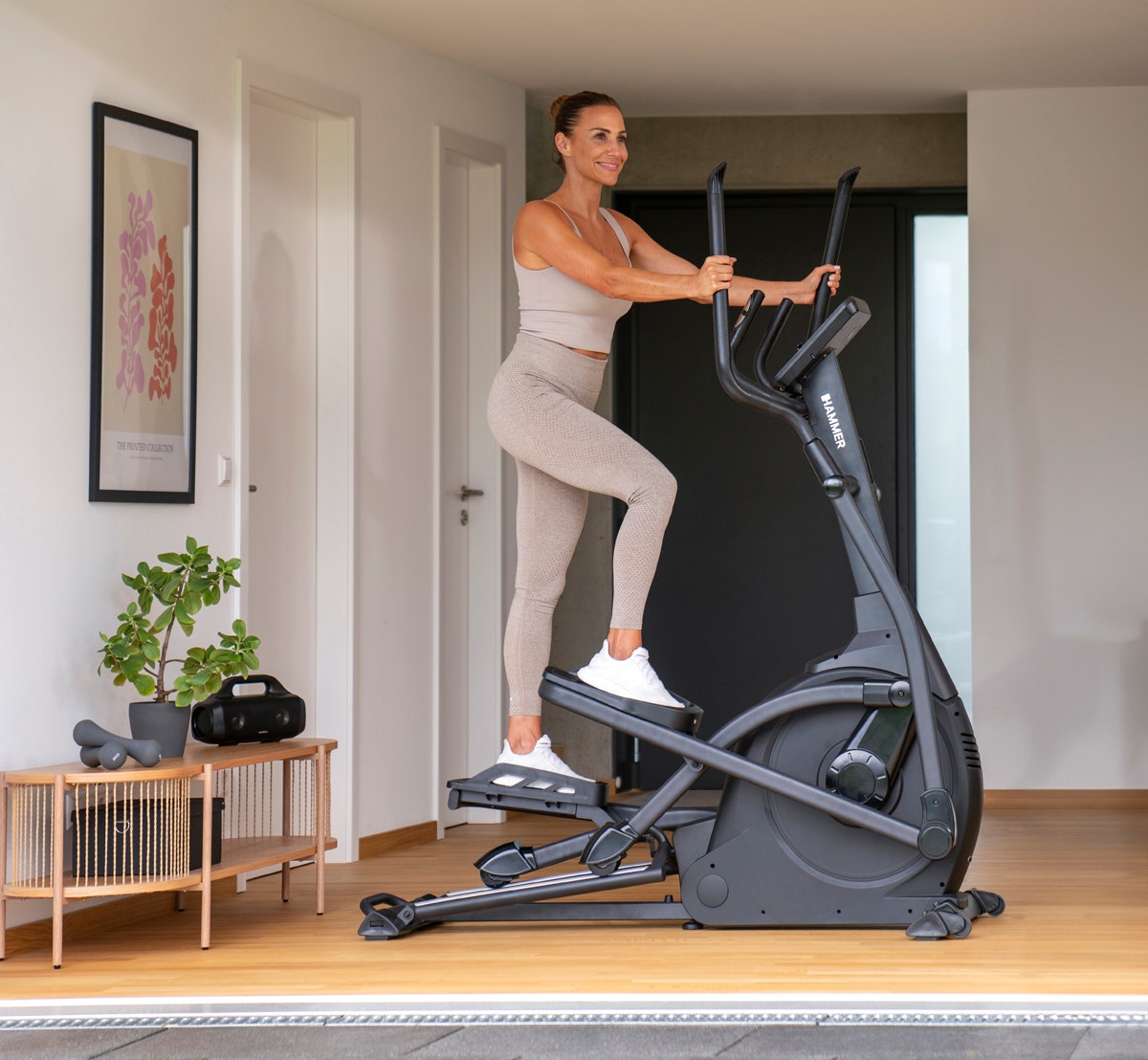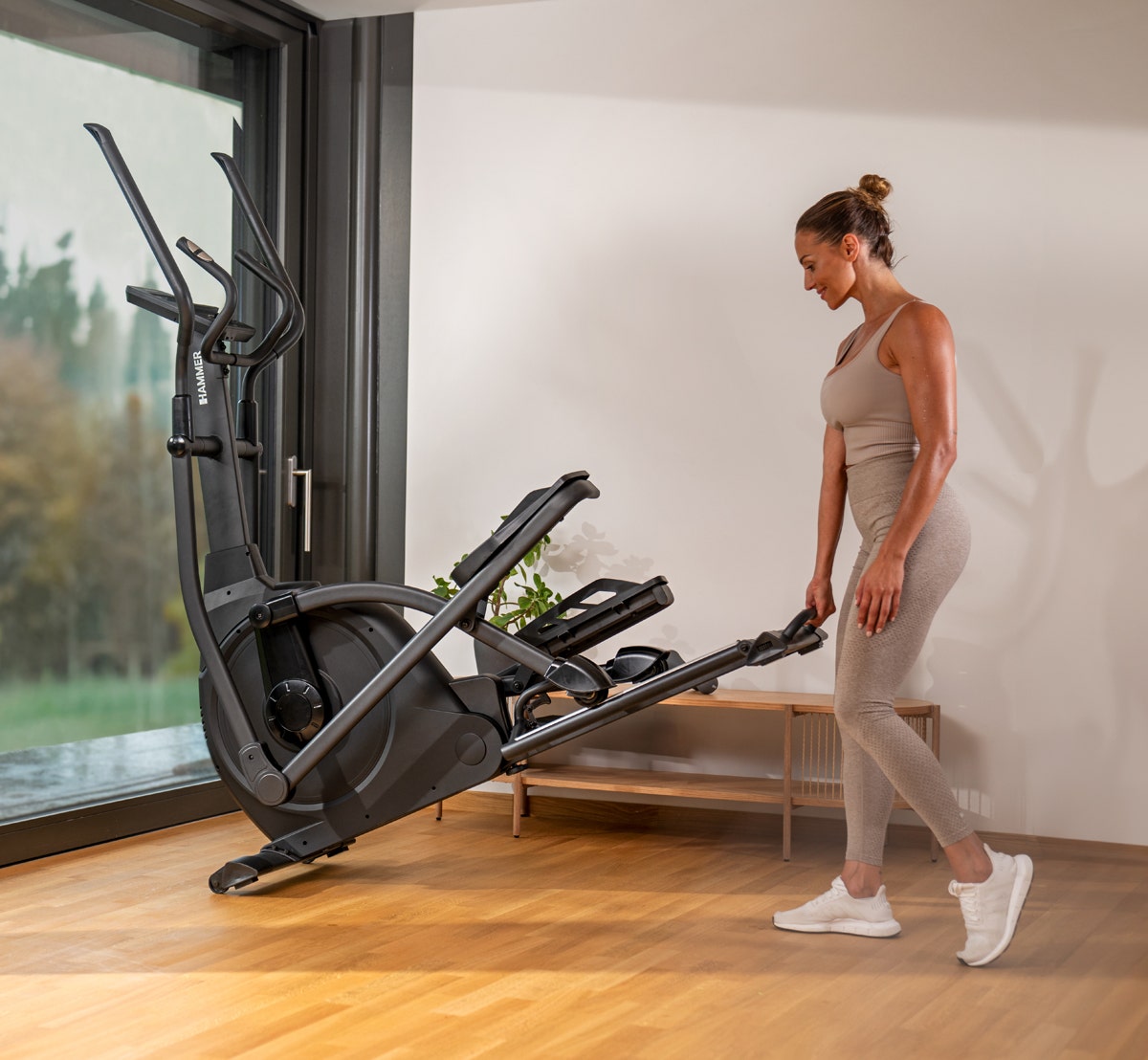 Make your workout as flexible as possible and place the Speed Motion II where you want. No more limitations - you can easily move the elliptical from room to room and place it anywhere you want in your home. Whether you want to do your workout in the living room, bedroom or even on the terrace, our elliptical trainer adapts to your needs.
Computer
Display
LCD Push&Turn - Black Backlight
Multimedia
App, Bluetooth, Tablet support
Operation
Push & Turn and Keys
Integrated pulse receiver for chest belts
5 kHz
Display
Load profiles
Calories, Distance, Heart rate, Resistance Level, RPM, Speed, Time
Programs and profiles
Heart rate controlled programmes
5
Adjustable pulse limit
Upper pulse limit
Drive/brake system
Drive system
Grooved belt
Load control
RPM dependent
Braking system
Permanent Magnetic
Resistance adjustment
Computer controlled
Dimensions and weight
Build up size (L x W x H)
160 x 60 x 177 cm
Other features
Steigung_detail
3-fach (2°, 6° & 12°), manuell verstellbar
Transportation rollers
Yes
Performance
25 - 350 Watt
DIN Norm
DIN EN ISO 20957-1/9
Shipping
Delivery time
4-8 working days
Delivery Information
Delivery to curbside (Please leave your phone number when ordering, so we can arrange a suitable delivery date for you)
Private use
on the main frame
5 years
Clients ask, our fitness experts answer
Do you need more information about the product? Ask your question here. Our fitness experts will answer quickly and easily.
Our recommendation for you