Kinomap

HAMMER Speed Race S
High-speed endurance training at home. Boosts your fat burning.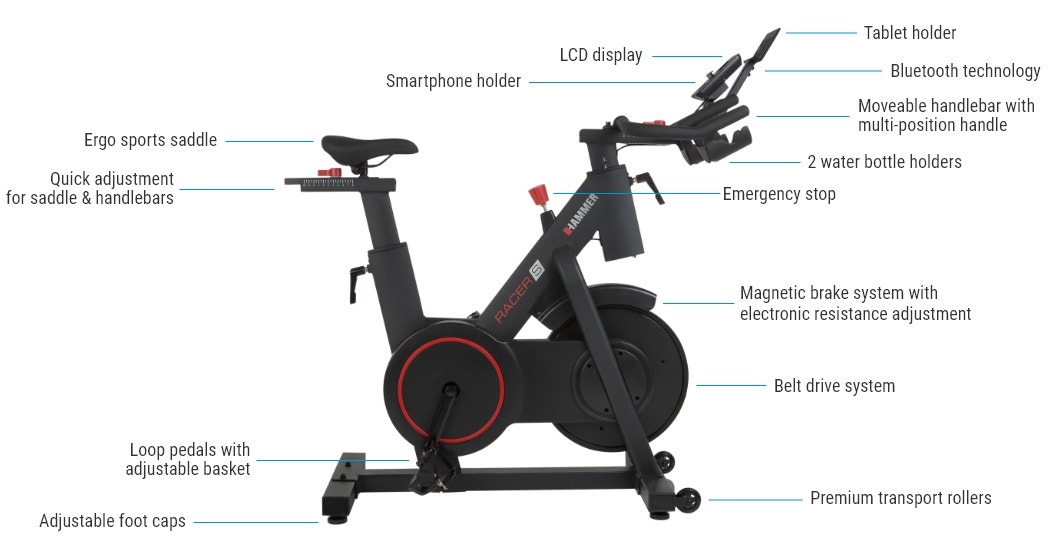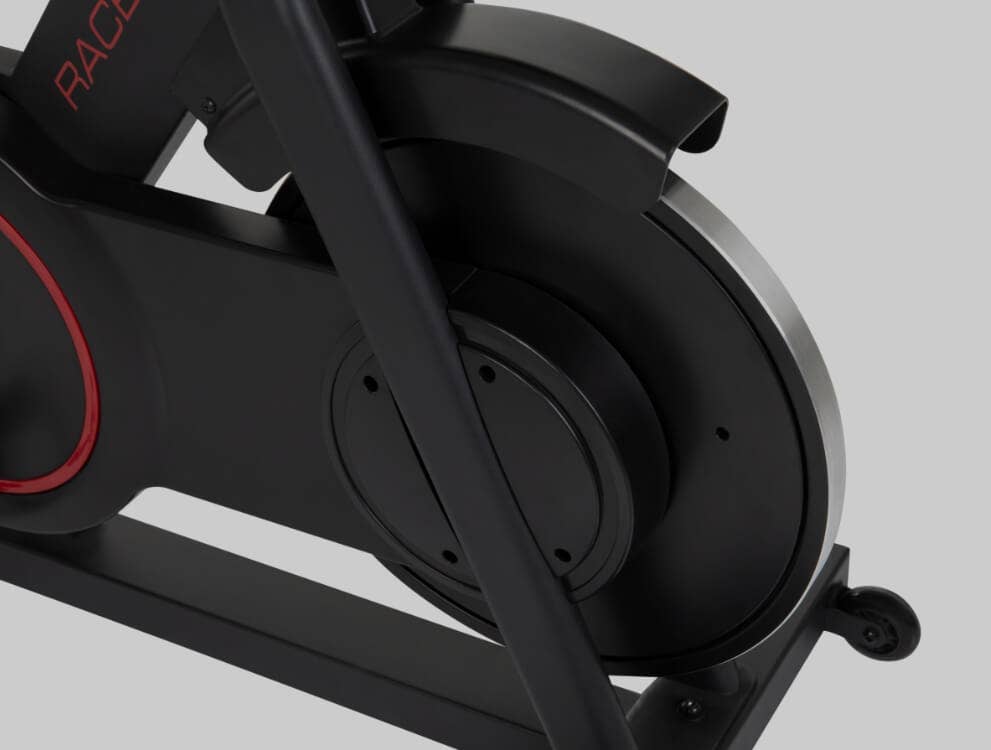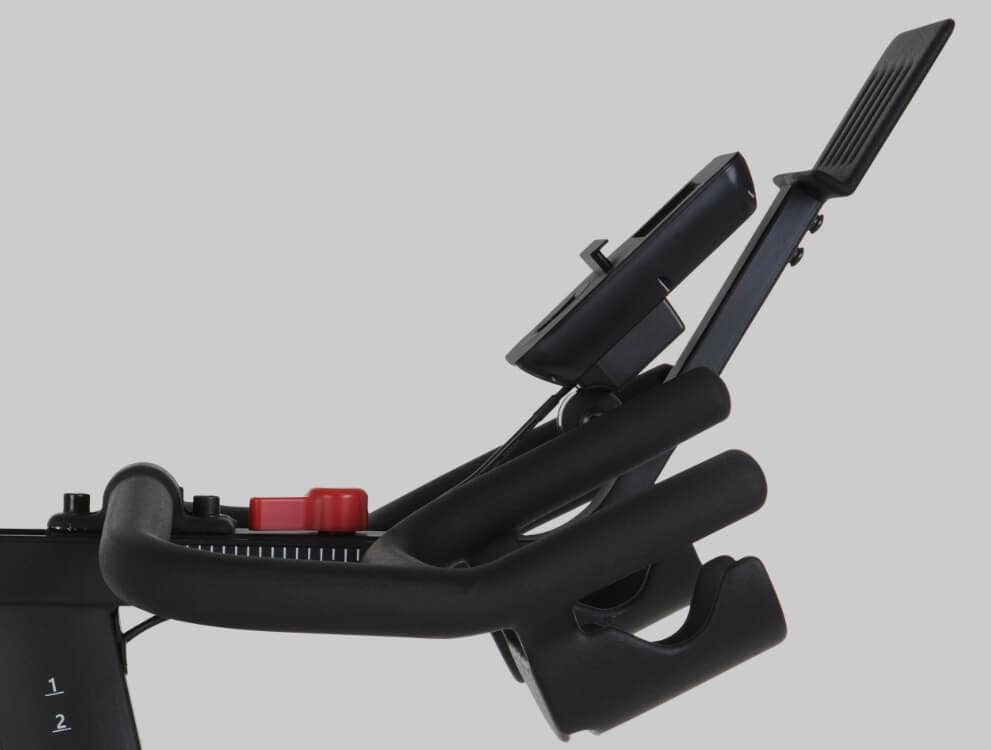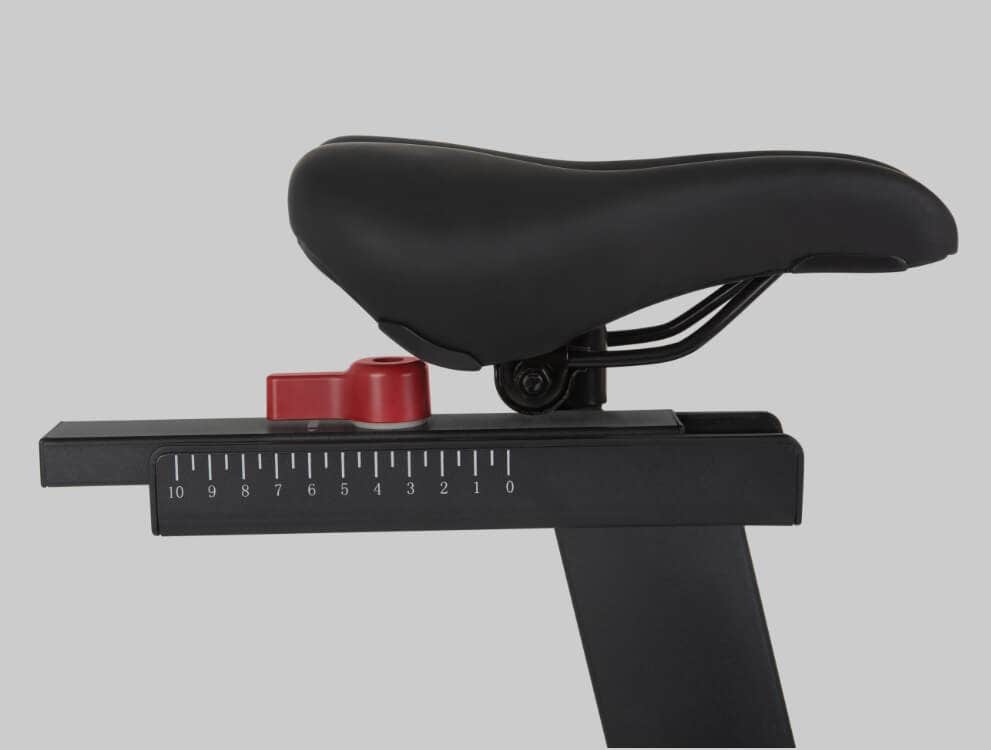 An absolute highlight among speed bikes
get started with the ETM test winner HAMMER Speed Race S speed bike and experience the perfectly harmonised high-tech features of the high-quality indoor bike at home. Pedal at full speed and adjust the modern magnetic brake system to suit you perfectly. The electronic resistance adjustment is the performance controller for your speed sessions. Strengthen your calf and thigh muscles with the speed bike and burn lots of calories in the process. Let the indoor cycle inspire you and start the next cycling season at home, regardless of the weather and with vigour.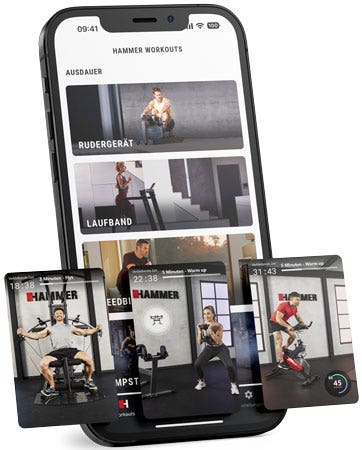 Discover your favourite workout
With HAMMER Workouts, we constantly offer you new and motivating courses with your speed bike. Work out together with our expert trainers and achieve your individual fitness goals in 10 to 50-minute workouts. All in one place and without the need for an additional subscription.


Noticeable quality with every turn of the pedals
With the Speed Race S, you can rely on quality and get a high-quality, modern magnetic brake system that runs completely silently and maintenance-free. The training resistance is regulated precisely and electronically on the computer via the distance between the magnets and the flywheel. The smaller the distance, the higher the resistance and the more intensive your Speedbike training. This clever way of controlling resistance is completely contact-free and therefore also wear-free. Another major advantage is the precision of the electric resistance control compared to manually adjustable magnetic brake systems, which are installed in most bikes. This means that the desired resistance can be set quickly and precisely for intervals, for example.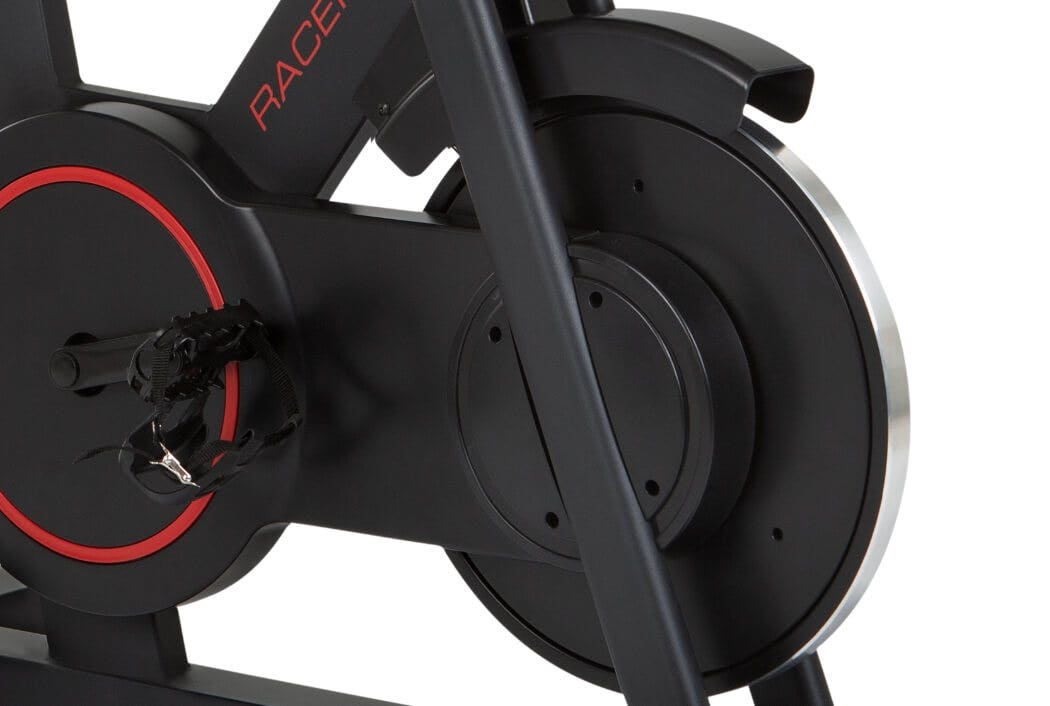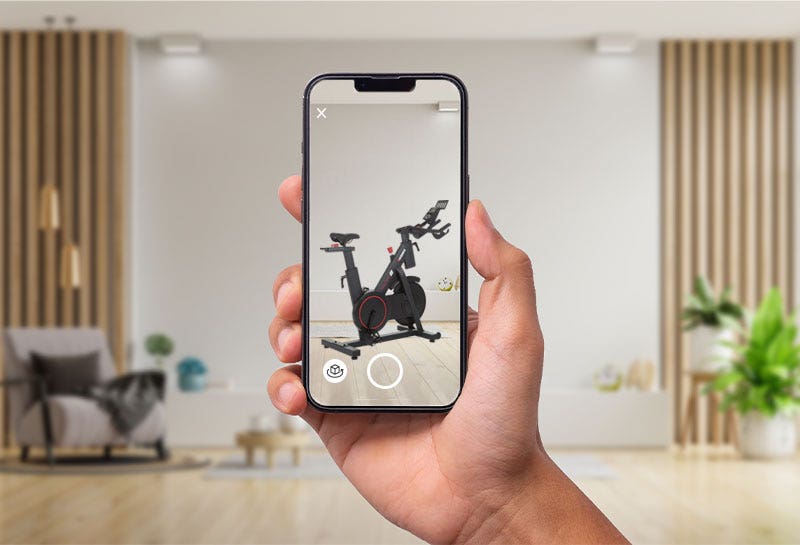 Experience your product at home now!
Whether as a 3D view on your PC or virtually in your own room via smartphone - immerse yourself in a whole new kind of product experience with HAMMER Augmented Reality.
Maximum stability with the best ergonomics
Virtual bike training with Kinomap
People up to 2 metres tall can train ideally on the Speedbike and adjust the saddle and handlebars perfectly. A good seat on the Speedbike is extremely important, which is why the Speed Race S offers you 5 adjustment points for your perfect position. You can adjust the seat height 10 times. The saddle position can also be adjusted horizontally to your desired riding position in just a few simple steps by moving the saddle carriage. The angle of inclination of the saddle can also be adjusted. With the pedalling crank in a horizontal position, the angle between your thigh and lower leg should be 90°.
You can adjust the height of the sports handlebars in 4 positions for perfect arm support. The multi-position grip is comfortable to hold and sweat-repellent. The high-quality handlebar surface is simply wiped clean with a damp cloth after training. Perfectly adjusted, the pedalling cranks are set in motion!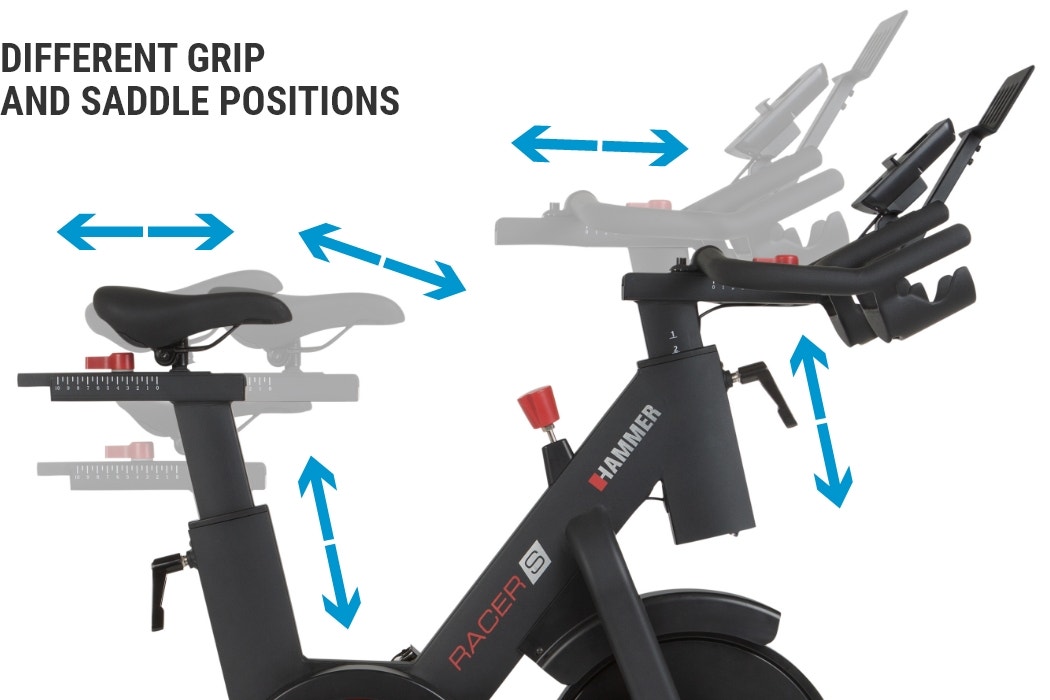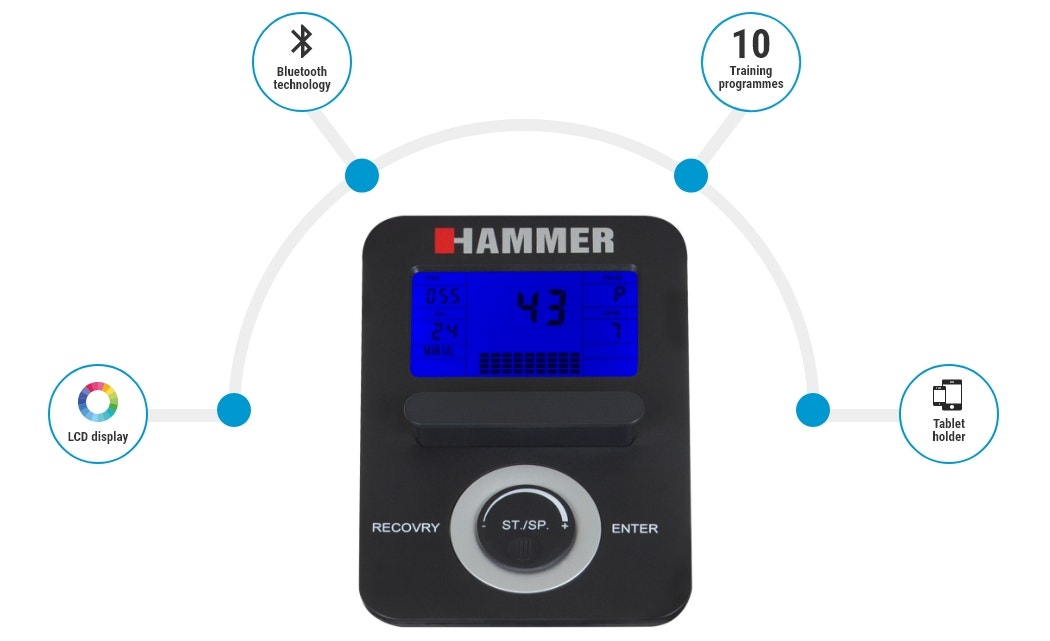 Your speed display
the easy-to-use computer with a push-rotary knob and two buttons allows you to quickly set and display the training parameters and resistance. The computer display is backlit in blue and clearly and easily readable: time, distance, calories burned, heart rate, training resistance (1-16), pedal revolutions/min. and speed. Do you like to train according to preset values? Then you will definitely like the following values. Because setting the default values such as time, distance, resistance level or calories is very easy and quick using the two push buttons and the large rotary knob.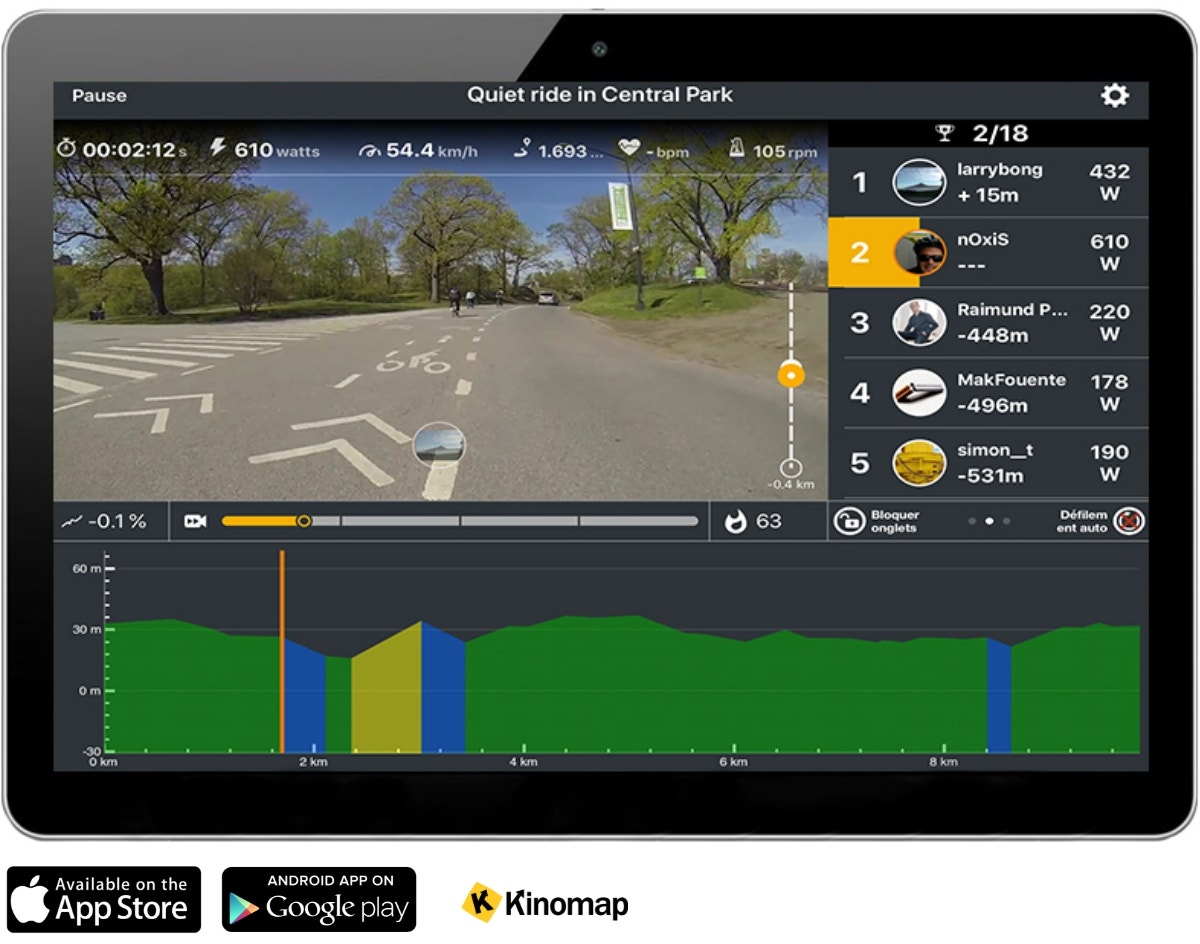 Perfect cycling entertainment: Kinomap compatible
There are two suitable mounts for your tablet or smartphone to enjoy your "live feeling" with multimedia. The mobile phone can be placed directly on the computer and your tablet on the holder. Compatibility with the "Kinomap" fitness app makes the training experience even more spectacular and boosts your motivation with a live route experience through the wide world. The resistance is automatically increased on inclines and automatically reduced on descents. The riding speed automatically adapts to your current cadence in real time. Your riding speed increases at a high cadence and decreases at a low cadence. Download the Kinomap app to your tablet and connect to the Speed Race S via Bluetooth and you're ready to go!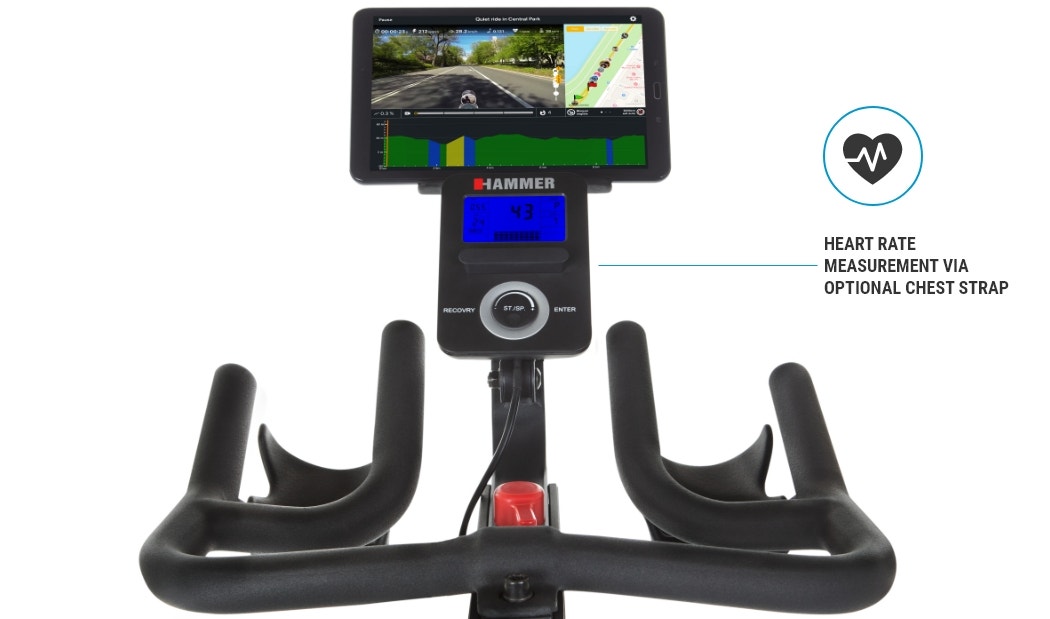 Heart monitoring
You can train according to your heart rate during your indoor cycling sessions. The training computer offers you 4 different heart rate programmes for this purpose. The computer is also equipped for wireless transmission of a heart rate via chip. The heart rate is transmitted using an optional chest strap (5.0 - 5.5 kHz). As an add-on, the recovery button on the computer starts a recovery heart rate measurement at the end of the workout and you receive a fitness grade from 1-6. Your advantage: you immediately recognise how fit you are.
Double fluid dispenser
You can easily get through endurance speed sessions with the 2 water bottle holders and your water supply remains secure. The bottle cages fit all standard sports bottle types.
Sporty pedals with basket
The pedals on your Speed Race S allow you to develop the perfect power transfer to the cranks and give you full speed.
The particularly grippy pedals with basket offer you a secure hold with trainers. Whether for moderate cardio training or sporty speed training while standing, the sports pedals ensure maximum comfort, slip resistance and efficiency even on long training rides. Perfect simulation and preparation for the next cycling stage! Both pedals are equipped with an adjustable basket. Pedals with SPD click system can be retrofitted as an option.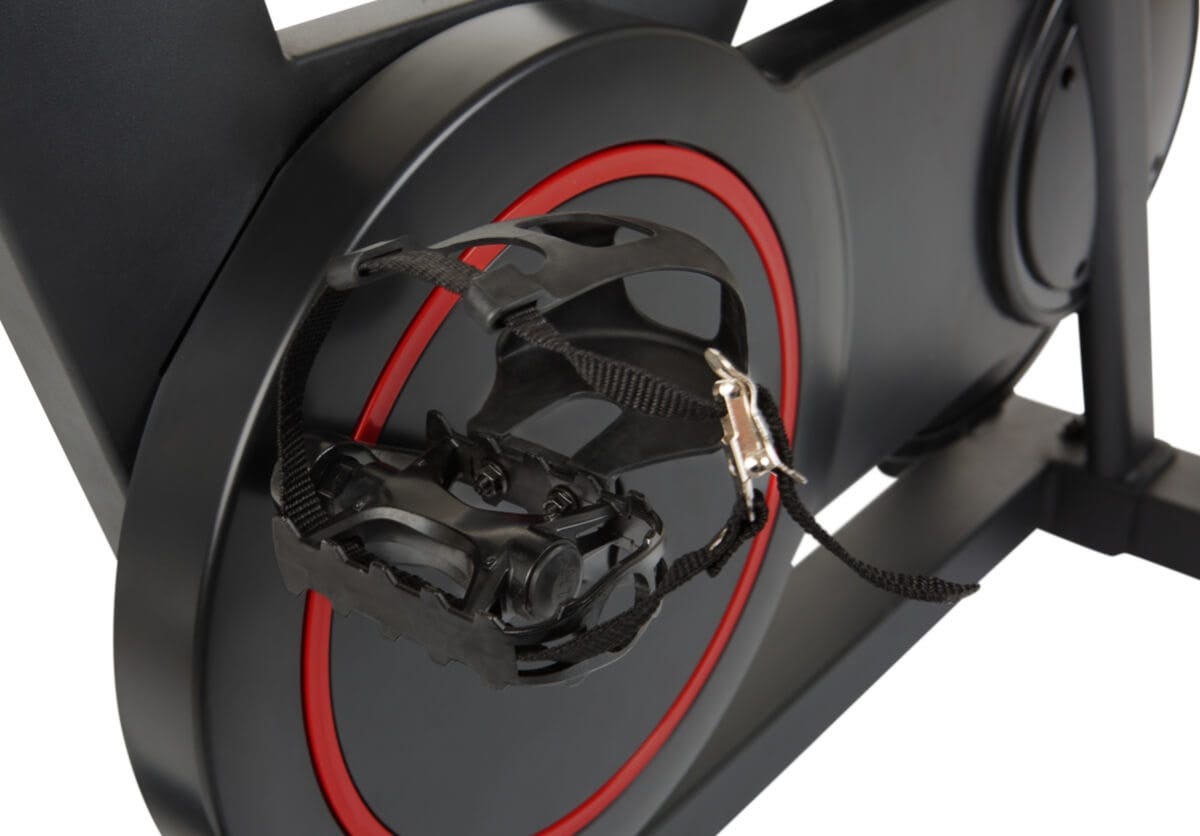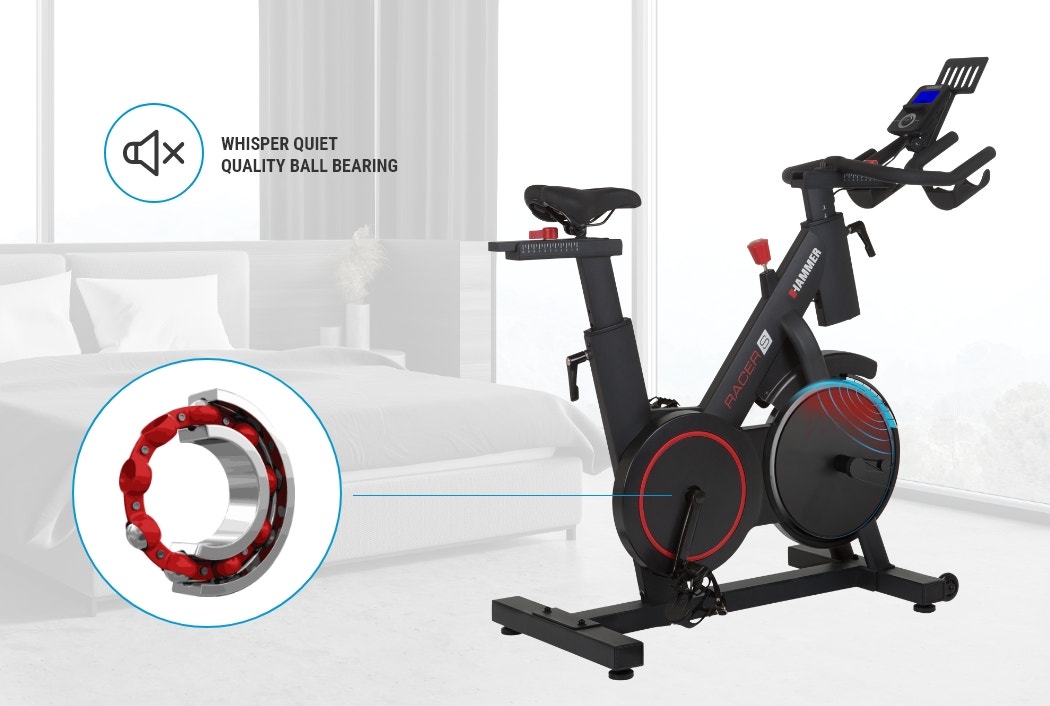 Quiet but with full speed
train at any time of day without disturbing the neighbours or family members. The innovative technology of the indoor cycle makes it possible. Speed sessions with high-quality materials ensure plenty of training fun and make your training session pleasantly quiet. With the 20 kg flywheel, the grooved belt drive with fixed rotation and the quality ball bearings, the Speed Race S combines everything you need to get up to speed. The pedals are given a powerful boost and nobody is disturbed by annoying noises.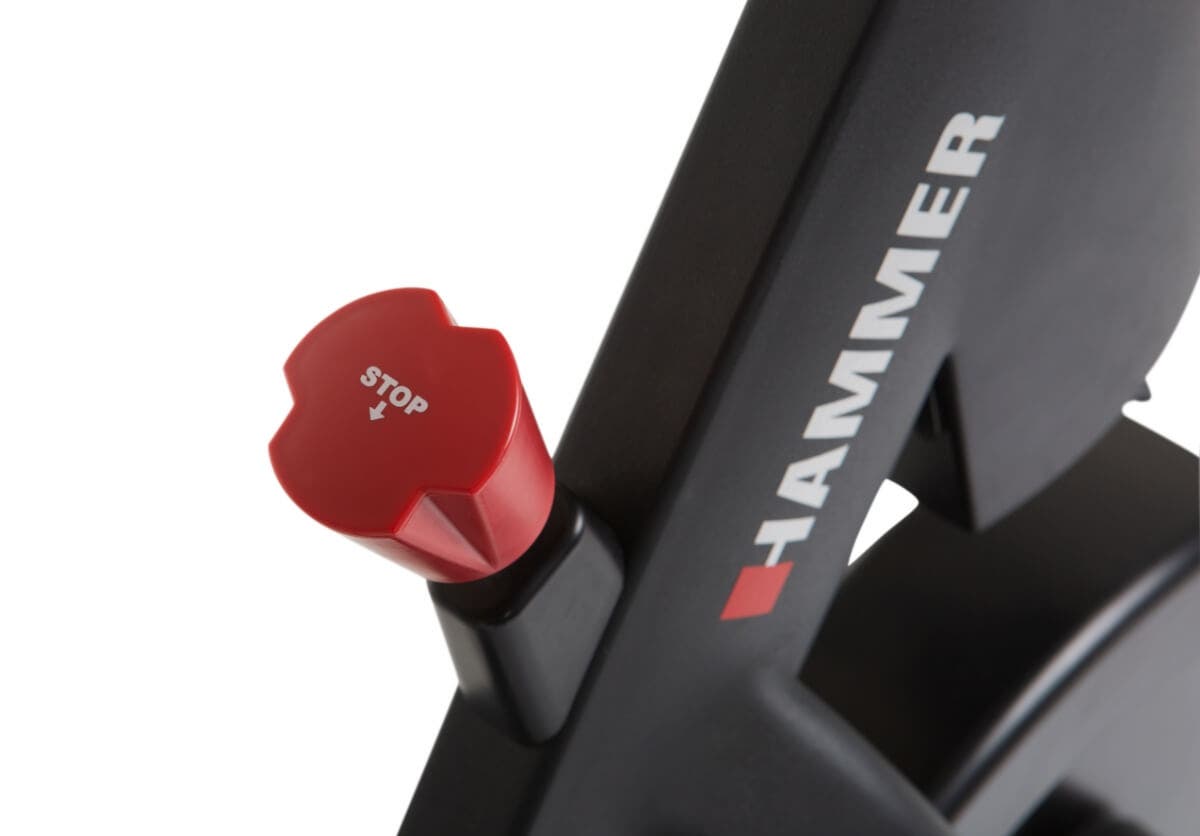 Emergency stop button
The infinitely variable load range is guaranteed to make every fitness enthusiast sweat. The rotary knob enables quick resistance adjustment. The maintenance-free belt, the large flywheel and the in-built rigid rotor can easily withstand even intensive uphill runs. The felt shoes brake reliably and precisely. The proven 4-point support system also ensures a particularly high level of stability.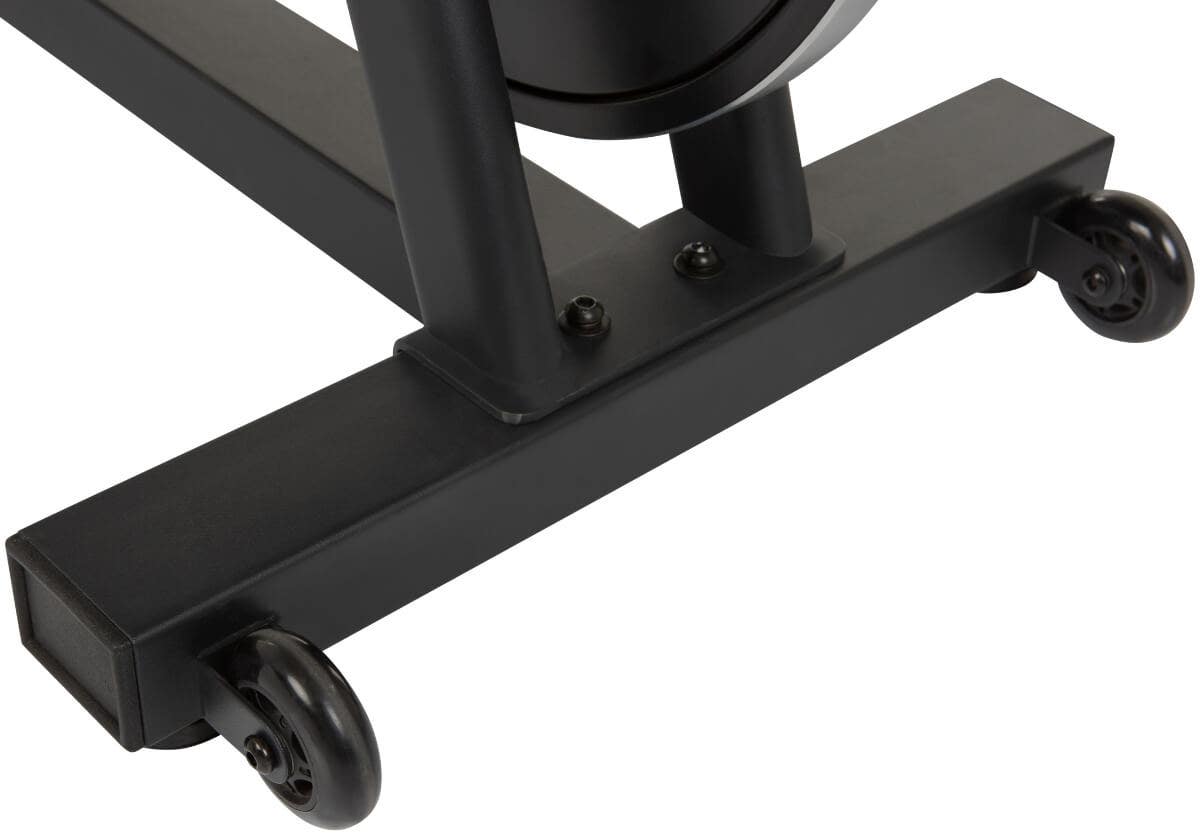 Stable construction and rollable
The 4-point support system has height adjustment caps attached to the feet. These provide you with perfect levelling and a stable stand. The high-quality and sporty design guarantees you a secure feeling even during your high-speed sessions and powerful pedal strokes while standing. Mobility is not a problem despite the sturdy design, because equipped with two premium transport rollers on the front leg, your indoor cycle can be easily moved to the desired location.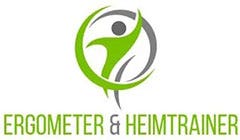 Armin Lenz from Ergometer & Exercise Bike:
"Due to the top workmanship and the good price-performance ratio, the HAMMER Speed Race S gets a buy recommendation from me."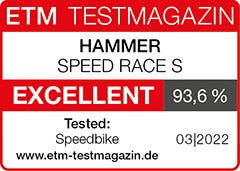 Speed Race S impresses ETM testers
"All the different qualities of this model, which can be rounded off virtually with the Kinomap app, ultimately led us to award the HAMMER Speed Race S the fully deserved test rating of "very good" (93.6 %)."
Computer
Display
LCD Blue Backlight
Multimedia
App, Bluetooth, Tablet support
Integrated pulse receiver for chest belts
5 kHz
Display
Load profiles
Distance, Speed, Heart rate, RPM, Resistance Level, Time
Programs and profiles
Heart rate controlled programmes
4
Adjustable pulse limit
Upper pulse limit
Drive/brake system
Drive system
Grooved belt
Braking system
Permanent Magnetic
Resistance adjustment
Computer controlled
Dimensions and weight
Build up size (L x W x H)
120 x 51 x 135 cm
Other features
Transportation rollers
Yes
Saddle adjustment
Horizontal, Tiltable, Vertical
DIN Norm
DIN EN ISO 20957 -1/10
Shipping
Delivery time
4-8 working days
Scope of delivery
Speed Race S
Delivery Information
Delivery to curbside (Please leave your phone number when ordering, so we can arrange a suitable delivery date for you)
Private use
on the main frame
10 years
Clients ask, our fitness experts answer
Do you need more information about the product? Ask your question here. Our fitness experts will answer quickly and easily.
1 questions already answered
Question:
Ist die Schnittstelle zu Kinomap auch mit anderen Anbietern zB. BKool kompatibel? from Ulf
Answer:
Tab 1
Das von Ihnen angefragte Produkt kann trotz seiner API keine Verbindung zu weiteren Applikationen vornehmen.