Bio Force Extreme Sixpack Plus
FINNLO's BIO FORCE EXTREME revolutionizes strength-training! Instead of conventional weight stacks, BIO FORCE EXTREME uses special TNT resistance technology (Total Nitro-cell Technology). These Nitrogen-filled cylinders generate smooth and even resistance without making noise.
Adjusting resistance on the FINNLO BIO FORCE EXTREME is a breeze. With the manually operated disc-locking mechanism you can adjust resistance up to 125 kg in steps of 2.5 kg without having to get up from the multi-gym. Since resistance can be adjusted separately for each side (up to 60 kg), it's perfect for helping you build symmetrical muscles if you're stronger on one side.
The multi-gym is completed with a comfort designed seat which can be adjusted vertically for the perfect fit. Effortlessly remove the seat from the gym for advanced exercises.
With its ingenious cable pull system and numerous adjustable pulling positions, the BIO FORCE EXTREME multi-gym lets you do over 100 different exercises to effectively train your arms, shoulders, chest and back. Using detailed descriptions and photos; the manual guide included shows you step-by-step tutorials on each exercise.
Challenge yourself with the BIO FORCE EXTREME when upgrading the optional BIO FORCE ACCESSORY SET to your package. An additional handle set, leg straps and a triceps rope add even more variety and ensure professional-grade strength training.
No weights and no noise! BIO FORCE EXTREME is the perfect multi-gym for home use that simply does more than the competition - a true multi-talent! The BIO FORCE EXTREME weighs only 78 kg and can be easily moved on its transport rollers.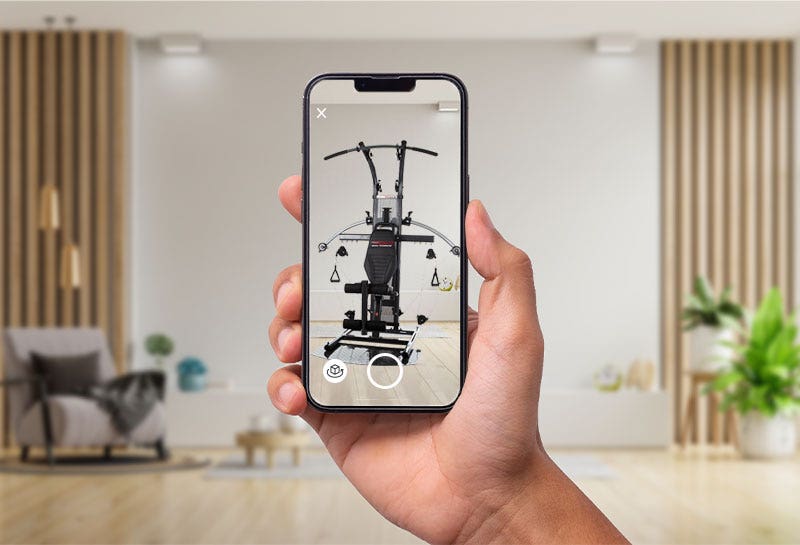 Experience your product in your own home now!
Whether as a 3D view on the PC or virtually in your own room via smartphone - immerse yourself in a whole new kind of product experience with HAMMER Augmented Reality.
Available accessories:
1) BIO FORCE Power Bench:
Perfect accessory for professional-grade bench presses, incline presses, "flying" rows, shoulder presses, lat pull downs
5 backrest settings
Seat position automatically adjusts with the backrest
Seat angle can be set between 0 and 80 degrees
Clamping mechanism makes Power Bench easy to connect
Bio Force comfort cushion
Quality steel tubing that can handle lifters weighing up to 135 kg
Equipment weight: 24.3 kg (gross), 20.9 kg (net)
Footprint: 114/120 cm x 49 cm x 106 cm
2) BIO FORCE Accessory Set:
The Bio Force Accessory Set is the perfect addition to the Bio Force multi-gym. Three different handles let you try out more exercises on the Bio Force for an even more dynamic strength training. It includes a professional-grade triceps rope along with open-ended single handles and comfortable nylon straps for various cable-pulling exercises. This equipment is ideal for strengthening core stability and functional exercises. The Bio Force Accessory Set can be stored in a plastic bin that integrates perfectly into the Bio Force frame and keeps everything in place.
Advantages of the accessory set:
Greater variety of exercises
Attaching storage bin included
2x single handles, 2x ankle straps and 1 triceps rope
Dimensions and weight
Build up size (L x W x H)
134 x 168 x 208 cm (Space requirements 180 x 228 x 208 cm)
Shipping
Delivery time
4-8 working days
Delivery Information
Delivery to curbside (Please leave your phone number when ordering, so we can arrange a suitable delivery date for you)
Private use
on the main frame
10 years
Summary of all possible strength exercises with the Bio Force Extreme Sixpack Plus
You can find out how to do the exercises correctly and exactly which muscle groups are trained by clicking on the respective exercise.
Clients ask, our fitness experts answer
Do you need more information about the product? Ask your question here. Our fitness experts will answer quickly and easily.
1 questions already answered
Question:
Hur stora är kartongerna det kommer i ? from Thomas
Answer:
the article "Bioforce Extreme Sixpack Plus" will be delivered in two packages. Here are the measurements: 1. Package: Length: 116,0 Width: 84,0 Depth: 16,0 Weight: 42,90 2. Package: Length: 150,0 Width: 48,0 Depth: 23,0 Weight: 45,70 &nbsp...
Our recommendation for you